Best Parks And Gardens In Amsterdam
* Disclosure: This post may contain affiliate links, which means we may receive a commission if you click a link and book something (there is never any extra cost to you for using these links).
Recognized worldwide for its hippie culture and liberal structure, Amsterdam is one location that tops the list of 'must-visit' places of many. And a closer look at their plans would expose you the true purpose of their visit. There are full with parties, beers and of course a visit to the Red Light district.
But here is the thing, why do you want to follow the trails of other people? Isn't that old? Instead, try visiting the parks and gardens in Amsterdam.
Keukenhof Garden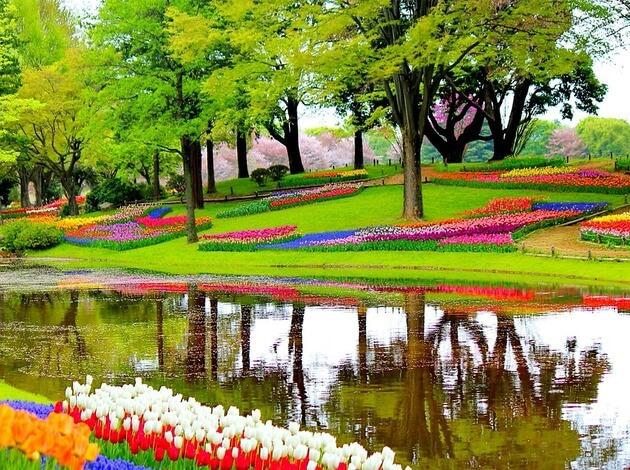 PC: Pixabay.com
Best known as the 'Garden of Europe', Keukenhof covers an area of 32 hectares making it one of the largest flower gardens in the world. Blooming with over 7 million spring flowers like tulips, daffodils, roses, white lilies, and hyacinths - Keukenhof is a splash of flowers and colors that light up and add to the charm of the garden. A dreamy wonderland that looks totally mesmerizing as it sounds, Keukenhof tops the list of Amsterdam gardens to visit. To get a hassle free, rich experience of the garden, book a tour.
Timing: Open between March and May from 8am-7:30pm
Closest attractions: Kasteel Keukenhof, Museum de Zwarte Tulp, Vakantiepark Koningshof.
Special info: Every year the garden is decorated in a different theme.
Amsterdamse Bos
An artificial park created on the unused turf lands of the city, Amsterdamse Bos is a 1,000-hectare open land with a huge landscape. Covered in green, the lush grassy meadows are an ideal place to relax and take your mind off the irksome mundane part of life. Once you're relaxed and fresh, go kayaking in the waters, experience live music, unwind at a spa, rent a bicycle or ride in the museum tram and scale the lengths of the park.
Timing: Every day from 12am-5pm.
Closest attractions: Heineken experience, Golfcentrum Amsteldijk, Amstel park.
Vondelpark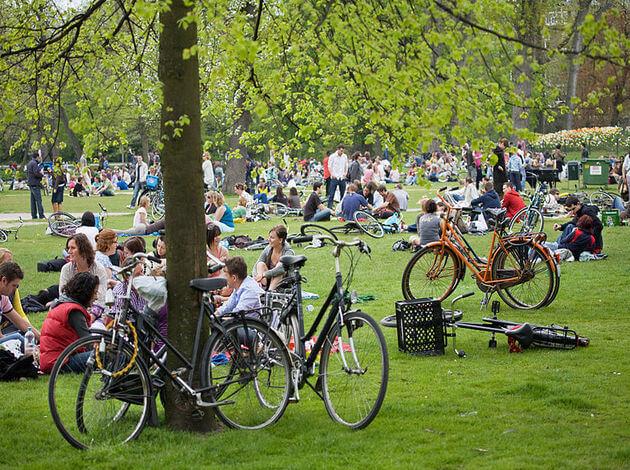 PC: Commons.wikimedia
Opened to the public in 1865, Vondelpark in Amsterdam is one of the popular and largest parks in the city attracting about 10 million visitors annually. Named after Joost van den Vondel, a famous play writer from the 17th century, A visit to Vondelpark is an ideal thing to do with family and kids in Amsterdam. From smoking a barbeque to sunbathing to dog-walking, you can spend your day at the park in the way you want.
Timing: Every day for 24hrs (best time: 9am-5pm).
Closest attractions: Van Gogh Museum, Tulip Island, Rijksmuseum.
Special info: The entry is free and there are open air concerts happening inside the garden, which are free too!
Hortus Botanicus
If you're a lover of nature, then you should never miss out on this garden. Established in 1635 to serve as a herb garden to the doctors and the pharmacists, Hortus Botanicus is one of the largest botanical gardens in the world today. The garden has over 6000 different primitive and non-primitive plants and trees. Away from the fuss and the commotion of the city, Hortus Botanicus proves to be a refreshing experience with a spectacle of attractive butterflies.
Timing: Every day from 10am-5pm.
Closest attractions: ARTIS zoo, Jewish historical museum, Zuiderkerk.
Special info: Check out the 154-year-old huge lily flower Victoria that opens its flower during the nights and the centuries old Agave cactus of the Roman era.
Amstel Park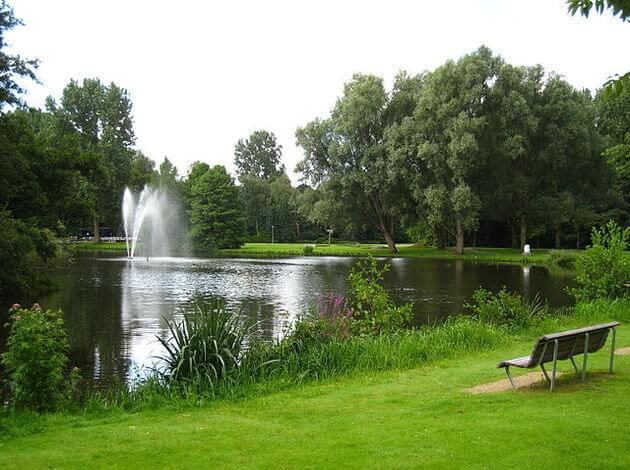 PC: Commons.wikimedia
Built along the Amstel River, Amstel park is a spacious park with a multitude of flowers. With the presence of a petting zoo, a mini-golf course, a train ride and a playground, Amstel park is the perfect place to take your kids to. And for the adults, there are cafes and art galleries to spend your time at. Quiet, clean and well-maintained Amstel park is definitely one of the parks to visit in Amsterdam.
Timing: Every day from 8am-6pm.
Closest attractions: Heineken experience, Van Gogh Museum.
Frankendael park
Frankendael park in Amsterdam is a right mix of history and ecology. Spread across 7 acres of land, Frankendael house in the premises of Frankendael park is the only remaining estate from the 17th-century. Go for a leisurely walk around the park, admire its beauty and have a sumptuous meal at the famed restaurants of De Kas and Merkelbach which are known for using freshly produced ingredients.
Timing: Every day from 8am-5.30pm.
Closest attractions: ARTIS zoo, Verzetsmuseum, Heineken experience.
Oosterpark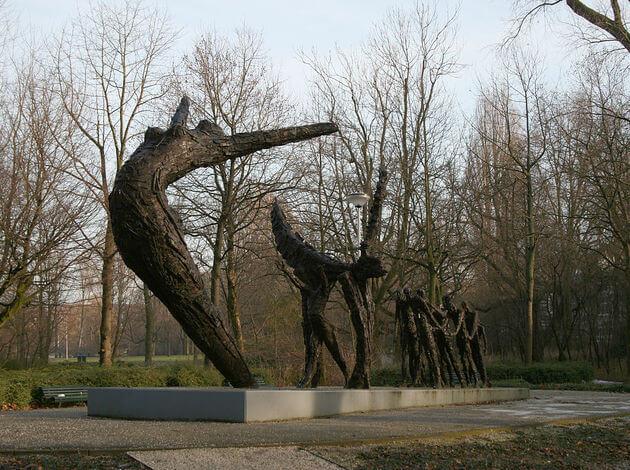 Designed by a famous Dutch architect, Oosterpark was laid out in 1891 making it one of the oldest and the first large-scale parks to be created by the Municipality of Amsterdam. Not overcrowded with too many visitors, the park has its fair share of interesting monuments including 'The National Slavery Monument' that signifies the abolition of slavery in the Dutch and the statue of 'De Schreeuw' in memory of the late filmmaker and columnist Theo van Gogh to see from.
Timing: Every day from 8am-6pm.
Closest attractions: ARTIS zoo, Jewish historical museum, Portuguese synagogue.
Special info: The park is famous for its vibrant free music.
Also Read - Things to do in Amsterdam at night
Beatrixpark
Beatrixpark is a small, lovely city park in the neighborhood of Zuider Amstel and one of the few undiscovered places in Amsterdam. If you are looking out for an all season park that is not packed with people then you should try visiting Beatrixpark. With an expansive grassy meadow, the park is a perfect place to take your dog for a walk, have a good game of frisbee and just relax.
Timing: Every day from 9am-6pm.
Closest attractions: Amstel park, RAI Amsterdam, Heineken experience.
Westerpark
PC: Commons.wikimedia
The list of best parks in Amsterdam is incomplete without Westerpark. Highlighted by a pond with a fountain right at the centre of the park, Westerpark is a charming spot for family and friends to hang out and have a nice time together. If you think Westerpark is just any other dull park without life then you had to be wrong. Bustling with tourists and plenty of entertainment stops to check out, Westerpark is a whole package. There is always something interesting inside the park and you are always welcome to join!
Closest attractions: Pianola museum, Anne Frank house, Westerkerk.
Flevopark
Located on the eastern side of Amsterdam overlooking a pond, Flevopark is a unique destination in Amsterdam. Once a Jewish cemetery, the place is now one of the best alternatives to the crowded parks in Amsterdam. With huge lawns, barbeque spots and an outdoor swimming pool Flevopark will keep your day occupied.
Timing: Between April and September from 10am-5:30pm.
Closest attractions: ARTIS zoo, Portuguese Synagogue, Postcard experience.
Special info: Taste Genever (Dutch gin) in Nieuwe Diep distillery inside the park.
You May Also Like to Read:
6 Things to Do Around Canal Rings in Amsterdam
11 Best Coffee Shops in Amsterdam