10 Best Party Cities In the US for A Vibrant Nightlife
* Disclosure: This post may contain affiliate links, which means we may receive a commission if you click a link and book something (there is never any extra cost to you for using these links).
Want to party in the USA like never before? Without doubt, America is home to a vivacious and varied nightlife. Right from top-notch pubs to intoxicating bars to jazz clubs and even addictive casinos- the country has something for everyone. Boasting of a pulsating nightlife, right from the East Coast to the West, there are many places in the country that you can explore on your mission to get high on life! Here's a list of the best party cities in the US where you can unleash the party animal in you! Ready to go wild?
1. Las Vegas - one of the best party cities in the world!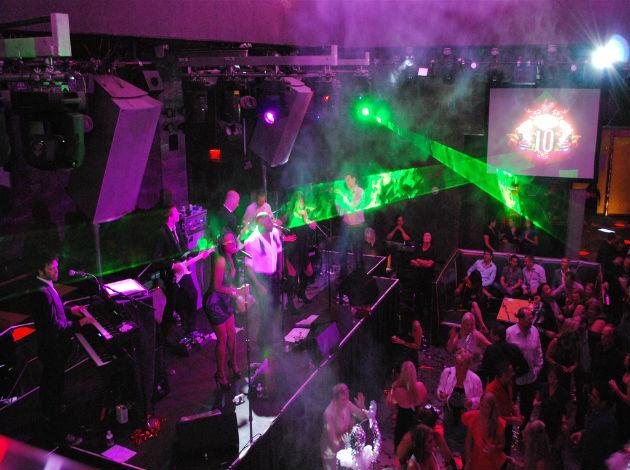 PC: Flickr/vtravelled
A gambler's heaven, Las Vegas is one of the best party cities not only in the USA but also in the entire world! Casinos, clubs, pubs, live entertainment and a lot more- no wonder Las Vegas goes by the nicknames of 'America's Playground', 'Sin City', 'City of Lights' and 'Entertainment Capital of the World'! The city is as awe-inspiring as it is overwhelming. Some of the world's best nightclubs are housed within the glamorous casinos of Vegas thus making it an ideal destination for thumping parties. Feel free to unleash your party monster over here- after all, what happens in Vegas stays in Vegas!
2. Miami Beach - best party destination in the US!

PC: Wikimedia
Plush lounges, fusion restaurants, heady cocktails, classy rooftop bars and elegant nightclubs- that's what you'll get in Miami. One of the best party destinations in the USA, Miami's South Beach neighbourhood is where you should head over to if you want to party till the wee hours of morning. Miami is also known to throw wicked poolside parties that attract revellers in thousands. The city is a perfect example of contrasts- during the day, it is known to be a family friendly vacation destination. Come night however, and Miami transforms into a beautiful seductress who mesmerises party animals.
Also Read - 14 Budget Friendly Beach Destinations in the USA
3. Los Angeles - the city of angels?!

PC: Wikimedia
The City of Angels- Los Angeles definitely adheres to its nickname during the day. But as soon as the sun sets, the devils come out to party like there's no tomorrow! Boasting of a weather that remains pleasant all year round, Los Angeles knows how to throw a party. If you are lucky (or rich enough!), you might get to rub shoulders with some A-list celebrities! And if you want to experience an energetic beach party, you can always drive down to the nearby Malibu beach and have a time of your life. No surprise here when we say that Los Angeles is probably the best party place in the USA!
Check Out: What to see in 3 days in Las Vegas
4. New York - west side nights:

PC: Wikimedia
When you are a city that boasts of the highest number of clubs and bars in the country, you are bound to be one of the best party destinations in the US! New York, with its cool nightlife scene attracts many partygoers and clubbing enthusiasts. Being entrusted with a title of 'city that never sleeps', New York takes its nickname pretty seriously and ensures that the revellers get to enjoy its effervescence as much as possible! Besides, if you ever feel like going on a pub crawl, this city is the best place to do so. But who said partying should involve drinks and dance? How about you party at one of the many karaoke lounges that New York houses and sing away to glory?
Check Out: Unique and Hidden Bars in New York City
5. New Orleans - America's own Rio de Janeiro!

Save 4%
Culturally inclined, New Orleans is known to host many events and festivals, most famous of these being the Mardi Gras. When the entire city comes together to revel in one giant street party, it is bound to feature in the list of top 10 party cities in the world! Most of the clubs in New Orleans are located on Bourbon Street and you should definitely explore it. A melting pot of cultures and traditions, the city also has a neat Jazz scene and you can visit one of the many jazz clubs that the city has, on your visit.
6. Honolulu - Hawaiian party

PC:Wikimedia
Surprised to see Honolulu on this list of best party cities in the USA? While Hawaii is known for being a popular honeymoon destination as well as a hub for water sports, its capital city also boasts of a bustling nightlife. From private beach parties to lavish clubbing in the Downtown region, the city surprises party lovers with its many lively options. Honolulu also has a hot underground partying scene which is generally restricted to 'invitation only' guests.
7. Atlantic City - popular party destination in the USA
Being home to a few grand casinos and a lovely shoreline, Atlantic City attracts and welcomes many types of travellers- from family vacationers to party mongers, from honeymooners to solo explorers. Less wild as compared to the other party destinations, this city does have a lively nightlife nonetheless. Try your luck at the casino tables or sip on a classy cocktail as you witness a magnificent view of the ocean guzzling down the sun; if you want to have a classy and memorable party, Atlantic City is the place to be.
8. Chicago - party in the Windy City

Famous for its variety of drinks and concoctions, Chicago is another city which makes it to the list of top party destinations in the USA. During the day, the city looks like a typical commercial hub, with people in suits hurrying through the crowds towards their offices. It is only after the sun sets that the city grins sheepishly, pops open a bottle of champagne and brings out its party hat! Need more convincing as to why you should visit Chicago? We'll leave it up to Mark Twain. "It is hopeless for the occasional visitor to try to keep up with Chicago. She outgrows his prophecies faster than he can make them." His words, not ours!
9. Key West - offbeat party destination in the US

Key West is definitely not famous for its nightlife and that's just what adds to its understated charm. An offbeat party destination, this city in Florida is perfect for people who want to just chill and have a party that consists of classy drinks, great food, interesting conversations and intimate get-together.
10. Washington D.C. - the party 'capital'!

We have definitely made a mistake, is that what you are wondering? How can a place where politicians live be a good party destination, you ask? Well, don't forget that the city is also an educational hub; a place where many universities exist. And where do you think the youth party?! Well, of course Washington D.C. does not boast of over the top clubs and pubs, but it does have an energetic nightlife and you should definitely explore it if you happen to be visiting the city. The places and neighbourhoods in Washington that have an active nightlife scene include Georgetown, Dupont Circle and U Street.
Ready to go? Here's a recap of the best party cities in the US with the most bustling nightlife!
Las Vegas
Miami Beach
Los Angeles
New York
New Orleans
Honolulu
Atlantic City
Chicago
Key West
Washington DC
All set to party like a maniac in the US?! While having fun is definitely part of the plan, please do ensure that your celebrations don't create a nuisance for someone else. Cheers!
You may also like to know about:
*Note: Some images are for representative purposes only.