10 Famous Places To Celebrate Dussehra in India
* Disclosure: This post may contain affiliate links, which means we may receive a commission if you click a link and book something (there is never any extra cost to you for using these links).
Symbolising the victory of Goddess Durga over the demon Mahishasura, the festival of Dussehra also celebrates the victory of Lord Ram over the demon king Ravana. Also known as Vijayadashami or Ayudhapuja, Dussehra signifies the defeat of evil at the hands of good, the triumph of light over darkness. If you are planning on spending your festive holidays exploring the most famous places for Dussehra celebrations, we have compiled just the list for you. Pack your finest traditional clothes and go on a journey across India as you bask in the warmth of the festivities.
1. Kolkata - The City of Joy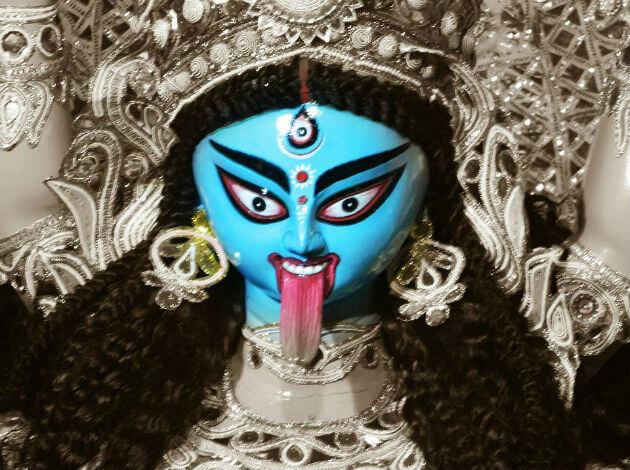 A grand celebration, Durga Puja is a coveted festival in West Bengal. Its capital city, Kolkata, is famous world over for its grand Pujas, magnificent pandals and stunning idols. Celebrated over 5 days, day 5 being the Durga Bisarjan, Dussehra time in Kolkata means crowded streets, heavenly aromatic food, songs blaring from loudspeakers and devotees praying with utter consecration. Still need a reason to visit Kolkata during Dusshera? In the words of journalist Vir Sanghvi, ''Calcutta is not for everyone. You want your city clean and green, stick to Delhi. You want your city rich and impersonal, go to Bombay. You want them hi-tech and full of draught beer, Bangalore's your place. But if you want a city with a soul, come to Calcutta." Convinced?!
2. Delhi - Fun Dussehra festival for kids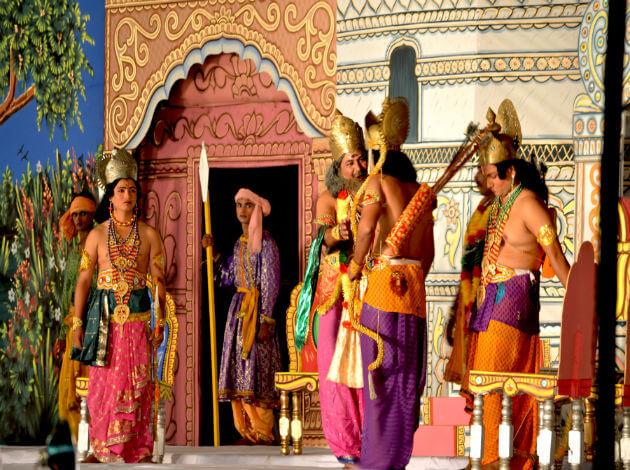 Image Source: Wikimedia Commons
Dussehra in Delhi is a giant festive party spanning 9 days. The 10th day, which is the day of Dussehra, ends with a bang! A noisy and sparkling fireworks show is followed by the burning of huge effigies of Ravana. Delhi is a lovely place to have fun Dussehra festival celebrations for kids, especially because of the fascinating Ramlila shows that are put up across the city. Do watch one at the Ramlila Maidan on your visit.
3. Kullu - One of the best places to celebrate Dussehra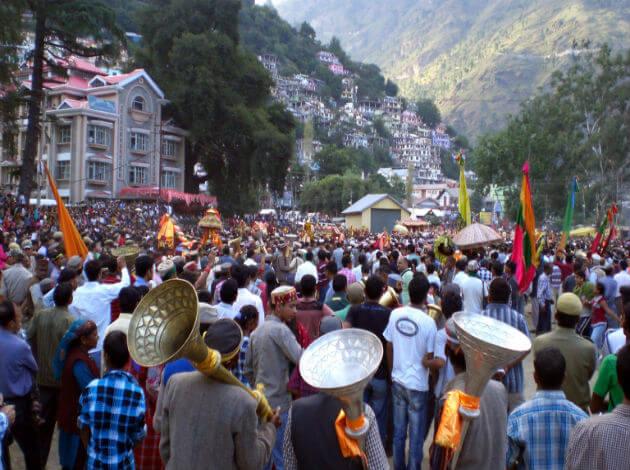 Image Source: Wikimedia Commons
One of the best places to celebrate Dussehra in India, Kullu Dussehra is a gigantic event and people from all across the world come to join the celebrations. Hosted on the Dhalpur Maidan in Kullu valley, the festivities attract over 4 lakh visitors every year, thus prompting the state government to give the festival an 'International Festival' status. The revelry begins on Vijayadashmi and continues for seven days. Around 200 local deities are brought ceremoniously to the temple of the presiding deity Lord Raghunath during this time.
4. Mumbai - Celebrate Dasara in Maya Nagari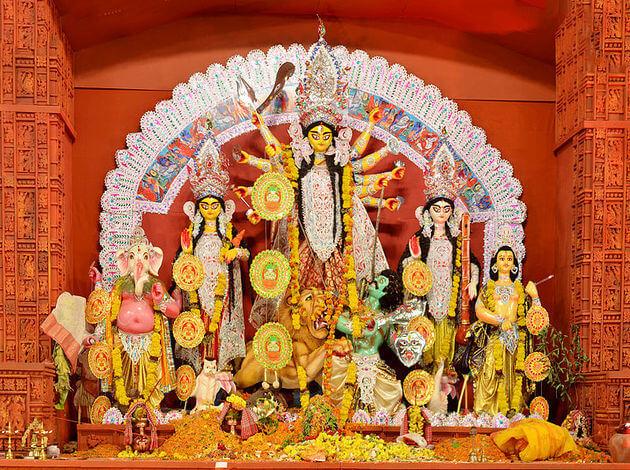 Image Source: Wikimedia Commons
Organised by the goldsmiths of Bengali origin, Dasara in
Mumbai
is a glittery affair. Although not as loud and as over the top as the Ganapati celebrations,
pandals
dedicated to the goddess can be found in the localities of Andheri, Juhu, Khar, Vashi and Santa Cruz in Mumbai. While visiting the city, you can also visit top attractions such as Mahalakshmi Mandir, Gateway of India, Shree Siddhivinayak Ganapati Mandir, Elephanta Caves and Haji Ali Dargah.
5. Mysore - The City of Palaces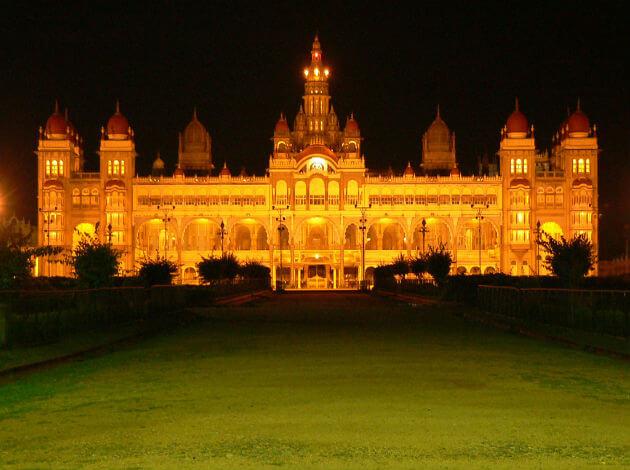 Image Source: Wikimedia Commons
The official state festival (called Nadahabba locally) of Karnataka, Navaratri in Mysore is an opulent affair. Processions are taken out on the roads of the city and the Mysore Palace is lit up regally during the night. It is as if the entire city dresses up in its finery in order to celebrate this festival. Did you know that the Mysore is named after the demon Mahishasura, the one that was slain by the goddess? No wonder then that the city celebrates Dussehra with so much fervour. In fact, as of the year 2015, the city has celebrated 405 years of the festival.
6. Bastar - Dussehra in Chhattisgarh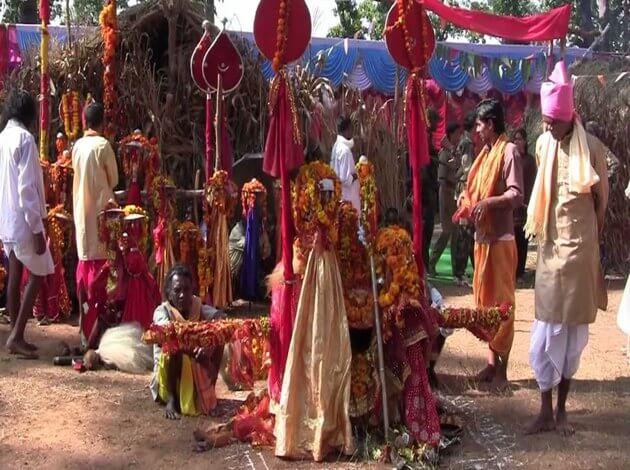 Image Source: Youtube.com
Lasting over 75 days, Dussehra celebrations in Bastar are unique in every way. For starters, the goddess of Danteshwari is worshipped instead of goddess Durga. Tribes from nearby towns and villages visit Bastar during this festival and worship the goddess who is believed to be an incarnation of Shakti Mata. Grand processions are carried out where all the idols of gods and goddesses from the nearby villages are brought to the temple of Danteshwari and are worshipped with crazy devotion.
7. Ahmedabad - Grand Dussehra celebrations in Gujarat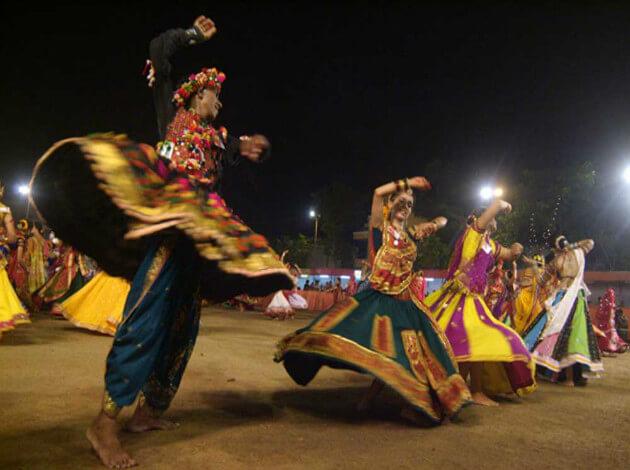 Image Source: Wikimedia Commons
Navratri in
Ahmedabad
predominantly means just one thing- Garba! People dress up in their finest, pick up their
dandiyas
and dance the night away. Not just the city, the entire state hosts these traditional dancing venues where people play
dandiyas
and indulge in delicious food. While visiting Ahmedabad, do explore top attractions such as Sabarmati Ashram, Kankaria Lake, Akshardham Temple and the unique Vintage Car Museum.
8. Kota - Rajasthani Dussehra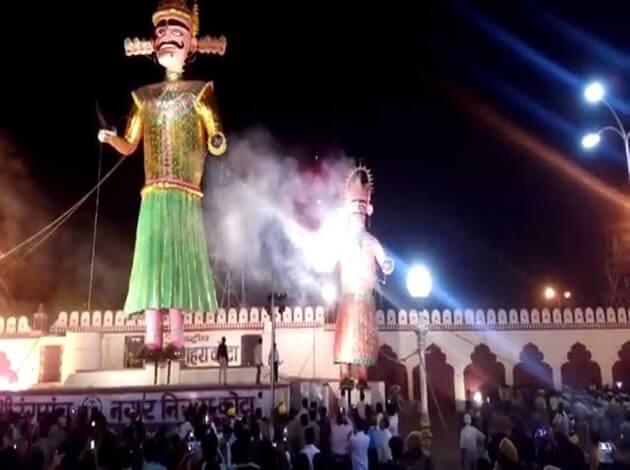 Image Source: Youtube.com
During Dussehra, Kota hosts a vast mela that is an amalgamation of festive celebrations and a fun fair. Stalls are put up where you can buy handicrafts, snacks and souvenirs. The mela lasts only 3 days and on the 3rd day, huge effigies of the Ravana are burnt. This is one offbeat place you can visit to celebrate Dussehra this year.
9. Varanasi - Divine Dussehra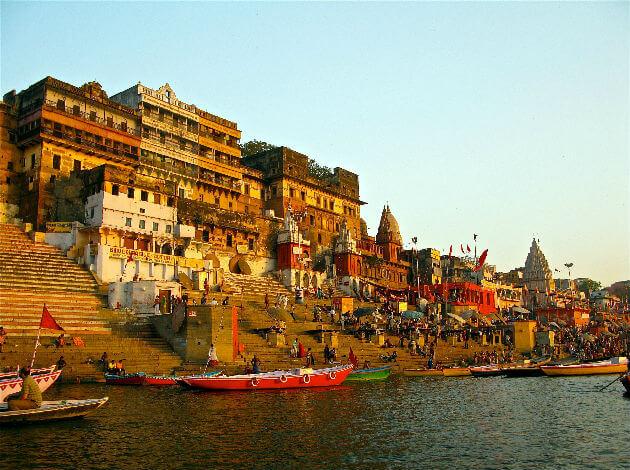 Image Source: Wikimedia Commons
The Dussehra celebrations in
Varanasi
are a sight to behold. Effervescent and cheerful, the festivities include Durga Pujas, Ganga Aartis and even
Ramlila
performances. While visiting the city, you should definitely explore top attractions such as Kashi Vishwanath Temple, Kaal Bhairav Temple, Assi Ghat, Durga Temple and the gorgeous Ramnagar Fort.
10. Barara - Unique place to celebrate Dussehra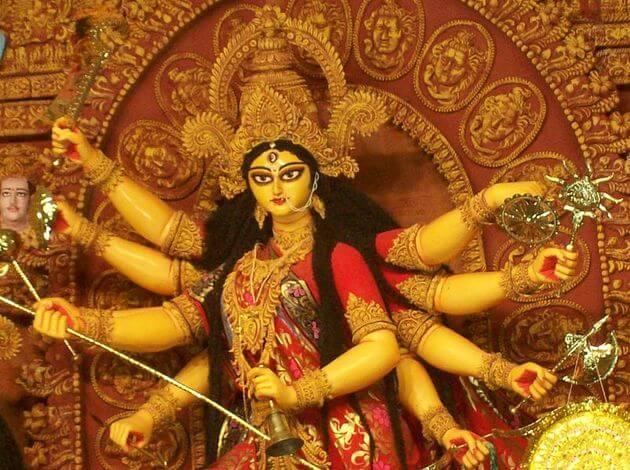 Image Source: Wikimedia Commons
A quaint town in Ambala, Barara is a unique place you can visit to witness Dussehra celebrations. Located near Chandigarh, the town is known to burn some of the tallest effigies of Ravana in the world! The last time they burnt one, it was almost 200 feet tall! Now that's one sight you won't forget for the rest of your lives! If you intend on visiting Chandigarh, you can check out tourist attractions such as the Rock Garden, Sukhna Lake, the famous Rose Garden and the Mata Mansa Devi Mandir.
Hope you have a lovely time celebrating this lovely festival. Planning your itinerary in advance is always a good idea. How about you plan it using this smart
trip planner
? Do let us know how your vacation went by commenting below.
Also Check out: