Best Places for Skiing in Europe
* Disclosure: This post may contain affiliate links, which means we may receive a commission if you click a link and book something (there is never any extra cost to you for using these links).
If the adventure of skiing is your way of romancing with the snow clad mountains, then head to some of the best places to ski in Europe to etch out a travel memory which will last with you forever. Come December and most of the overarching mountains in Europe get carpeted with fresh powdery snow rendering a perfect dais for winter sports to take place. So, get hold of those helmets, ski boots, goggles and snowboards and explore the trails that introduce you to the whitest and highest of mountains for a thrilling adventure.
1. Lech Zürs Alberg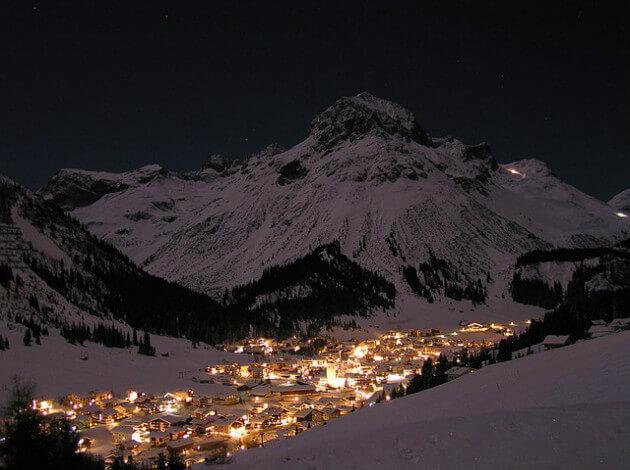 Image Source: Pixabay
For past many years, Alberg has been enjoying the status of being "the cradle of Alpine Skiing" in Austria. Every winter, this quaint village gets enlivened with a number of skiers who come here to pursue their passion. One of the best ski resorts in the world, Alberg offers a range of amenities and stunning ski slopes to bewitch your senses. There are atleast 87 cable cars and lifts, 305 kilometres of ski runs and 200 kilometres of high Alpine deep powder snow runs where the skiers can imagine and realise the best of ski experience. To add to it, there is a free local bus service that offers commutation possibility at its best.
2. Val Thorens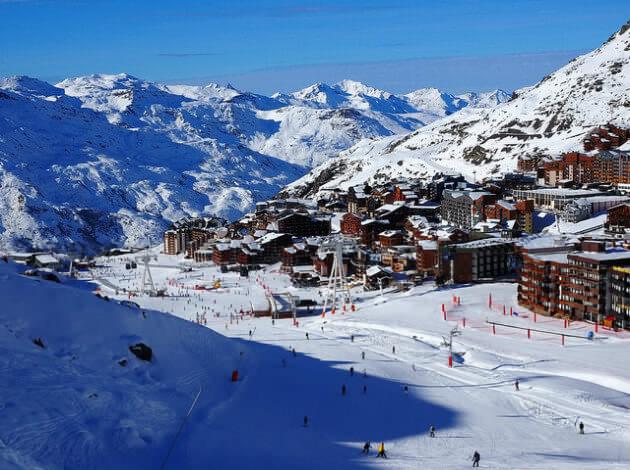 Image Source: Richard Allaway/Flickr
Skiers love to be at Val Thorens, the highest
Ski Resort in Europe
for an unparalleled skiing experience. Located at the head of 3 valleys, this ski resort offers 100 percent ski-in ski-out accommodation along with an ensemble for this activity i.e powdery fields, perfect slopes and snow guaranteed. There are also high-tech ski lifts that take you right up to the highest peaks to enjoy stunning views over more than 1,000 mountaintops. To make your stay an interesting one here, expect trendy restaurants, and clubs. With such an amalgamation, Val Thorens claims to be one of the best places to ski in Europe.
3. Saint-Gervais Mont-Blanc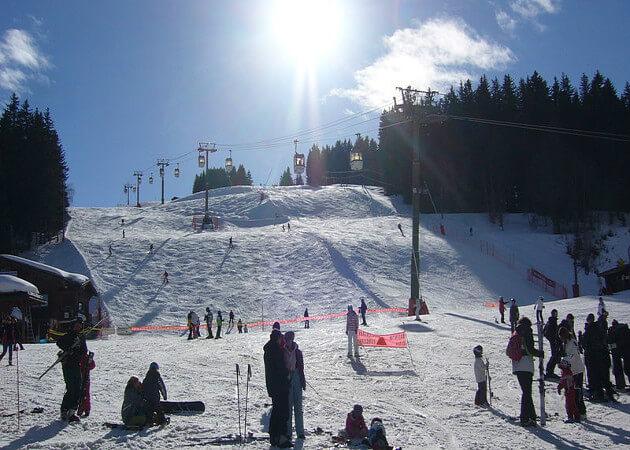 Image source: Wikimedia Commons
Ski through the expansive mountains through Savoyard village of Saint Nicolas de Saint Gervais or Véroce and its historic center that imitates a typical spa-town architecture. Flanked by snow and Mont Blanc, the village of Saint Gervais looks like a magnificent image etched out of a quaint frame. Apart from skiing, this destination is also quite famous for ballooning, paragliding, thermal baths or a ride in the Tramway du Mont Blanc, one of the last three narrow-gauge railways in France present today.
4. Saalbach Hinterglemm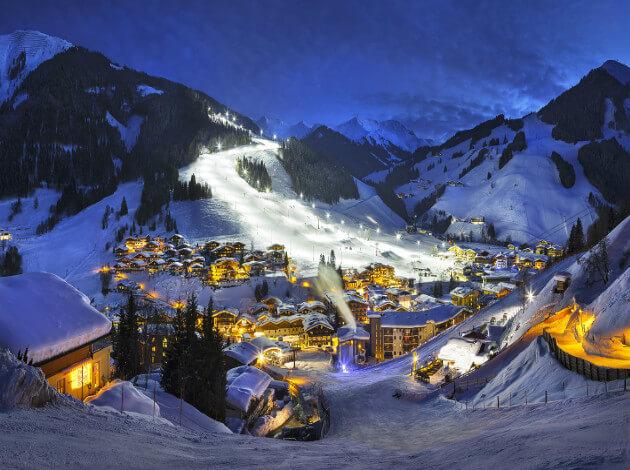 Image Source: Travel Times.ru
Saalbach Hinterglemm is a small municipality in Austria that offers you magnificent views of snow clad mountains and beautiful toy towns. Have a great ski vacation through the traditional-style buildings huddled together around a classic onion-domed church and soak in some of the most beautiful views ever. The village has got an ideal blend of Austrian charm with French convenience as there are lifts, convenient slopes and buses that run between the two resorts of Saalbach and Hinterglemm.
5. Gstaad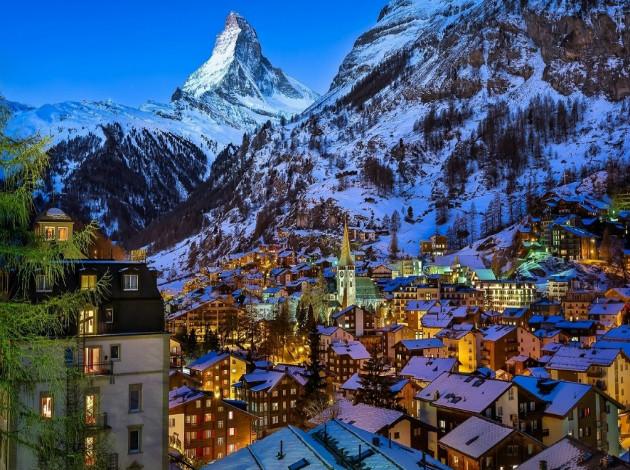 image source: wallpapersrage
Considered to be an upscale ski resort town, Gstaad is known for its plush reputation combined with idyllic nature making it one of the best places to ski in Europe. This fairy tale town is quite a favorite with skiers owing to its stupendous beauty of snow carpeted mountains. It boasts of being one of the top cross-country ski areas in Switzerland equipped with all the amenities for skiers and travelers. Abundance of sunshine assures a perfect opportunity for skiing connoisseurs to engage into this winter sport.
6. Baqueira Beret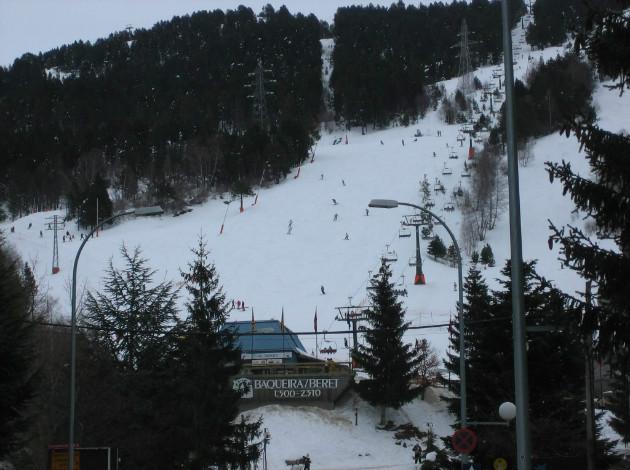 This Spanish ski resort has wooed the hearts of many skiers who come here to find and extraordinary skiing experience. A perfect combination of fine slopes and excellent lift network, this ski resort claims to be one of the best ski resorts of Spain. The slopes are split into three distinct but well-connected areas - Baqueira, Beret and Bonaigua - with long, intermediate runs, practically all of them on open, treeless slopes. There are easy greens, difficult black runs, superb off-piste powder, near vertical couloirs and mogul runs to test even the best.
7. Are, Sweden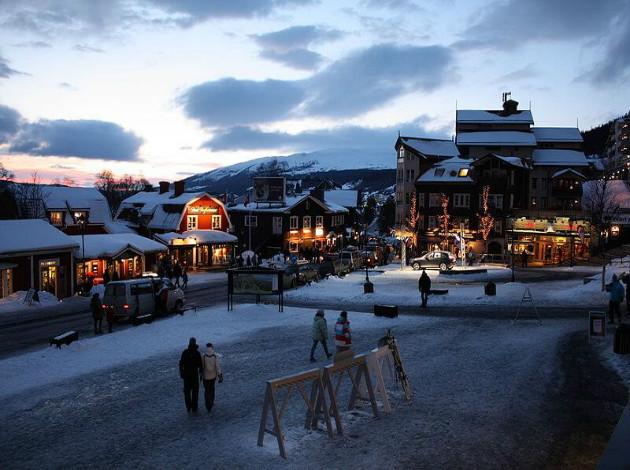 image source: commons.wikimedia
With a combination of 5 ski areas, a total of 40 ski lifts and 103 runs, Are in Sweden claims to be one of Scandinavia's largest ski destination. Its skiing area stretches almost all the way up to the peak of reskutan at an altitude of 1420 m from where you can admire panoramic views of the whole region. There's also a lot to do off the slopes with kite surfing and skidooing on the frozen lake and dog sledding through the woods.
8. St. Moritz, Switzerland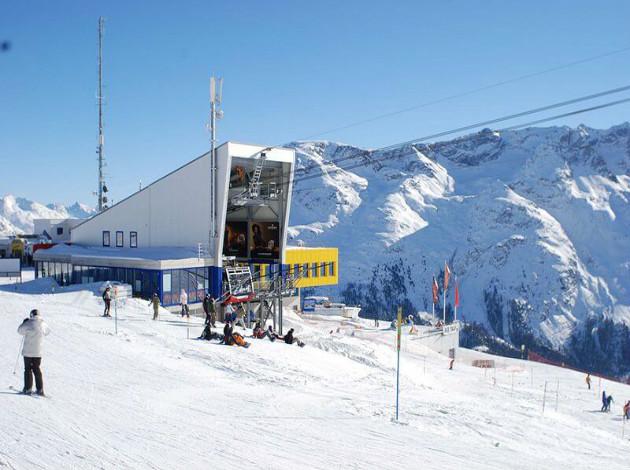 Considered to be the birthplace of Alpine Winter tourism, St. Moritz looks like a wonderland that attracts a lot of plush tourism. Its features include the beautiful alpine snowscape with 25 crystal-clear mountain lakes as well as forests and glaciers. The magnificent view from St. Moritz envelops the mountains from Piz Languard in the east to Piz Julier in the west offering a stupendous experience to be remembered forever.
9. Méribel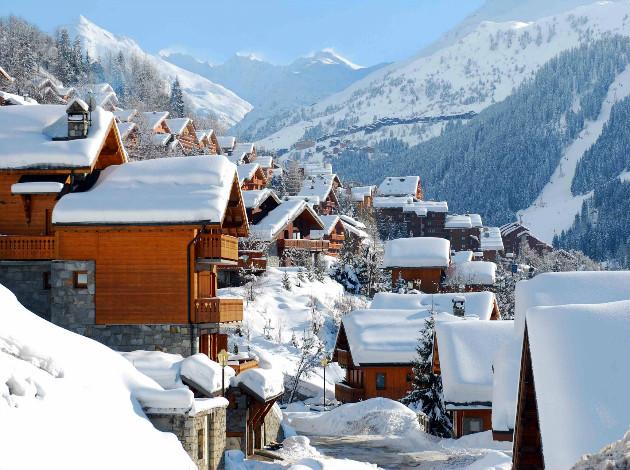 image source: commons.wikimedia
Flanked by three valleys, Meribel is known for its exquisite location and peaceful life. The Three Valleys have over 600km of piste for all levels of skier, from first-timers up to advanced levels. And as soon as the lifts come to a close, the town gets livened with live bands and bars, open until the early hours. Take a stroll and you will fall in love with enchanting chalet-style buildings of local stone and wood rendering an unparalleled view.
10. Innsbruck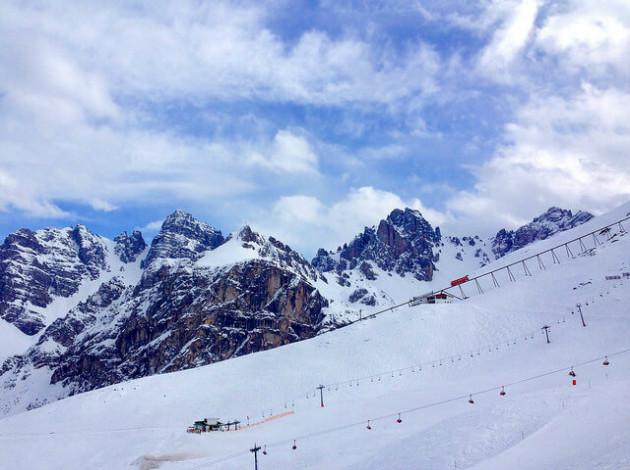 image source: Mike Norton/flickr
The reason why Innsbruck features in this list is that it offers a unique combination of cultural experience along with skiing opportunities. The resorts of Igls and Mutters appeal to families, novices and intermediates. For advanced skiers Patscherkofel and the Stubai Glacier, are the perfect options. Strategically squeezed between two impressive mountain chains, Innsbruck is famous for its gondola ride up Seegrube (2000m) from where you enjoy spectacular views of the Inn valley and the surrounding mountains. And when you are not skiing, you will fall in love with the city and culture of Innsbruck.
Still not convinced for a ski vacation? Do read reasons for a ski trip to Europe and tell us where do you plan to go in the comments below!