Top 15 Places To Visit In Cambodia
* Disclosure: This post may contain affiliate links, which means we may receive a commission if you click a link and book something (there is never any extra cost to you for using these links).
If you are wondering whether it is safe to travel to Cambodia, then know that it is one of the countries that has been hit by the Coronavirus epidemic. 1 case has been detected in Cambodia till this date. While the authorities in Cambodia are taking all the steps to contain the spread of COVID-19, it is recommended to take precautionary measures while visiting Cambodia. Also, we suggest that you check flight operations to and from Cambodia as they might be affected amidst the virus outbreak.
Note: The Coronavirus statistics mentioned in this article are based on the updated reports available on March 3, 2020. These figures will be updated depending on how the outbreak unfolds.
Everyone has dreamed about a vacation in France and Italy. But hasn't that turned a bit clichéd now? How many of you had the fantasy of becoming Indiana Jones and exploring treasures of the long-gone ancient world? Well, it's not too late to do that. Pick up your hat and whip and come along with us to explore the heart of Asia, Cambodia. Here are the best places to visit in Cambodia:
1) Angkor Wat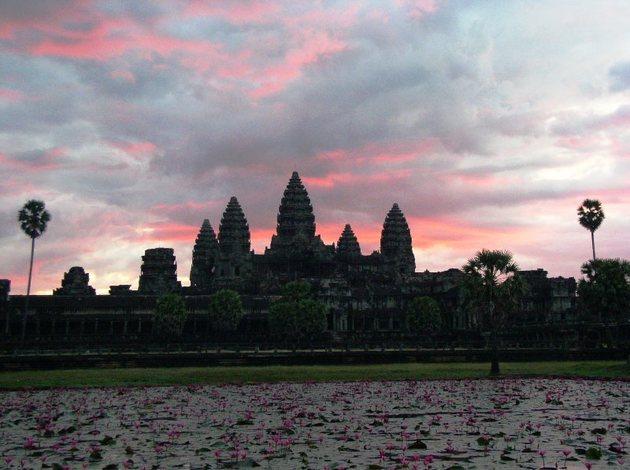 PC:
tajai/Flickr
It'll be a criminal sin if we don't mention Angkor Wat while talking about Cambodia. This magnificent temple was built around the 12th century for King Suryavaram II after his death. It is considered to be the top
tourist attraction in Cambodia
. Get up early in the morning to catch the sunrise from the steps of the outpost buildings. Beware though you'll have to beat the crowd of other tourists trying to do the same!
2) Phnom Penh
Once considered the 'gem' of Asia, Phnom Penh has overcome the dark years of civil war and sprung back to life. Located on the banks of the Mekong River (and accessible by speedboat from Vietnam), the nation's energetic capital is noted for its beautiful colonial architecture and historic sites. Despite the usual hustle and bustle of a capital city,
Phnom Penh
retains an old-world charm and tranquil atmosphere, with stilted villages lining the riverfront and local markets. Prominent city landmarks include the Royal Palace, Silver Pagoda, and Wat Phnom, whilst the Toul Sleng Genocide Museum and the infamous Killing Fields provide an insight into the country's tragic history, during Pol Pots reign of terror.
3) Bayon Temple

PC: Damien@Flickr/Flickr
Also known as the Temple of Many faces (no we're not in Westeros) it was built at the end of the 12th century. It is a mountain temple built to represent Mount Meru, the centre of the universe in Hindu cosmology. What's so special about it? Well, this temple is very unique because of over 200 massive stone faces looking in all directions. In all, there are more than 11,000 carved figures over 1.2km of the wall.
4) Bokor Hill Station
If you're bored of the ancient temples and sandy beaches you'll love The Bokor Hill Station. It was built by the French in the 1920's to be used as a retreat from the heat of Phnom Penh. It has since then been abandoned twice, first in the 1940s when the Japanese invaded Cambodia and again in the 1970s, when the Khmer Rouge engulfed the country. Today, Bokor Hill Station and its abandoned buildings have an eerie, ghost-town feel. So don't forget to pick up your Ouja boards and some candles!
5) Sihanoukville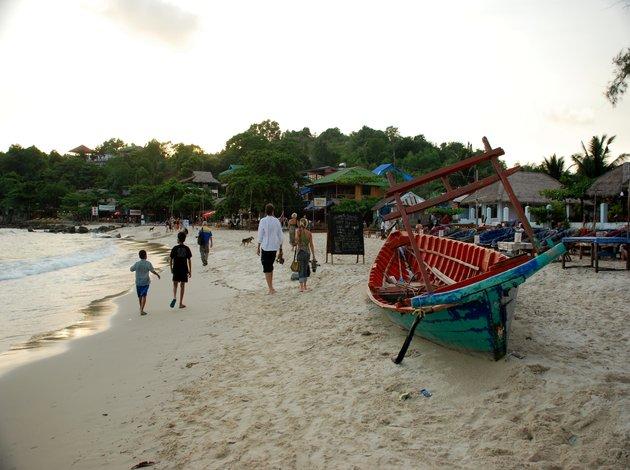 PC: Damien@Flickr/ Flickr
Who said you won't get beautiful beaches in Cambodia? Sihanoukville, also known as Kampong Som, a port city and beach resort on the Gulf of Thailand. The big attraction here is the white-sand beaches and several undeveloped tropical islands. Sihanoukville is a good place to relax and unwind, though be prepared to battle the crows during the high season or a holiday weekend.
6) Koh Tonsay
Koh Tonsay is simple, untouched and secluded. It's only a 20-minute boat ride away from Kep, but it feels completely removed from civilization. The island is dotted with a few rustic bungalows and open-air restaurants, making it the perfect place to lose a few days lounging in hammocks, swimming, and strolling along the tree-lined beach. The island's name comes from its shape, which locals say resembles a rabbit. It's possible to walk all the way around this rabbit-shaped circumference in a single day. With no television, Wi-Fi, or air-conditioning, Koh Tonsay is one of Southeast Asia's few remaining island paradises.
7) Romdeng restaurant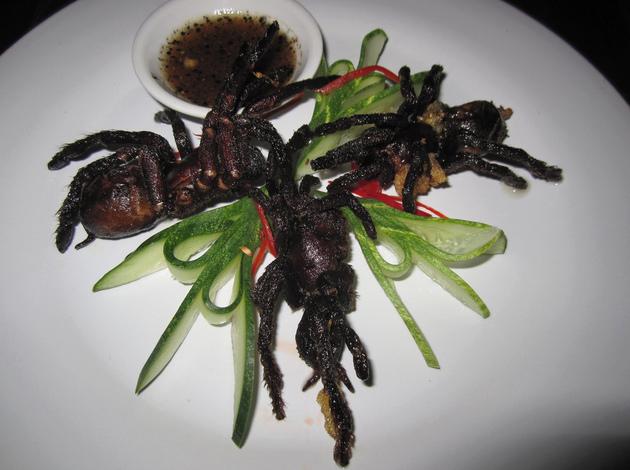 PC:
istolethetv/Flickr
After a long day exploring ancient temples and enjoying sandy beaches all you'd want to do is find some good dinner. Head over to Romdeng restaurant in the Phnom Penh district. Set in a beautiful French villa this restaurant serves staple delicious Cambodian food. Try out the famous fish amok with tiger-prawn curry. If you want to take your Indiana Jones vibe to another level, you can try out the deep-fried tarantulas or stir-fried tree ants with beef.
8) Kampot & Kep
The charming riverside town of
Kampot
is home to some of the finest examples of French colonial architecture in Cambodia. It's a sleepy town with a relaxed atmosphere; best enjoyed strolling along the streets of crumbling colonial shop-houses and dining along the riverfront promenade. The abandoned French hill station here sits in lush evergreen forests with spectacular views of the coastal plain. Kampot also serves as an ideal base for trips to the languid seaside resort of Kep. Once a retreat for the French elite, Kep is famed for its stunning sunsets and splendid food, with hammocks and popular eateries lining the sandy shoreline.
9) Silver Pagoda

PC: Davidlohr Bueso/Flickr
If you ever wanted to channel your inner Lara Croft you can visit this beautiful place which is not only rich in culture but in gold as well! Located within the Royal Palace compound in Phnom Penh, the
Silver Pagoda
houses many national treasures such as gold and jeweled Buddha statues. Most notable is a small 17th-century baccarat crystal Buddha (the Emerald Buddha of Cambodia) and a life-sized gold Maitreya Buddha decorated with 9,584 diamonds (we're not kidding!). The internal wall of the Silver Pagoda courtyard is decorated with a richly colored and detailed mural of the Ramayana myth, painted by 40 Khmer artists.
8) Popokvil Waterfall
Situated in Bokor National Park, Popokvil Waterfall is a stunning two-tiered waterfall, which looks particularly gorgeous during the rainy season. Although the appearance of the surrounding rainforest has been somewhat marred by the construction of a huge casino on the hill summit, the area is still quite pretty. The waterfall takes its name from an expression meaning 'swirling clouds', perhaps about the ever-present mist that surrounds it. It's a great place to stop for a refreshing swim and, if you're lucky, catch a glimpse of the threatened animals that live in the area, such as pig-tailed macaque and the Malayan sun bear.
9) Tonle Sap Lake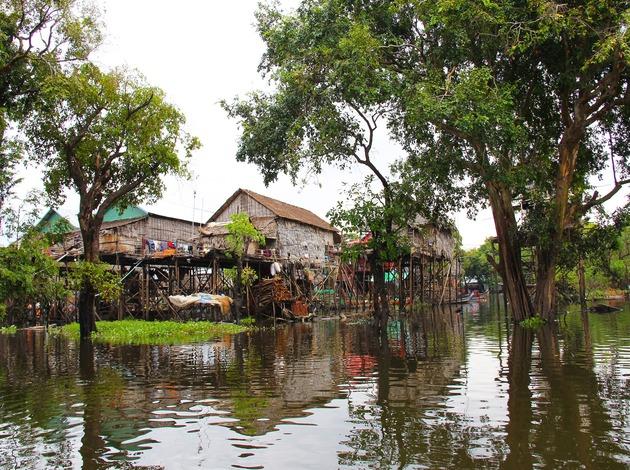 PC: pixabay.com
Chong Kneas, just outside of Siem Reap, is one of the most famous floating villages in the area. It is a particularly scenic village, best enjoyed in the light of early morning or late afternoon, so plan your perfect date according to that. Like many floating villages, Chong Kneas moves depending on the season. The friendly village of Kompong Pluk is another popular place to visit. Houses are built on stilts 6 to 7 metres tall and the flooded forest, whose petrified trees are exposed when the water levels drop, gives the village an other-worldly atmosphere. Tonle Sap Lake is just a short drive from Siem Reap, making it an ideal day trip.
12) Koh Ker
Koh Ker is an intriguing archeological site dating back to the area's brief stint as a Khmer capital from 928 to 944 AD. Although the site was neglected and abandoned for centuries, the wildlife encroaching on these ancient monuments only adds to their sense of mystery. Once inaccessible, Koh Ker can now be reached in a day-trip from Siem Reap via a new toll road. The area consists of more than 42 structures, but one of the highlights is Prasat Thom, a seven-tier sandstone temple pyramid. It consists of a standing 98-foot tall with a mythical half-man half-bird statue guarding the top. Wouldn't that make an interesting snapchat story?
13) Koh Rong
Koh Rong is easily one of the most beautiful islands in the Gulf of Thailand, with white sands and turquoise-green waters that could go toe-to-toe with any of Thailand's tropical paradises. In the evening, you might catch a glimpse of bio-luminescent plankton creating a haunting illumination in the dark night-time waters. In addition to the sandy beaches lining the coast, the island's interior is filled with relatively pristine forests where you'll find birds and other wildlife. Although diving, snorkeling, and trekking can all be arranged, the island is still fairly peaceful and undeveloped.
14) Kratie

PC: James Antrobus/Flickr
Occupied by the Khmer Rouge early in their campaign, Kratie managed to escape the destruction that occurred in the 1970s. As a result, worn but beautiful French colonial buildings still stretch along the town's charming riverfront, which also happens to boast some of the region's most spectacular sunsets over the Mekong River. In addition to providing a glimpse of Cambodia's tranquil, rural landscape, Kratie is known as one of the best places in the country to spot freshwater Irrawaddy dolphins, which live in the Mekong River about 9 miles north of town.
15) Ream National Park
Located 16 miles north of Sihanoukville, Ream National Park encompasses more than 81 square miles of natural beauty. The park includes mangrove forests, miles of unspoiled beaches, two islands, coral reefs, and tumbling waterfalls. More than 200 bird species inhabit the park, including endangered species like the white-bellied sea eagle and Brahminy kite. The park is an ideal spot for forest treks, boat trips, or simply admiring the scenery. Like many of Cambodia's untouched natural attractions, Ream National Park faces a constant threat from developers, so it's best to visit sooner rather than later before serious changes begin to take place.
So get into your tights, pack your knapsack and let's go go go and discover the vibrant heart of Asia!