15 Places To Visit In Singapore For Honeymoon in 2018
UPDATED Oct 12, 2018
21.0K Views
Planning a honeymoon is as important as the wedding itself. A bad honeymoon would damage the entire memory of a splendid marriage. This is why Singapore comes into the picture. One of the cheapest holiday destinations, Singapore is becoming an increasingly popular honeymoon destination.
Frequented by tourists from all around the world, Singapore is vibrant with colorful destinations. But is Singapore good for honeymoon? It sure is and you will agree too.
Now that you have planned for your wedding, it's time to plan for an equally exciting honeymoon. Here are some of the romantic places to visit in Singapore for honeymoon to get a taste of the 'Honeymoon side of Singapore'.
1. Singapore Flyer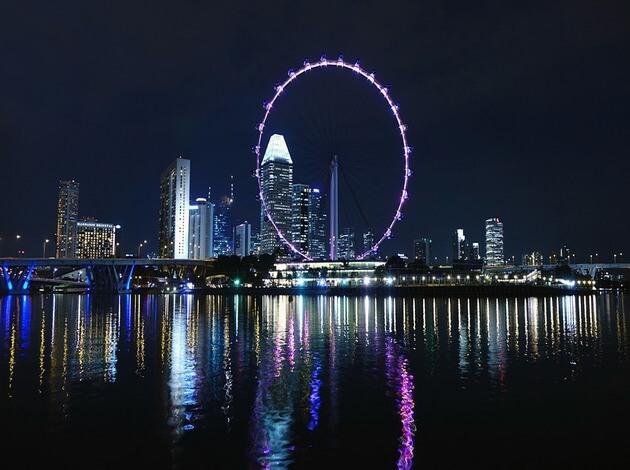 Image Source: Pixabay.com

Aboard this Asia's largest observation wheel at dusk and experience the panoramic view of the city in all its lights. The Ferris wheel moves slowly and gives you ample time to take Selfie with the backdrop of the whole of Singapore. A ride of Singapore Flyer sure is a moving experience.
A perfect trip comes from a well planned itinerary. Plan with TripHobo.
2. Cable Car Sentosa Mount Faber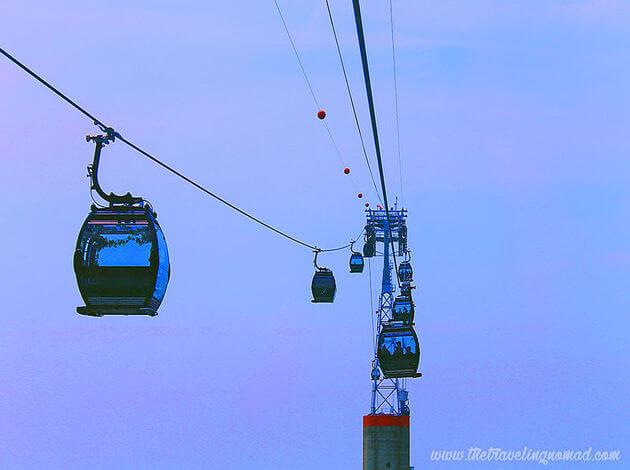 Image Source: Wikimedia Commons
Cozy up with your spouse in this romantic cable car that takes you to and fro Sentosa and Mount Faber thrice in a ride that lasts about 90-minutes. Enjoy the amazing aerial view of the harbor and Sentosa island while you enjoy a fantastic meal together, definitely a must on any list of things to do in Singapore.
Get year around hotel deal with TripHobo Hotels.
3. Gardens by the Bay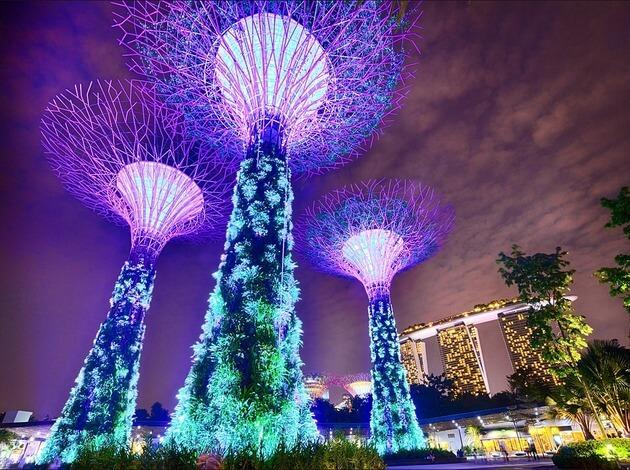 Image Source: Pixabay.com

Gardens by the bay is a state-of-the-art indoor garden that sure gives the other gardens a run for their money. It is breathtaking with exotic plants from all over the world and extends tall into the sky. Romance in this fairytale scenery with the sweet scent of the flowers adding flavor to your honeymoon. You can check their events calender for 2018 here.
4. Marine Life Park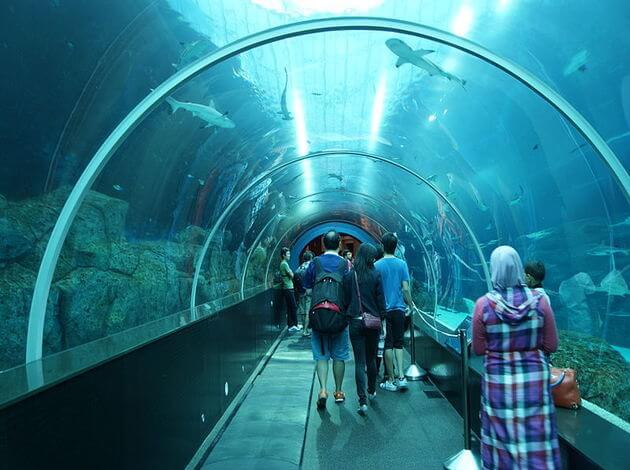 Image Source: Wikimedia Commons
Marine life park, a part of Resorts World Sentosa has two major attractions the S.E.A. Aquarium and the Adventure Cove waterpark. Home to 100,000 different species of marine animals, the S.E.A. aquarium is one of the largest aquariums in the world and comprises of 45,000,000 litres of water. Okay, the best picture for your Facebook wall is the one with the shark!

Looking for more options? here are the top honeymoon spots in the world
5. Changi Point Coastal Walk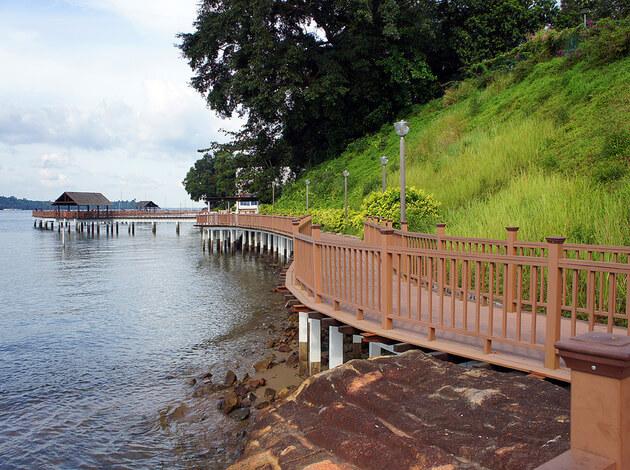 Image Source: alantankenghoe/flickr.com

A 2.6 Km boardwalk that stretches along the coast of Changi is sure a couple magnet. Painted by lush green trees, hilltop chalets, and boats; take a stroll holding hands & have a glimpse at the stunning evening sunset. Changi Point is one of the most romantic places to visit in Singapore for couples.
Life is a trip. Plan your next vacation with TripHobo's Singapore Trip Planner.
6. The Ritz Carlton Millenia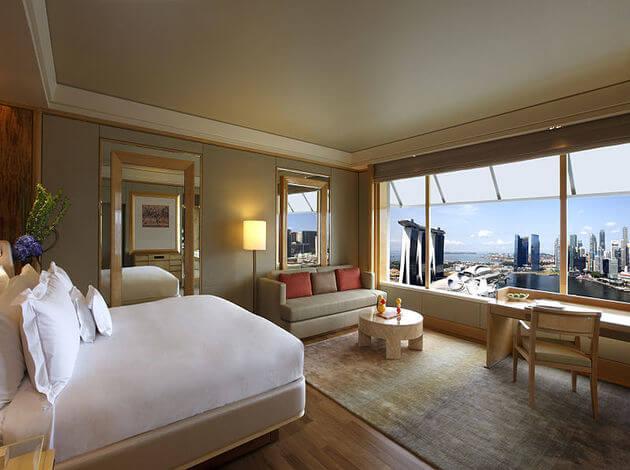 Image Source: Wikimedia Commons
Spending quality time together is one of the best parts of Honeymoon. The Ritz-Carlton Millenia hotel located in the heart of Marina bay offers you the best honeymoon experience. Decorated with contemporary arts the rooms are spacious and gives you an uncompromising view of the Singapore Flyer in the Marina bay and the city's skyline.
7. Botanic Gardens Singapore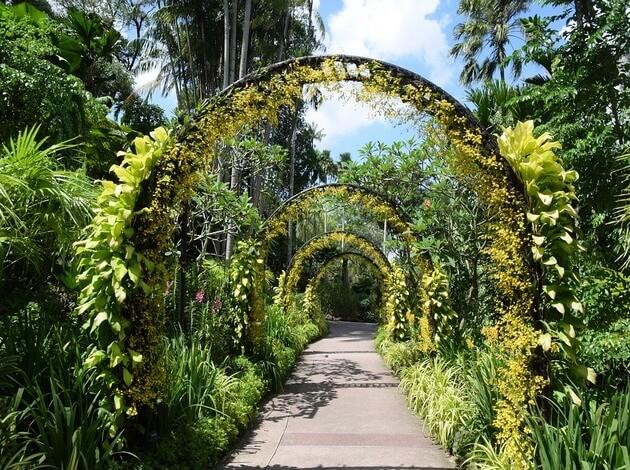 Image Source: Pixabay.com

Escape from the bustling city to this tranquil botanic garden in Singapore that is clean and very green. The garden is a collection of numerous mini gardens and it gives you the feel of nature. On your honeymoon in Singapore soak yourselves in the color of the flowers and dance to their mesmerizing aura. Do check the events happening in 2018 here so you know beforehand what to expect.

Check out: Honeymoon destinations in November
8. Sentosa Island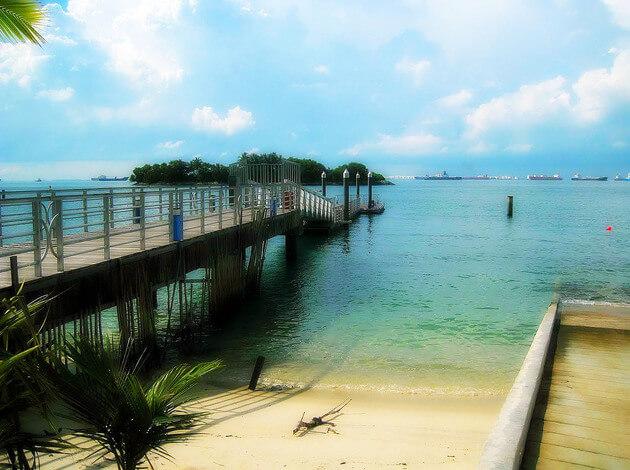 Image Source: Wajahat Mahmood/flickr.com
Honeymoon trip to Singapore would be incomplete without Sentosa. Walk along lazily on the white sandy beaches of Sentosa while the only sound hitting your ears is the crashing of the waves.
9. Marina Bay Sands Light and Water show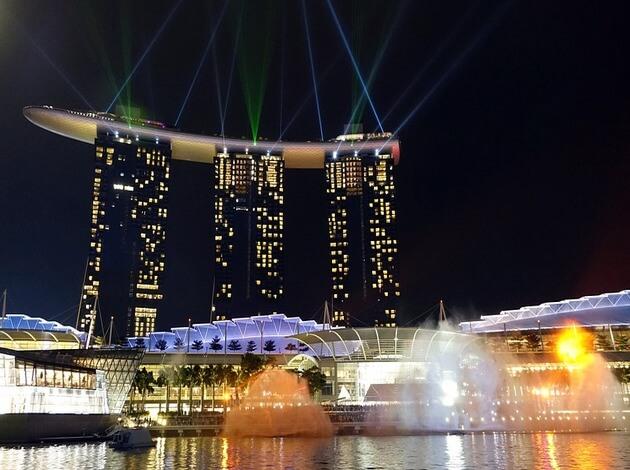 Image Source: Pixabay.com

When the clock strikes 8 in the evening, colorful lights and music converse together to offer you a stunning masterpiece of an experience. Marina Bay sands light and water show is one of the popular attractions for couples in Singapore and it's totally free of cost. The spectacular show of laser lights, water jets, and fire geysers will blow your minds off and make you come back for more.
10. Science Centre Observatory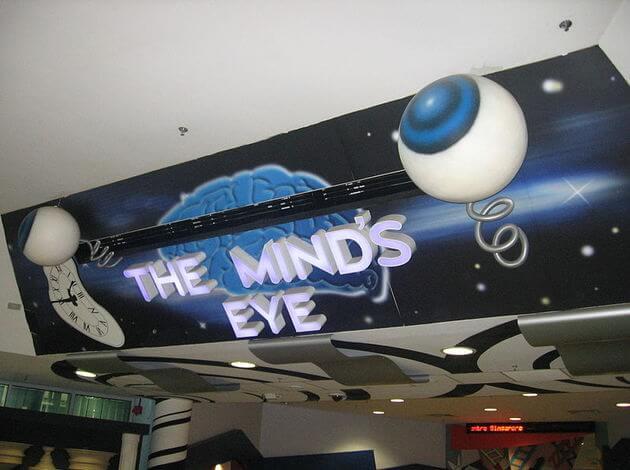 Image Source: Wikimedia Commons
'You are the shining star of my life', I bet you all have uttered this cheesy line to floor your better half. And now, it's time to present them with the stars. Spend a dreamy day at the Science Centre Observatory stargazing, as the celestial bodies glitter and come to life.

Must Read: Top budget honeymoon destinations in the world
11. Henderson Waves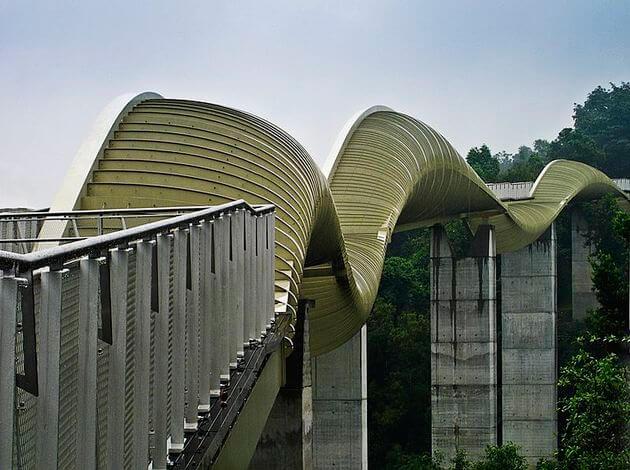 Image Source: Wikimedia Commons

With a strikingly wave-like architecture, the moon lit Henderson waves is long, wavy, and connects Mount Faber with Telok Blangah Parks. The height of Henderson waves gives you an unparalleled view of the Singapore skyline and is surely a treat to watch it with your loved one.
12. Yueh Hai Ching Temple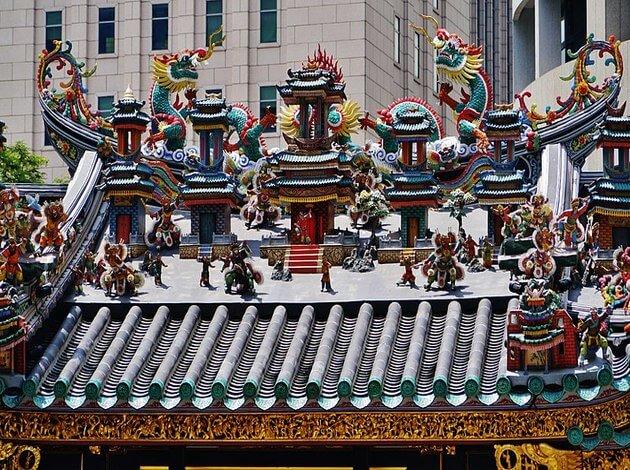 Image Source: Wikimedia Commons
Yes, guys, it's a temple. Yueh Hai Ching, a UNESCO heritage site is known as the Love temple. Ain't it the best place to get blessings from?! The temple is built by Chinese craftsmen and is considered as one of the oldest temples in Singapore. Pray to the moon deity, Yue Lao and strengthen your relationship bond to your sweetheart.
13. Bukit Batok Town Park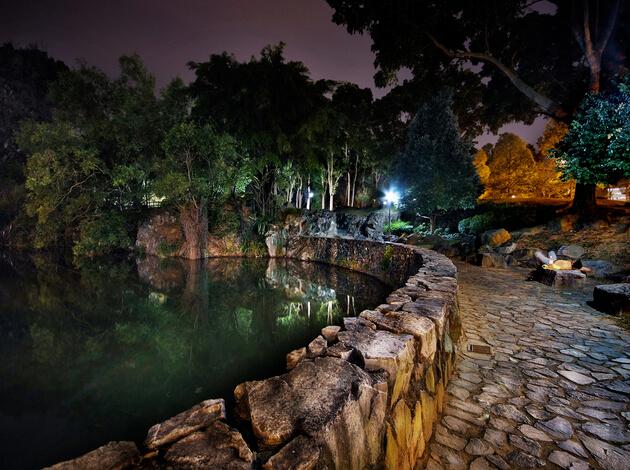 Image Source: Wikimedia Commons

Bukit Batok town park is one of the best places to visit in Singapore for Honeymoon. Also known as Little Guilin or Xiao Guilin as it looks similar to Guilin in China, the place is frequented by photographers and couples alike. Spend a romantic evening together highlighted by the pristine lake and towering cliff rocks.
14. Esplanade Roof Garden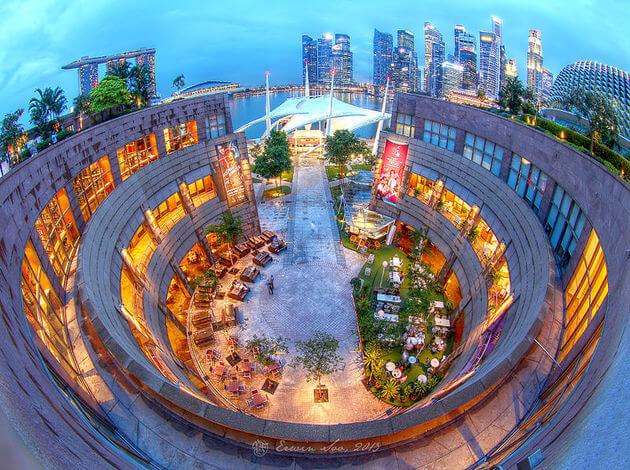 Image Source: Wikimedia Commons
Visiting Esplanade roof garden is definitely one of the romantic things to do in Singapore. Landscaped with beautified lawns and small shade trees, Esplanade roof garden is a place to relax and do some romantic teasing. The artistic planting of the garden and the subtle ambience provides the perfect setting for a couple on a honeymoon.
15. Cruise along Singapore River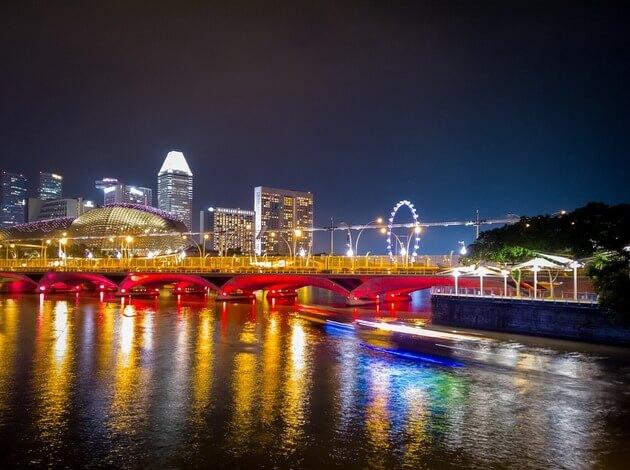 Image Source: Pixabay.com
Talking about cruises and ships, the striking imagery of Titanic keeps tingling my brain. No, not the tragedy but the love. Turn on the Titanic style honeymoon in Singapore by taking a cruise and enthral at the view of the famous landmarks, Marina bay, and kiss to the breezy ride.
Now, I am sure you'll be convinced that Singapore sure is an amazing honeymoon destination. If you come to know any other exotic places to visit in Singapore for a Honeymoon, let me know in the comments.
Happy Honeymoon Sweethearts!
More Choices for Honeymoon in Asia:
Best Islands in Thailand for Honeymoon
Honeymoon Destinations in Sri Lanka