Best Places To Visit In Rajasthan
* Disclosure: This post may contain affiliate links, which means we may receive a commission if you click a link and book something (there is never any extra cost to you for using these links).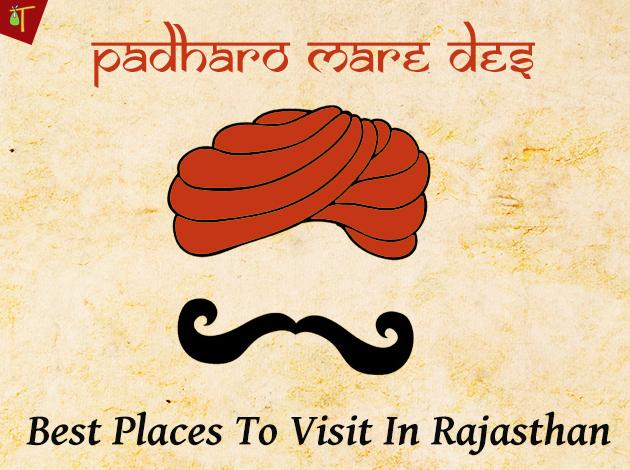 As soon as I saw the new Rajasthan tourism campaign, involuntarily I just went back to remembering everything Merasthan made me feel the last year I visited. I remember my foot being pedicured with the natural golden sands, my tongue battling with stomach to never let the Ker Sangri and Dal Bati Churma intake stop, my wardrobe cringing upon the unusual bright colors I filled it with and my brain struggling to make a mind palace full of Rajasthan memories to be filled forever. That is exactly what goes behind making the most visited state of India - the most sought after tourist destination. The simplicity of rural charm, the class of the royal palaces, the bright colors of people mingle in with the golden sands and cold nights effortlessly.
I have a knack for hyperbole, hence forgive me if I say that even a lifetime is not enough to get scared by the haunted places in Rajasthan or to be bowled over by the wildlife in Rajasthan Tourism here is at such a high at all times, that sometimes it is difficult to make out which are the best places to visit in Rajasthan. Here we present an alphabetical order of all the places that are slightly off-beat and some that are also the most visited places in Rajasthan!
1) Abhaneri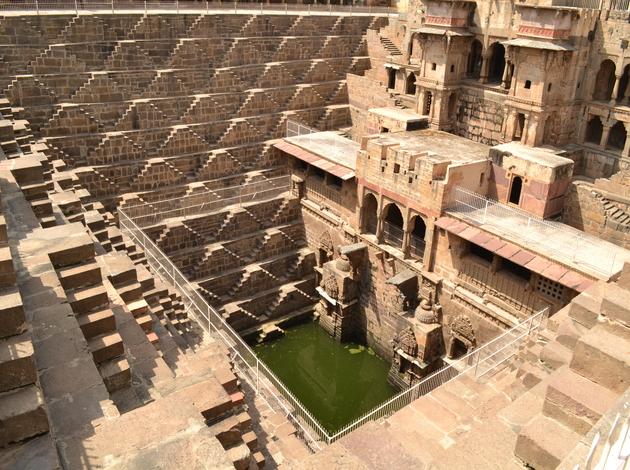 source : Photo by Chetan / CC BY-SA 3.0
Abhaneri, a humble district in the district of Dausa is known for the lovely contrast it offers to everyone who visits here. The colorful dyed sarees and dupattas are seen almost everywhere in the city, offering a perfect contrast to the famous soothing beige Chand Baori step well. The rare rains towards the end of the year are also perfectly contradictory to trademark heat of Rajasthan sun.
Best time to visit: You should definitely visit Abhaneri during the Abhaneri festival which happens around the month of September or October.
Sights you should not miss: Chand Baori Temple, Harshad Mata Temple
2) Ajmer

source- rajasthantourism
When you go looking for elements here, you will find the tranquility in water of Ana Sagar. You will be blessed by the devotion moving around in the air of Ajmer and you will see a lot of warmth in people's hearts who have slowly moulded themselves into becoming a part of this blessed chaos. Famous for it's Dargah, nobody ever goes back empty hearted from here. This place has everything that Islam in Rajasthan can represent. Apart from being tugged in the protective Aravali Ranges, this place also has a historical side.
Best time to visit: During the annual urs of Moinuddin Chishti. It is also one of the best places to see in Rajasthan in November.
Sights you should not miss: Ajmer Dargah, Akbar Palace, Adhai din ka Jhopra, Ana Sagar, Nasiyan Red Temple, garh, Government Museum, Jubilee Tower.
3) Alwar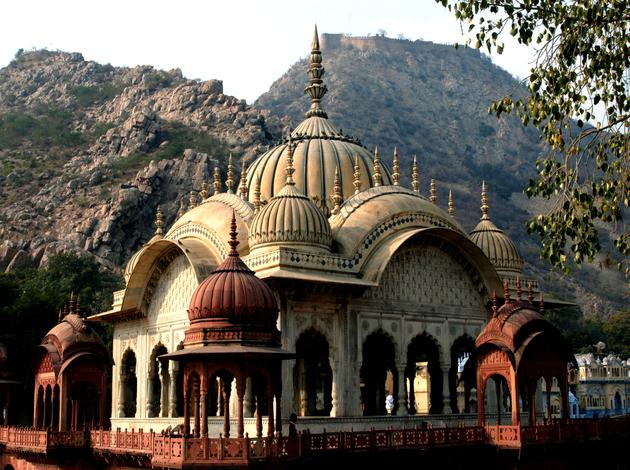 source - Photo by Tapish3409/ CC BY SA 3.0
The thing about Alwar is that is just simply overshadowed by the grandeur of Udaipur, Jodhpur and Jaisalmer. One of the most underrated cities in Rajasthan, Alwar is considered as one of the best that Rajasthan has to offer to you. Do not miss the Palang Torh here, a sweet made out of milk.
Best time to visit : To completely soak in the awesomeness of hot delicacies, you should not visit before the month of January. January to March is the best period to visit this place.
Sights you should not miss: City Palace, Moti Doongri, Bala Quila
4) Amer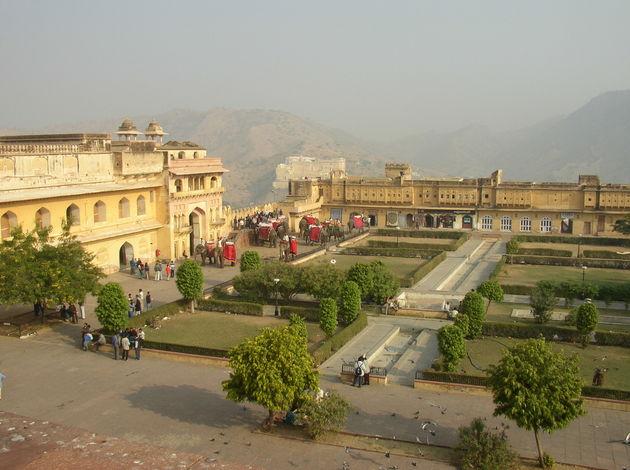 source - Photo by Knowledge seeker
I remember my love for Amer started back in the 4th grade when I had made a thermocol model of the beautiful fort with a little thermocol palace on wheels passing from it. The transition from having that model in front of my eyes to the real fort coming alive in my eyes with the light and sound show is an experienced that is etched in my memory forever. Now a part of the Jaipur constituency, Amer has the potential to get you lost in the majestic fort.
Best time to visit: Anytime from November to March. The cold winter nights provide the perfect setting for the Amber fort light and sound show.
Sights you should not miss: Amer fort
5) Banswara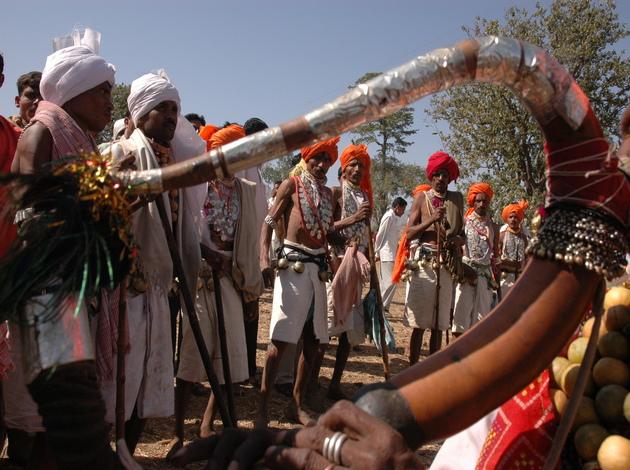 source- Hindu human rights
Bhils community lost their identity somewhere in the shadow of Rajputs and other famous tribes of Rajasthan. Today, you can talk to the remainder of this community in the mystical village of Banswara. The thing is nobody ever considers exploring the serene country-side of sorts of Rajasthan. A lot like the tribes here, the city also has managed to survive but in ruins. Even so, the city palace and the surrounding stone structures are a sight to watch. A short drive away from Udaipur and Chittorgarh, this is a place you should definitely get to if you have time on your hands.
Best time to visit: December is the best month to visit Banswara.
Sights you should not miss: Anand Sagar, Madareshwar, City Palace, Mahi Bajaj Sagar Dam
Rajasthan is known for it's hotels. Check Best Heritage Hotels in Rajasthan
6) Barmer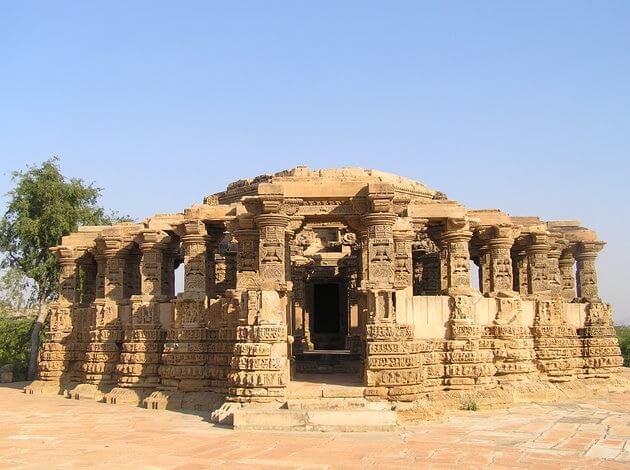 source - Photo
Barmer is one of the best places to visit in the Rajasthan desert. Also famous for it's stock alcohol, the main thing this town aces is in the excellent wooden carvings that the market here has in plenty. A desert town, the group of ancient temples also have a great story to tell. Also, you would love to explore the nature of royalty through the walls of Barmer Fort.
Best time to visit: You can visit Rajasthan anytime from August to March. But Barmer is a great place to enjoy the cold winter and soothing sun at the same time in March. The best time to visit Barmer in Rajasthan is basically March.
Sights you should not miss: Kiradu Ancient Temples, Barmer Fort
7) Bhangarh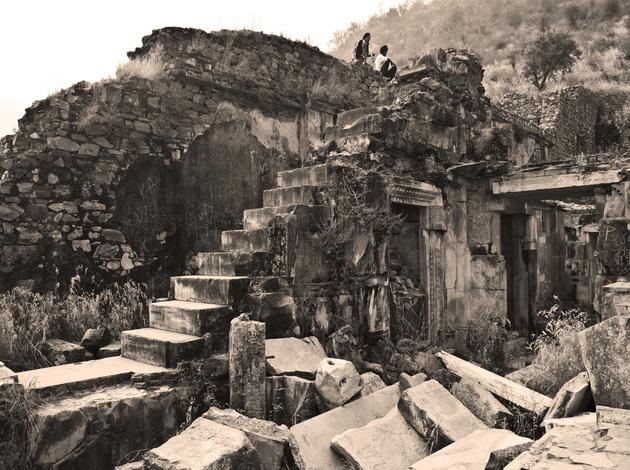 Source-ancient.eu
Bhangarh fort is considered to be one of the most haunted places in Rajasthan. Infact, it is one of the most haunted places in the entire country. Apparently, one fine day the entire village was simply abandoned. There are a lot of folktales, stories behind why this place actually has ghosts. How mythical and how true, not a lot of people have survived to prove!
Best time to visit: Well, anytime from dawn to dusk.
Only sight you cannot miss: Bhangarh Fort, pray in the Hanuman temple near by.
8) Bharatpur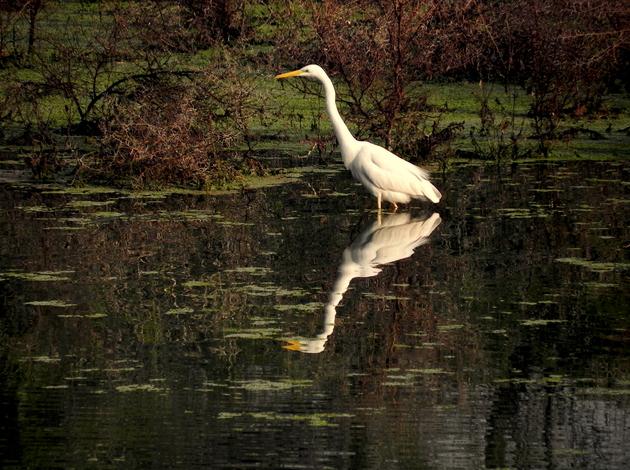 source - Photo by Nikhil Chandra / CC BY SA 3.0
Bharatpur is somewhat synonymous to the wildlife in Rajasthan. It is also one of the most visited tourist destinations in Rajasthan. You can choose to stay in the various places outside the national park or simply take the government run lodge to be accommodated inside. To have an experience of the wild national park completely, you should get inside and interact with nature to your heart's content.
Best time to visit: Best time to visit Bharatpur is in the month of August to September but also during the Brij festival.
Best places to visit: Keoladeo National Park, Bharatpur Palace, Lohagarh Fort
9) Bikaner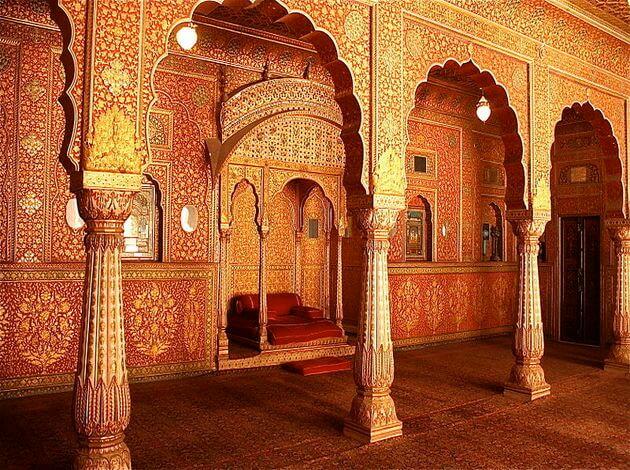 source - Photo by Nagarjun Kandukuru / CC By 2.0
Every foodie knows that Bikaner has the best Bhujia. It is what they are famous for pan India. Not a lot of people know, that the history of Bikaner is as rich and interesting as the rest of Rajasthan. Apart from that the unusual Karni Mata Temple, which is known to house millions of rats is an experience found nowhere else. Also, the camel ride is something you should definitely experience here.
Best time to visit: January is a great time to visit Bikaner as it is not very crowded and the taste of the spicy bhujia blends in very well with the weather.
Sights you should not miss: Junagarh Fort, Karni Mata Temple,Lalgarh Palace, Gajner Palace, Bhujia Bazar.
10) Chittorgarh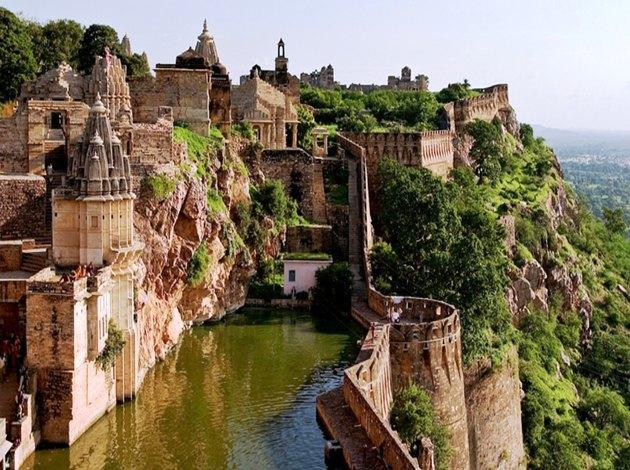 source- Photo by Vinod Jain
This place has history flowing from its streets. The famous classic stories related to Chittorgarh along with the prominence of the fort are what make up the air of Chittorgarh so magical. Ala-Ud- Din Khilji also has a great association with this city.
Best time to visit: Chittorgarh is one of the best places to visit in Rajasthan in march.
Sights you should not miss: Chittorgarh Fort, Rani Padmini Palace, Rana Kumbha Palace, Archaeological museum in Chittorgarh
11) Khimsar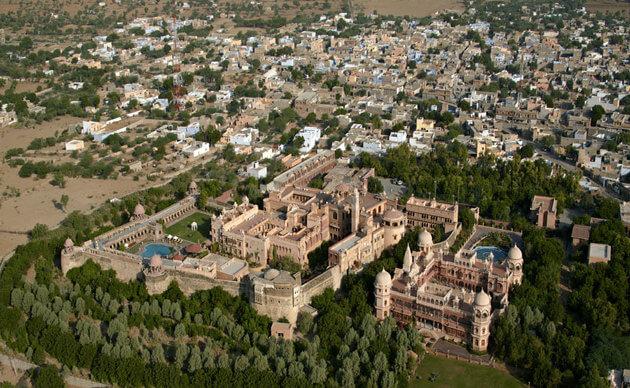 source - Photo
Khimsar is one of the best places to visit in Rajasthan desert. It also marks a very prominent place on the cultural map of Rajasthan because of the famous Nagaur festival. The fort here has exquisite meals in form of thali. Although the place is surrounded by rural set up all over, the fort still stands out proudly holding up to its 450 year old dynasty.
Best time to visit: The best time to visit Khimsar is during the Nagaur Festival.
Sights you should not miss: Nagaur Fort, Panchala Black Buck Reserve
Rajasthan is itself carved from dreams. Check out 8 Castles in India Etched out of the Fairytale Book.
12) Kota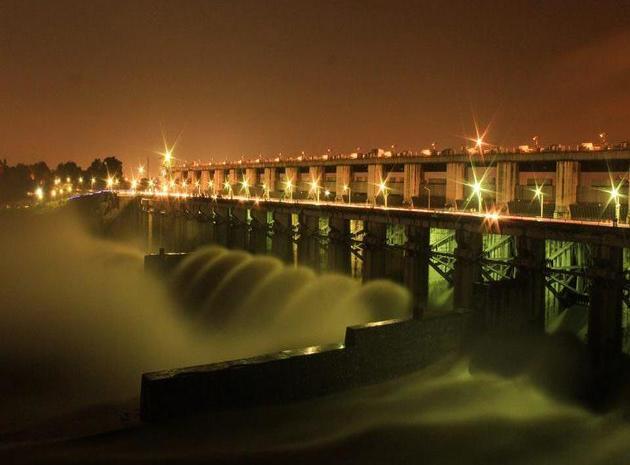 Source- Photo
Kota is known as the education for educated hub of the country. With the biggest of IIT coaching centres in the country and a lot of culture still pouring in from every corner, Kota is one of the most important centres in ever mean in Rajasthan. The namkeens of Kota and the chunari, bandhani dohars are of outstanding quality. Shopping in Kota is one of the most preferred activities undertaken by tourists.
Best time to visit: The best time to visit Kota is during the festival of Gangaur to witness the festivities.
Sights you should not miss: Bundi, Kishore Sagar Lake, Jagmandir Palace
13) Kumbhalgarh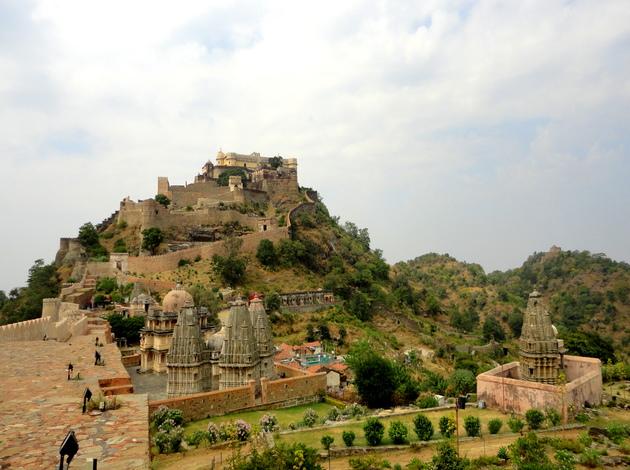 source - Photo by Hemant / CC BY SA 3.0
Kumbhalgarh is like inception of forts. It has a fort within a fort. It also boasts of many folk lores that represent the history of the fort. Apart from the place of brave warriors, the wildlife sanctuary here is one of the best attractions for wildlife in Rajasthan. So for a place full of history and a lot of adventure, this is one of the best places responsible for making Rajasthan tourism such a big success.
Best time to visit : From the month of October to March, all the times are great to visit.
Sights you should not miss : Second largest wall in the world- Kumbhalgarh Fort.
Why be amazing on your exploration of this amazing state. Make the best of your experience with these tours.
14) Mandore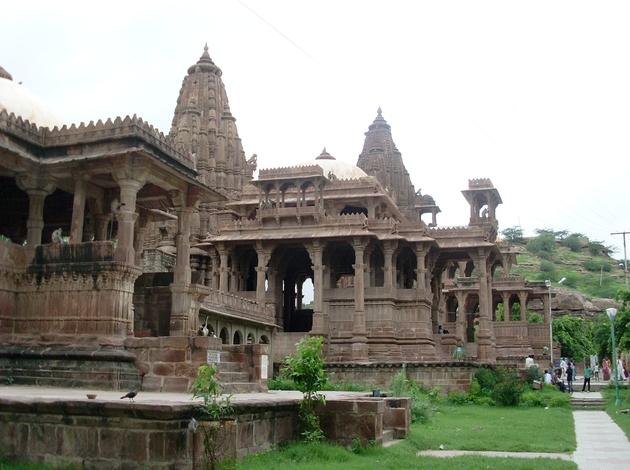 source - Photo by Kavita Morty / CC BY SA 3.0
Mandore is very important to the historical map of Rajasthan. It was initially the former capital of the Maharajas of Marwar and hence boasts of a very vibrant and brave environment. This is also one of the best places for Hindu devotees to visit as along with folk tales of Rajput heroes, there are various places dedicated to the Gods as well.
Best time to visit: Mandore is one of the best tourist places in Rajasthan for November.
Sights you should not miss: Mandore Gardens
15) Mount Abu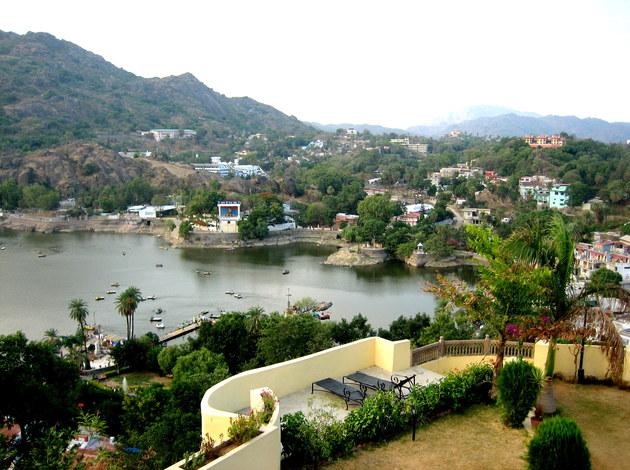 source - Photo by Andreas Kleemann / CC BY SA 3.0
Mount Abu has always had this hill station sort of a name and has always been a hit with tourists since decades. It has a beautiful wildlife sanctuary making it one of the most visited sites for wildlife in Rajasthan. It also makes the map of Rajasthan very green in terms of all the nature that it has under its folds. Although, every delicacy is really amazing in Mount Abu, but the ice creams around Nakki Lake in particular are something you should not miss out on!
Best time to visit : The best time to visit Mount Abu is during the summer festival and the winter festival that takes place in Mount Abu. It is also one of the only cities which is pleasant all year around.
Sights you should not miss: Peace Park, Dilwara Temples, Mount Abu wildlife sanctuary, Nakki Lake
16) Osian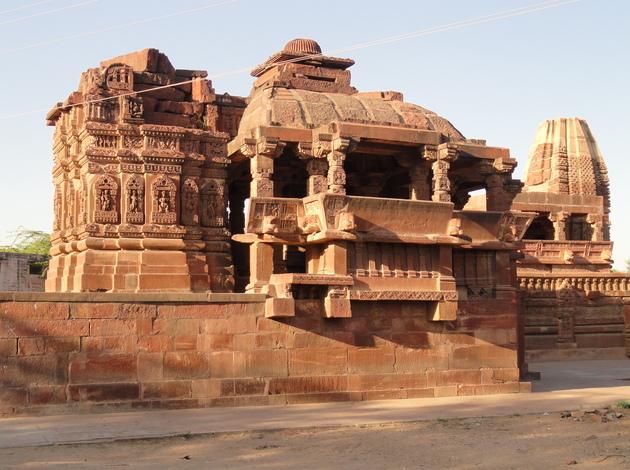 source - Photo by L T Gandhi / CC BY SA 3.0
The thing with Osian is that the attractions here have too much of history associated with them. Each monument present here ha sa story to tell and that is why even though it has that feature of Rajasthan, it distinctly stands out. Also, the place is specially blessed with temples on every second nook and corner. You should definitely visit Osian to get a feel of simplistic beauty along with connecting with God in completely traditional ways. Also more than anything do not forget to try the 'Mithi Manuhar', a traditional sweet served before food generally.
Best time to visit : Osian is one of the best places to visit in November in Rajasthan.
Sights you should not miss: Sacchayee Mata Temple, Harihara Temple, Sun Temple, Mahavir Jain Temple
17) Pushkar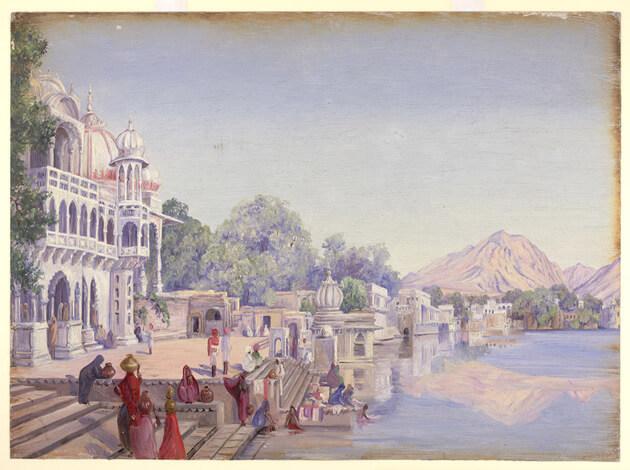 source - Photo by Marianne North
Pushkar comes under Ajmer.The best feature about Pushkar is that it houses one of the very few Brahma temples remaining in the world. Known as one of the main five pilgrim centres, there is tradition, devotion and culture carved on every wall and road of Pushkar. Pushkar is known for the distinct liveliness and colors it brings about during the annual Pushkar fair. Also, remember non veg and alcohol is strictly prohibited here as it is a pilgrim place.
Best time to visit: This one is obvious. The best time to visit Pushkar is in the month of October- November when the Pushkar fair takes place.
Sights you should not miss: Pushkar Lake, Brahma Temple, Savitri Temple, Pushkar Yoga Garden
18) Ranakpur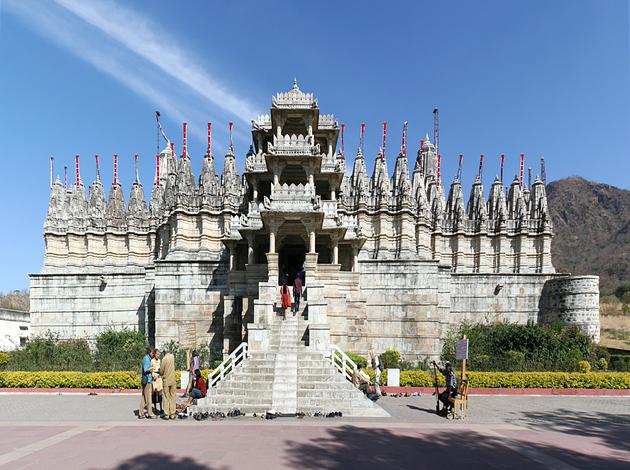 source - Photo by Nagarjun Kandukuru / CC BY 2.0
Ranakpur holds a very prominent place in Jainism culture of the country. It is one of the five main pilgrim places for Jain. The temples here are really beautiful and every carving in each temple communicates calm devotion with you. Trekking is also one of the best activities to do in Ranakpur in Rajasthan as it promises you a panoramic view from the top like no other place.
Best time to visit: Ranakpur is one of the best places to visit in Rajasthan in march.
Sights you should not miss: Chaumukha temple, Ranakpur Jain Temple, Surya Narayan Temple
19) Ranthambhore National Park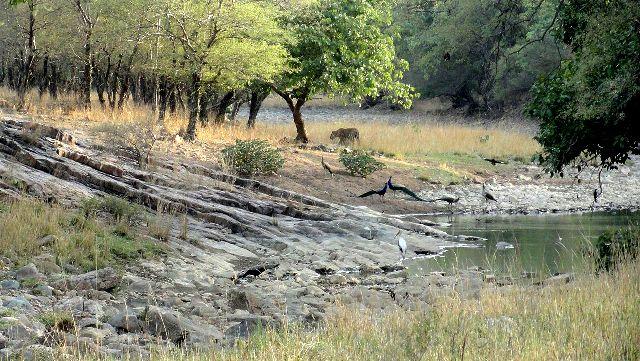 Source- Wikimedia Commons
Ranthambore National Park features highly on every wildlife lover's list. From October to June it is always crowded, that is why it is always wise to book places in advance. Try out this free trip planner to avoid any hassles. Ranthambore has a lot of stories that will scare you and simply add the interesting factor to one of the best national parks in the country. When looking for wildlife in Rajasthan, this is definitely your go to place.
Best time to visit: Ranthambore welcomes you with open arms and dense forests at anytime of the year. You should just avoid going from July to September as it is the time for monsoons.
Sights you should not miss: Not that you will get enough of the National Park, but if you do- definitely visit the Ranthambore Fort, Jogi Mahal and Surwal Lake.
20) Shekhawati Region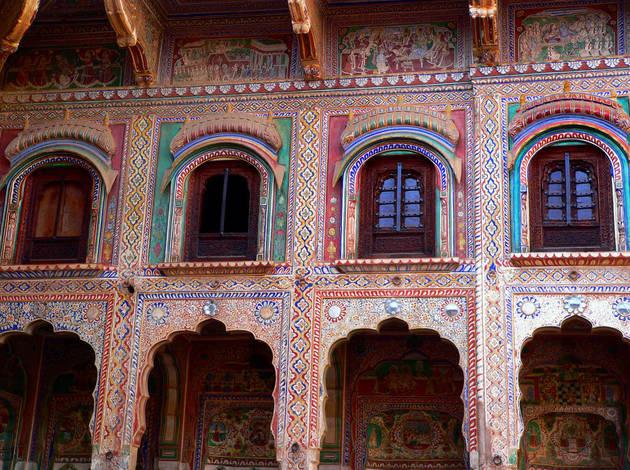 source-rajasthanvisit
Shekhawati Region is the exact Rajasthan you have imagined growing up. The real culture and tradition of men clad in white with the Safa, brightly colored lehengas and everything else that makes up the mental image of Rajasthan in your mind. It is named after the Shekhawati language that is mainly spoken here.
Best time to visit: Shekhawati Region is one of the best tourist places in Rajasthan for the month of March. But, you should definitely not miss out on visiting during the Gangaur Festival, the celebrations here are phenomenal.
Sights you should not miss: The entire feel of this region is what you should not miss. But if you want attractions in particular, then you should visit Dundlod, Tal Chappar Sanctuary and Fatehpur (particularly the frescoes).
---
Now that we have given you a to-do list to be covered in the non-mainstream areas of Rajasthan, let us draw out a list of the best options to be covered in the main cities that you have always heard of:
1) The Pink City - Jaipur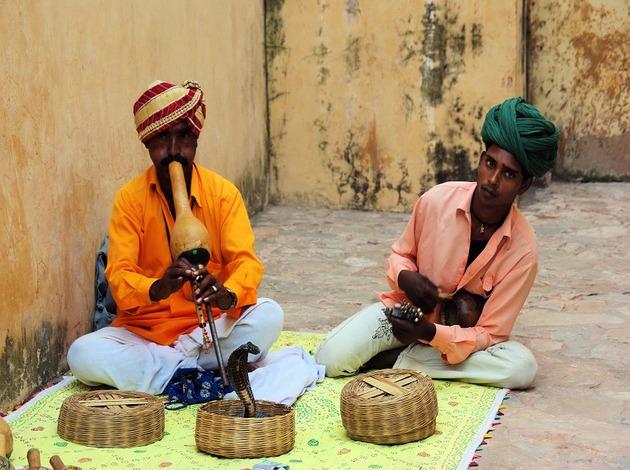 source - Photo by Dezal B / CC0
There is so much to do in Jaipur, that you will never have enough of it in a lifetime. The pink city is exactly as bright and as pleasant as the color it is named after. Even though, overtime it is turning into one of the most developed cities of the country, it maintains its distinct colors and liveliness even while blending in with the most modern cities of the country. Check out this list of places that you should not miss on to get a complete experience of traditions and Rajasthani urban culture:
Hawa Mahal: Made up of Pink and Red sandstone, hawa mahal is your best bet to actually feel pleasant breeze during the scorching heat of summer.
City Palace: Each City Palace in Rajasthan has a story to tell. This one was made in the year 1700 and today has one of the perfect local markets for you to pick up all your Rajasthani memories from.
Nahargarh Fort: Want to be overwhelmed with a splash of pink right in front of your eyes? Well, then do not take the chance of missing the panoramic view from the top of this fort.

Jaigarh Fort : Jaigarh Fort takes care of the fact that you do not only have to witness everything but also understand everything about what you are seeing. It's an ancient hill-top fort with a museum to enlighten you about most of its history.

Jantar Mantar: Getting lost in Jantar Mantar has been one of the most common threats in Indian households while on a trip to Rajasthan. And it is true, there is no doubt about the fact that you may easily lose your way in this expansive structure. Check out this list for a more detailed list of things to do in Jaipur.
2) The Golden City - Jaisalmer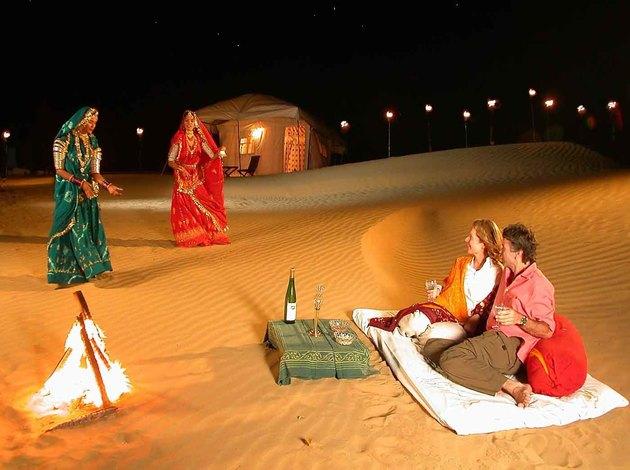 source- Photo
Jaisalmer is one of the most underrated places in terms of how much it can surprise you. Golden city which is full of sober glitter and shimmer will surprise you with it's cold breezes even during the hottest of months. A surprise rain shower, a warm meal made by nani in the ruins of the old fort, a sweet taste of churma with the spicy gatte ki subzi and most importantly a relaxing gazing at the skies on the floors of expansive sands is all you need to have the perfect Rajasthani getaway.
Here are a couple of places that you should definitely not miss on:
Jaisalmer Fort - A slightly long hike, this fort has the best of local stuff to splurge on. It also has beautiful temples to seek blessings from and most importantly it has the old nani ka ghar who serves you hot Rajasthani food. One of the most unusual things that I saw here was that every house had the list of newly married couples in bold on the entrances. The hike to the top is totally worth it, because of the panoramic view that is awaiting you.
Bada Bagh - Bada Bagh is perfect for any botany lover. This large botanical garden houses various species of plants that you will witness in very rare places. All in all, it also offers a great walk through the nature and is indeed a lovely place to visit.
Patwon ki haveli - This is definitely one of the must visit attractions in Jaisalmer. Everybody who's seen Hum Saath saath hain and has been a fan of the Barjatya's larger than life portrayal of Rajasthan should visit this haveli for a major part of the movie has been shot here. Belonging to 3 brothers, Patwon ki haveli has everything you need to see to discover all the beauty items and things they used in the past.
3) The Blue City- Jodhpur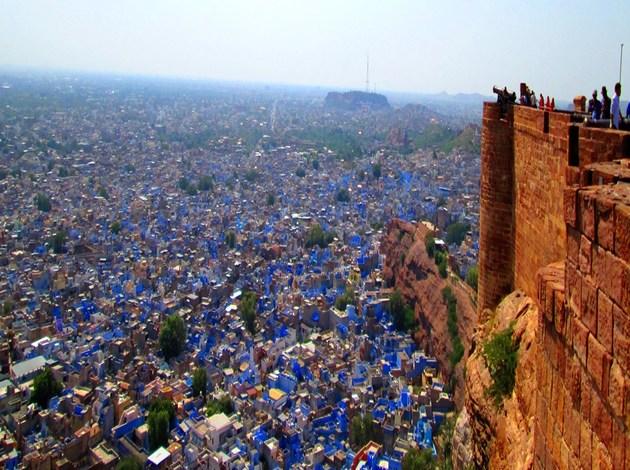 source - Photo by Premaram/ CC BY SA 4.0
Jodhpur tops anybody's list of best tourist places in Rajasthan desert. It also houses some of the most famous Rajasthan points of interests. The city is known for the Mehrangarh fort which was built in the 15th century. It is known to be the Blue City because most structures are painted in the iconic color of blue here. It is a city on Thar Desert and offers a lot of amazing activities related to the desert, history and culture for you.
Here are some places to definitely visit in Jodhpur :
Mehrangarh Fort - Easily one of the most visited points of interests in Jaisalmer, this fort has a very interesting and vast history associated with it. It has the best of royal weapons, furniture, things that were used daily and of course the royalty in structure is of another level here.
Umaid Bhawan Palace - Today, Umaid Bhawan Palace is one of the most beautiful points to discover history and enjoy it by living in it. A converted hotel, this place still has the royal family residing in a part of it. It also has an amazing museum for people who want to glance through the vast history of this palace and Jodhpur.
Balsamand Lake - There is a palace here as well and it is beautiful to visit, but the lake is more attractive than the palace. Almost like an oasis in a desert, this one fits the metaphor perfectly.
Kaylana Lake - Another beautiful body of water to witness the whole of Jodhpur from, this place is a sure shot visit for anybody who's into water and beautiful views.
Ghanta Ghar - Not a very well known attraction to visit by a lot of people, the clock tower in Jodhpur is very iconic in terms of it's usage and the architecture.
4) The City of Lakes - Udaipur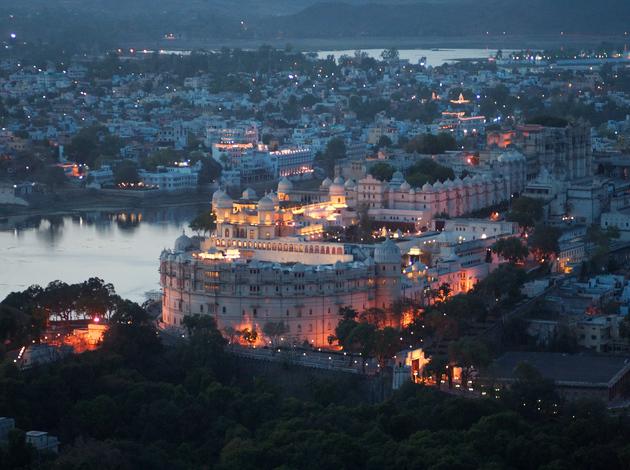 source - Photo by Geri / CC BY SA 2.0
Udaipur is literally a city surrounding the lakes. Most attractions are around and you can enjoy a worthwhile boat ride gazing at all that this enormous city has to offer to you. There is royalty in every droplet of the lake and when the shadow of these amazing structures fall on water, it simply becomes even more magical. You can witness how beautiful the magnificence of Udaivilas or Fateh Sagar Lake or even Jag Mandir by simply just being present there. Check out this list of attractions that you should definitely not miss :
Fateh Sagar Lake - This lake has the power to freeze you with it's amazing breezes and also freeze you in awe with all the beauty that it is surrounded with.
Udaivilas - Udaivilas has eventually become a synonym of a royal wedding in India. When you think of a destination wedding in the country, Udaivilas is the first one on your mind.
Jag Mandir - This old structure still has the power to hold you back just the way it did when it was created. Known as one of the most historically magnificent structures of Udaipur, you cannot miss this one after going that close.
Shiv Niwas Palace - Another palace converted into hotel, this place has fountains inside the rooms; well in most of them. Shiv Niwas Palace is another place to completely enjoy every passing moment the royal way.
Jagdish Temple - This one is purely for your religious side. It cannot be believed that a place so beautiful is not blessed with the almighty.
All in all, Merasthan is like a home to anybody who's willing to take it that way. They have rightly renamed it as Merasthan, because this land welcomes you with open arms if you are ready to give yourself completely away!
*A lot of places could not be listed as the land is very huge to cover. There is a lot to explore in Rajasthan and we are sorry if not covering any place has hurt anybody's sentiments.
Check Out : Best Resorts in Jaipur