10 Best Quirky Restaurants In London
* Disclosure: This post may contain affiliate links, which means we may receive a commission if you click a link and book something (there is never any extra cost to you for using these links).
London has its quirks and so do its restaurants. In true London fashion, these restaurants take your dining experience several notches higher than just pressed linen and white walls. So why stick to the mundane when you can rub shoulders with the whimsical? These quirky restaurants in London remix the usual dinner outing to something audaciously magical and awe inspiring.
Here are our favorite quirky restaurants in London -
1. Bunga Bunga

Image Source: Facebook.com/Bungabunga
Bunga Bunga is a playful, satirical place that can cheer up a gloomy day in the first glance. Edgy and cool, this restaurant morphs into a party place with all the karaoke singing that happens as the night progresses.
Where: 37 Battersea Bridge Road London SW11 3BA
What's Quirky: Full of Italian kitsch and comic clichés, Bunga Bunga is cheeky yet fun. Unapologetically sexual, this joint boasts of a great vibe that is fuelled with the conversation-sparking décor and cheerful live music.
Look Out For: The delicious pizzas and the naughty artwork.
2. Circus

Image Source: Facebook.com/Circuscoventgarden
This restaurant packs in quite an action packed evening for its guests. As you enjoy your spectacular meal, you're entertained by burlesque acts and agile dance performances. Circus feels different than any other dining experience you will have in London.
Where: 27-29 Endell Street, London WC2H 9BA
What's Quirky: Jugglers, Firebreathers, Cabaret artists and Contortionists put up a massively entertaining show.
Look Out For: The trapeze artist above your sushi!
Explore London with London Itinerary 7 Days
3. Sarastro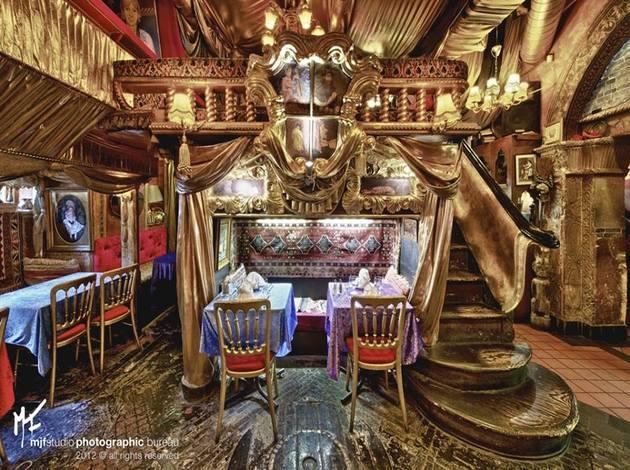 Image Source: Facebook.com/Sarastro
Sarastro's decadent setting is bold yet tasteful. Furnished in a part gothic, part rococo style, this restaurant will remind you of a plush opera house in medieval times. Every Sunday and Monday, guests can enjoy fine opera performances while relishing their three course meal.
Where: 126 Drury Lane, London WC2B 5QG
What's Quirky: Dramatic settings that make you feel like a part of an operatic performance. Even the toilets here make a great statement!
Look Out For: Delicious Turkish- Mediterranean fare that is as exotic as the decor.
You will love to dine at these Celebrity Restaurants in London
4. Hurwundeki

Image Source: Facebook.com/Huruwendeki
A dream come true for those who have been looking to experience a haircut while they enjoy their meals, Hurwundeki is a restaurant that also masquerades as a hair salon! This Korean restaurant has filled a very odd and whimsical void in the market- that of a dining experience that prods you to also get your hair cut!
Where: Arch 298-299, Cambridge Heath Rd, London E2 9HA
What's Quirky: The hair-in-your-food experience.
Look Out For: A greasy but heavenly Beef bibimap and the deer heads that stare down at you from the walls.
If you're planning a trip to London , you got to be here to try these quirky restaurants.
5. Bubba Gump Shrimp Co.

Image Source: Facebook.com/Bubbagumpshrimco
Are you a fan of Forrest Gump? If yes, then this is the place for you. Inspired by this heartwarming classic, this restaurant is a refreshing change from the usual. It serves hearty American cuisine like steaks, shrimp delicacies and fish appetizers.
Where: 13 Coventry Street Trocadero
What's Quirky: The all American menu and ambiance is dotted with Forrest Gump nostalgia. It makes you feel like you're eating for a good cause!
Look Out For: Brilliant steaks and Chicken specialties.
6. The Bunyadi

Image Source: Facebook.com/thebunyadi
Dressing up for dinner is so passé . The Bunyadi encourages its patrons to literally go back to how nature meant for it to be ; naked and organic. That's right, you can enjoy your wholesome organic meal wearing nothing but an awkward smile. Seating only 42 people at a time, Bunyadi may have a controversial concept but it scores full marks for quirkiness.
Where: Popup restaurant. Venue disclosed after booking.
What's Quirky: Semi-nude staff, a kitchen that's run without electricity or gas and the feeling of true liberation!
Look Out For: At the time of writing, The Bunyadi had closed its restaurant in London. It is slated to be back in the city soon though.
7. Attendant

Image Source: Facebook.com/attendant
Have you ever wondered how it would be to dine in the toilet? Even if you haven't, Attendant will acquaint you with the feeling of eating in the lavatory. The late nineteenth century gents toilet that has urinals as seats is as weird as it gets. But once you make yourself comfortable, there is a lot to look forward to.
Where: 27a Foley Street, London W1W 6DY
What's Quirky: Attendant is true to its roots, it has preserved bits of its past which add to the eccentric yet welcoming ambiance.
Look Out For: The delicious homey food- smoked salmon and beetroot hummus and the salted caramel brownie among many other yummy options.
8. La Bodega Negra

Image Source: Facebook.com/ la bodega
A hilariously naughty place, La Bodega Negra will definitely make you blush. Dark, dingy and very sex-shop like, this restaurant is unabashedly sexual and not averse to flaunting it. But as you descend into the belly of this dimly lit sex shop, you have delicious martinis and Mexican cuisine waiting for you.
Where: 9 Old Compton Street, London W1D 5JF
What's Quirky: Topless magazines and porn star martinis, this haunt is authentic and fun. The red neon lit sex shop theme makes you intrigued and the warm service and delicious food keep you fascinated.
Look Out For: Soft shell tacos and Quesadillas.
9. Inamo

Image Source: inamo-restaurant.com
At Inamo you can experience an inevitable reality of our century - machine replacing man. Their interactive tabletops and iPad ordering are fun and add the quirk to the dining experience. From playing games till your food arrives to gaping in awe at the future of technology, waiting for your food just got more exciting.
Where: 134 - 136 Wardour St, W1F 8ZP
What's Quirky: Interactive tabletops and tablet ordering
Look Out For: Beef Tataki and Asian Tapas.
10. The Piano Works

Image Source: Facebook.com/thepianoworks
The Piano Works is a delightful find for music lovers. A great vibe and an exciting menu that is executed beautifully, The Piano Works is part party, part dinner. The in house band plays brilliantly enough to lift your mood up and in general the ambiance of the place is quite cheerful.
Where: Entrance on Corner of Ray St. 113-117 Farringdon Rd London EC1R 3BX
What's Quirky: Electric atmosphere fuelled with great live music.
Look Out For: Your request being played by the fantastic house band.
There is never a dull day in London and these restaurants are a testimony to that. So whether dining naked is your thing or you like to enjoy a circus as you enjoy your meal, London's quirky restaurants will not disappoint you. Tell us about your quirkiest dining experience in the comments below!
You may also like to read and experience: