12 Best Road Trips From Chicago
* Disclosure: This post may contain affiliate links, which means we may receive a commission if you click a link and book something (there is never any extra cost to you for using these links).
Are you looking for where you should go on a road trip from Chicago?
Chicago is a city of towering skyscrapers, ever-enthusiastic sports fans, thumping music festivals, and cultural richness. While there is a constant juggling of things and adventure activities in Chicago which will keep you occupied. The city is in a prime spot with a lot of road trip options for you to escape to the surrounding destinations within 5 hrs drive. No need to get on the flight. Drive, reach and enjoy the beautiful states around.
So if you are already in Chicago then you should explore these 12 best road trips from Chicago.
1. Geneva, Illinois - 41.7 miles

PC: Wikimedia Commons
Looking for a quick and short road trip from Chicago? The uniquely, charming town is within an hour ride from Chicago. Lining the face of the city are tons of amazing shops, gourmet restaurants, and tree-shaded streets, adding to the beautiful weather and the character of the place. Have a relaxing day at the Fabyan Forest Preserve, indulge in the activities at Peck Farm Park, and take a tour of the Fabyan Villa Museum & Geneva History Museum.
Geneva is one of the popular day trips from Chicago.
Time Taken: 49 minutes approximately
2. Indiana Dunes National Lakeshore, Indiana - 51.9 miles

PC: Wikimedia.com
Considered as one of the top places to visit near Chicago in summer, Indiana Dunes National Lakeshore along with the park appeals to families who are looking for a picnic destination from Chicago. Hugging the Lake Michigan is the Indiana Dunes National Lakeshore with its rugged dunes, inviting pastures, and winding rivers, that offers plenty of activities based on the season.
Make a quick stop at the visitor's centers to grab the map of the area and gain info on the terrain.
Go hiking or hire a bike and ride through the trails, take up the Three Dune challenge to climb up the trees, and enjoy the mesmerizing view of the Lake.
Time Taken: 1 hour 2 minutes approximately
3. Harbor Country, Michigan - 72.9 miles

A group of 8 small towns along the Eastern Shore of the Lake Michigan makes up the Harbor Country. Dotted with plenty of Bread & Breakfast places, beaches, and wineries along with its trademark geographic location, the upscale destination of Harbor Country is one of the popular weekend getaways near Chicago for couples. The tree-lined roads and the beachy feel will surely ease you.
Meander through the soft, sandy beaches decorated with dunes all the way, go on a wine-tasting spree by visiting all the famous local wineries, check out the modern art galleries, visit the theaters in the Three Oaks, and stack your bags with collectibles from antique shops.
Time Taken: 1 hour 13 minutes approximately
4. Lake Geneva, Wisconsin - 83 miles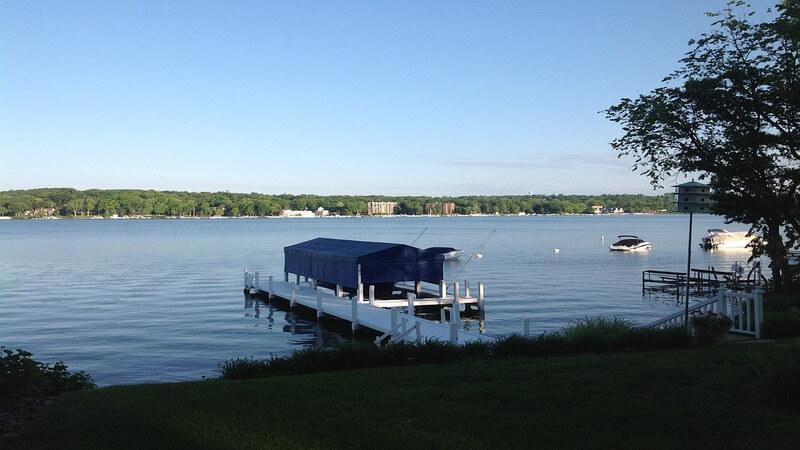 Perched on top of the Geneva Lake, Lake Geneva is a resort city in Wisconsin that welcomes its tourists with its enchanting spas, charming B&Bs, and world-class golf resorts. With its amazing array of activities during the time of winter, Lake Geneva is one of the ideal road trips from Chicago in winter. But Lake Geneva doesn't stop just in winter, it is an all-season destination with activities, events, and wonders for every season.
Camp at the Big Foot Beach State Park, enjoy the history by going on a tour of the beautifully preserved Black Point Estate and Gardens, catch a mesmerizing sunset by the Geneva Lake, hike the Geneva Lake Shore Path, and book for a fantastic show at the Tristan Crist Magic Theatre.
Time Taken: 1 hour 26 minutes approximately
5. Milwaukee, Wisconsin - 92.1 miles

Nicknamed the 'Cream City ' for its attractive cream-colored bricks and 'Brew City' for its rich brewing history, Milwaukee is regarded as one of the last-minute weekend getaways from Chicago.
With its waterfront location and its fabulous architecture in place, Milwaukee successfully retains its small big-city like appeal attracting visitors from Chicago on a constant basis. The warmth and the culture in Milwaukee Illinois make it distinctive.
Visit the Discovery World along with your family and kids, understand history at Milwaukee Public Museum, go through the works of art at Milwaukee Art Museum, get a flavor of Pabst Theater, and experience Mitchell Park Horticultural Conservatory & Milwaukee County Zoo.
For motorcycle lovers, a visit to the Harley-Davidson Museum is highly recommended.
Time Taken: 1 hour 28 minutes approximately
6. Starved Rock State Park, Illinois - 99.7 miles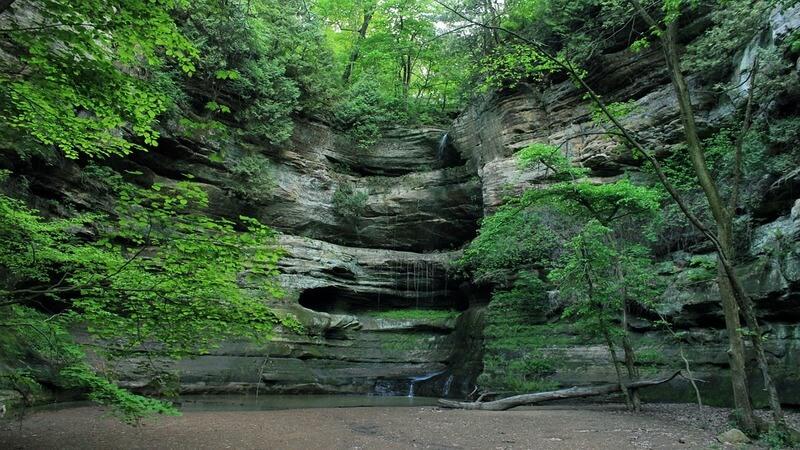 Rated as one of the most beautiful attractions and top places to visit in Illinois, Starved Rock State Park is a class apart!
Characterized by dozens of canyons within the park ground, Starved Rock State Park attracts over 2 million visitors annually which is a testimony to its popularity and for a complete experience of the place, stay at the logged wooden cabins is a must.
Witness the beauty of the amazing waterfalls that are active in the time of spring and just after a rainfall, go hiking along the nature trails, and soak in the spectacular views.
With plenty of activities for everyone, Starved Rock State Park is one of the best day trips from Chicago with kids.
Time Taken: 1 hour 37 minutes approximately
7. Saugatuck, Michigan - 141 miles

PC: Flickr.com
Part of the Arts and the Crafts movement of the late 19th century, Saugatuck is an arts colony and a tourist destination in Michigan that needs to be visited by the creators and art enthusiasts.
The fun little harbor village destination is literally charming and is the sweetest of destinations, ideal for a family trip. The laid-back medieval kind of atmosphere will be completely a relaxing experience.
Scan the lengths of the Saugatuck Dunes State Park, visit the Oval Beach Saugatuck on a sunny day and get tanned, go window shopping at the Butler Street, hike to the Mount Baldhead Park, and check out the art galleries.
Time Taken: 2 hours 14 minutes approximately
8. New Glarus, Wisconsin - 145 miles

PC: Goodfreephotos.com
Interested in getting the flavor of Switzerland in America? Go on a road trip to New Glarus from Chicago, America's Little Switzerland.
Known for its Swiss heritage, old-world architecture, ethnic dining experience, a craft brewery and Swiss-style chalets with flower-filled window boxes, New Glarus is America's Switzerland. Be prepared to hear a lot of yodeling and be on a watch out for the fiberglass cows decorated by the local artists.
Go on a picnic to the New Glarus Woods State Park, take on a guided tour of the New Glarus Historical Museum, get inside the Chalet of the Golden Fleece Museum, hike the Sugar River State Trail, and go wine tasting in the New Glarus Winery.
Time Taken: 2 hours 27 minutes approximately
9. Galena, Illinois - 164 miles

PC: Ken Lund/flickr.com
Painted with rolling hills, scenically splendid roads, and historically charming sites, Galena is for those who are on a constant lookout for a simplistic location that will take them off their stressful routine offering them refreshment.
Have great fun at the Blaum Bros. Distilling Co, relax at the lush green Grant Park, go on a stroll across the Galena Main Street to shop at the art galleries and the antique store, spend a fun evening at the P.T. Murphy Magic Theater, and go on a exploration of US Grant Home Historic Site.
Time Taken: 2 hours 44 minutes approximately
10. Grand Rapids, Michigan - 178 miles

Nestled in a hilly, scenic location and easily accessible from Chicago, Grand Rapids in Michigan is renowned for its amazing culture, great food, and urban appeal.
Grand Rapids is named after the landmark river and the small town offers fascinating experiences that will make you think, it is a miniature version of Chicago where managing kids are comparatively easier.
Be amidst the Frederik Meijer Gardens during the spring and fall to enjoy the blooming flowers, take a guided tour of the Grand Rapids Public Museum, go on an adventurous journey to the John Ball Zoo, and make sure to check out the Gerald R. Ford Museum & Grand Rapids Art Museum.
Time Taken: 2 hours 47 minutes approximately
11. Door County, Wisconsin - 244 miles

PC: Flickr.com
Adorned by a stunning coastline with the ever-changing leaves in the background, Door County is a popular vacation spot in Wisconsin that is dazzling with its natural beauty. Steeped deep in maritime heritage, Door County comprises plenty of maritime museums and lighthouses that add to the totally different atmosphere of the place.
Go on a sunrise walk along the lake, dive into the sweet delicacy of Montmorency cherries, explore Cave Point County Park on a kayak or drive along the winding roads surrounded by autumn colored trees, head to the Eagle Tower at Peninsula State Park for unparalleled views, and stuff your mouths with cherry-stuffed French toast.
Time Taken: 3 hours 41 minutes approximately
12. Huron - Manistee National Forest, Michigan - 254 miles

PC: Flickr.com
Extending along the peninsula of Michigan, Huron-Manistee National Forest comprises of several acres of land and the expansive grounds of Huron-Manistee National Forest has been a recreational area for the nature enthusiasts.
If you are a lover of nature and are interested in getting connected with nature and establishing a balance, then a picnic to Huron-Manistee National Forest is highly recommended.
Hike through the densely populated forest tracing your way through the trees, camp inside the parking area under the lights and have a peaceful sleep listening to the sweet lullabies of nature, unleash your fishing skills, and go canoeing along the rivers.
Time Taken: 3 hours 53 minutes approximately
Did we miss out on any of your favorite road trips from Chicago? Do let us know in the comments section.
You May Also Like to Read
10 Ultimate Cross Country Road Trips In the USA
10 Best Road Trips From Houston
Checklist of Car and Bike Accessories For Long Roadtrips