Best RVs For Road Trips
* Disclosure: This post may contain affiliate links, which means we may receive a commission if you click a link and book something (there is never any extra cost to you for using these links).
Everyone dreams of exploring the breathtaking beauty and many splendors of USA at least once in their lifetime. A road trip is a perfect way to bond with the family, make some great memories with friends or do some soul searching on a solo trip. And what better way to go around wandering the meanders than in the comforts of your own home! An RV or "Recreational Vehicle" makes this possible by giving you a variety of options to choose from and lets you travel as much as you want without worrying about pesky motels, hotels or lodges!
Buying or renting an RV can seem to be a huge task, what with all the variations and models available! So to help you with this quandary and get you started we have come up with our very own comprehensive guide on how to select the best RV for a road trip:
Class A Motorhome (Integrated)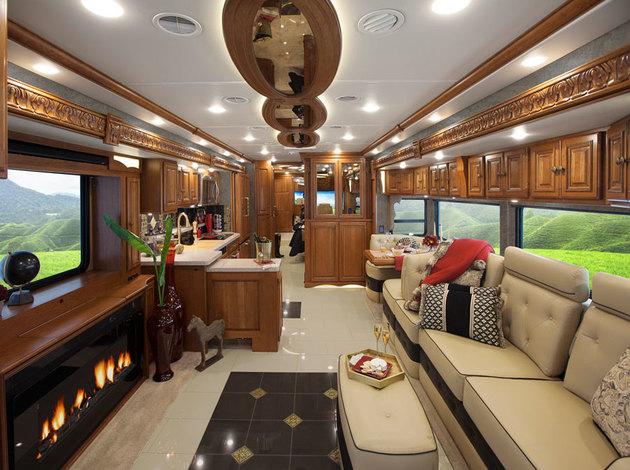 PC: winnebagoind.com
The Big Daddy of all RVs, the Class A models are the biggest, most luxurious and costliest RVs. Celebrities and seasoned travelers swear by them and the great customizing options available make them all the more irresistible. The RVs are perfect for short, long trips and even as a substitute for a permanent living! A perfect option for long road trips with the whole squad!
Popular models: Palazzo Class A Diesel Pushers and Winnebago Motorhomes.
Facilities: Separate master bedroom, storage for cargo, bathroom, and anything else you might desire.
Rocks Coz:
Slideouts create more living space.
Extremely luxurious.
Endless modifications available.
Sucks Coz:
Limited maneuverability.
Expensive to purchase and maintain.
Poor fuel efficiency.
Class B Motorhome (Semi-integrated)

The van camper or the Class B motorhome is the smallest RV out of the lot. It is usually built on a standard van chassis, where a raised roof is added to make more space. The van camper is an excellent choice for a couple of people looking out for a short camping trip. The van comes furnished with all required amenities though there is less space as compared to the other variants available. Plan your route and start driving with the best camper van rentals.
Popular models: Mercedes Benz Sprinter, Chevrolet Express and Dodge Ram Promaster.
Facilities: Refrigerator, toilets, air conditioning/heating and other necessities.
Rocks Coz:
Excellent maneuverability.
Good fuel economy.
Can be easily used inside cities and on narrow roads.
Sucks Coz:
Limited cargo space.
Can fit around 2 people.
A lesser number of modification options available.
Class C Motorhome (Alcove)

The class C motorhome can be considered to be a slightly smaller and scaled down version of a class A motorhome. The space inside is almost the same but the RV lacks the comforts and luxuries of its big brother. It is ideal for a bigger group looking to head out for a lengthy vacation or a long road trip on a more affordable budget.
Popular models: Ford E350, Freightliner XC and Ford F650.
Facilities: Convertible beds, large storage compartments, small kitchen and other necessities.
Rocks Coz:
Ample space for a large number of people.
Cheaper than class A RVs.
All basic facilities and amenities provided.
Sucks Coz:
Difficult to maneuver inside a city.
Maintenance can be expensive.
Luxury furnishings not available.
Class B+ Motorhome
The best way to describe a B+ RV is as a cross between class A and class C motorhome. The RV may be built over on either a van or a small truck chassis. This makes them definitely more spacious than a class B RV, but not as big as a class A or C. The furnishings also are not as luxurious as the class A one. The main advantage is the additional space for a few more necessities and sleeping room for a couple of more people.
Popular models: Chateau Citation 24SR and Coachmen Concord.
Facilities: Additional facilities like microwave, fridge, dishwasher, bigger bathrooms apart from other class B facilities.
Rocks Coz:
Accommodates more number of people than a class B RV.
Better fuel efficiency than class A and class C.
Great maneuverability.
Sucks Coz:
Limited space for modifications.
Less number of options available.
Truck Camper

PC: northern-lite.com
A truck camper is basically a kind of RV that can be carried in the bed of a pickup truck or that can be dismounted from its carrying vehicle. As the trailer is attached and doesn't need to be towed, you can easily attach a different trailer to carry some other items. Truck campers vary in size and can come with just a small cot to a fully furnished home complete with beds, bathrooms, kitchen and other rad accessories!
Popular models: Chevrolet/GMC 2500 3500, Northern Lite Clasic Sportsman and Ram 2500.
Facilities: Varies from model to model, but has toilet, shower, mini-kitchen among other amenities.
Rocks Coz:
Very easy to carry.
Mounted truck campers can easily be taken to hard-to-reach spots.
Sucks Coz:
Limited room size ranging from usually 1-2 people.
Not very ideal for long periods of stay.
Travel Trailer

PC: Wikimedia Commons
Travel trailers are trailer units that do not have an engine of their own and are completely towed by another vehicle. These trailers are dedicated living spaces, furnished like a proper house, resplendent with beds, kitchen, bathrooms and entertainment rooms. All kinds of imaginable luxuries can be fitted and they can be hooked up with water storage facility and an electricity back-up system.
The 5th wheel trailer is a type of travel trailer that has a gooseneck connector which attaches to the tow vehicle making maneuverability easier.
Popular models: Jayco Jay Flight, TrailManor and Forest River Rockwood Roo.
Facilities: All kinds of imaginable furnishings and luxuries like TVs, entertainment centers, fridges, microwaves and others.
Rocks Coz:
Cheaper than full motorhomes.
Towing vehicle can be unhooked for other work.
Sucks Coz:
Reversing is difficult.
Easy to lose control while driving.
Folding Trailer or Popup Camper

The Folding trailer or Popup camper is a kind of small, towable RV that can be folded or collapsed for easy transport and storage. The walls maybe hard or soft and made up of materials like canvas, vinyl or some other material, though the roof is usually hard. The trailer can be furnished with a number of amenities like power system, toilet, microwave, fridge and much more. The size can vary a lot as even a trailer with a large capacity can be collapsed into a small bundle.
Popular models: Flagstaff 425D, Starcraft Comet and Redwood by Coleman.
Facilities: The trailer can accommodate a number of amenities depending on requirement and number of people.
Rocks Coz:
Can be easily towed by small to medium vehicles.
Light in weight and compact.
Cheapest portable camping option.
Sucks Coz:
Susceptible to extreme weather.
Not much storage space.
Longer setting up time.
---
Some points to remember before you take the plunge:
1. Rent/buy the RV depending on the destinations you plan to visit and the number of people you might take with you.
2. Renting is a more viable option than buying if you plan on going on short trips every year or so.
3. Check availability for parking, overnight camping and emergency garages throughout your route in advance.
4. Go for an RV giving better fuel efficiency than one laden with unnecessary luxuries.
We hope this guide was able to resolve any questions you might have had regarding what kind of RV to go for your next camping trip! If you have any query or suggestions please feel free to drop in your words in the comments section below! Happy Camping!
You May Also Like to Read
10 Ultimate Cross Country Road Trips In the USA
12 Best Road Trips From Chicago
Checklist of Car and Bike Accessories For Long Roadtrips
20 Best Road Trips With Girlfriends Ideas