12 Best Safari Destinations in Africa
* Disclosure: This post may contain affiliate links, which means we may receive a commission if you click a link and book something (there is never any extra cost to you for using these links).
Think Africa and you cannot help thinking wildlife. Home to the Big Five- African lion, African elephant, Cape buffalo, African leopard, and rhinoceros and several endangered species, Africa is constantly on the threshold. These factors have played a pivotal role in shaping the continent's tourism, thus attracting millions of visitors annually. Not to mention an infusion of the best safari lodges in South Africa, that promise of a sojourn you will cherish for a lifetime. So, hold on to that thought of vacationing in Africa and check out these twelve best safaris in Africa that will urge you to get up and go now!
1. Duba Botswana

Image Source: Bernard DUPONT/flickr.com
Best time to visit: May to September
The Duba campsite is one of the most remote ones of all the safari campsites in Botswana. The thrill and wildlife species here are unparalleled thus making it one of the best safaris in Africa. Accommodations in tents and an impeccable service are what make Duba a must on this list. Adventurous clashes of buffaloes and lions are a highlight of this safari. The birdlife too is pretty abundant and impressive. Night drives around only raise the bar of this safari.
2. Mundulea Reserve, Namibia

Image Source: Wikimedia Commons
Best time to visit: June to October
Talking about best safaris in Africa, one can barely miss the Mundulea Reserve in Namibia. Nestled in the mountain ranges of Otavi, this reserve sprawls across 120 square kilometers. Hiking in the bushes can be a unique experience given the characteristic Karstveld Biosphere here. Guided tours are the best way to go about this place. Look forward to a ton of antelope species along with giraffes and some endangered species. A guide will enlighten you further on these animals.
Must Visit: Most Beautiful Places in Africa
3. Masai Mara National Reserve, Kenya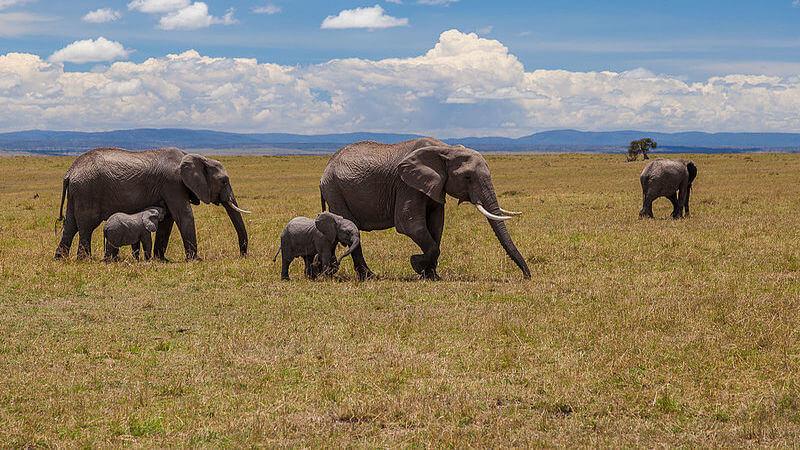 Image Source: Wikimedia Commons
Best time to visit: June to October
One of Africa's most visited safari destination, the Masai Mara National Reserve is home to the Big Five- African elephant, African lion, African leopard, Cape buffalo, and rhinoceros. It is the endless acacia woodlands here that these big five have found their home in. The grounds here are popular for game viewing. Speaking of which, one must anticipate the stampede here caused by a heard of beasts; an absolute one in a lifetime experience. If you are on an advent of best safaris in Africa, this has got to be one!
4. Kruger National Park, South Africa

Image Source: Pixabay.com
Best time to visit: May to September
Having some of the best South African safari packages, the Kruger National Park is a hotspot garnering those contemplating a vacation in this country. Realizing this, the authorities here have paid extra attention to its maintenance, making it one of the most well-maintained national parks in Africa. The park accommodates a wide assortment of elephants, crocodiles, big cats, and hippos. What's more? An incredible array of luxurious accommodations makes sure that your wildlife experience is well balanced with opulence!
Check Out: Things Not to Miss in South Africa
5. Serengeti, Tanzania

Image Source: Pixabay.com
Best time to visit: June to September
Monikered as the "animal kingdom" of the region, the Serengeti is one of the best safari destinations in the world for more reasons than one. This is where you will find scores of lion, zebras, and elephants meandering around in all their might, beckoning of the fact that you are in someone's kingdom! A safari here will also bring you closer to the world's largest Nile crocodiles that inhabit the Grumeti River. The park also witnesses an amazing number of migrating birds and animals every year.
6. Hwange National Park, Zimbabwe

Image Source: Steven dosRemedios/flickr.com
Best time to visit: July to October
The largest natural reserve in Zimbabwe, the Hwange National Park is counted as one of the best safari parks in Africa. Here's why- a beautiful mélange of terrains, complimented by lots of lakes sees several animals living in their most natural, naïve ways. Then there is the world-renowned Victoria Falls adding splendor to the whole panorama. Several waterbodies within have resulted in an eclectic mix of flora and fauna. On the fauna front, a whopping 400 bird species and 100 of mammals which include the nation's specially protected animals too.
7. Volcanoes National Park, Rwanda

Image Source: Wikimedia Commons
Best time to visit: December to January and June to September
Trust Africa to surprise you with its most diverse terrains. While most of the safari parks are normal, open grasslands, the Volcanoes National Park is different given its being in a rainforest. Thus, this is one place where you can see distinct wildlife, unlike other national parks. Mountain gorillas are one such species that strengthen this fact. The entire experience of a safari is different here as you hike through its plethora of lakes, bamboo trees, and volcanoes. The golden monkey is another highlight of the Volcanoes National Park.
8. Central Kalahari Game Reserve

Image Source: Pixabay.com
Best time to visit: January to March
We have all learned about the Kalahari Desert and its extensiveness, in school. Not surprisingly, the Central Kalahari Game Reserve here spans a whopping 52,800 square kilometers. This fact accounts the reserve's being as the second largest game reserve in the world. The reserve is abundant with animals including ostrich, common eland, sable antelope, South African giraffe, bush elephant, white rhino and several others. If you plan to visit this reserve, it is suggested that you do so after the summer rains.
9. Bwindi Impenetrable National Park, Uganda

Image Source: Wikimedia Commons
Best time to visit: June to August and December to February
Located in the south-western region of Uganda, the Bwindi Impenetrable National Park is sandwiched between the Albertine Rift and the Virunga National Park. This is one of the few parks in Africa that do not feature exploration via vehicles. Given its comparatively compact size of 331 square kilometers and topographies dominated by lowland and montane forest, this park can be accessed solely on foot, well, quite literally. It is a world heritage site home to 120 species of mammals, 220 species of butterflies, 348 species of birds and 27 species of frog among many other endangered species.
10. Okavango Delta, Botswana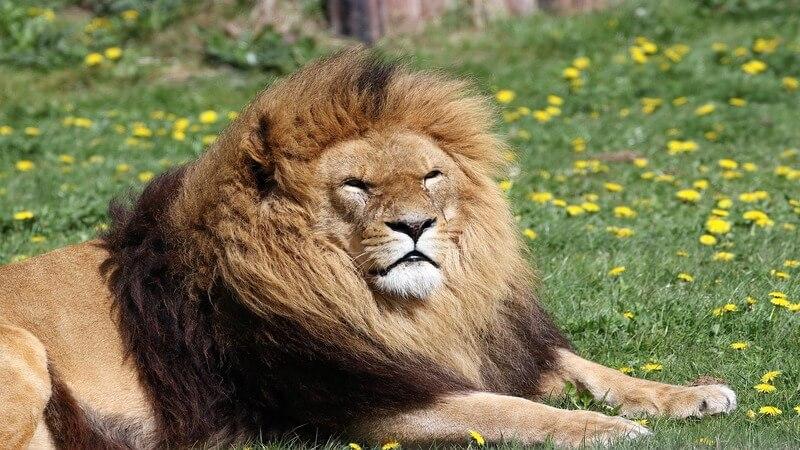 Image Source: Pixabay.com
Best time to visit: May to September
A UNESCO World Heritage Site, the Okavango Delta is essentially a large swamp characterized by an inland data. The dampness, moisture, and availability of the water play a major role here, bringing home seasonal animals, birds, and aquatic life. The endangered Cape wild dog is a highlight of this safari destination. Additionally, there are some 400-odd species of birds and 71 fish species among a wide array of seasonal as well as permanent animals. Southwest African lion, South African cheetah, African bush elephant, African buffalo, tigerfish, tilapia, and the lechwe antelope are some of the most interesting wildlife here.
11. Zambezi Valley, Zambia

Image Source: Wikipedia.org
Best time to visit: June to September
A great blend of camping and safari, the Zambezi valley beside a terrific variety of wildlife bestows you with a wonderful camping experience at the lake shore. And if you thought this was your average, treacherous camping, hold on till you know that these are luxurious tents, complete with a spa! On the wildlife front, the valley is abundant with varieties of elephants, hippopotamuses, and birds. A full moon night can turn out to be extremely magical here, with the whole setting of lakes, tents and the mighty Zambezi river flowing in between. This region is also popular for its seasonal migration of butterflies.
12. Chobe National Park, Botswana

Image Source: Wikipedia.org
Best time to visit: May to September
Another gem in Botswana, the Chobe National Park is an ideal park to head to when you cannot cease to get more of this glorious country. It may not be score as the biggest in size, but when it comes to game viewing, this is the place you would want to be. Being the first national park of the nation, Chobe National Park boasts of nomadic hunting. It is divided into four areas of Serondela area, Savuti Marsh, Linyanti Marsh and the Nogatsaa grass woodland. The huge elephant concentration is another draw if this national park!
We told you, these are quite urging to even just read about. Next step? Planning a trip here can be a great idea!
Also Read: