Best Small Towns in Texas to Visit
* Disclosure: This post may contain affiliate links, which means we may receive a commission if you click a link and book something (there is never any extra cost to you for using these links).
Remember the cowboy cartoons that we used to watch when we were kids and wish we had the same costume, with a cool gun. Yes, we all did. What if I say that places like these really exist? With so many cowboy ranches and rodeos, Texas in the US is the place you should visit to bring out the cowboy charm in you.
Here are 8 best small towns in Texas to visit. Go on, Cowboy. Explore them all!
1. Archer City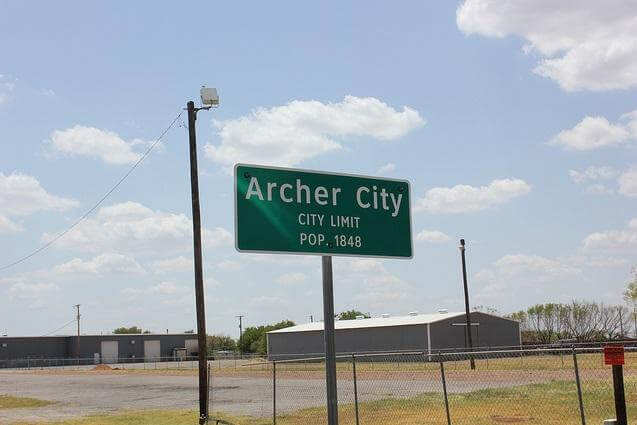 By Nicolas Hendersan on Flickr
Southwest of Wichita falls lies the small town of Archer city. Now do not be fooled by the name, it is not a city. Known to most people because of the famous native Pulitzer Prize-winning author, Larry McMurtry, the town is a center for art. Thanks to the establishment of The Royal Theater, the town also got featured in the movies of The Last Picture Show and Texasville. With the abundance of deer, dove, quail, turkey, and wild hogs, go hunting like the white walkers.
Highlights: The Royal theater, Booked Up bookstore, Archer city-county club.
2. Fredericksburg - The Wine Town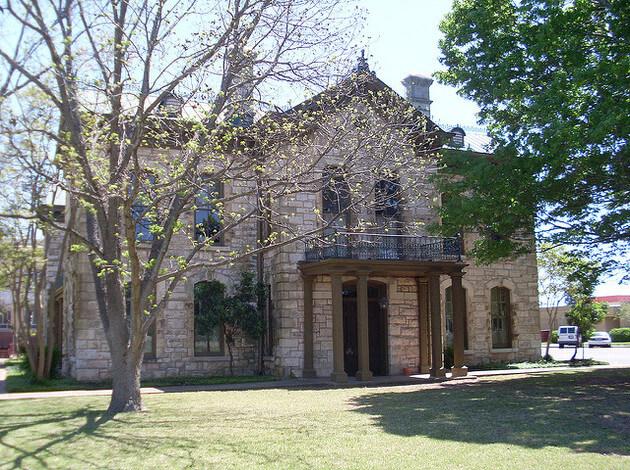 PC Manuel Delgado Tenorio/flickr.com
Nestled on top of a hilly county in Texas, Fredericksburg is a vibrant town with live music and dazzling art scenes. Nicknamed as Fritztown as the Germans call it, Fredericksburg is packed with vineyards. Take a romantic stroll through the vineyards on a wine tasting tour and toast your glasses to the everlasting love.
Highlights: National Museum of the Pacific War, Torre di Pietra Vineyards, Enchanted Rock State Natural Area, Fredericksburg RV Park.
3. Marfa - The Town of Lights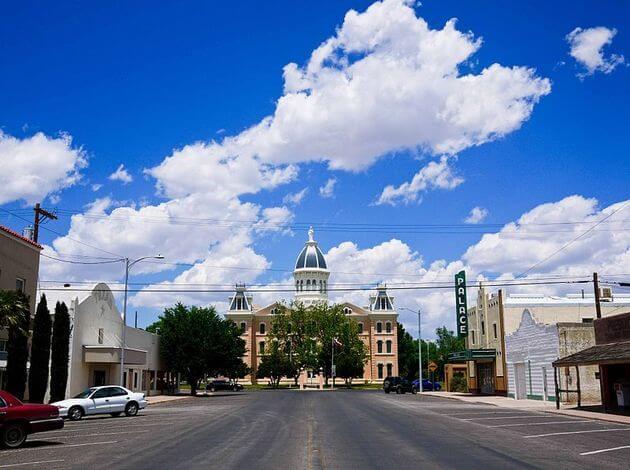 PC Wikimedia Commons
Surrounded by hundreds of miles of desert from all its side, Marfa in Texas lies in between the Davis Mountains and Big Bend National Park. Awe at the ever stretching desert landscape and look up to the starry night sky in this off-beaten trip to the magical desert land. While you're here, please check out the mysterious lights that pop up in the sky during the nights.
Highlights: Marfa Lights, Chianti Foundation, Presidio County Courthouse.
4. Wimberley - Beautiful Town of Texas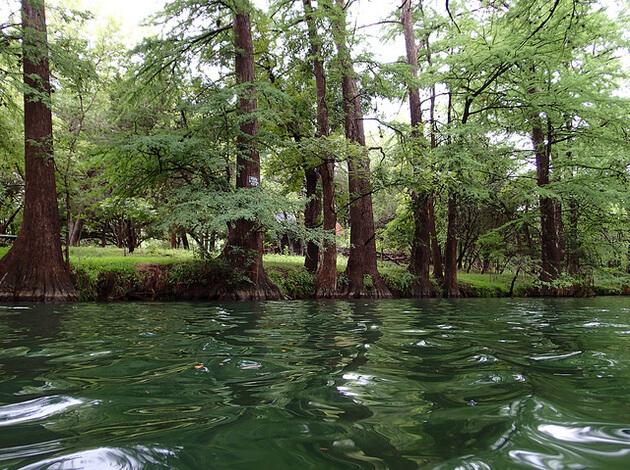 PC Robert thigpen/flickr.com
Blue waters surrounded by the green canopy of cypress trees and wildflowers welcome you to the small town of Wimberley. Located in the heart of the Texas hill county, Wimberley is one of those places where you could go, take a deep breath and think about life. Once you are done assessing your life, go swimming in the Blue Hole Regional Park which is camouflaged by the enchanting trees. Wimberley is the best small town to live in Texas.
Highlights: The Corral Theatre, Wimberley Zipline Adventures, Blue Hole Regional Park, Wimberley Market Days.
5. Rainbow - Colorful Town of Texas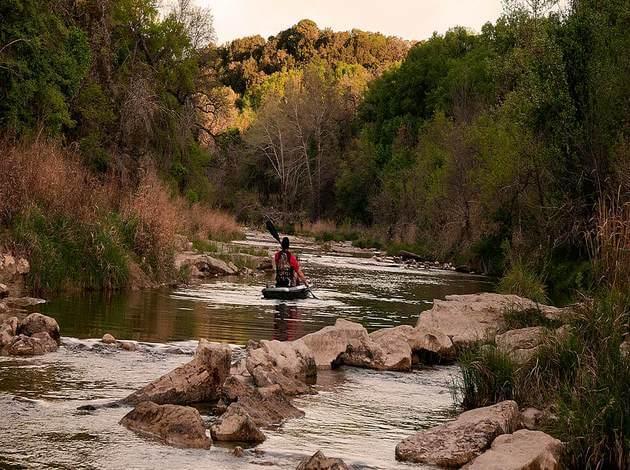 PC tpwd.texas.go
No, I am not talking about the rainbow in the sky. The Rainbow I am talking about is a legitimate town in Texas. The origin of this name dates back to the 1890s when the community gathered together to arrive at a suitable name for the town, only to be interrupted by a severe thunderstorm followed by a rainbow.
Highlights: Squaw Valley Golf Course, Oakdale Park, Big Rocks Park, Dinosaur Valley State Park.
6. Jefferson - Historic Town of Texas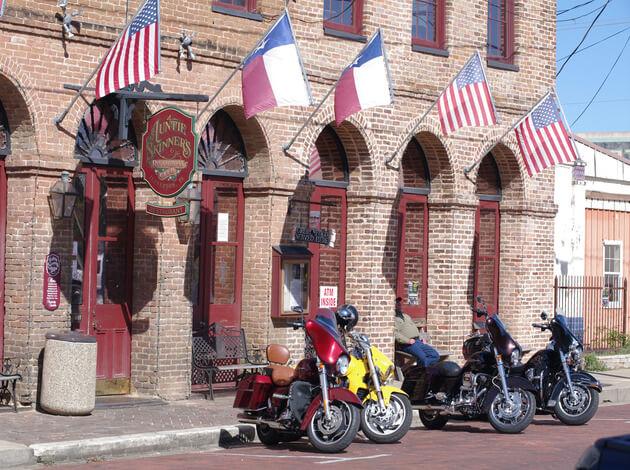 PC Bk1bennett/flickr.com
The sleepy town of Jefferson in the Marion county of Texas is a historical escapade dotted with age-old museums, medieval buildings, and historic landmarks. Step into the town that boasts of artifacts and rich cultural heritage to understand the roots of Texas.
Highlights: Jefferson Ghost Walk, Singleton's Virginia Cross House, Gone With the Wind Museum.
7. Gruene - Dance Town of Texas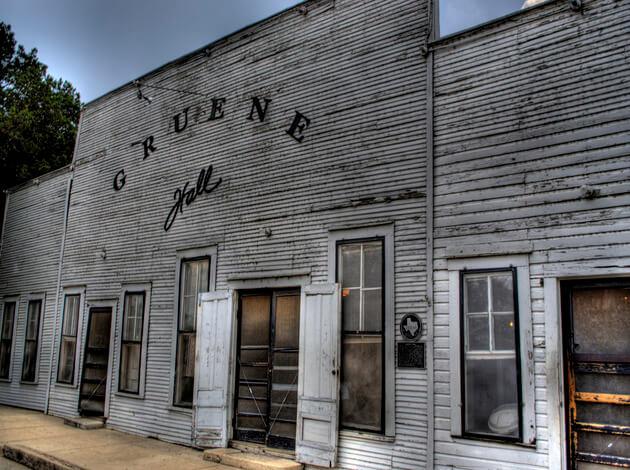 PC Jonas Lamis/flickr.com
Ready for a spin? Gruene, with one of the oldest dancing halls in the United States, is more than just a small river town. Designated as a historic town by Texas, Gruene offers plenty of activities like shopping, wine tasting, fishing, tubing and best of the all, dancing. Dress up and loosen your hips, it is time to hit the floors.
Highlights: Old Gruene Market Days, Rockin R River Rides, Texas Ski Ranch.
8. Luckenbach - Musical Town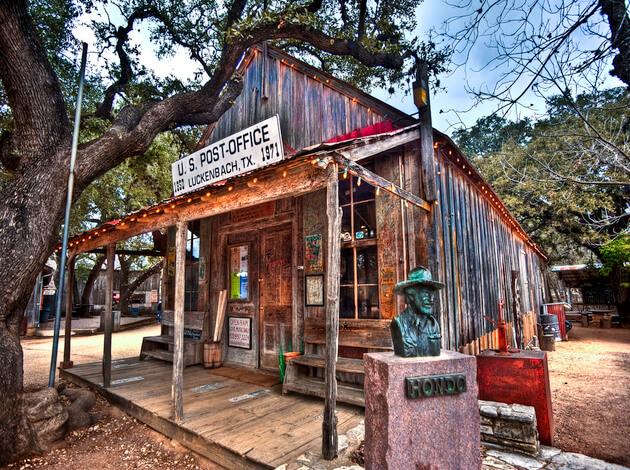 PC Gino/flickr.com
A lover of music? Then this place will rhyme with your musical soul. Brought to life by the musical tracks of the late Waylon Jennings, the town hosts musical concerts every weekend and the charming, contagious vibe gets you in the mood to rumble.
Highlights: Luckenbach Texas, Armadillo Farm Campground.
Skipping the bustling cities and holidaying in smaller, quaint towns is a different experience altogether. Go for it, you will surely enjoy the other side of Texas.
Here are the best places to live: