15 Spring Break Destinations In USA For 2018
UPDATED Oct 17, 2018
30.6K Views
Spring break, the most anticipated and favorite holiday in the USA also invites many dilemmas. Groups of friends start spring break destination brainstorm and often end up worrying about the place and the cost involved. Party, sun, unhinged wildness - that is the spring break for you. A sought after holiday for college students and young adults, this break comes as a celebration in many beaches.
With so many beach options to resort to, how can one pick the best spring break destination? From budgeted alternative to full-on party resorts, there is an affordable spring break destination for all.
Panama City Beach, Florida
Las Vegas, Nevada
New Orleans, Louisiana
Venice Beach, California
Miami Beach, Florida
Lake Havasu, Arizona
South Padre Island, Texas
Myrtle Beach, South Carolina
Acapulco, Mexico
Cabo San Lucas, Mexico
Nassau, Bahamas
San Juan, Puerto Rico
Cancun, Mexico
Negril, Jamaica
Punta Cana, Dominican Republic
1. Panama City Beach, Florida

Image Source: Mark Goebel/flickr.com
A perennial favorite for all spring breakers, Panama City Beach has been touted as one of the best spring break destination for the past twenty-five years. Approximately 2,50,000 spring breakers visit the beach in Florida annually. In the recent times, the city has passed several laws that have heightened the rules of drinking and partying. Although the latest changes in the rules have tightened the party fun, the place is still considered one of the iconic and must visit for all spring breakers.
Organize your travel. Personalize your itinerary with TripHobo.
Browse through the accommodation options
2. Las Vegas, Nevada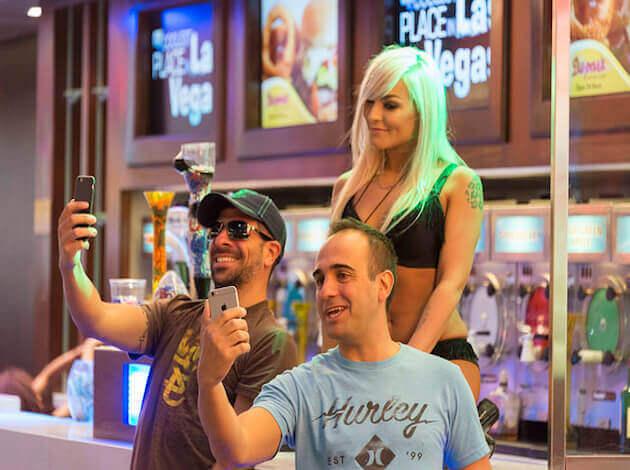 Image Source: Bob Dass/flickr.com
While Las Vegas is a non-beach destination, it is a popular choice for spring break among all those who wish to spend time in gambling. Casinos, shows, clubs, bars and celebrity meets, Las Vegas is nothing short of excitement and fun all year long. A party town by nature, there is always something happening in Vegas and as they say 'What happens in Vegas' hopefully stays in Vegas.
Browse through the accommodation options
3. New Orleans, Louisiana

Image Source: Flickr.com
Known for its Mardi Gras parties in February, the spring break parties become an extension of it. Popular for its nightclubs, cheap drinks and lax drinking laws, New Orleans is the place to go crazy and wild during spring breaks. Although called trashiest places to party in America, one can always experience incredible party energy here. If your aim this season is to go wild, New Orleans is the way to go.
Browse through the accommodation options
Check out: Best Spring Break Destinations for Families
4. Venice Beach, California

Image Source: caccamo/flickr.com
Although alcohol is prohibited in the Southern Californian beaches including Venice beach, it is still considered one of the famous spring break destinations. Being Lost Angeles, the place offers several must-visit bars and clubs option that one can not miss the whole drinking game during spring break. If you want a party on the beach sans drinks, Venice can be your best pick.
5. Miami Beach, Florida
A place known for its spring break parties, Miami Beach is one of the most popular destinations of all times. Recognized for the eccentric parties during the time, Miami Beach is also known to be one of the craziest places during spring break. Untamed wildness clubbed with the maddening availability of alcohol, this place can give you some memories that can last your several breaks. Check out some more ideas for spring break in Miami.
Browse through the accommodation options
Check Out: Best Party Cities in USA
6. Lake Havasu, Arizona

Image Source: Andrew Wilkinson/flickr.com
A never-ending party land, Lake Havasu situated in Arizona turns into a party town during spring break. The town which thrives on party animals visiting during the break organizes several memorable events and parties thus boosting their tourism and popularity. One of the major tourist attractions at Lake Havasu are the floating stages that are set-up on the lake with several world-class talents performing live in front of the spring breakers.
7. South Padre Island, Texas
A party land for college students, South Padre Island, is situated on the barrier island on the tip of Texas. Approximately 25 miles long, the party starts early here. The Texan Motto 'Everything is Bigger in Texas' applies to this island of the party. With events and parties happening around the clock, one can never say fun is lost here. Perfect to make new friends or to relax with old ones, this place is an ideal spring break destination. You can also plan for some of these happening lakes in Texas.
Browse through the accommodation options
8. Myrtle Beach, South Carolina

Image Source: Matthew Trudeau Photography/flickr.com
A perfect location for all millennial spring breakers, Myrtle Beach is for loud club lovers. While North Myrtle is pricier, there are many quiet beaches and nicer restaurants. Central Myrtle is for all who love loud clubs and cheap drinks. A party town, there is a party option for everyone and for every kind. The party mania is so high that the tourism website warns people of making some bad decisions, if you know what we are saying.
Browse through the accommodation options
Spring Break Destinations Outside the US
9. Acapulco, Mexico
Apart from the airfare, Acapulco is an affordable and cheap spring break destinations for all. With the drinking age limit more relaxed than the USA, there is an option for college students and young adults to explore party life to a whole new level in Mexico. The place also offers all-inclusive resorts with five-star treatment and is an absolute paradise to all.
10. Cabo San Lucas, Mexico

Image Source: Gabriel González
Commonly called 'Cabo,' the place is known for attracting people who want an escapade from their healthy lives. Cabo known for its loud and eclectic array of parties is a place for anyone who wishes to party non-stop and get back home exhausted from the break they took. Parties, DJs nights, contests - they all form part of Cabo's spring break mania, and with so many things to do in Cabo San Lucas, one can never have a dull moment when here.
Browse through the accommodation options
11. Nassau, Bahamas
Constantly filled with cruise ships, Nassau's ports are filled with fabulous beaches and refreshing drinks. Filled with an array of luxurious resorts, the island also has dedicated spots for colleges and young adult parties. A series of events are always planned and executed in the beaches of Nassau. DJs blasting music all night long while the dance floor gets wild and crazy is a common site on this island.
Browse through the accommodation options
12. San Juan, Puerto Rico

Image Source: Carlos Olmedillas/flickr.com
Recently turned party spot, San Juan is filled with beautiful vistas, the sun, alcohol and relaxing resorts. Possibly one of the quieter party beaches during the break season, San Juan offers a serene, relaxing view for all those in need of it. However, there is a side of town that caters to the wild party culture that doesn't ware down even after the onset of sunrise. If you are looking for delicious food, party, and nightlife with affordable hotel accommodation, San Juan is a perfect pick.
Browse through the accommodation options
13. Cancun, Mexico

Image Source: Jorge Nava/flickr.com
Considered one of the most iconic spring break destinations, Cancun is a perfect place for fun and sun during spring break. Wild parties are a specialty here, and one can never get bored once they reached Cancun during the season. A place known to go loud with celebration, there is no saying that the activities will not be seen by the outside world. Make sure that when you are in Mexico, you make memories that you will not regret later. Go wild at some of the most beautiful beaches in Cancun.
Browse through the accommodation options
14. Negril, Jamaica

Image Source: Gail Frederick/flickr.com
An exotic spring break destination, Negril is for anyone looking for beach parties, bonfire parties, reggae concerts, VIP water bars and much more. If you desire to have a classy Caribbean party for your spring break, Negril is a perfect choice. Also known to have one of the most beautiful sunsets in the world, Jamaica can have you relaxed and rejuvenated for your normal life. Also plan to go for these best beaches in the Caribbean while you are in Jamaica.
Browse through the accommodation options
15. Punta Cana, Dominican Republic

Image Source: Flickr.com
Stretching along 21miles of coral and white sand beachfront, Punta Cana is beyond just beach fun. If you are into water sports, it is a great place to explore activities including snorkeling, scuba diving, hiking, and ocean kayaking. The crystal clear water with exotic wildlife makes it the perfect spring break destination to unwind after a hard semester. All-inclusive resorts have started taking place by storm and now offer several packages to meet your party needs.
Browse through the accommodation options
This spring break, plan your vacation to hit one of these gorgeous beaches and let your guard down and have fun. Don't forget to take sun block, water and hangover cures to keep yourself from getting sloppy after the second day of fun. Fun, frolic and fantastic music- that is spring break for you.