Top 10 Villages And Towns In Ireland You Must Visit
* Disclosure: This post may contain affiliate links, which means we may receive a commission if you click a link and book something (there is never any extra cost to you for using these links).
Often known as one of the most scenic countries in the world, Ireland is famous for its unique and captivating beauty. While most of the tourist visits the famous cities, it is often the smaller towns and villages that reveal just how stunning Ireland is. From ancient castles to golf clubs, we bring you top ten most beautiful towns and villages in Ireland
1) Dingle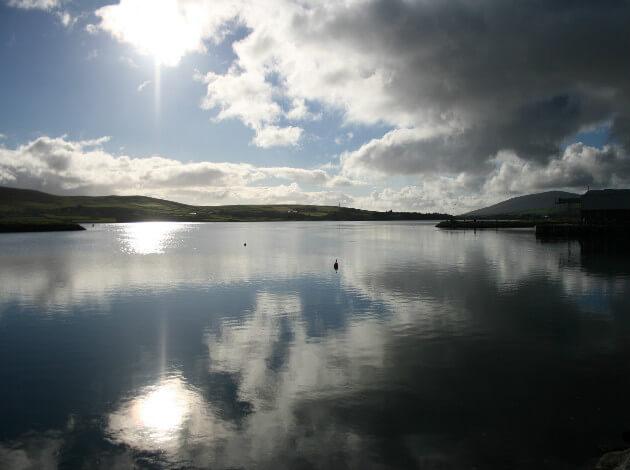 Image Source: Meg Marks/Flickr
This beautiful seaside town in Country Kerry will leave you falling in love with its laidback charm from the moment you step foot in it. It is a major fishing port and a part of the town's heritage that has stood the test of time and with just around 1,920 residents, it is a close knit community that you will find more than welcoming when you visit.
Highlights - Gallarus Castle & Oratory and the Blasket Centre
2) Adare
Adare is nestled on the River Maigue, just outside of Limerick city. The name means "Ford of the Oak" in Irish, and the village is often boasted as one of Ireland's most beautiful villages. The village is also known for its historical roots as it was once a marketplace during the Middle Ages, and was then part of the Dunraven estate. Golf lovers will enjoy the village's 18-hole golf course at the Adare Golf Club. There are also a number of old abbeys and fortresses in the village, adding to Adare's architectural charm. It's also situated about 10 miles from Limerick city so if you do ever tire of village life, you can always pop in Limerick for a quick city-life top up though I very much doubt that will be the case here.
Highlights - Adare Castle and Riverside Path
3) Kinsale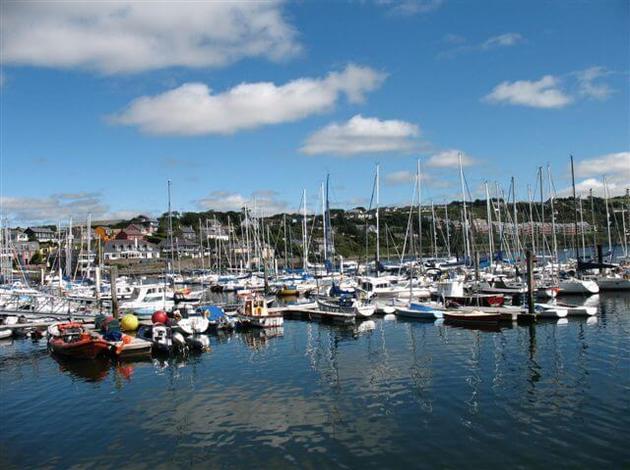 Image Source: Meg Lassard/Flickr
Located on Kinsale Harbour, Kinsale is a historical fishing town on the River Bandon. Saint Multose Church is one of the town's main historical buildings, built in 1190, making it the oldest building in the town. Another noteworthy historical building is Desmond Castle, which dates from 1500, and was once a custom house and naval prison. The yacht club and marina also attract annual visitors, with numerous fishing boats regularly bobbing in the inlet. The town also hosts an annual arts festival, which is well worth a visit. The beauty of the town can truly be enjoyed while walking along the Scilly Walk or enjoying a pint in The Spaniard.
Highlights - Charles Fort and Finn's Table
4) Valentia
Valentia on Valentia Island is located on the Iveragh Peninsula in the south west of Ireland. The island is connected to the mainland via a bridge from Portmagee, as well as a car ferry from Reenard Point. In 1993, fossilised footprints were discovered dating from 385 million years ago, and are some of the oldest remnants of vertebrate life on land in the world. Another key attraction in Valentia is the beautiful Glanleam House and its sub-tropical gardens. Due to their geographical location, these gardens have a unique microclimate, and as a result, house a collection of rare plants. From Valentia, you can also travel to Skellig Michael, an ancient monastic island.
Highlights - Knightstown Village and St. Brendan's Well.
5) Dalkey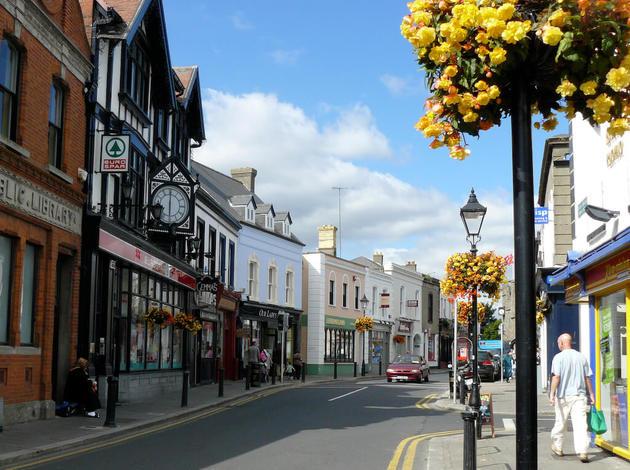 Image Source: Richard Anderson/Flickr
A seaside town south of the city, Dalkey's rich history is front and centre, with a 10th century church and two Norman castles right on the main street. From the town, it's a short walk to the harbour, where you can take a boat trip to Dalkey Island, or if you're feeling adventurous, go abseiling at Killiney Hill. When you settle in for food and drinks, keep an eye out for famous locals. Bono, The Edge, Enya and Van Morrison all live nearby...
Highlights- Dalkey Castle
6) Westport
Westport is located near the famous pilgrimage mountain of Croagh Patrick, known as 'The Reek', which attracts hundreds of visitors every year, particularly on 'Reek Sunday'. In 2012, Westport won the Best Place to Live in Ireland in a competition run by The Irish Times. Situated on the south east corner of Clew Bay, Westport is a unique town in Ireland, as it is one of the few planned towns in the country. The town centre was designed by the architect James Wyatt in 1780, and the town is a prime example of the Georgian style. The design cleverly incorporated the river into the town, and features quaint streets and promenades lined by trees. There are several small bridges over the river Carrowbeg, which further add to the town's charm.
Highlights - Westport House and Croagh Patrick
7) Kilbaha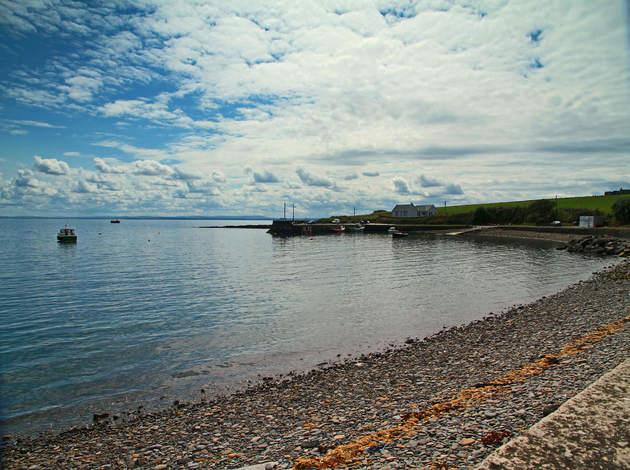 Image Source: brianfagan/Flickr
Located on the spectacular Loop Head Peninsula, Kilbaha is the kind of place you see on the front of a postcard. One of the most westerly places in Ireland, its stunning views of the Atlantic Ocean will leave you breathless. The surrounding coastline is of a dramatic character with cliffs sculpted by Atlantic storms where rock ledges and caves are home to seabirds, seals and other maritime animals. While there, a visit to Keatings pub is a must.
Highlights - Little Ark
8) Cong, Mayo
One of the most historic places in Ireland, Cong is steeped in religious tradition and located among some fantastic waterways. Lying on the border between County Galway and County Mayo, Cong is an island village. There are a number of streams in the area that converge at Cong, forming the land mass of the village. The Irish name for the village is "Cúnga Fheichín" which means "Saint Feichin's narrows," referring to the convergence of rivers. These rivers connect Lough Corrib with Lough Mask.
Highlights - Ashford Castle
9) Roundwood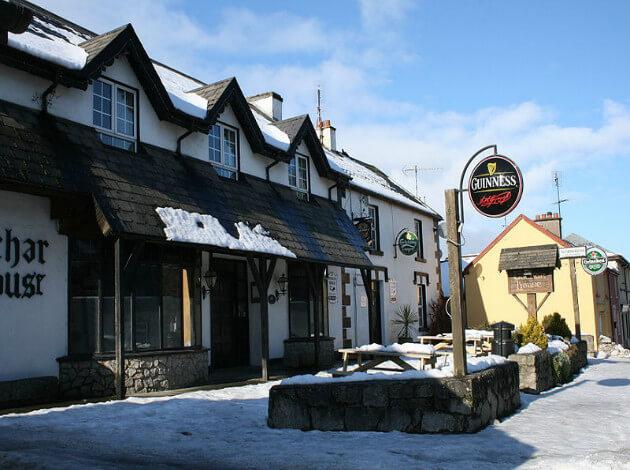 Image Source: Wikimedia Commons
According to its official website, Roundwood is a haven for fans of outdoor pursuits, with an extensive variety of scenic walks where you can enjoy the fresh air and beautiful landscapes. At 238m above sea level, it is one of the highest villages in Ireland. There are also a number of galleries and studios in the villages, such as Roundwood Ceramics in Michael Killeen Park, and The Stable Gallery at Errisbeg House. A must visit for any art lover.
Highlights - Victor's Way and Sally Gap
10) Rosses Point
Rosses Point in Sligo is home to a number of festivals and events throughout the year. This quaint village, with views of Coney Island and Oyster Island, was the summer residence of writer William Butler Yeats and his younger artist brother, Jack, who both whiled away the days at Elsinore House. The house was said to have been built by Black Jack, and is believed to be haunted.
Highlights - Carrowmore Megalithic Monuments and Co. Sligo Golf Club.
Don't forget your camera on your way to the Emerald Isle and if you have any other gems to add, please let us know in the comments below!