20 Heart Warming Travel Shayaris For That Perfect Caption
* Disclosure: This post may contain affiliate links, which means we may receive a commission if you click a link and book something (there is never any extra cost to you for using these links).
Travel has been a poet's muse since centuries now. Walking along lonesome roads or sitting at a cafe in some far corner of the world, many 'shayars' have perfectly penned down the feelings of every traveler in the world. Right from starting the journey to reaching the destination, these 'shers' mirror every wayfarer's emotions. And thanks to these 'shayars', many of us have "The Captions" for our Insta pics.
Take a look at these shayaris and you would be compelled to go 'waah waah' at the end of each.
1. Wasting youth behind a desk, are you?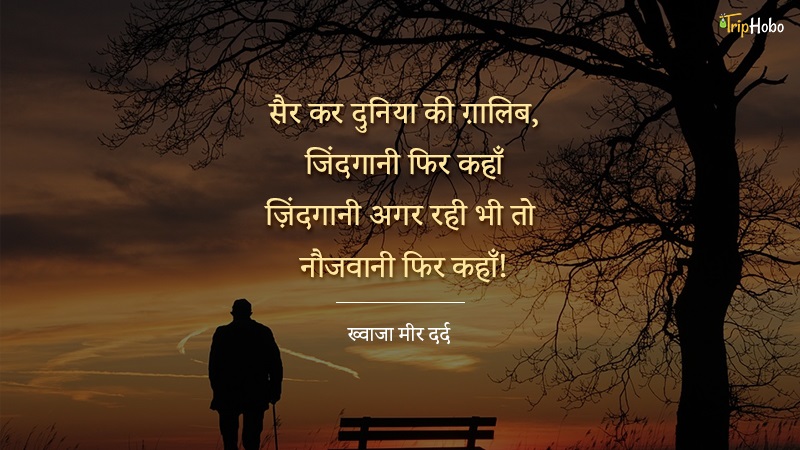 Sair kar duniya kee gaalib,
Jindagaanee phir kahaan
Jindagaanee agar rahee bhee toh
Naujavaanee phir kahaan! - Khvaaja Meer Dard
2. Unkown roads make the best journeys!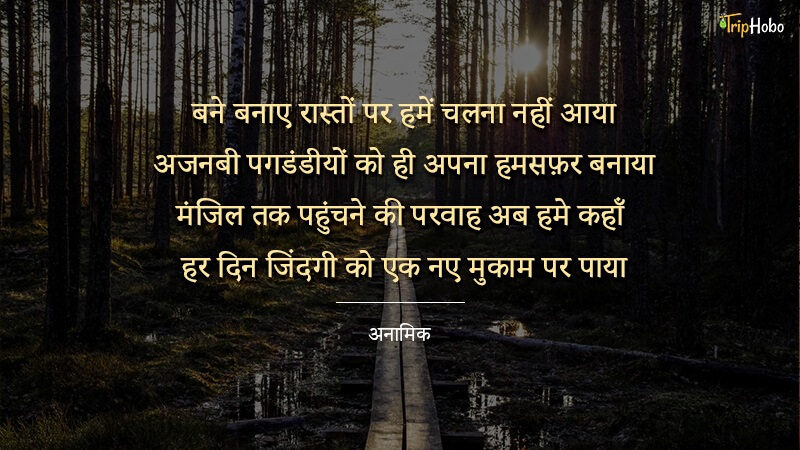 Bane banae raaston par hamen chalana nahin aaya
Ajanabee pagadandeeyon ko hee apana hamasafar banaaya
Manjil tak pohachane kee paravaah ab hame kahan
Har din jindagee ko ek nae mukaam par paaya - Anonymous
3. Ever fallen in love while traveling?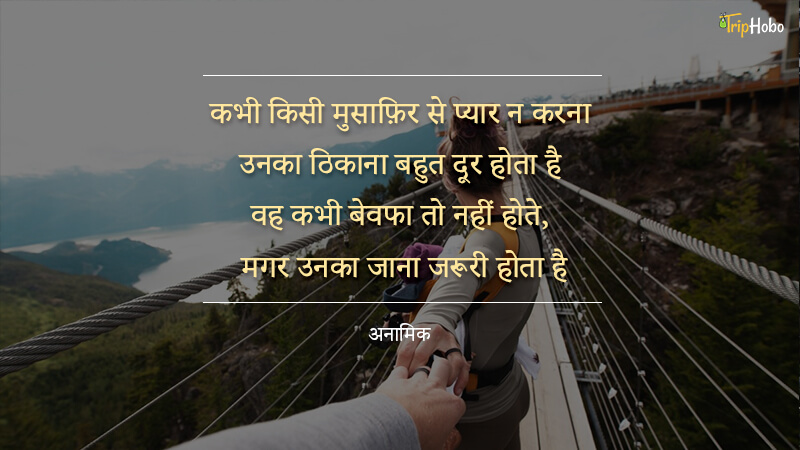 Kabhi kisi musaafir se pyaar na karana
Unka thikaana bahut door hota hai
Vah kabhi bevafa toh nahin hote,
magar unka jaana jarooree hota hai - Anonymous
4. For the journey that leads you to a beautiful destination!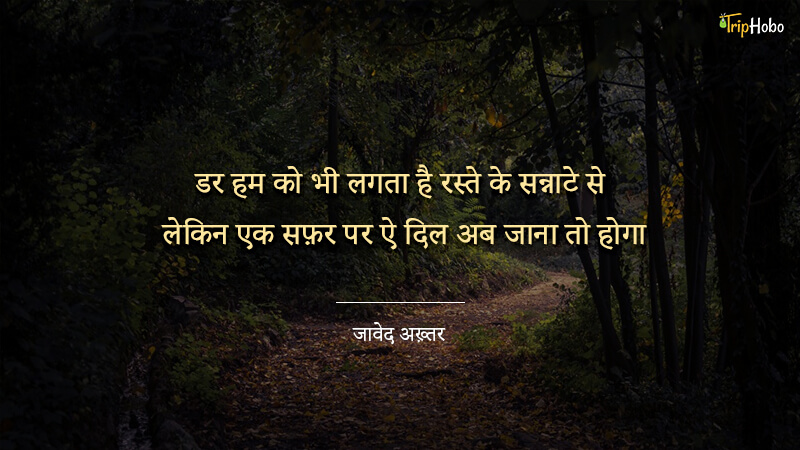 Dar ham ko bhi lagta hai raste ke sannaate se
Lekin ek safar par aye dil ab jaana to hoga - Javed Akhtar
5. Cast away the materialistic world, for memorable experiences await…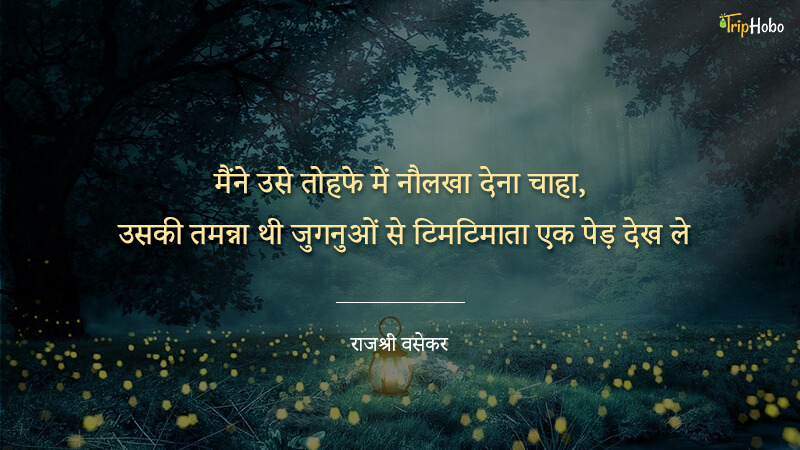 Maine use tohaphe mein naulakha dena chaaha,
Uski tamanna thi juganuon se timtimaata ek ped dekh le - Rajshree Vasekar
6. May the lights lead you home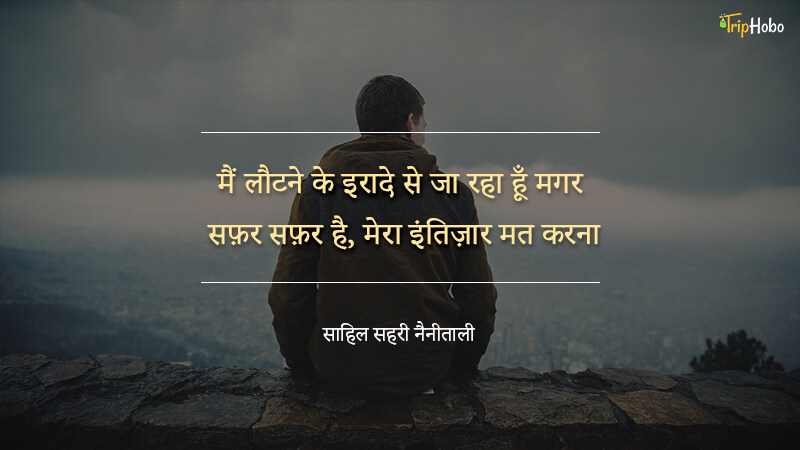 Main lautane ke iraade se ja raha hoon magar
Safar safar hai, mera intizaar mat karnaa - Sahil Sahri Nanitali
7. Don't let anything deter you from taking that road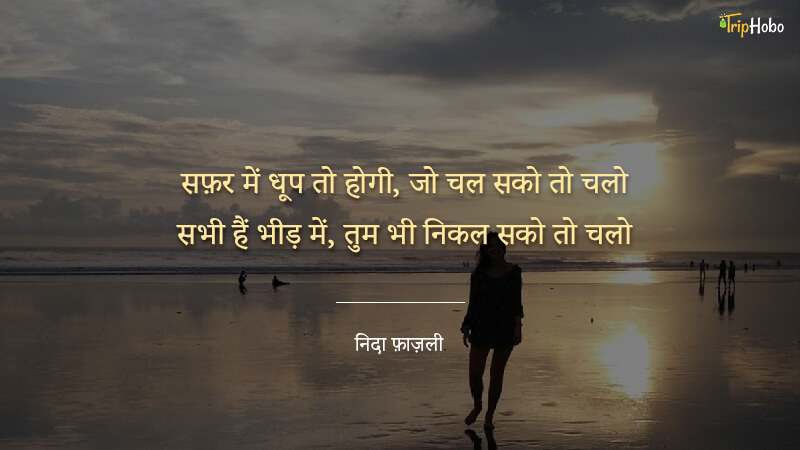 Safar mein dhoop to hogee, jo chal sako to chalo
Sabhi hain bheed mein, tum bhi nikal sako to chalo - Nida Fazli
8. When travel becomes your addiction…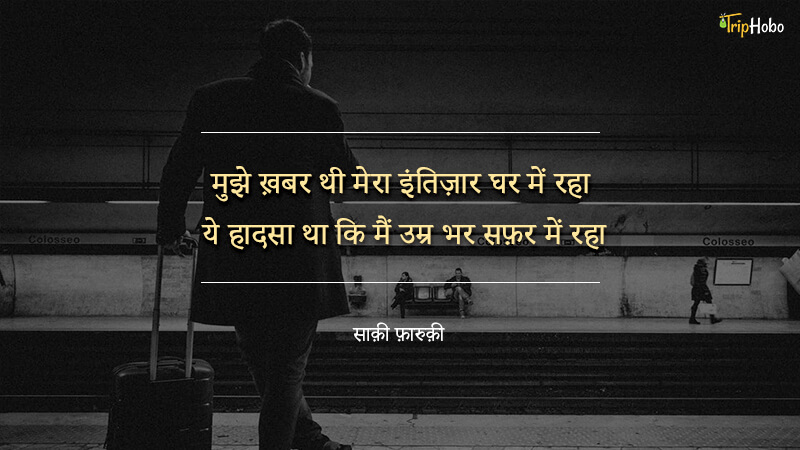 Mujhe khabar thi mera intizaar ghar mein raha
Ye haadasa tha ki main umra bhar safar mein raha - Saqi Faruqi
9. For the moon and mountains share a special connection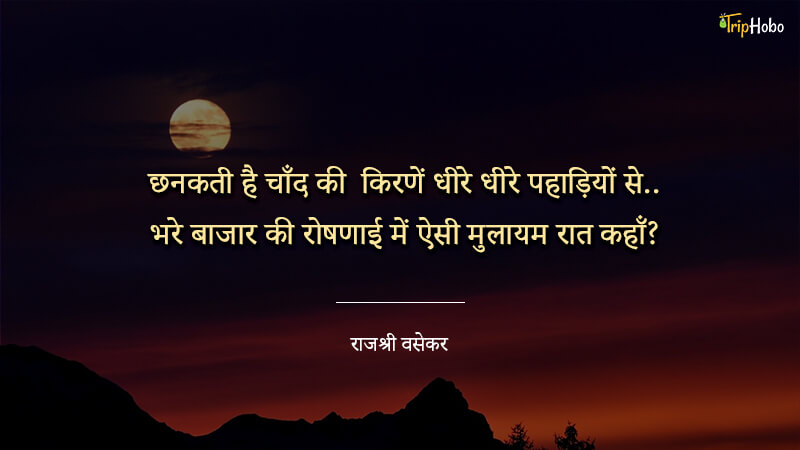 Chhanakatee hai chaand ki kirane dheere dheere pahaadiyon se..
Bhare bazaar ki roshanee mein aisi mulaayam raat kahan? - Rajshree Vasekar
Reading these 'shayaris', the writer's of TripHobo couldn't stop themselves from composing a few travel 'shers' of their own. Gaur farmaiye ga jaroor…
10. Travel every day as if it's your last journey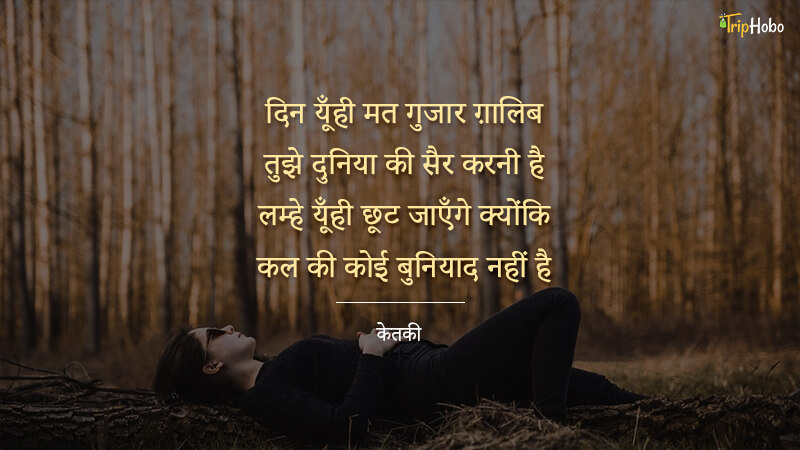 Din yoonhee mat gujaar Gaalib
Tujhe duniya ki sair karanee hai
Lamhe yoonhee chhoot jaenge kyoonki
Kal ki koi buniyaad nahin hai - Ketki
11. Holding back from exploring the world, are you?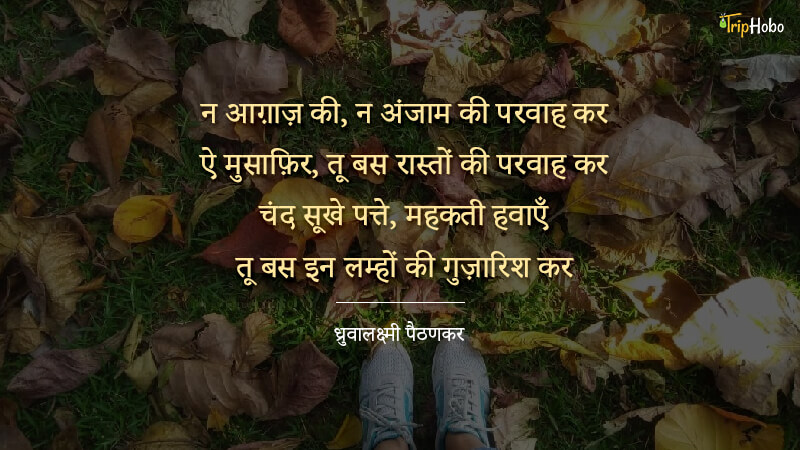 Na aagaaz ki, na anjaam ki paravaah kar
Aye musaafir, tu bas raaston ki paravaah kar
Chand sookhe patte, mahakatee havaen
Tu bas in lamhon ki guzaarish kar - Dhruvalakshmi Paithankar
12. 'Coz traveling is all about meeting new people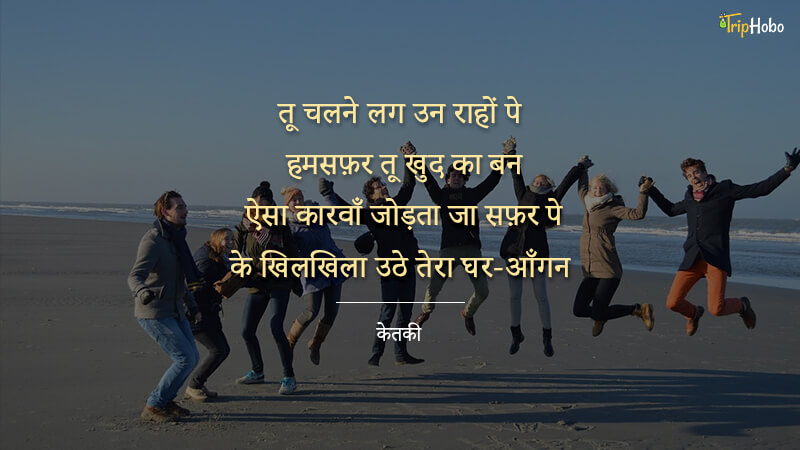 Tu chalane lag un raahon pe
Hamasafar tu khud ka ban
Aisa karwaan jodata ja safar pe
ke khilakhila uthe tera ghar-aangan - Ketki
13. The mountains are calling and I must go!
Kohare ka ghoonghat savaarati ye vaadiyan, jaise gumasum khadi hai sadiyon se
Inke dil ki aavaaj pukaare - chale aao apanee galiyon se - Dhruvalakshmi Paithankar
14. A camping night under the blanket of stars...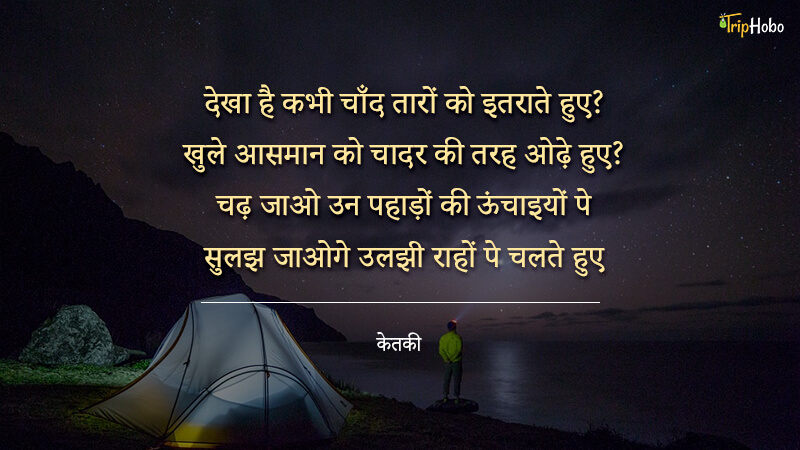 Dekha hai kabhee chaand taaron ko itaraate hue?
Khule aasamaan ko chaadar kee tarah odhe hue?
Chadh jao un pahaadon ki oonchaiyon pe
Sulajh jaoge ulajhee raahon pe chalate hue - Ketki
15. A setting sun is a promise of a better tomorrow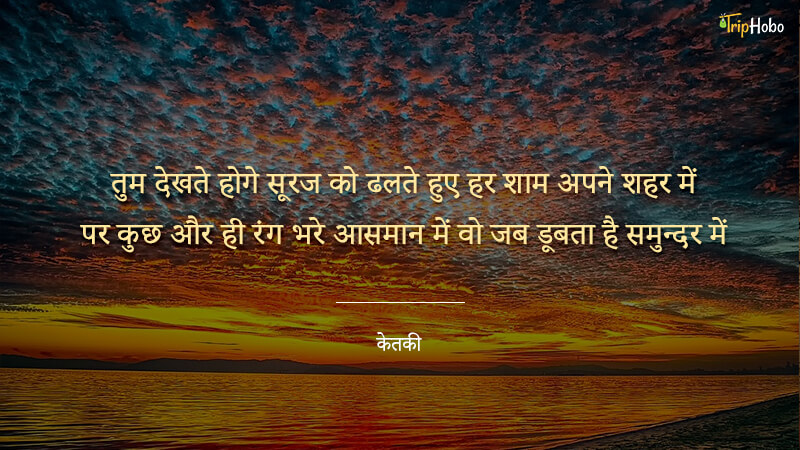 Tum dekhate hoge sooraj ko dhalate hue har shaam apane shahar mein
Par kuchh aur he rang bhare aasamaan mein vo jab doobata hai samundar mein - Ketki
16. Serenity is not a thing of the bustling cities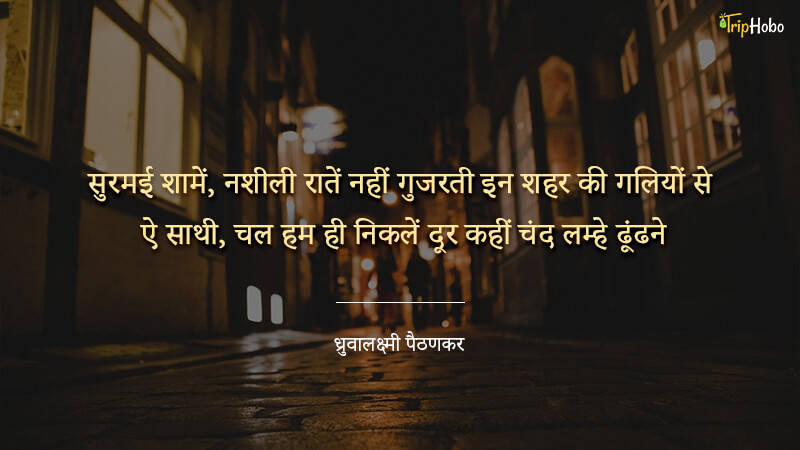 Suramayi shaamen, nashili raaten nahin gujarti in shahar ki galiyon se
Aye saathi, chal ham he nikalen door kahi chand lamhe dhoondane - Dhruvalakshmi Paithankar
17. Travel to witness the beauty of nature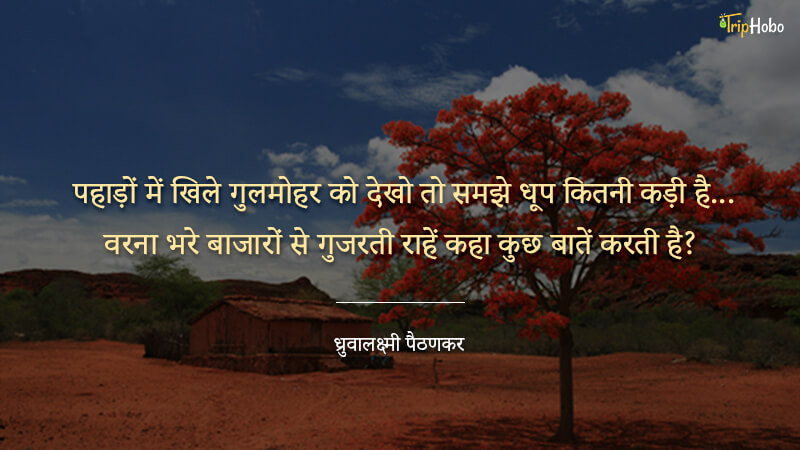 Pahaadon mein khile gulamohar ko dekho to samajhe dhoop kitni kadee hai...
Varana bhare bazaaron se gujarti raahe kaha kuchh baaten karti hai? - Dhruvalakshmi Paithankar
18. Mountains or Beaches, that's the question!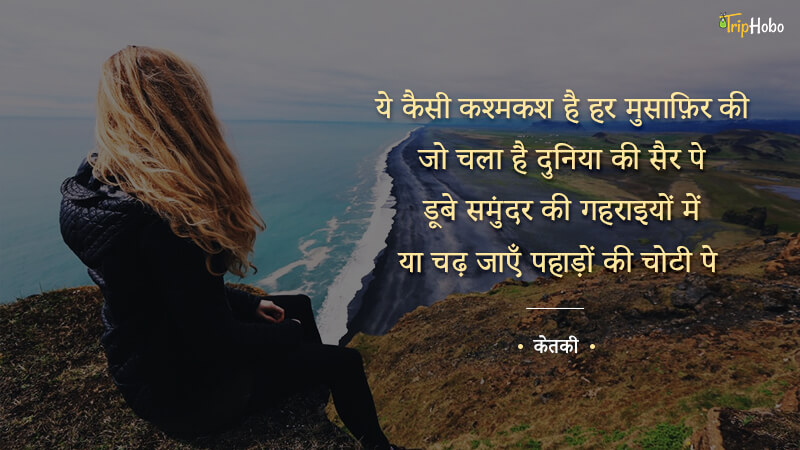 Ye kaisi kashmakash hai har musaafir ki
Jo chala hai duniya ki sair pe
Doobe samundar ki gaharaiyon mein
Ya chadh jaen pahaadon ki chotee pe - Ketki
19. Enjoy the journey, the destination will be beautiful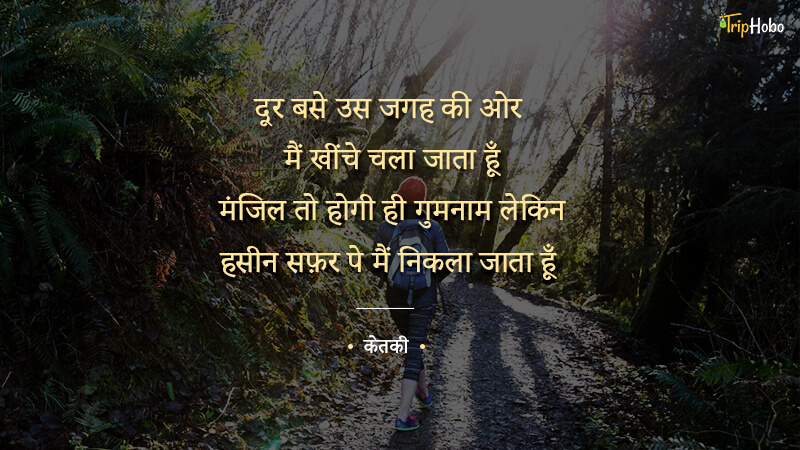 Door base us jagah ki aur
Main kheeche chala jaata hoon
Manjil toh hogee hee gumanaam lekin
Haseen safar pe main nikala jaata hoon - Ketki
20. Travel will change you in ways you never guessed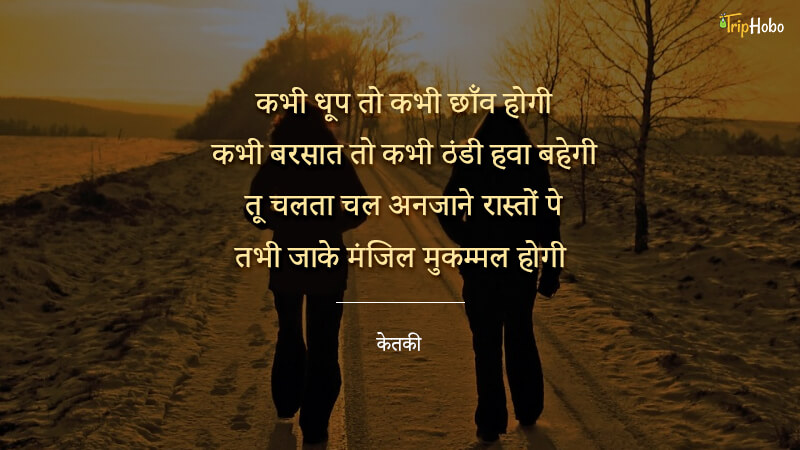 Kabhi dhoop to kabhi chhaav hogi
Kabhi barasaat to kabhi thandi hava bahegi
Tu chalata chal anjaane raaston pe
Tabhee jaake manjil mukammal hogee - Ketki
With a few 'shers' from amateurs and some from legendary 'shayars', you now have a set of many impressive captions. Aur haa, hum bhi koi kam shaukeen nahin hai. So let out the shayars in you in the comment box below! Hum jaroor gaur farmaaenge.