15 Most Beautiful Villages and Towns of Spain
* Disclosure: This post may contain affiliate links, which means we may receive a commission if you click a link and book something (there is never any extra cost to you for using these links).
The beauty of Spain lies in its sleepy, forgotten corners. This is where the real drama unfolds- mesmerizing sights and timeless heritage. If you've had enough of the brash glamour of big cities and are looking for unadulterated peace and dreamy vistas, head to one of Spain's picturesque villages.

Here are our recommendations for the prettiest villages and towns in Spain:
1. Pedraza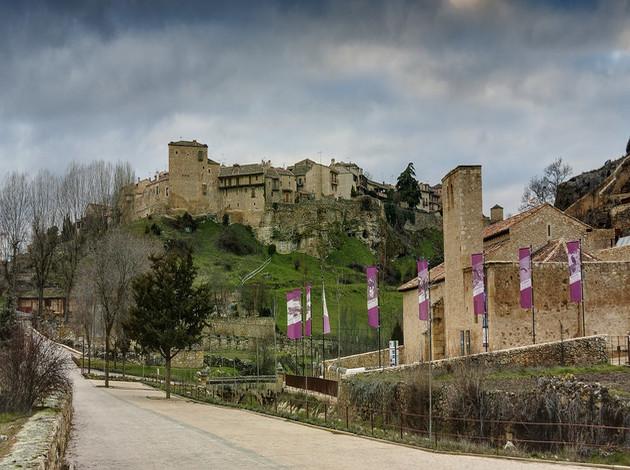 Image Source: Raul A/flickr.com
A beautiful medieval town, Pedraza is a dreamer's paradise. Set within the confines of a fortified wall, this village is ideal for walking around on the cobbled streets that hold many interesting stories from the past. Just an hour away from Madrid, this medieval town is a world apart from it.
Highlights: Plaza Mayor and Pedraza Castle
2. Vejer de la Frontera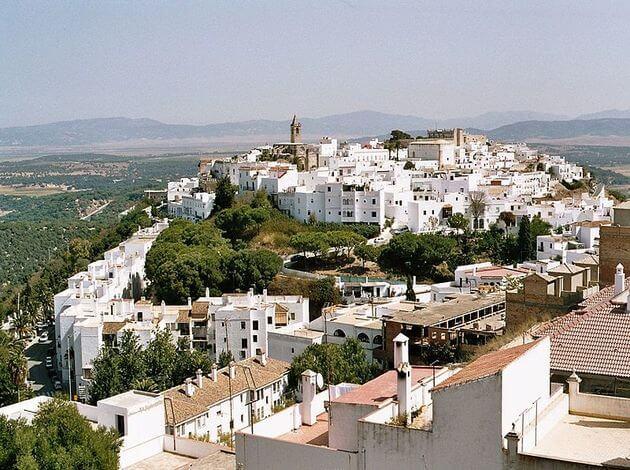 Image Source: Wikimedia Commons
This whitewashed town sits pretty on top of a hill affording drop dead gorgeous views from everywhere you look. You will yearn to get lost in the labyrinth of winding streets and fall in love with the sleepy pace and the authentic vibe. A paradise well beyond your imagination, Vejer seems to be stuck in time for its own good.
Highlights: Plaza de Espana, Santa Lucia Aquaduct
3. Frigiliana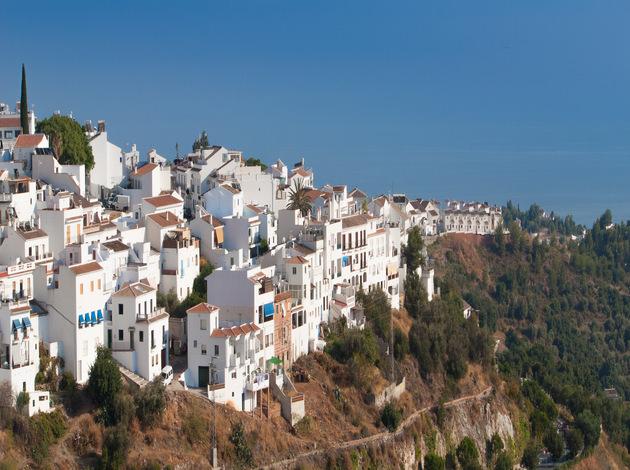 Image Source:Paolo Trabattoni/flickr.com
Built on the side of a mountain, three hundred meters above sea level, this quaint little town is a little Moorish in character. You'll love to discover tiny surprises as you wander- tiny boutiques, cafes and curio shops. The flowery balconies and the white walls contribute to the picture perfect background.
Highlights: Weekly Market and Ermita de San Sebastian
4. Laguardia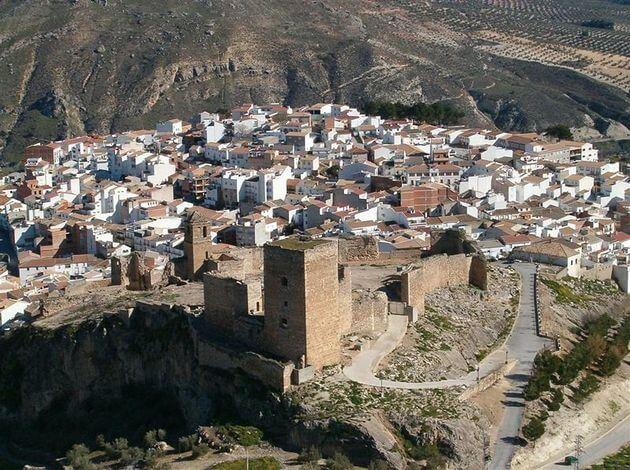 Image Source: Wikimedia Commons
An ideal start to your discovery of the Rioja wine region, Laguardia may have become popular with tourists but it sure hasn't let its modest charm slip away. Tucked right between lush green vineyards and at a great vantage point too, this town is not just stunning but also a wine lover's paradise. Its multiple bars are a befitting place to sit back and sip on some fine wine!
Highlights: Wine Cellars made in medieval tunnels,El Collado walkway.
5. Albarracin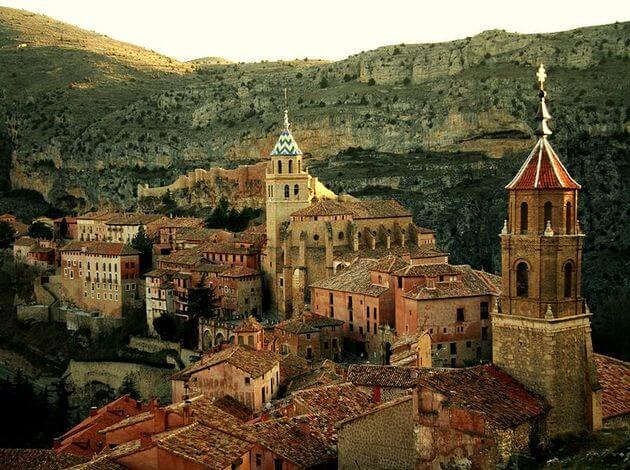 Image Source: Wikimedia Commons
Drive just a couple of hours from Valencia to reach the middle ages. Yes, Abarracin is gleefully stuck in the past and that's where its charm lies. Perched at some 3800 feet above the sea level, the UNESCO World Heritage streets and architecture is truly awe-worthy. Lost in between legends and nostalgia, this town is like a panacea for a weary soul.
Highlights: La Torre de Dona Blanca
6. Fornalutx & Biniaraix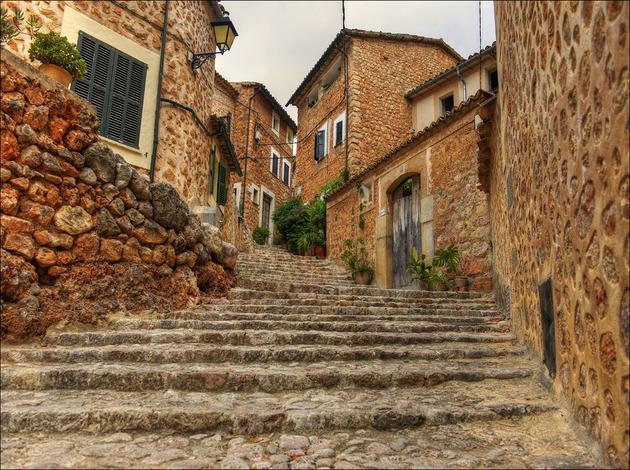 Image Source: Romtomtom/flickr.com
Sure Soller is a pretty little town but its hard to argue that its real soul lies in Fornalutx and Biniaraix. Fornalutx is a small, sleepy hamlet that is happily stuck in the past. If you yearn for some peace and quiet, Fornalutx gives you just that. Biniaraix too, is a picturesque place that is popular for its lovely trails.
Highlights: spectacular scenery and nature trails.
7. Nerja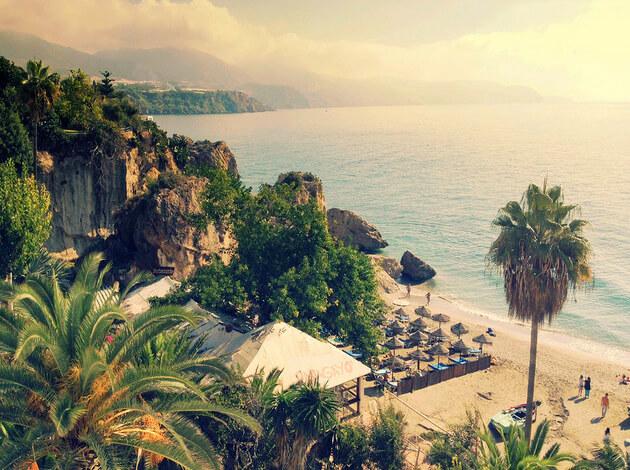 Image Source: Nick Kenrick/flickr.com
Boasting of beaches that have soft, powdery sand and sparkling waters, Nerja is a little slice of heaven. Unaffected by concretization, this simple little place is perfect to unwind and relax. Flanked by the glorious Sierra Almijara mountain range, Nerja embodies the best of both worlds.
Highlights: Balcon de Europa, Old Quarter
8. Grazalema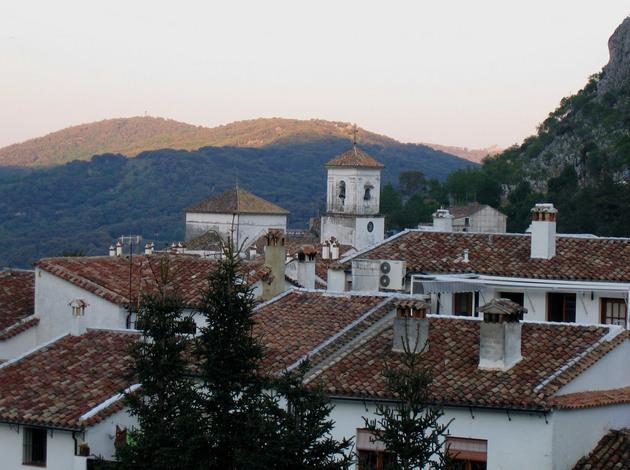 Image Source: Ian Cochrane/flickr.com
Whether you are visiting Sierra de Grazalema national park or are just passing by, you will not want to leave this pretty hamlet for sure. Located at a height of 800 meters above sea level, this mountain town is one of the wettest places in Spain. This has created a unique ecosystem where rare flora and fauna flourish. Get lost on the cobblestone streets or wander with a purpose through its blessed landscape, you will find eternal beauty in Grazalema
Highlights: Church of La Aurora and Iglesia de San Jose
9. Guetaria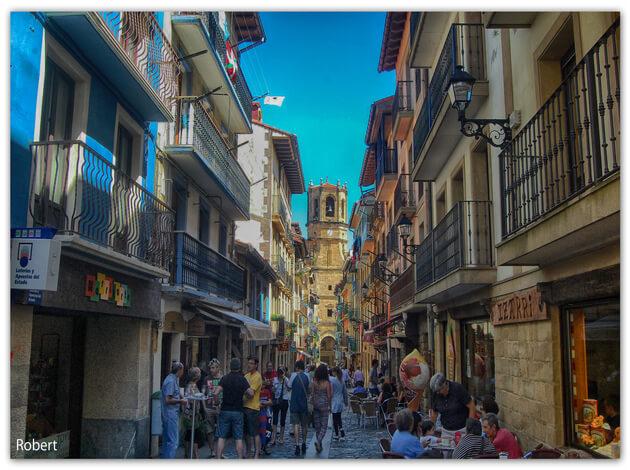 Image Source: Flickr.com
Juan Sebastián Elcano's birthplace, Guetaria truly seems like it is inspired by genius. A quiet little fishing town, you'll find the most gorgeous medieval houses , boulevards and vistas everywhere you go. Treat yourself with a glass or two of the famous Basque wine Txakolí as you take in the understated beauty of this village.
Highlights: Church of San Salvador, Hermitge of San Anton
10. Casares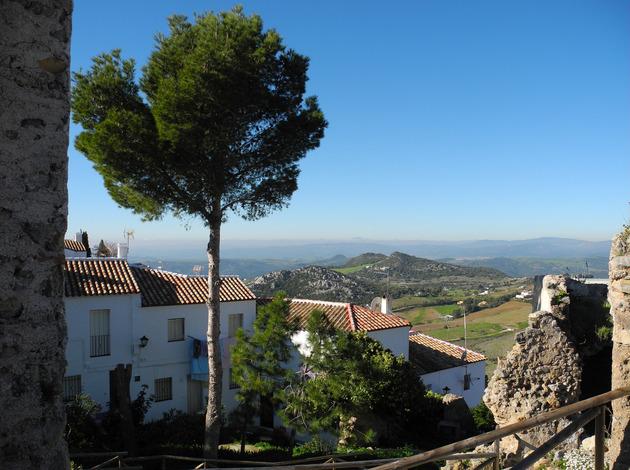 Image Source: felizfeliz/flickr.com
Casares could well be an epitome of beauty. Be prepared to be taken aback by the sights of this postcard village, Casares is beautiful beyond words. Even the drive upto the village is completely out of the world! This village is best discovered at a slow pace, take your time and revel in the lovely picture that unfolds in many layers.
Highlights: Medieval fortress, Plaza de Espana.
11. Santillana del Mar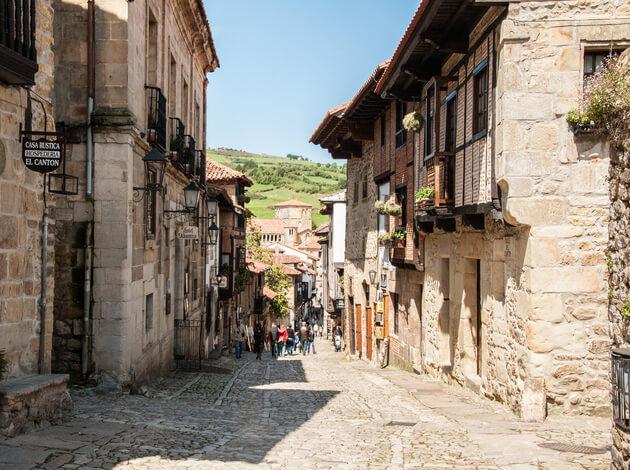 Image Source: Graeme Churchard/flickr.com
This scenic town is home to not more than 5000 inhabitants but can definitely give some of the other populous cities of Spain a run for their money. Blessed with abundant beauty, this town is developed around the church of Santa Maria. The heady mix of scenery and history will make you fall in love with this place.
Highlights: Collegiate Church Of Santillana Del Mar, Palacio Barreda Peredo
12. Elche
Image Source: Juan J Martinez/flickr.com
Besides the UNESCO World Heritage Palm grove of Elche what will also strike you is its unique mix of baroque glamour and Islamic heritage. The region of Elche is rich in natural resources and precious sights that you can't find anywhere else in Spain. Elche might be a city for governing reasons but in its heart, it is still a small town with a big heart.
Highlights: Altamira Palace and Palmeral de Elche palm grove
13. Deia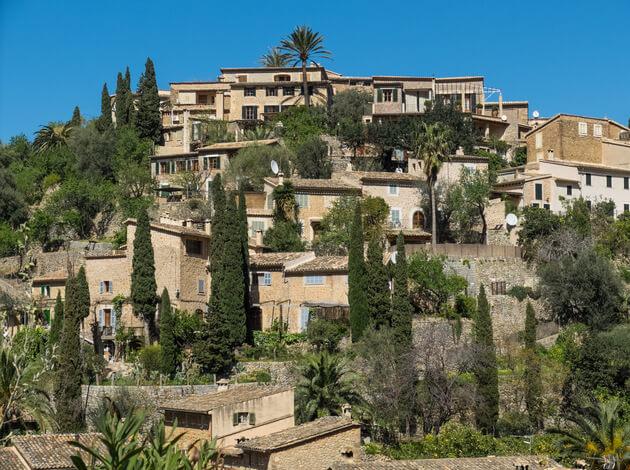 Image Source: Anna & Michal/flickr.com
Thanks to Robert Graves, Deia became the millionaires' hideaway in Spain. And its easy to see why. This immaculate village is idyllic because of its beautiful views and laidback yet chic vibe. A great place to just do nothing but enjoy the scenery, Deia's ochre houses with green shutters blend really well with its surroundings.
Highlights: Cala Deia and hiking trails!
14. Trujillo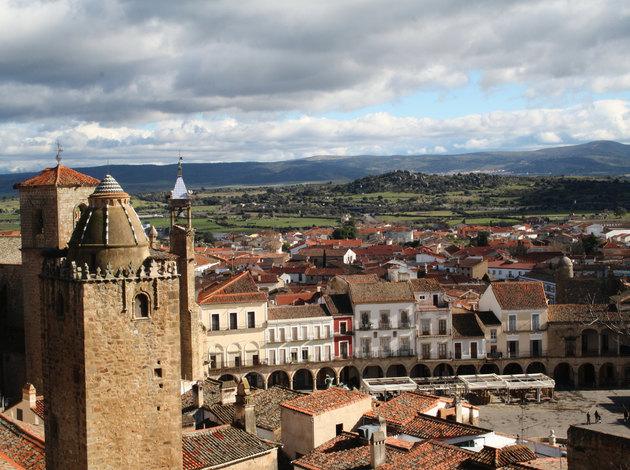 Trujillo has played its own part in the discovery of America. Since the 16th century, this place has been the cradle of illustrious individuals who are credited towards the discovery of the American subcontinent. A treasure chest of natural bounty, Trujillo also has many castles, manors and churches that are declare Places of National Interest.
Highlights: Monfragüe National Park, Trujillo Castle
15. Cudillero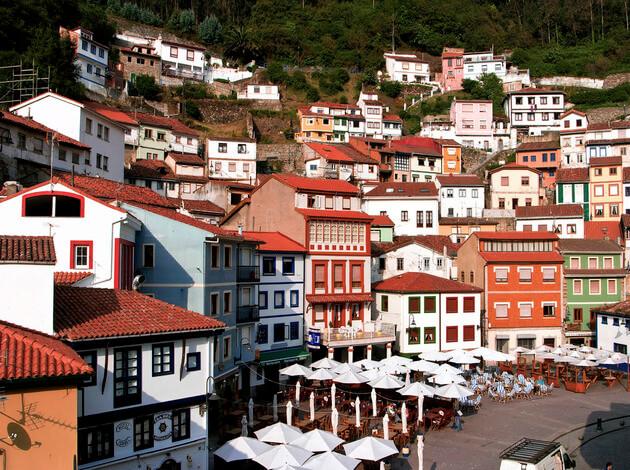 Image Source: Jim Anzalone/flickr.com
The dramatic unfolding of fantastic beaches and rugged cliffs is a sight for weary eyes. Pastel-painted houses scream pretty coastal town and Cudillero lives up to this reputation. Stop by for a feel of authentic Spanish hospitality and gorgeousness.
Highlights: Playa de Silencio and Playa de Aguilar
Spain is full of big wonders in small packages. Have you planned your Spanish holiday yet? if not plan now your amazing trip with our smart online itinerary maker.