15 Best Wellness Retreats in Goa
* Disclosure: This post may contain affiliate links, which means we may receive a commission if you click a link and book something (there is never any extra cost to you for using these links).
Think of Goa and the first thing that strikes one's mind is beaches! Long and long stretches of beautiful golden sands accompanied by wavy blues and lush greens bestowed by nature; the picture just cannot get any lovelier! Moreover, the relaxed laid back vibe and chill people only make Goa a sensible choice for an occasional retreat.

Following this line of thought, Goa today is home to some well-endowed wellness centres and places, offering people the natural escape and relaxation they are looking for. If yoga or some other aromatherapy is on your list next, check out these amazing wellness retreats in Goa that will have you unwind even before you know it!
1. Swan Yoga Retreat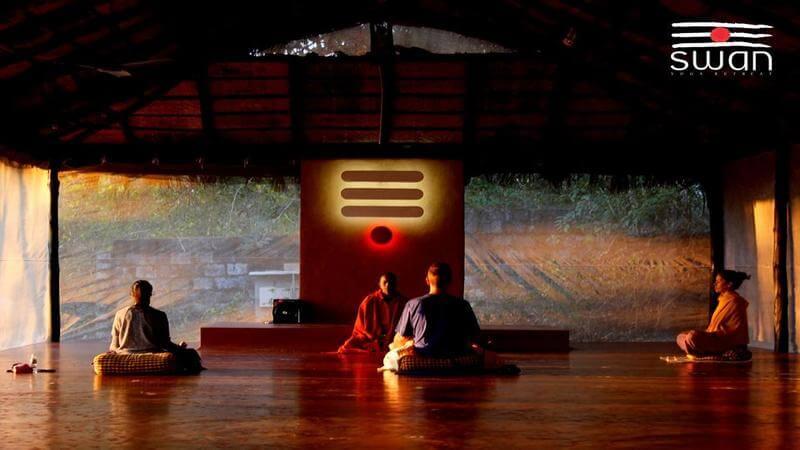 Image Source: Facebook.com
Gorgeous setting, calm ambience and a glimpse of the culture, this is how you would describe Swan Yoga Retreat at its best. The place is located in the area of Bairo Alto and is one of the few retreats that preaches and practices the traditional methods of therapies. Get ready to partake in a lot of fire rituals, prayer chanting and devotional ceremonies while you are at it. It will be of course sided by the holistic yoga sessions with opportunities to get acquainted with the varied asanas and pranayama and learn about their significance. You can even enroll for an Ayurveda course if you want to! If nothing, the daily discourses on sutras and dharmas are enough to keep sorted till the very end of your stay!
2. Zaara Spa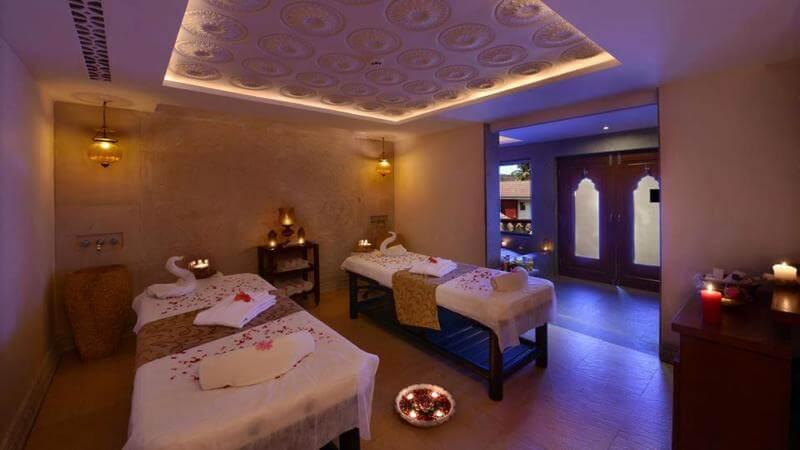 Image Source: Facebook.com
Zaara Spa is known for its distinctive vibe which will help you relax from the very moment of your arrival. The splendid ochre walls with its tangerine-hued appearance and detailed flower decorations make this wellness centre a soothing place to be in. As you enter the place, you are welcomed with a nice drink which is then followed by an alleviating massage session structured to suit you just right. You can learn about all kind of ayurvedic treatments and pick one from the varied packages. Once done, check out its unique gym or get soaked in the indoor swimming pool to make the best of the rest!
Check Out: Coolest Hostels in Goa
3. Ashiyana Yoga Center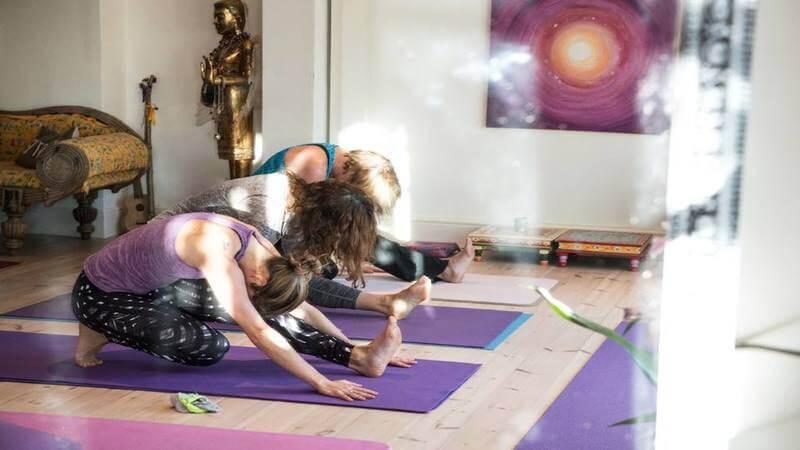 Image Source: Facebook.com
Ashiyana is perhaps one of the finest spa places that Goa has. Nicely tucked in the natural setting of Mandrem Beach, it features a number of options for individuals to indulge in. It is here where you can enjoy a nice Turkish sauna treatment and pamper yourself till your heart is full. The five treatments rooms ensure that you have plenty of selections on your lap to choose from. You can come here on a regular package that includes beachside accommodation, refreshing meals and recreational activities such as yoga, meditation, chanting, and pujas or go for other exclusive ones. Home to the only 'Natural Swimming Pool' in the city, there is always a little more to experience when it comes to Ashiyana.
4. Yoga Magic Eco Retreat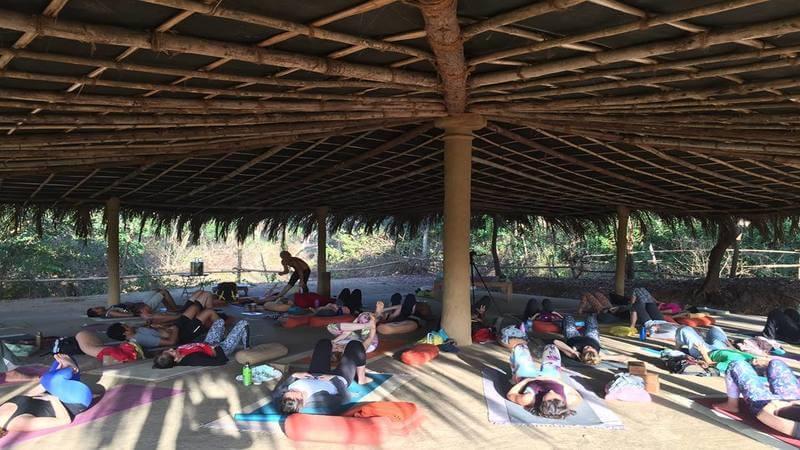 Image Source: Facebook.com
Whoever has named the place was very apt about it. It's magical, pacifying and in fact, a different experience altogether! Yoga Magic Eco Retreat derives its USP from nature. Surrounded by lush paddy field and lined palm trees, it is only natural for people to seek its company and delve into a world of spirituality and quietude. If you are planning to stay here for a while, the place offers exquisite rustic rooms with wooden tiling that complements the feel of the place. Tents to eco lodge and suites, the place has it all! The warm interiors beam with tranquillity and as you explore its other features such as swimming pool and gym, you can't help to prolong your stay a little. The meditation classes and ayurvedic massages are best here!
Must Check: Best Resorts in Goa
5. The Mandala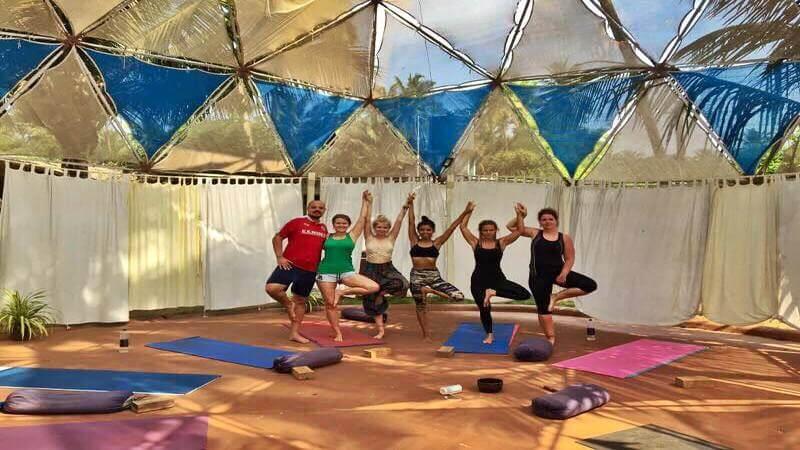 Image Source: Facebook.com
Nestled within a close proximity of Mandrem Beach, the Mandala is where you come to hustle, but apparently in a fun and subtle way. The retreat here will be full of zing, as you set out to explore the various places, restaurants and shopping areas around. The only place in Goa where yoga and parties go hand in hand. Its cheap price makes it all more suitable for such endeavours. Stay in its nomadic villas or yantra tents and experience a soulful retreat amidst its myriad yoga therapies practices performed in Geodesic Spirit Dome in a Riverside Shala. The eclectic place serves a variety of organic meals and also organises various camping trips throughout the year. A kayaking adventure is must here!
6. Banyan Yoga Tree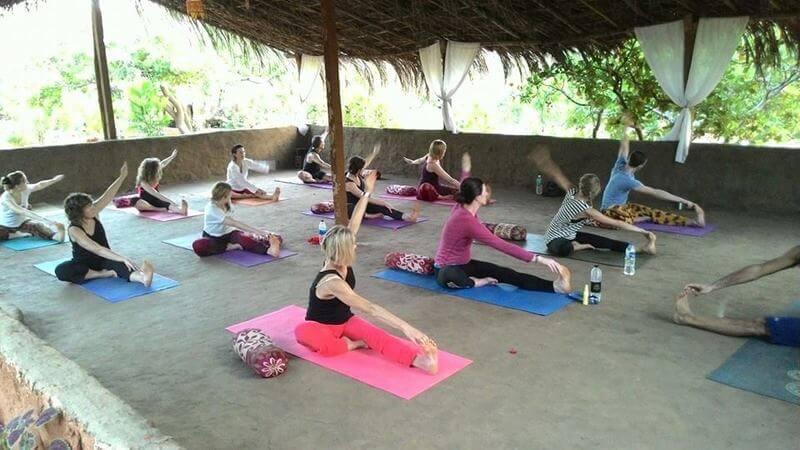 Image Source: Facebook.com
Experience nature up and close and in its most authentic self at Banyan Yoga Tree. Everything about the place will remind you of how peaceful and simple life had been before the technology came into play. Living in its mud clad huts with leafy roofs and vibrant homely atmosphere will let you relax and get acquainted with the quieter side of life. A 7-day package in this place includes yoga and meditation classes, numerous massage therapies and nice food choices (organic of course). Alongside that, there are Thai massage sessions and Reiki which you can make use of while you are here. In the evening, bonfire and music events are held to provide their guests with a more enriching experience.
Check out: Places to Visit Near Goa
7. Vedic Valley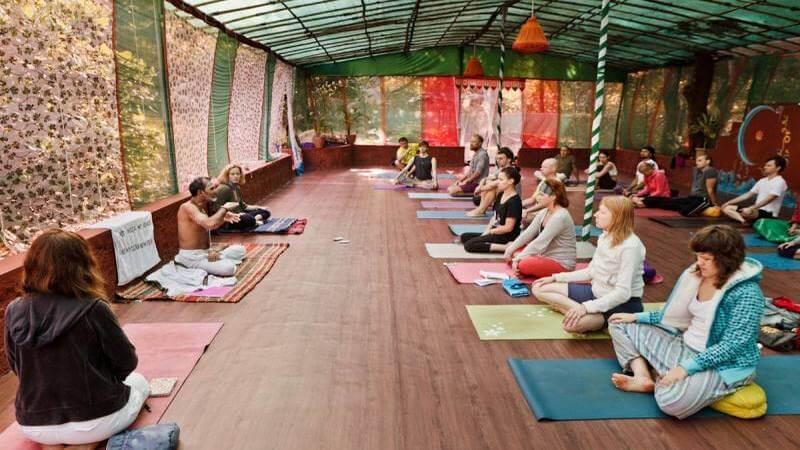 Image Source: Facebook.com
A visit to the Vedic Valley is more of an exotic experience that a spiritual one, but a splendid retreat nonetheless. Cosily lapped by dense forest and accentuated by breathtaking panoramas, a few days here will help you interact with nature and with self. And the best thing is, it is only miles away from Morjim Beach where you can take refuge every once in a while. The accommodation range in Vedic Valley is wide and varied, with comfortable family houses to wooden bungalows and cottages. The influence of Vedic culture can be easily seen in its every aspect, be it the kitchen (with its Ayurvedic servings) or massages and therapeutic treatments. Ensure to try its popular Panchkarma therapy while you are here. A perfect place for a yoga holiday, it also features workshops to enhance your understanding of yoga science and its techniques.
8. Sereno Spa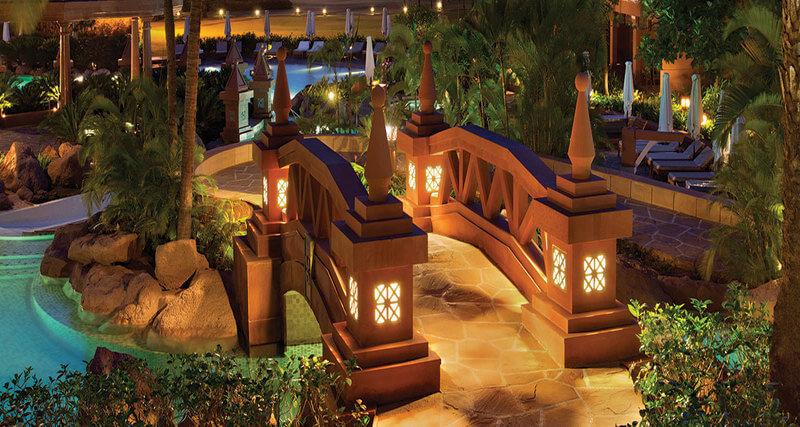 Image Source: hyatt.com
It is an award-winning wellness centre that is nicely perched on the seafront surroundings of South Goa. A very popular one among visitors, who come here to indulge in its diverse services, the place offers a fascinating melange of age-old therapies and new distinguished contemporary techniques. Specifically known for its effective spa sessions, one is provided with numerous spa packages to choose from as per his taste. A much-recommended one is 'The Marine Experience'. The place spans an area of 36,000 square feet and bestows a scenic locale that will leave you with some pretty unforgettable memories!
9. Yoga Gypsys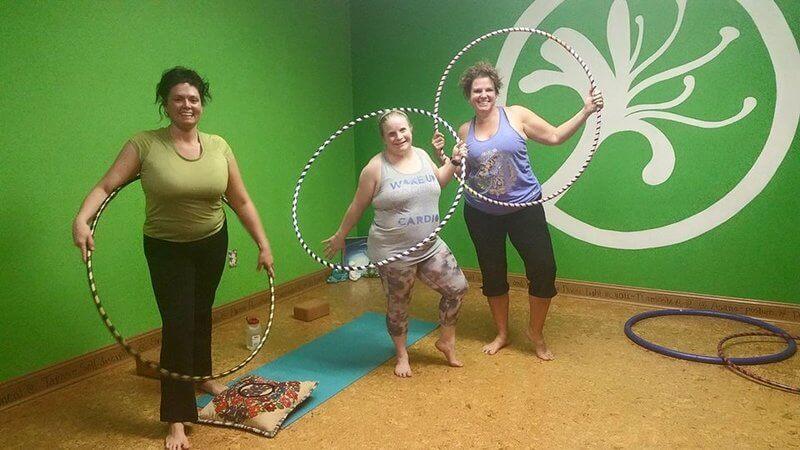 Image Source: Facebook.com
Staying true to its name, Yoga gypsys is a hippie's paradise and a spiritual path for self-realization and awareness. People come here to get away from the bustle of the city and understand the deeper meaning of life. Located in the Portuguese influenced area of Goa, it is a stone's throw away from popular attractions like Ashvem Beach and Ajoba Temple. The surrounding tropical gardens make it even more apt for a spiritual and relaxing retreat, where you can practice yoga and other techniques for long hours. Open every day, the place provides different accommodations including Portuguese cottages and Zen tree house. Come here for a transformational experience!
10. The Beach House, Colva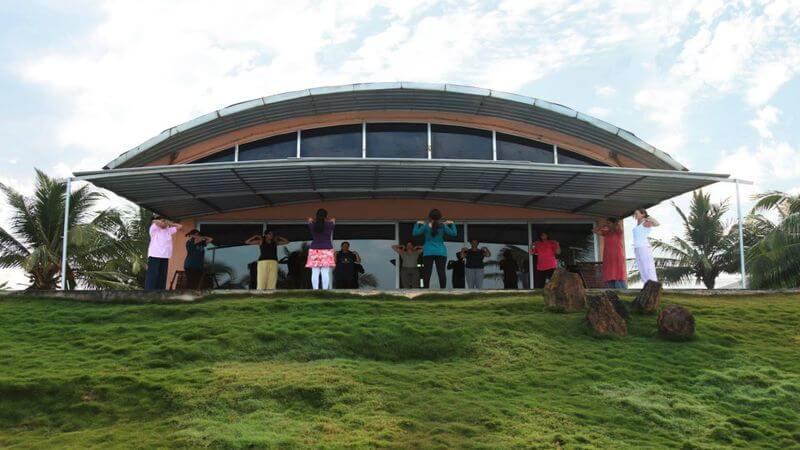 Image Source: Facebook.com
One of the popular wellness retreats in Goa, The beach house was established by a former pharmacist who wanted to create a place where luxury and spiritual practices go hand in hand. Located in a quiet corner of Sernabatim Beach in South Goa, the place is a 15 rooms luxurious escape with a range of wellness programs for guests. The variety spans wide and varied, from body rebalancing techniques to pranayama, meditation and yoga sessions. Choose any technique that sails your boat and immerse yourself in a world of calm and quietude. There will be a team of acclaimed specialists in the place to guide you about the nutrition, therapies and techniques well.
11. Little Cove Yoga Holiday Retreat, Cola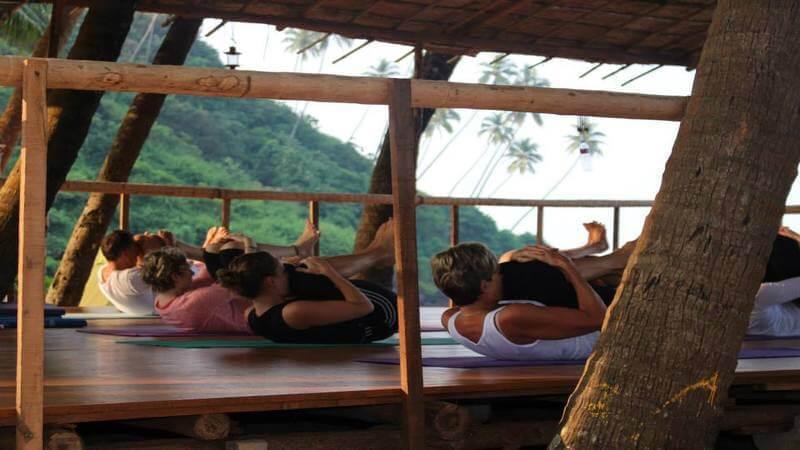 Image Source: Facebook.com
For those who are wondering if all these yogic practices actually work must definitely come here and see for themselves. The reason why the Little Cove Yoga is such a hype among visitors is because unlike most of the wellness centres in Goa, it is run by an Indian Yogi who holds a Diploma in Ashtanga Yoga and Naturopathy. Hence, is totally authentic and reliable! The place is far away from the hubbub of the city, amid a palm grove, and offers seclusion and tranquillity. As a guest, you will be able to participate in at least 2 yoga classes every day which with its nice beachfront views is all you need to enjoy. On the top of that, there are some other relaxing activities like cooking, Ayurveda facilities and such.
12. Bamboo Yoga Retreat, Patnem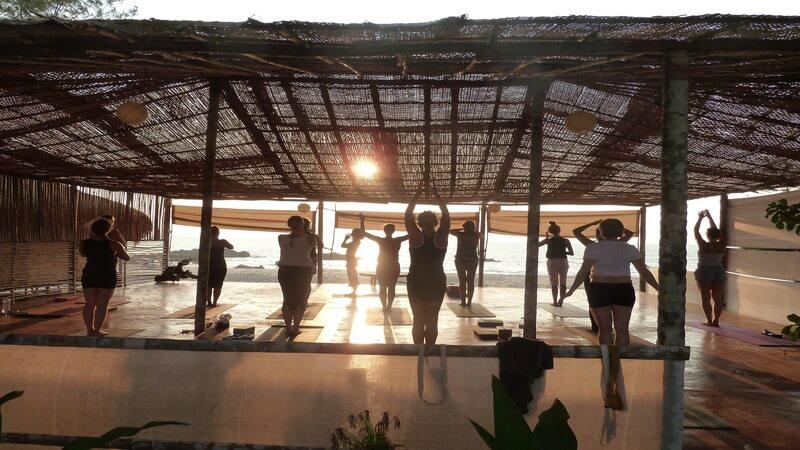 Image Source: bamboo-yoga-retreat.com
Also known as Lotus Yoga Retreat, the place is located in the Goa's one of the most chilled destinations, yes you guessed it right! Patnem beach. The place is exclusive for intense yoga holidays with a set routine to back it up. While it may seem a little restrictive, it becomes more fun as you get acquainted with the regime and feel the change maneuvering through your body. The yogas are performed in 3 yoga shalas, decked in wooden flooring and natural decor to keep up with the vibe. After every class, one can go to the spa area and indulge in activities like massages and therapies to feel refreshed. With a range of classes and flexibility that it offers, a Bamboo Yoga Retreat makes a great yoga house for beginners and recluse.
13. Satsanga Retreat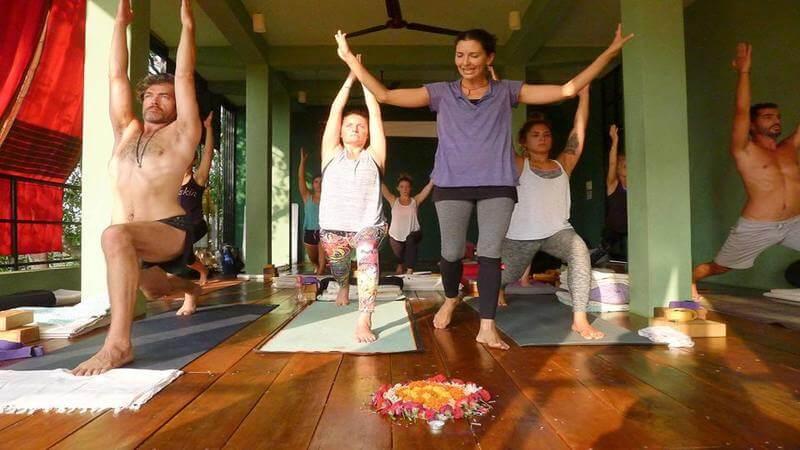 Image Source: facebook.com
Settled in an idyllic location of Verla Canca Village, Satsanga Retreat is just as magnificent and sober as it sounds. The place is known for its relaxed features with Yoga Shalas intricately crafted as an arcadian space. Surrounded by an expanse of lush tropical gardens, the place offers various yoga workshops induced with modern trendy techniques. Its Asatoma Sad Gamaya and Tamasoma Jyotir Gamaya workshops have been known for providing astounding results to it practitioners. Join the hour-long sessions to calm your soul then pamper yourself with a warm spa treatment that will have you taste bliss like none other. The Internet, laundry facilities, well-furnished guest rooms are some of the perks that the place has.
Check out: Budget hotels in Goa
14. Purple Valley Yoga Retreat, Assagao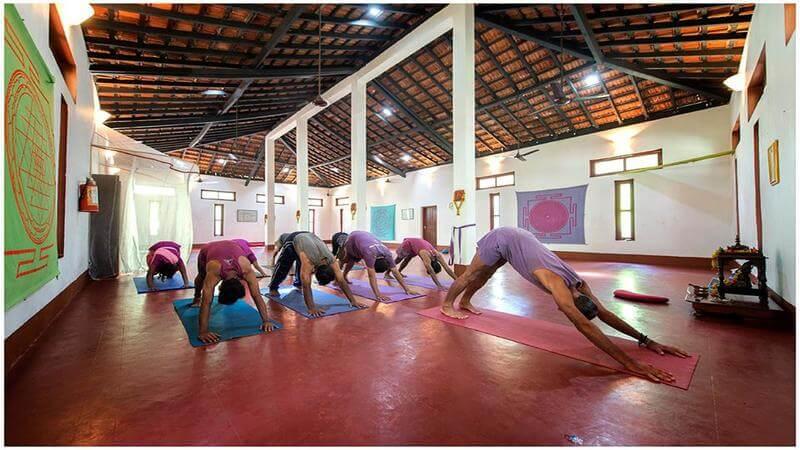 Image Source: Facebook.com
Purple Valley Yoga Retreat is exclusively known for its Ashtanga yoga practices. It is for only those who wish to seriously indulge in yogic exercises and goes on for about 2 weeks. Anyone joining the course will have to stay a minimum of one week to incur the results. Perched in the lap of a valley near Assagao, the place offers wide and flexible classes, as per one's suitability and teacher's availability. You can even visit the website to learn about the yoga gurus and even choose the one you would prefer to teach you. Apart from yoga, Ayurvedic treatments and beauty therapies are also offered to visitors to experience the place at its best. A swimming pool is placed just outside relax at the end of the day and feel good.
15. Kranti Yoga Village Beach Resort, Patnem
Thanks to its beautiful calm surrounding and a location in nature's close vicinity, Patnem is home to some amazing yoga places attracting peace seekers, travellers and folks alike. One of such places is Kranti Yoga Village Beach Resort which lies cosily in the area, offering varied levels of yoga training courses including Ashtanga Vinyasa Flow Yoga and customised intensive exercises. If a week long escape is not possible for you, you can opt for its 3 days yoga holiday which skims over the technicalities and different aspects of this art. Learn about the different pranayamas, meditation, kriyas and asanas and develop an understanding of nature and your spiritual self. Optional activities like candlelight meditations and yoga movies make the entire learning process more fun and engaging.

Don't wait! Now that you know all the places for that perfect retreat of yours, book a stay in one of these and explore that spiritual side of yours!
You may also read:
Offbeat Things to Do in Goa at Night