10 Best Wineries And Vineyards In New York
* Disclosure: This post may contain affiliate links, which means we may receive a commission if you click a link and book something (there is never any extra cost to you for using these links).
Mirroring the diversity of the wines, from fruity, aromatic varieties to classic European and French-American wines, New York's diverse landscape blends the best of both worlds. For a fabulous weekend getaway, wineries, vineyards, and wine trails offer hospitable winery tasting rooms, where you can often meet the owners and taste award-winning wines made from classic European varieties, regional hybrids and even delicious fruit wines. Here are our top picks of wine trails, wineries and vineyards in New York and around.
1. Benmarl Winery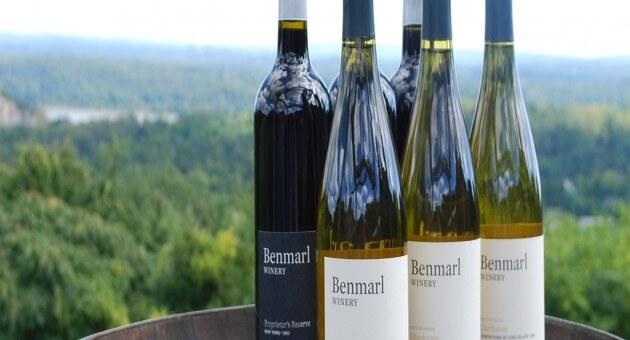 Image source: benmarl.com
Nestled in the lush green hills of Marlboro, Benmarl Winery is positioned overlooking the historic Hudson River Valley, making it a supremely picturesque property. It's 37-acre estate lays claim to the oldest vineyard in America, even holding the New York Farm Winery license no.1. Their consistent, tireless commitment has made them one of the premier wineries in the region. Look forward to savoring estate grown Baco Noir and Cabernet Franc, to their Riesling sourced on Seneca Lake, and Merlot from the north fork of Long Island, their wines speak of where they are from. With many festivals throughout the year, like Hudson Valley August Sangria Festival, Benmarl's September Harvest Grape Stomping Festival and the Benmarl's Annual October Harvest Grape Stomping Festival, the property is abuzz year around.
Address: 156 Highland Avenue Marlboro, NY 12542
Timings: 11am-6pm
2. Millbrook Vineyards & Winery
Called "the Hudson Valley's flagship winery" by The New York Times and "a great place to visit" by The Wall Street Journal, the Millbrook Vineyards & Winery is conveniently located in the magnificent Hudson River Valley just 1.5 hours from both New York City and Albany. A glorious place to visit any time of the year, for a tour and wine tasting, this is one experience you will certainly savor. What to look forward to here? A five-star wine experience with an educational tour and tastings of award-winning Chardonnay, Pinot Noir, Cabernet Franc, Tocai Friulano and Riesling!
Address: Millbrook Vineyards & Winery, Wing Road, Millbrook, NY, United States
Timings: 12pm-5pm
3. Pellegrini Vineyards

Image source: pellegrinivineyards.com
Winery and vineyard; producers of merlot, Chardonnay, cabernet sauvignon, cabernet franc and more, Pellegrini Vineyards is situated on the North Fork of Long Island. The Pellegrini's purchased this vineyard in 1991 and built a 14,000 square foot winery complex, which was one of the very first wineries that integrated the entire winemaking process. Today, group tours are available of this fabulous place (by appointment only) and wine tastings range from $2-6. One of the Taste NY attractions, private event facilities are available too.
Wine tasting is truly a pleasurable experience in their two-story cathedral-like tasting room that captures the spirit of Pellegrini Vineyards. Celebrate the spaciousness, beauty, and calm of the rural surroundings as you savor a glass of wine at their tasting bar. You can also choose to sample some of their limited production wines only available in the tasting room.
Address: 23005 Main Rd, Cutchogue, NY 11935
Timings: 11am-5pm
4. Hudson Valley Wine Country
America's oldest wine making and grape-growing region, The Hudson Valley lies at less than an hour and a half from NYC. Home to some very popular vineyards like - Adair Vineyards, Altamont Winery, Amici Vineyard & Winery Valley Falls and the likes, beyond which lies a wealth of natural beauty rich with hiking and biking trails, the most famous historic sites, and a culinary treasure of farms and restaurants. Picturesque picnic grounds, gardens, and the vineyards from which the wines are crafted make the wine tasting a must for those looking for an extraordinary experience.
Address: Hudson Valley Wine Market, 119 Main Street, Gardiner, NY 12525, United States
Timings: 12pm-5pm
5. Brotherhood Winery
Estimated in 1839, the Brotherhood Winery is America's oldest winery. Explore the winery with various opportunities of tours and tastings. Indulge in fine dining at the winery's Vinum Café, that occupies the ground floor. Amuse yourself at the largest underground wine cellar in the country, their cobblestone patio, the chapel and the tasting room. Don't forget to catch a glimpse of the exciting gift shop that has an array of wine glasses, cheese platters, mugs, shot glasses and much more. All in all, a good day for wine enthusiasts, to spend with friends and family.
Address: 100 Brotherhood Plaza Dr, Washingtonville, NY 10992, United States
Timings: 11am-5pm
6. Lake Ontario wine trail
From boutique Wineries, Distilleries and Cideries, to charming Bed & Breakfasts, great Restaurants, bountiful Farm Markets and unique Shops and Sites, adventure awaits you at the Lake Ontario wine trail! Given the unique location, climate and soil along the shores of the Great Lake Ontario the wineries at the Lake Ontario trail are capable of producing some of New York State's best vintages. From classic viniferous to hybrids and fruit wines, the trail has a wine for everyone's palate. Whether you are new to wine or you are a wine connoisseur, experience the variety and abundance of the Lake Ontario Wine Trail, to please yourself.
Address: Lake Ontario Wine Trail, 4287 Jersey Road, Williamson, NY 14589, United States
Timings: 11am-5pm
7. The Thousand Islands Seaway Wine trail

Sweet smelling air, warm breeze, blue skies, vines of plump luscious grapes that's the TIS wine trail for you! Each winery here is family-owned and operated, providing you with personal service and warm hospitality. All these wineries offer an impressive range of choices - classic reds, whites, and roses are given a personal touch and a regional twist! New flavors, techniques, and ideas blossom each year to contribute to the ever-expanding list of the original creations. Stop in for a tour, sample the wine, and take your favorite back home. Wine from the Thousand Islands has developed a reputation for converting anyone to a wine lover with just one taste, legendarily. Go discover, what's your pick.
Address: Thousand Islands Winery, 43298 Seaway Avenue, Alexandria Bay, NY 13607, United States
Timings: 10am-8pm
8. The Adirondack Coast
A day's scenic drive through quiet country roads, the Adirondack Coast lies at 272 miles from NYC, for you to sample some very fine wines, featuring local wines from cold weather grapes. High sugars, deep flavors, and crisp acidity combine into some of the most outstanding wines, including the award-winning apple and honey wines! On your journey here, you will also get a glimpse of You will not miss picturesque farmlands connecting family-owned maple sugar bush, orchards, and vineyards!
The grapes grown here are hybrids of European grapes and hardy American rootstock that can withstand cold winter temperatures. Many of these grapes were introduced to the world in just the last 10-15 years so they're like nothing you've ever experienced! Seek a little adventure? Instead of driving try cycling at their new Adirondack Coast Wine Trail!
Address: 7061 Route 9 | Plattsburgh, NY 12901
Timings: 11am-5pm
9. Niagara Wine Trail

Image source: niagarawinetrail.org
A world-class Wine Country, right in Western NY awaits your exploration! If you seek an array of wineries and attractions rich with history, this is it! Stretching across Niagara, Orleans, and Monroe counties, the Niagara Wine Trail, USA is minutes from Niagara Falls and just a short trip from the Buffalo and Rochester areas, the wine region has a unique micro-climate. Each winery on the trail offers a diverse selection of traditional vinifera style, native, late harvest and ice wines, as well as unique styles such as award-winning fruit wines, meads, and ciders, to indulge in a one of its kind wine tasting experience. From the novice to the most discerning wine connoisseur, there is something to please the palate of everyone.
Address: Winery Tours of Niagara, 6700 Fallsview Boulevard, Niagara Falls, ON L2G 3W6, Canada
Timings: 11am-5pm
10. Bedell Cellars
Bedell Cellars, a pioneering, family owned winery in the long island wine growing region, is dedicated to quality and creativity. Having hand-crafted wines in small batches for thirty-five years, using methods that define the regional style. Bedell Cellars continues to artistically blend grapes grown in their unique maritime terroir. With some of the oldest grapevines in the country, they aim to grow the best quality fruit, while protecting the surrounding ecosystem. Maximized native flavors in their wines are sought with a natural balance between vine, soil, and sunlight, making every sip a sheer delight!
Address: 36625 Main Rd, Cutchogue, NY 11935
Timings: 11am-5pm
Fabulous landscapes and silky wines anticipate you. New Yorkers, take a clue, get planning for the coming weekend. Enticed, non-New Yorkers, you can plan a trip to New York using our super cool
itinerary planner
!
You May Also like to Read: