Best Yoga Retreats And Meditation Centres In India
* Disclosure: This post may contain affiliate links, which means we may receive a commission if you click a link and book something (there is never any extra cost to you for using these links).
Yoga, as everyone knows, originated in India and, seeing how popular it's become nowadays, is one thing that we Indians are particularly proud of. If you practice it, or you're planning to start, or just want a relaxing holiday away from the city, you should know that there are some really nice yoga retreats that India has to offer. We give you the list of the best:
1. Art of Living Ashram, Bangalore, Karnataka
The name says it all! Started by Gurudev Sri Sri Ravi Shankar who is no stranger to the art of spirituality, Art of Living Ashram in Bangalore will turn your tears into smiles and desperations into hopes. Experience the magic of life in the architecturally splendid ashram and choose from any of the programs offered based on your requirement. Feel the silence at Art of Living Ashram.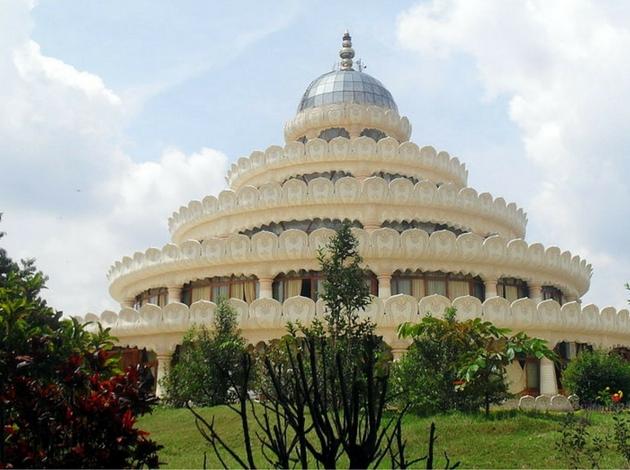 PC: Commons.wikimedia
2. Sivananda Yoga Vedanta Dhanwantari Ashram, Trivandrum, Kerala
Founded by Swami Vishnudevananda in 1959 with the aim of promoting the ancient science of Yoga as a way to improve physical, emotional, and spiritual well-being, Sivananda Yoga Vedanta Dhanwantari Ashram offers deep essence of the spirituality of life. Courses run for a minimum for two weeks and along with accommodation, each individual would get the authentic Keralite vegetarian food.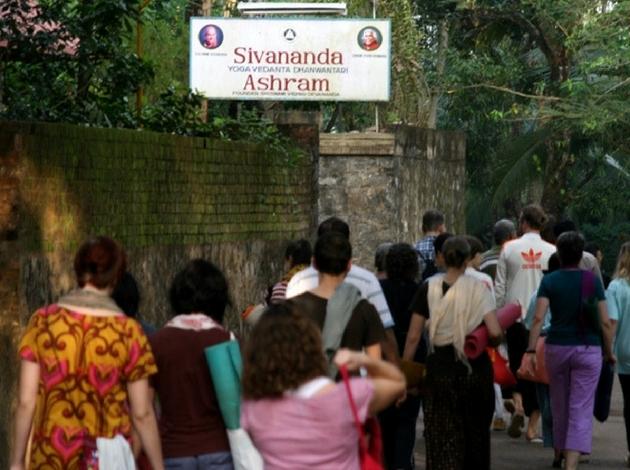 PC: Sivananda.org.in
3. Purple Valley, Assagao, Goa
If you think Goa is just for party and crazy late-night outings, then you haven't explored Goa to the fullest and you should definitely check out Purple Valley. Considered as a peaceful haven in the white sandy destination of Goa, Purple Valley is an amazing yoga retreat and is an ideal place to learn Ashtanga yoga. The yoga course takes a full 2-weeks and includes delicious vegetarian food & a retreat to unwind.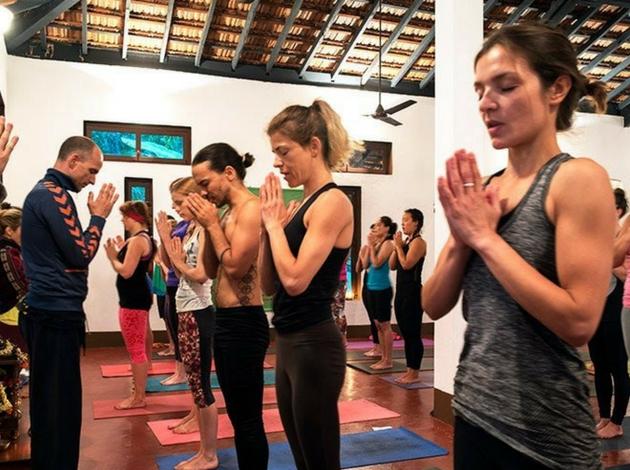 PC: Yogagoa.com
4. Himalayan Iyengar Yoga Centre, Dharamshala, Dharamkot, Goa & Arambol
Established in 1985 by Sharat Arora, a long-term student of BKS Iyengar, Himalayan Iyengar Yoga Centre offers various meditation and yoga courses. Situated in various locations in India, the courses in Himalayan Iyengar Yoga Centre are motivational and informative. Based on the proximity and the courses on offer, you can choose the center that suits you. Himalayan Iyengar Yoga Centre helps connect the body and the mind.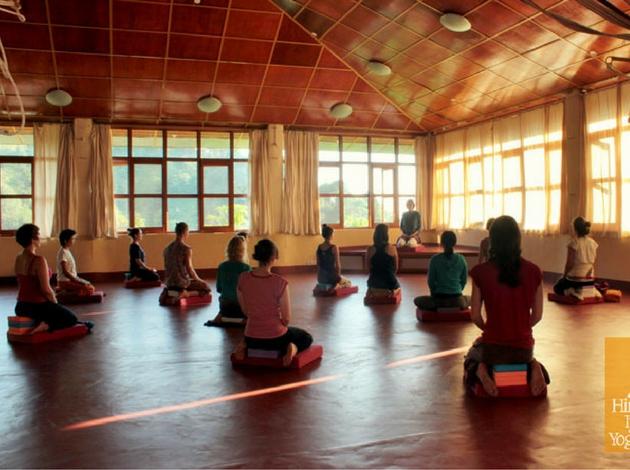 PC: Hiyogacentre.com
5. Kaivalyadhama Ashram, Lonavala, Maharashtra
Set amidst the lush green surroundings of Lonavala in Maharashtra, Kaivalyadhama Ashram teaches and follows the Ashtanga Yoga of Patanjali. Constituting of a yoga college, Kaivalyadhama Ashram teaches it students with ancient yogic arts and tradition in combination with modern science. The Ashram is famous for its healing programs that include Rejuvenation for Cancer Patients and Chronic cures.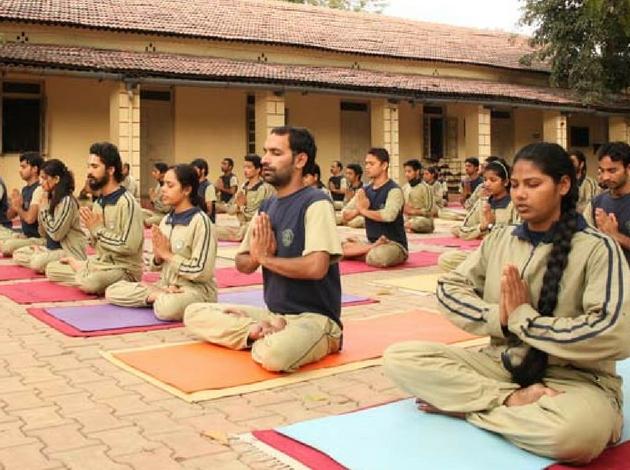 PC: Kdham.com
6. Aarsha Yoga Vidya Peetham, Kurumaseri, Kerala
If you are looking for an authentic yoga experience with intensive training programs, then Aarsha Yoga Vidya Peetham in Kerala is the perfect place for you. Handled by Indian Yoga masters who have experience of more than a decade, the main highlights of Aarsha Yoga Vidya Peetham are 200-hour yoga teacher training course and 300-hour yoga teacher training course. The whole experience is divine and life-changing.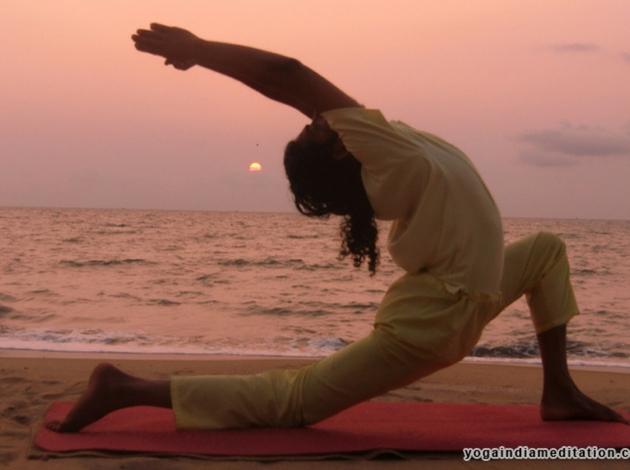 PC: Yogaindiameditation.com
7. Ashiyana Retreat Centre, Mandrem, Goa
Created as a sanctuary for those seeking an incredible yoga retreat, Ashiyana Retreat Centre nestled amidst the tropical trees alongside the pristine Mandrem beach is a home away from home. Get pampered at the amazing ayurvedic spa, nourish your body and soul by practicing yoga with the best of the masters, and enjoy a peaceful retreat away from the buzz and listen to your natural rhythms.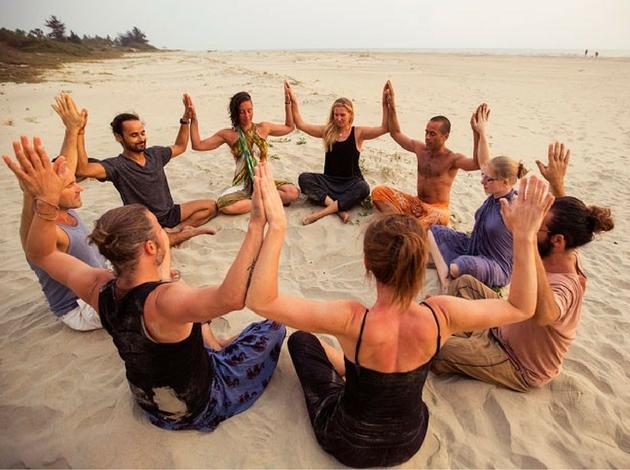 PC: Ashiyana-yoga-goa.com
8. Tushita Meditation Centre, Dharamshala, Himachal Pradesh
What's a better way to connect with your soul than through the Buddhist meditation technique?! Situated in the forested hills above the town of McLeod Ganj, Tushita Meditation Centre specializes in the practice of Buddhism. Considered as the best place for beginners to start their spiritual journey, the meditation sessions in Tushita Meditation Centre are totally transcending and offers you a complete sense of peace.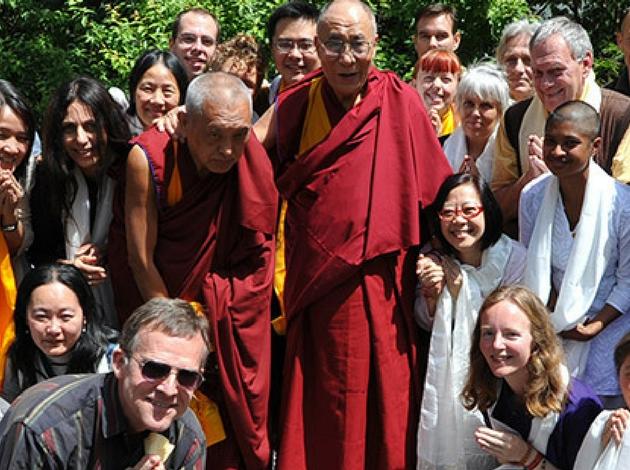 PC: Tushita.info
9. Osho Meditation Resort, Pune, Maharashtra
Located in Koregaon Park, Pune, it's a famous yoga retreat within the hustle and bustle of this Maharashtrian city. It's not just a traditional ashram, but a luxury getaway for those looking for some peace and quiet. And to top it all off, this 28-acre paradise is absolutely beautiful!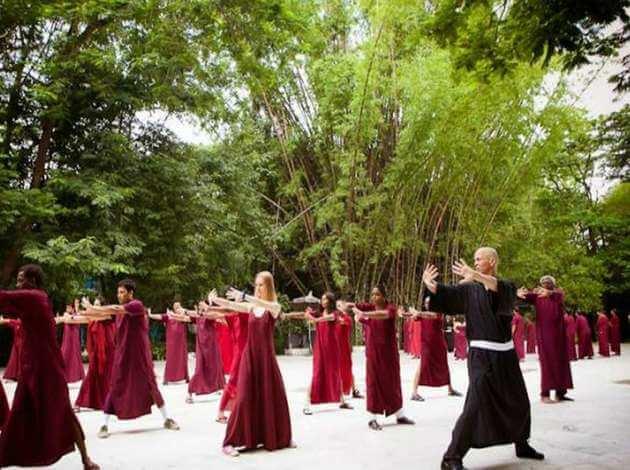 PC: Osho.com
10. Shreyas Yoga Retreat, Bangalore, Karnataka
This is another meditation retreat if you're looking for some luxury and opulence in your experience. Located only an hour away from the Bangalore airport, this center boasts of yoga classes, a spa, an infinity pool and organic cuisine that will make your mouth water!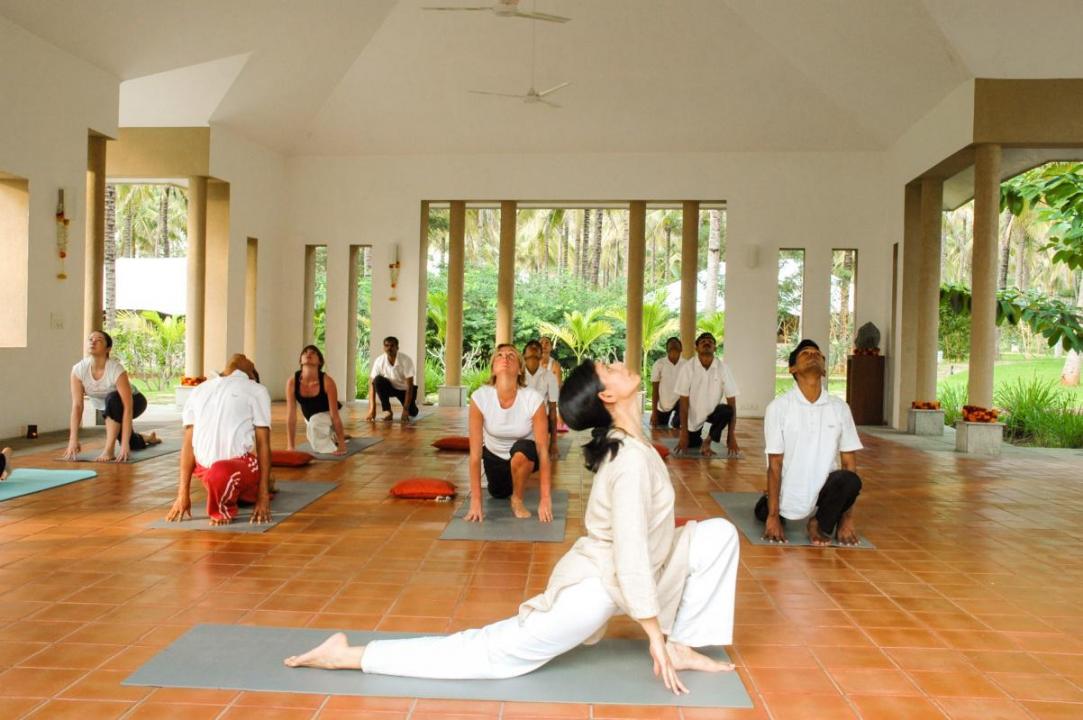 PC: shreyasretreat.com
11. Ayurveda Yoga Meditation Resort, Coonoor, Tamil Nadu
Located in a tea plantation that's surrounded by Eucalyptus forests, you know you're in the lap of nature when you arrive here. Here, you can get authentic Ayurveda treatments for a variety of ailments and stress-related diseases. There are also de-addiction programs. This option is for those who want a traditional yogic holiday.
12. Ananda In The Himalayas, Narendanagar, Uttarakhand
They call themselves a destination spa, and this retreat is one of the best and most luxurious yoga retreats in India on our list. Ananda boasts of over 80 treatments in its 24 room spa for guests to enjoy. You can even enroll in classes that teach you the techniques of the Bihar School of Yoga. Enjoy a luxurious and detoxifying vacation that you won't regret!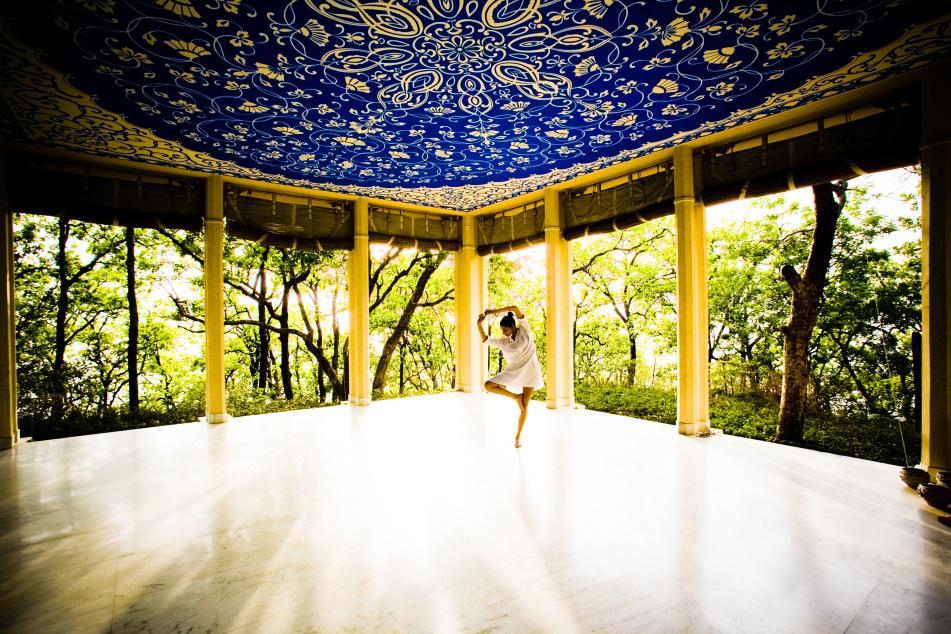 PC: anandaspa.com
13. Isha Yoga Centre, Coimbatore, Tamil Nadu
Located in the foothills of the Velliangiri Mountains, around 30 km from Coimbatore, this yoga retreat in India attracts people from around the world. There are many classes that you can enroll in including Hatha yoga (different postures and exercises), Aum meditation (chanting) and shoonya meditation. You'll keep coming back for more!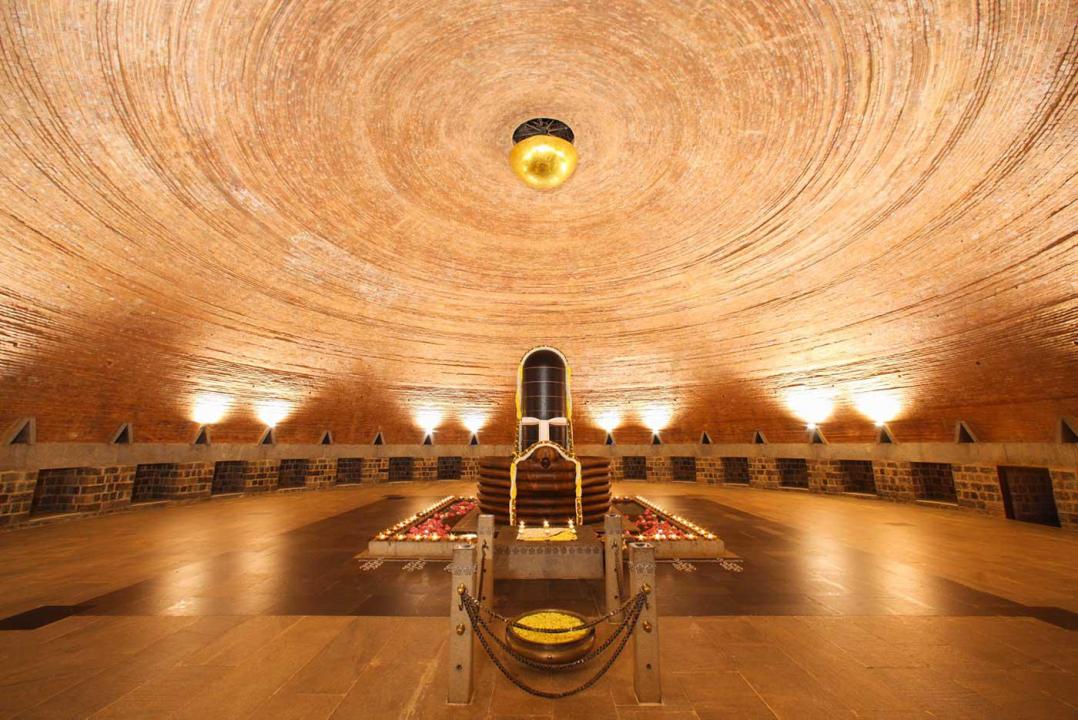 PC: sha.sadhguru.org
14. Swaswara, Gokarna, Karnataka
This beautiful yoga retreat that has been crafted in complete harmony with nature is the perfect setting for the rejuvenation of your mind and body through yoga and meditation. Along with yoga, you will be treated to nature excursions along with organic food, the ingredients of which have been sourced locally. This is the place to choose for a fully relaxing vacation that you've been craving for!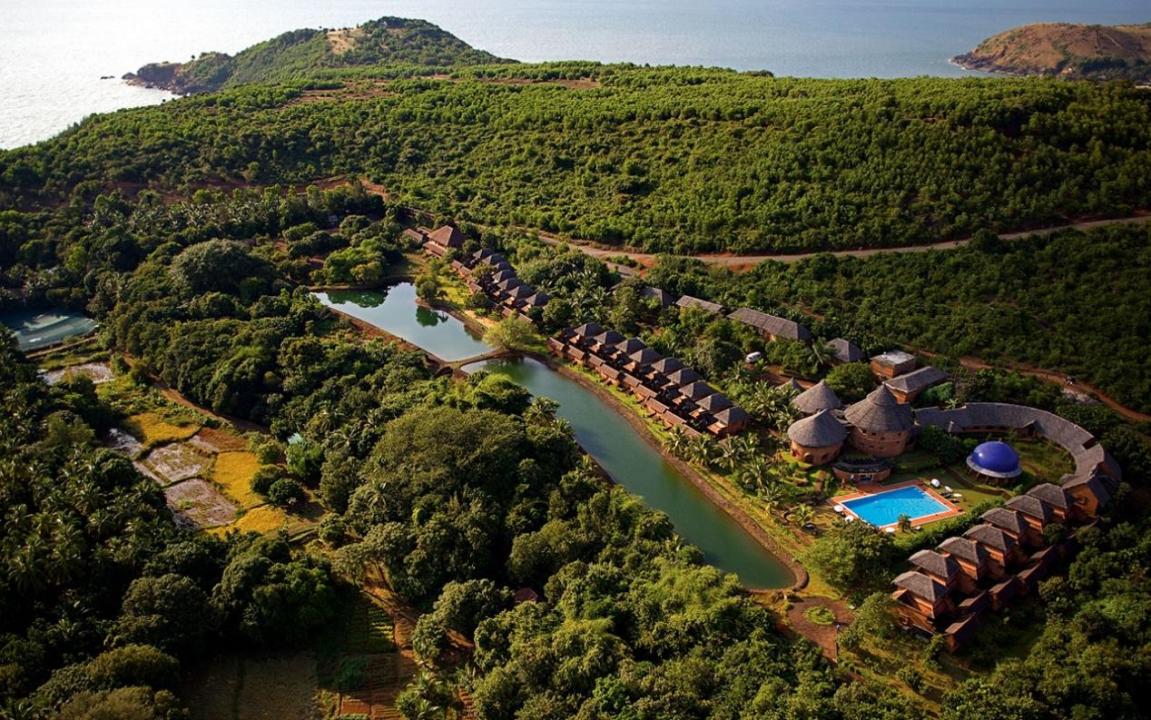 PC: Swaswara.com
15. Atmantan, Pune, Maharashtra
A wellness resort tucked in the Sahayadris, Atmantan is one of the best places to attain tranquility in the lap of nature. The resort's certified trainers will design a wellness formula for you which will include not just the right Yoga and Pranic healing but also a nutritionally balanced diet to complement it. As you breathe in the fresh air that surrounds the resort, you will realize your senses opening up. For meditation, the meditation pavilion named 'Dhyana' will give you the much-needed space to connect to yourself.