12 Best Thalis From India
* Disclosure: This post may contain affiliate links, which means we may receive a commission if you click a link and book something (there is never any extra cost to you for using these links).
In all honesty, I feel it is wrong to say that India is divided on the basis of languages. The States are recognized more by the food eaten in that particular region than the dialects- at least for foodies like us! Every place has its specialty and for people who cannot have enough of goodness- this is exactly the place. Here is our pick of the best Indian Thalis that you should try out, because you literally and methaporically cannot have enough of these!
Let us start with the conventional ones- the most popular ones that most foodies must have definitely tried out.
12) Gujarati Thali - Kathiyawadi and Kutchi!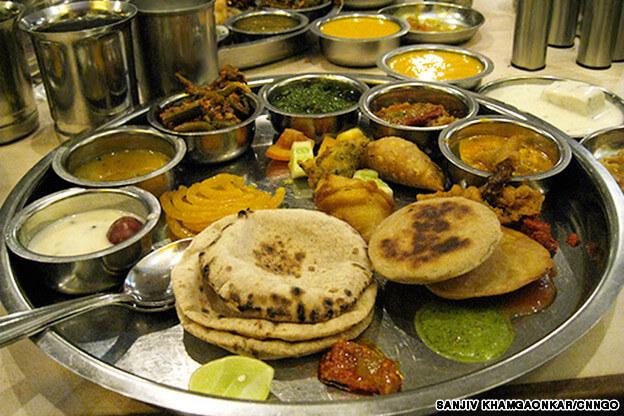 You cannot avoid the Gujarati thali. A complete delight for any vegetarian, the dhoklas and ganthiyas act as the perfect appetizers. Daal Dhokli, Khaman, Khakhra keep you so busy that by the time you get to Undhiyon and Bajre ni Rotlo, you barely save a little space for Sutarfeeni, Malpua and Keri Ras. We don't mean to de-motivate you; just make sure you are empty stomach to completely enjoy this one!
11) Punjabi Thali (North Indian Thali) - Makke di Roti- Sarson da saag and lots of ghee!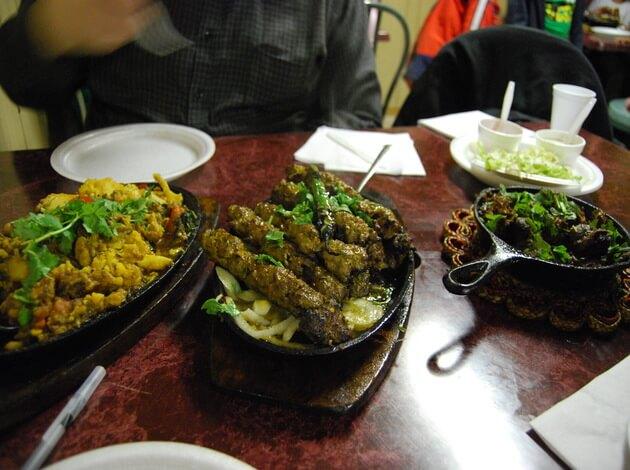 PC: Wikimedia Commons
Paneer tikka Masala and Dal Makhani is my pick. I can never have enough of these, the gravies of each dish- specially the paneer dishes are something I can eat for each meal every day. Amritsari Aloo, Glass of Lassi, Handi di Biryani, Navratan Korma, Tikkas- Paneer and Chicken, Tandoori Chicken, Butter chicken; I could go on and on! The truth is that after your craving for Pinni and Gajar ka halwa is satisfied, your only craving remains for a bed to sleep on with that stuffed a stomach.
10) South Indian Thali - 4 states..4 times the goodness!
Kerala Thali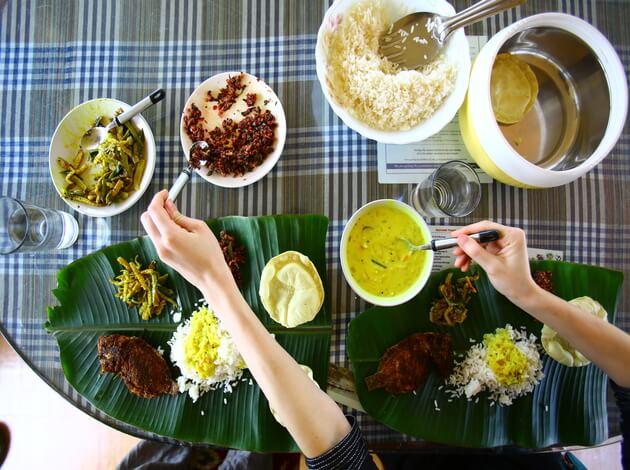 Appam and Crab Masala, Appam and Tiger Prawns, Appam and Arikkadukka- Appam with everything basically. Once youre done snacking on the banana chips, that is when Malabari Paratha is going to weave its magic. Kozhuva and Alleppey fish fry are best teamped up with Beef Kurumalakittathu. Even the bitter gourd fry( Pavvaka Va) is going to keep you asking for more. But remember to keep space, because without the lovely coconutty Eleneer pudding and Paal Payassam- your meal would definitely be incomplete. Also add a lot of banana- in chips, vadas, vegetables and your Kerala thali experience is complete!
Check Out : Michelin star restaurants in india
Andhra Thali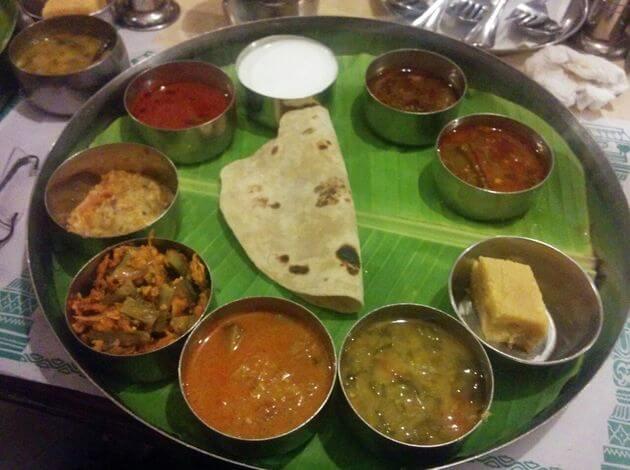 PC: Wikimedia Commons
You know what is truly special? The Ugadi special Thali. Starting with Vepudus( Dry sautés or fries) and Mudda Pappu, going on to Sakkara Pongali and Pachimirapakaya Pappu accompanied by various types of Rasam and curds and finally marking the end of your Andhra Thali journey with Semiya Payasam. I cannot find a single reason to not go back to this banana leaf spread and try each delicacy over and over again.
Karnataka Thali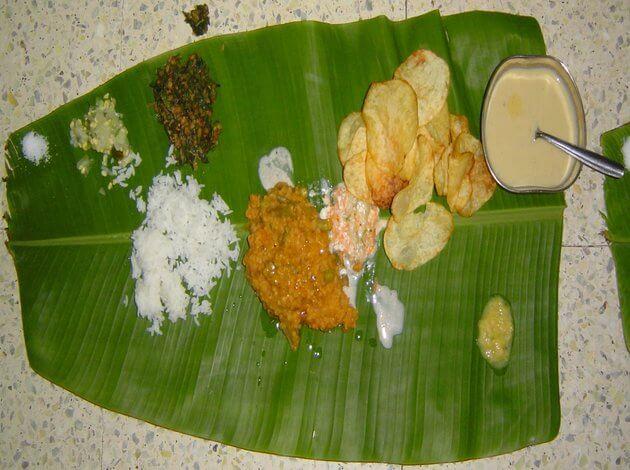 Palyas(veg curries) are a must in a Karnataka thali. Topped with rice and amazing kosombri, Karnataka is known for the goodness of big idlis as well as a lot of meat preparations. Along with quite a variety of chutneys on the side, end your meal with traditional Karanataka sweets for a compleye experience.
Tamil Nadu Thali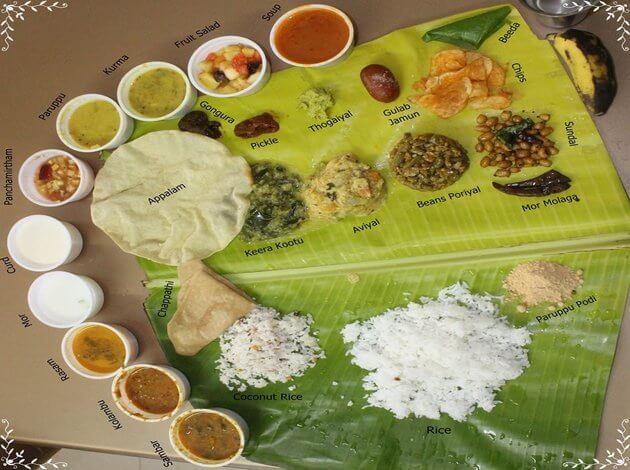 The highlights of the Tamil cuisine are Podi(also known as gun powder) and Coconut chutney. You will also find a lot of dishes made in the fresh chettinad paste as its flavor is very distinct. Along with this delicacies made up of cottage cheese, udad daal- sprinkled with curry leaves(curry patta) taste of a great infusion of tomatoes and onions. Once you team up coconut rice with rasam as well as appalam with Sambhar and Aviyal, you will be thankful to Tamilians for introducing such a lovely platter to us!
Even though particular dishes from these cuisines are loved by a lot of us, the complete cuisine or thali is not very popular and easy to find everywhere. But now that you know, get your hunting skills on to have the ultimate foodgasm.
9) Assamese Thali - Unlimited Non-Veg..Unlimited Treat!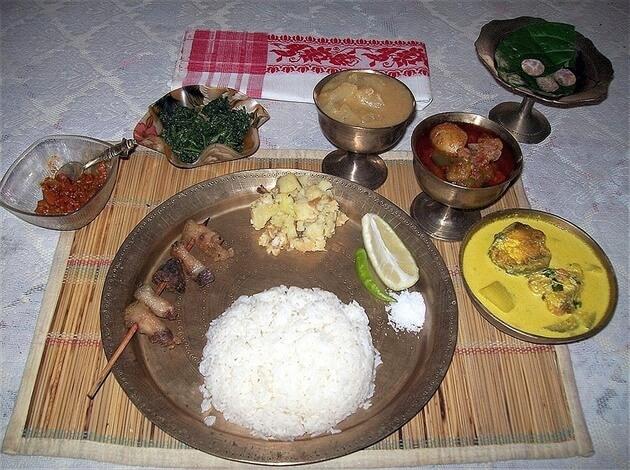 A traditional Assamese Thali is a herby flavored treat for any Non-Vegetarian. Not much for the starters, the main course is enough for you to get a taste of Assam. Masor tenga (fish in a sour gravy) along with Khar team up the best with Duck curry or chicken curry and are the perfect accessory for your bowl full of rice. A vegetable preparation made with dried banana leaf gets its taste enhanced with the much loved bamboo shoot chutney. Kharoli is another paste that you should definitely try out. Do not miss the Aloo Pittika and end your meal with Assamese Payox.
8) Chattisgarhi Thali - Breads and Sweets unlimited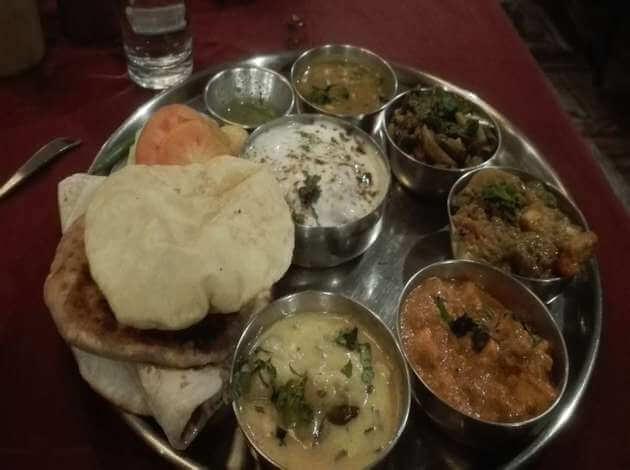 PC: zomato.com
Start with rice pakoras, go on to fara, advance to dehati vada and end it with Muthiyas-you're your meal; your appetizers. The Mundiya ka pech with tomato chutney is a great drinking delight and is best followed by Dubki Kadhi and Pancharatna dal. The thali has some breads to offer- starting with Angkar poodhi going upto Chusela. Do not forget the gulgulle and the dhoodh farra; even the kusli will have you coming back for more!
7) Bhojpuri Thali - from the land of Ravi Kishen..straight to your heart!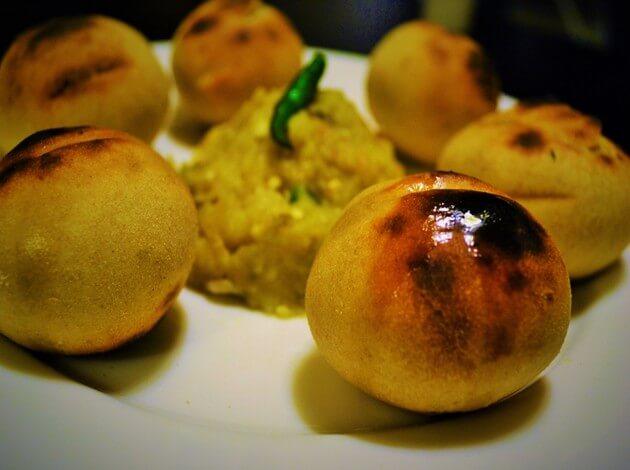 PC: Wikimedia Commons
Bhojpur Region in general is known for its cultural richness. Food plays a very important role in enhancing the Bhojpuri culture. There is so much to try out and enjoy; right from the crispy bharbhara, to the simple dahi chura for breakfast. The best part definitely is the golden brown sattu ka paratha, teamed up with ghugni and the kala channa curry. Another perfect enhancer definitely is the besan ki sabji or besan ki machhli. The tangy taste of sweet raw mango curries is going to make you come back for more and more.
6) Goan Thali- of Konkan and Kokum!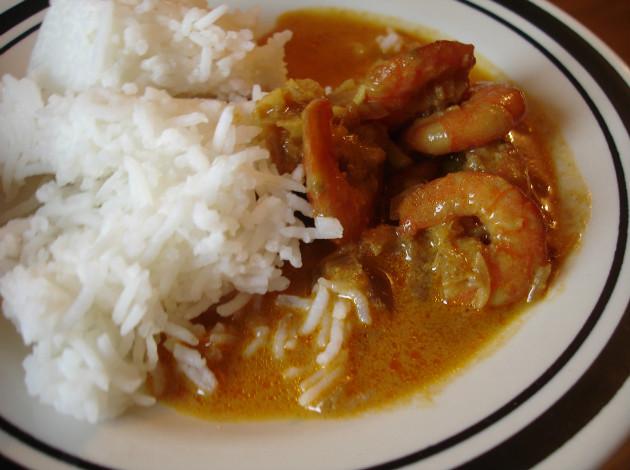 Goan food is synonymous with sea food. The proximity to the Konkan region increases its love for rice as well as coconut. It is also the reason as to why you find a lot of fish and a lot of kokum in their cuisine. Apart from these, you have the ultimate Goan rice bhakri teamed up with Goan daali thoy enhanced with kele ambat. Do not miss the vegetable vindaloo and Goan kokum curry. End it with Goan banana halwa to have the complete experience. And you thought Goa was all about beaches and pubs!
5) Meghalaya Thali- for Health watchers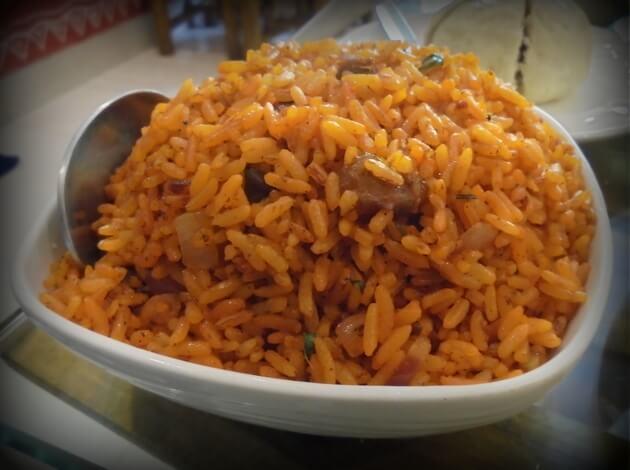 PC: Wikimedia Commons
Most of the food is boiled and is very high in nutrients. Some may call it bland, but the truth is that once you pair it up with the hot fish chutney, everything gets a flavor of its own! Jadoh is something you should definitely try out, it is a dish made up of rice and pork. If you want to definitely have the local beer called kyat and and have the Nakhlam kyat for sure. The dried fish and the flavors of sesame seeds along with ginger gives this Thali a 10/10 on our list!
4) Maharashtrian Thali- Your mouth watering journey from Spicy to Sweet.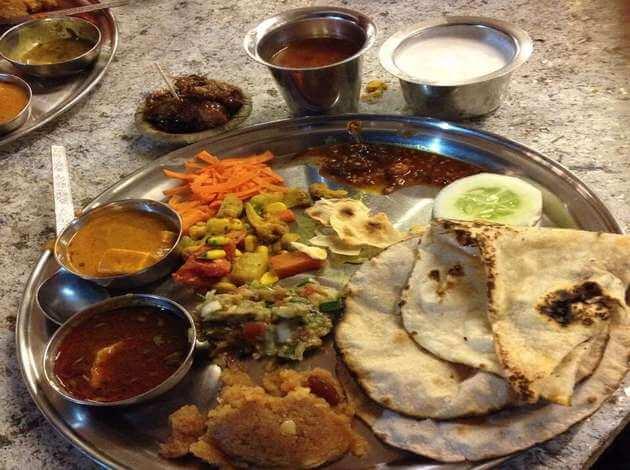 Maharashtra is a huge reason and has a lot to offer in terms of food. The three types of thalis that you should definitely not miss are the Malwani Thali ( Konkani), Brahman Thali and the Kolhapuri Thali. In Pune and Kolhapur you will find a wide variety of places to find these thalis. Brahman thali is market by the signature Varan Bhaat and Batata chi bhaji. The Kolhapuri chicken and mutton is going to make your eyes water even if you eat red chillis as snacks. The Malwani thali has a lot of coconut flavor in it and the food here is to die for! Apart from this- do not miss the Masala Vaange, Masala Bhaat and the thecha( a typical spicy chutney made out of garlic, green chillis and peanuts). Do not forget the healthy javas chutney and the groundnut chutney. Move on the Modaks, kharvas and definitely pack a lot of puran poli with you!
3) Bengali Thali - Enough of fish and rice! Never!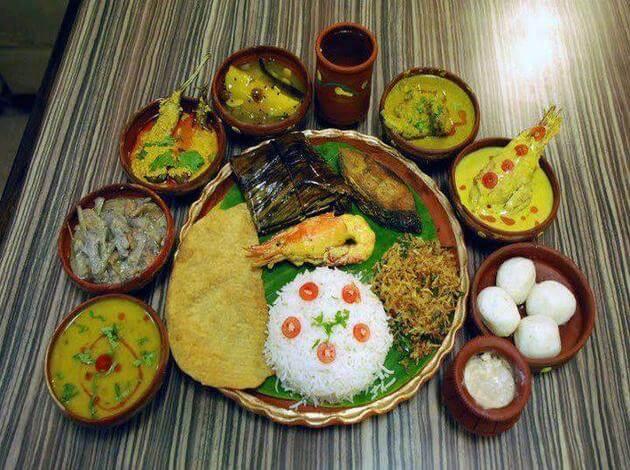 The non-vegetarian thali offers you a wide variety of fishes and curry teamed up with rice. Try out the Doi-Maach (Fish in a gravy of spicy yogurt), Sosrshe Ilish (Hilsa in mustardy gravy), Chingri Malaikari (prawns in coconut milk based gravy).The highlights of the Vegetarian Thali are Ucche Bhaja, Begun Bhaja, Aloo Poshto, Cholar Dal and Chanar Dalna. Even the aam poro sherbet and pineapple raw chutney is amazing. Remember to end it with Mishti doi and Rosogulla.
2) Kashmiri Thali - Paradise in food..is also here and only here!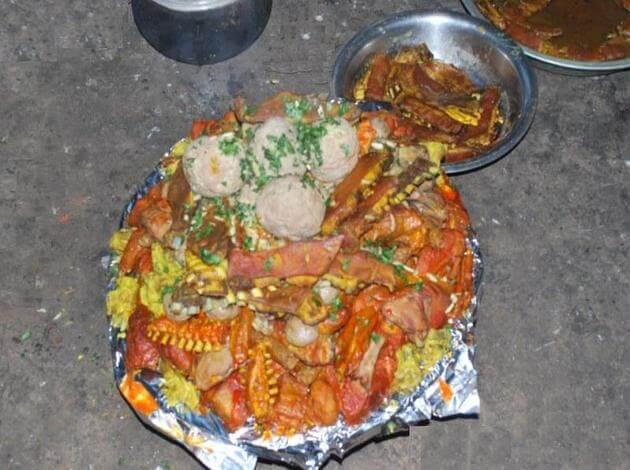 PC:Wikimedia Commons
Wazhvan is literally sent from the heaven and is a traditional thali from the Paradise on earth. Just like Kashmiri people, even the traditional 36 course Wazhvan is beautiful! Wazvan is not a meal, its an entire ceremony. Tarami is the plate and Tasht-I naari is the things passed around to wash your hands. The highlights of Wazhvan are- Chaman qaliya (cottage-cheese squares in gravy), Dum Oluv (potatoes cooked in yogurt gravy), Nadir Yakhn (lotus stem in a delicate yogurt sauce),Hak(with nadir/vangan) (a local variety of greens), Nadir Palak (lotus stem with spinach), Mujh Chetin (a sharp radish and walnut chutney), Rista (meatballs in a fiery red gravy), Rogan Josh (tender lamb cooked with kashmiri spices),Tabak Maaz (ribs of lamb simmered in yogurt till tender, then fried, can be served as a snack/side-dish), Daniwal Korma (a mutton curry with lots of coriander), Aab Gosht (spicy lamb curry), Marchwangan Korma (an extremely hot lamb preparation), Kabab (minced meat roasted on skewers over hot coals), Gushtaba (a velvety textured meatball in white yogurt gravy, a speciality), Yakhni (delicately spiced yogurt curry), Phirni (a dessert of rice flour thickened in milk set in earthenware cups with nuts and "varq"-silver leaf). Remember to keep sipping on the Kehva (traditional green tea sprinkled with local spices).
1) Rajasthani Thali - Every list is incomplete otherwise!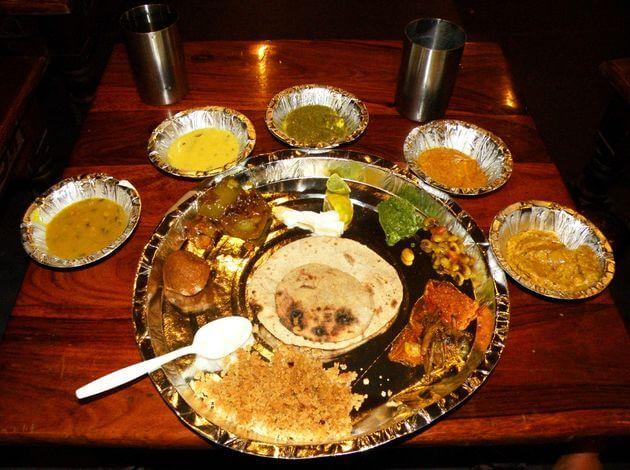 We end with the cuisine that has made Thalis a household term in the whole country. From gutte ki subzi to dal baati churma, Rajasthani thali is not a single meal, it is an entire journey. Sev tamatar ki subzi teamed up with various chutneys and the crisp rotis are just the beginning of the savory meal that is followed by Gatte ki Kadhi and chawal. In between keep munching on the dhana mung wadi and have the Bajra ki roti for sure(with added ghee ofcourse). The ker Sangri ki subzi is best ended with malai ki lassi, mung dal ka halwa, imarti and Malpua. For non-vegetarians there is a long list of finger licking dishes and curries made out of chicken and muttion. Do not forget the imarti!
This is our long spread of exquisite thalis that we binge on. Our appetite immediately becomes pig like with these items. Please let us know what arouses your taste buds and add to our list of the best thalis in the country..or even the world, we would love to hear from you!
You may also like to read:-
These 16 Eateries In India Serve Finger Lickin Good Vegetarian Food!
15 Street Foods You Do Not Want To Miss Out On
29 Best Sweets to Try from States of India