All Inclusive Honeymoon Resorts In Bora Bora
* Disclosure: This post may contain affiliate links, which means we may receive a commission if you click a link and book something (there is never any extra cost to you for using these links).
The island of Bora Bora is your official invitation of love to the French Polynesia. Trending as a hotspot in current times, for all the right reasons, Bora Bora is undoubtedly one of the top 10 honeymoon destinations in the world. Making this island an exemplary honeymoon destination are its turquoise lagoons, verdant mountains, beautiful vistas of the sea, great water sports activities, perfect weather and splendid accommodations!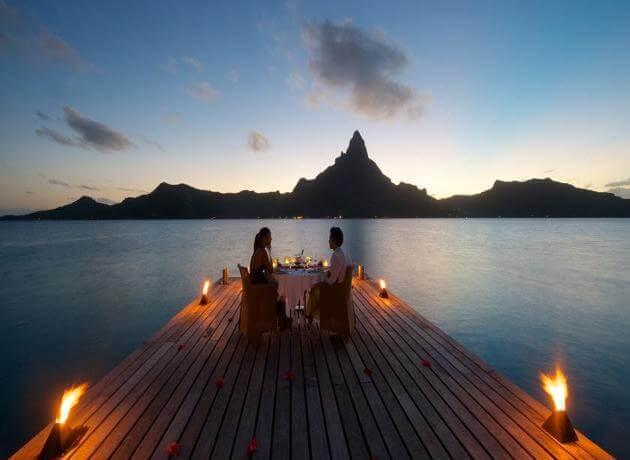 Realizing the enduring trend of 'Honeymoon in Bora Bora', the hospitality industry here wants to leave no stone unturned. This has led to the emergence of several all-inclusive resorts throughout the island, and they, indeed are the ultimate boon! Leaving you spoilt for choice, these sure know how to make your honeymoon one memorable affair. Along with bespoke everything, these resorts are a once-and-for-all deal, meaning you pay once and everything else is taken care of. From world class meals, supremely luxurious accommodations to entertainment and activities, to make sure you are spending the day well.
1. Sofitel Bora Bora Marara Beach Resort

The Sofitel Bora Bora Marara Beach Resort is absolutely worth every penny paid. Along with providing great proximity to nearby attractions, this resort offers some great activities. The coral nursery is the highlight of this resort. Spend the day undertaking one of its many activities, like beach ball, or cycle around the place, go deep sea fishing, scuba diving, jet ski into the waters with your better half, or explore the island by taking on a rented motor boat, you will not have to wonder what to do. Apart from this, the resort also provides great snorkeling and water sport activities.
2. The beach-fronted St Regis

This was perhaps the property that made you zero down on a honeymoon in Bora Bora! Over-water bungalows, build this beautiful property. Sprawling across a whopping 44 acres emulates this beautiful island just rightly. Their flawless signature services will leave you delighted. The most exquisite feature of the resort is the world famous Clarins spa! Here, you van relax and rejuvenate post all the wedding frenzy. During high season, if you stay here for four nights, they will offer you a fifth night, absolutely free of cost. Its other all-inclusive facilities include snorkeling, tennis, lagoonarium discovery, sailing on site and yoga.
3. InterContinental Bora Bora Resort & Thalasso Spa's Polynesian spa wonders

Image source: booking.com
Located on Moto Piti Aau - the islet of two hearts, the InterContinental Bora Bora & Thalasso Spa is tucked away into a beautiful coral islet. The Spa is most definitely the highlight of this resort, with its super rejuvenating activities. the ultimate blend of luxury and elegance, this place will offer you a myriad of opportunities to unwind with your spouse. This unique eco-friendly resort offers a one-of-its-kind 5-star experience. Your all-inclusive stay here will include super luxurious accommodation amidst verdant rainforests along with some adrenaline rushing water sports. The exclusive Deep Ocean Spa with the first seawater therapy spa in French Polynesia will revive your partner and you from all the action (we mean the wedding hysteria!). You literally don't need to step out of the resort, to enjoy the many activities lined up for your engagement.
4. Four seasons

Famous for it extraordinary services worldwide, Four Seasons is easily one brand having the best of properties globally. Their Bora Bora one is no exception! Situated on the Leeward Islands that was awarded as the "the best island in the world" recently, this could be your perfect base if you plan to explore the rest of the island. The all-inclusive resort includes amenities like romantic breakfast in the privy of your villa, sunset cruises, rejuvenating spa treatments and even romantic photography services along with some superb water sport activities at their private lagoon.
5. Hotel Maitai Polynesia

The Maitai Polynesia is a great choice if you are on a honeymoon with a slightly flexible budget. Compared to its counterparts, this one is a little more reasonable. The friendly atmosphere at the resort will make you feel at home. With two restaurants and bars on site, the breakfast is free of cost. Stay here for three nights, to get a fourth one free. Activities like snorkeling, canoeing, and kayaking, are inclusive in the tariff. Some extra activities, for which fees are applicable include scuba diving, speed boat ride, guided tour of the island, a visit to the lagoonarium, water skiing, and parasailing amongst others.
You may also read - How to Detect a Hidden Camera in Your Hotel Room
6. InterContinental Le Moana Bora Bora

The InterContinental Le Moana Bora Bora is a four-star property located on the southernmost point of Bora Bora. Your tropical honeymoon couldn't get better with the resorts' beautiful location amidst crystal blue waters and balmy weather. With activities and packages to suit every guest, the resort's romantic services range from simple to the elaborate with strong Polynesian influences. Its location is ideal for superb activities to do that are included in the tariff, for a day full of enlightenment. These include sports, local excursions,snorkeling, island-hopping and much more.
7. Le Meridien Bora Bora

After a beautiful transformation, Le Meridien Bora Bora is all set to woo you with its lovely contemporary and elegant design. Set on a cutesy islet, this is where you and your better half can spend the day gazing into blue waters or the stunning sights over Mount Otemanu. Limitless fun and enlightening discovery await you with some great activities sponsored by the resort. Snorkeling, kayaking, riding on a glass-bottomed pirogue and some beach games like volleyball will ensure your day was well spent. Indoor games like table tennis and badminton too are available. Paid activities include scuba diving, jet skiing, parasailing, and water skiing. Their infinity pool is complimented by a huge inner lagoon where you can swim, have fun with curious fish and turtles. They have some great deal and offers too, for you to choose what suits you the best.
8. Bora Bora Pearl Beach Resort & Spa

The Bora Bora Pearl Beach Resort & Spa offers great accommodation options to choose from - garden suites or beach front suites. Offering great views of the Mount Otemanu that you can enjoy as you indulge in delicious fare at either of the 3 restaurants and 2 bars. The al fresco dining is perfect for a romantic candle light dinner. The Manea Spa is a must do and you must also check out their other amenities of fresh-water swimming pools, a floodlit tennis court, mini-golf, table tennis, volleyball and bocce ball courts, billiards and a wide variety of activities and excursions.
Bora Bora's initial name was 'Created by the Gods', definitely amplifying its potential as your prospective honeymoon destination.
Read More: