Best BYO Restaurants in London
* Disclosure: This post may contain affiliate links, which means we may receive a commission if you click a link and book something (there is never any extra cost to you for using these links).
Comfortable ambience, light on pockets, favourite food options and liquor of choice, there cannot be any more reasons as for why BYO is such a craze nowadays. It is literally a heaven's blessing for the foodies who are short of money and just looking for a nice place to enjoy a meal. Of course, like many other things, you can expect London to be in the frontlines here as well. From Asian, European to American and eclectic, the BYO eateries in London are many and vast spread. Here are our picks for top BYO in London that you can always rely on for a great eat! Check them out!

1. Tagine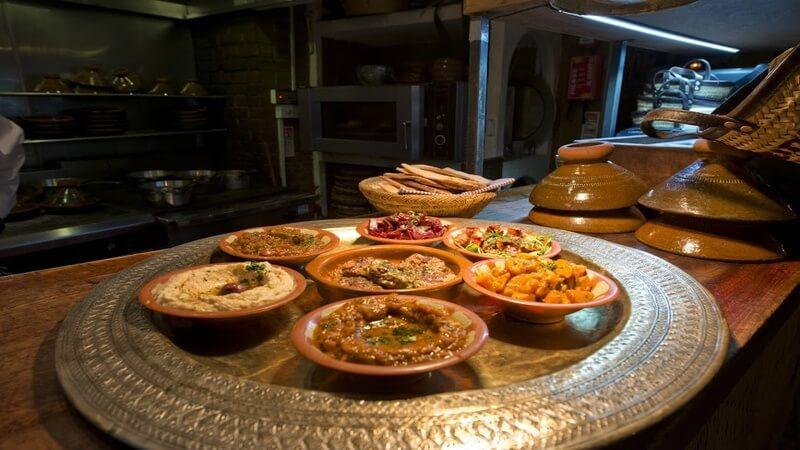 Image Source: zizoutagine.com
Tagine is a Moroccan themed restaurant that brings some authentic Morrocan flavours on the table, which is otherwise hard to find in London. Come here to nosh on the traditional dishes served pleasingly in clay pots and platter with juicy fruit cocktails (or you can have them with your own drinks!). You can also get 'shisha'- the traditional hookah pots though they would be alcohol-free. The ambience is a perfect replica of traditional Moroccan homes, adding to the atmosphere and as you delve in the savoury tagines replete with lamb shanks, almonds, prunes and pear, you find yourself having the time of your life.

Where: 3 Fernlea Road, SW12 9RT, London NW1 6DA, UK
Meal for two: £55
Corkage: No charge.
2. Indian Veg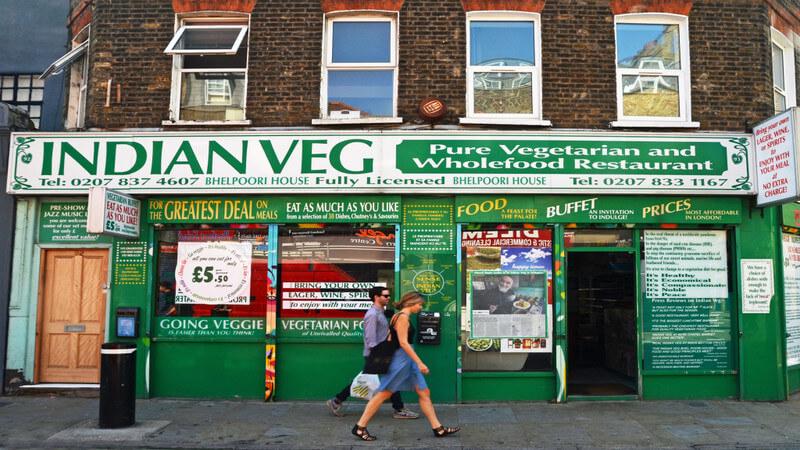 Image Source: thingstodo.org
The traditional Indian restaurant is all Vegetarian and it is highly unlikely to get any ounce of meat here. But don't let this fact dishearten you! This bustling little wonder is still a star and offers some of the most lip-smacking veggie meals you will ever have. Tucked away in the discreet corner of the Chapel market, this decades-old restaurant is a profit deal with its ever changing buffets at unbelievably cheap price. Come along with your booze to get served till your heart is full and who knows, you might even consider turning vegetarian after dining here?

Where: 92-93 Chapel Market, Angel Islington, London N1 9EX, UK
Meal for two: £20
Corkage: No charge.
3. Hawksmoor Guildhall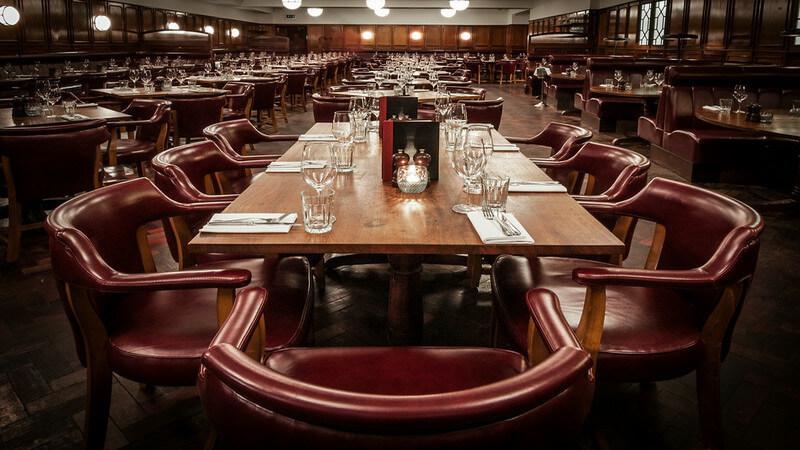 Image Source: Facebook.com
The restaurant is apparently for steak lovers who share a great love for fine quality meat and delicious, tempting cocktails. The place is quite popular among folks as 'Monday Wine Club' given the fact that it is only open on Mondays and offers a quiet space to have your own drink happily. The easy-going charm of the restaurant complements it's decor well which is all laden in white; and where you can spend hours gorging on its steak fillets, grilled chicken, creamy lobsters, smoked mackerel and veggie delights.

Where: 10 Basinghall St, London EC2V 5BQ, UK
Meal for two: £90
Corkage: £5 per bottle (only available on Mondays).
4. Anima e Cuore
Image Source: Facebook.com
Anima e Cuore is a warm yet seemingly unimpressive enclave which can be easily mistaken for a French downtown cafe. Don't be turned off by its bland decor or child-like written menu, as this is one place where you can get Italian cuisine at its finest. Fully licensed, you can come here with your own red and enjoy it with a variety pasta and pizza dishes served here. The place has its own seafood special every day, so you can always come here anticipating what's on the menu today!

Where: 129 Kentish Town Rd, London NW1 8PB, UK
Meal for two: £50
Corkage: No charge.
5. Bintang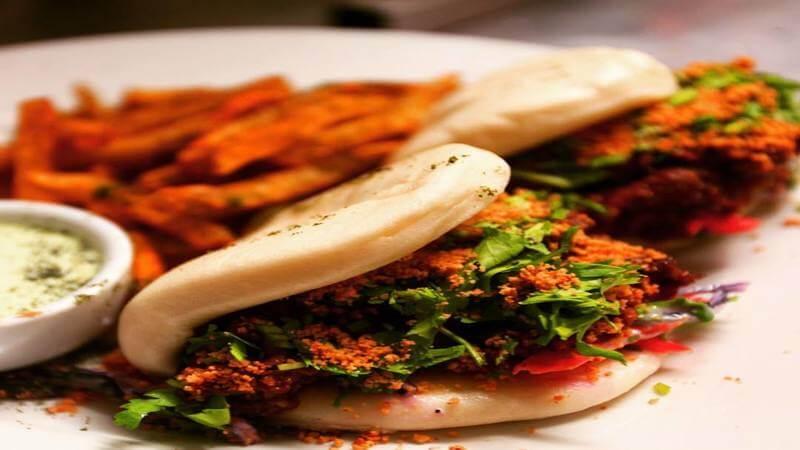 Image Source: Facebook.com
Delectable Korean chicken wings, spicy Japanese wasabi prawn tempura, savoury beef bulgogi, Iranian crispy duck and signature Indonesian Bintang curry, you can expect anything or everything here! Well, as long as it has to do with Asian cuisine. And all of that flavour is pleasantly amped up by a Quirky decor where you can crash in with your own bottle, coffee cup or even birthday cake! While it may not seem much with its petite bamboo-clad dining hall, Bintang is an engaging affair with its amiable hospitality and comfortable vibes.

Where: 93 Kentish Town Rd, London NW1 8NY, UK
Meal for two: £30
Corkage: £3 per 75cl bottle and £1 per 33cl bottle
6. Caboose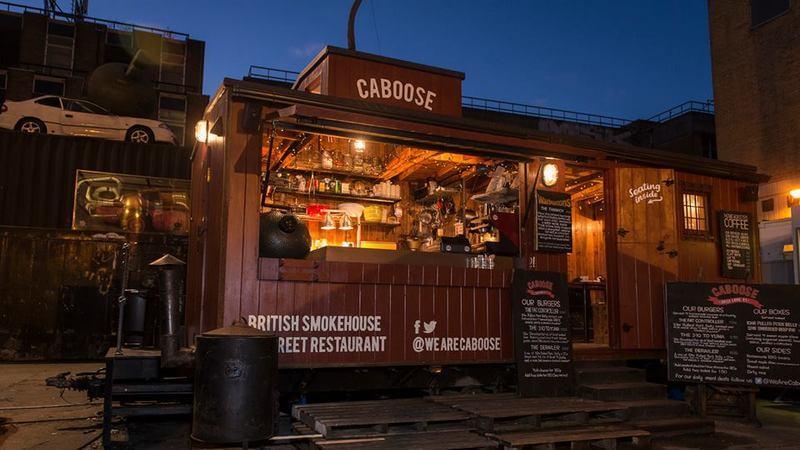 Image Source: Facebook.com
Looking for an exclusive party space in London? Congratulations! You have come to the right place! It's caboose. A British Barbeque food corner where you can enjoy your own booze without a worry in the world. A little away from the Shoreditch High Street station, the place is easily accessible and offers numerous meat variants from ham, to pork and ribs. Crash in with your friends and have fun!

Where: Brick Ln, London E1 6NJ, UK
Meal for two: £50
Corkage: £5 per person.
7. Lahore Kebab House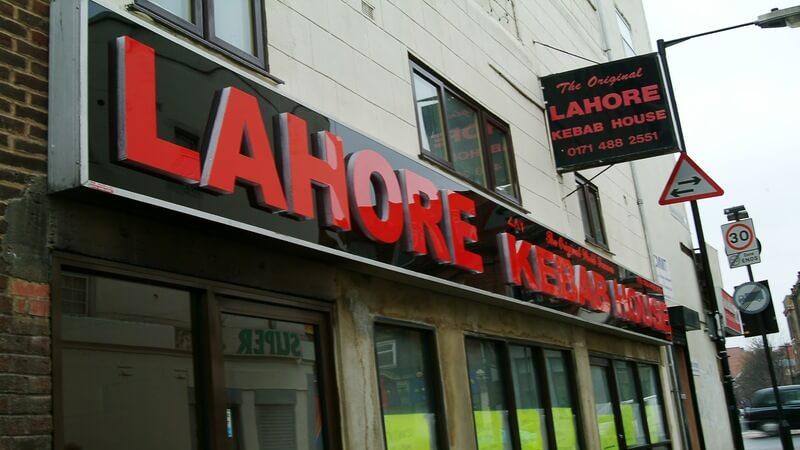 Image Source: Zomato.com
A cheap eats institution, the Lahore Kebab House is what everyone raves about when deciding for a heavy spicy indulgence in London. Literally! The bold flavours served here (with velvety dals to tandoori mutton and butter nan) are not everyone's cup of tea, yet once you get past all that sauciness, you are rewarded with a burst of flavours and textures that are unlike anything you have ever tasted before. Popularly known as the king of curry houses, this BYO food house surely calls for a beer that goes pretty well with its vibrant bustling nightlife scene.

Where: 2-10 Umberston St, Whitechapel, London E1 1PY, UK
Meal for two: £25
Corkage: No charge.
8. Little Georgia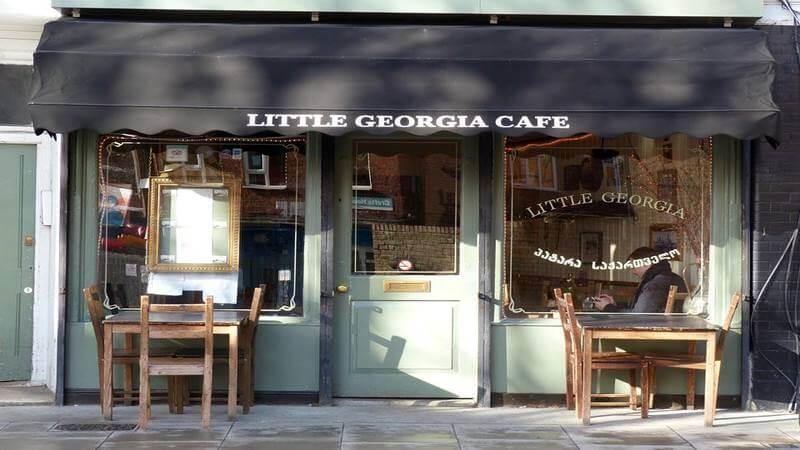 Image Source: Facebook.com
Representing the culture and sentiments of Georgian culture, this quaint characterful cafe is a canoodle of warmth and cosiness with its tastefully furnished room and amicable decor. The trinkets and knickknacks, the gramophones, the abstract paintings, old black-and-white portraits, everything here seemed to be adding to its jolly ambience which calls for a quality time spent amidst its eastern-European food. The popular BYO is open weeklong, which can easily deem to be its another positive. Come here with friends (or even alone will do just fine) and gorge on that lovely borscht with sips of tasty red wine.

Where: 14 Barnsbury Rd, London N1 0HB, UK
Meal for two: £35
Corkage: No charge.
9. Bonnington Café
Image Source: yelp.co.uk
Dining in Bonnington Cafe is like delving into a pool of surprises with absolutely no idea of what is to come next. A blind date of sorts, the food served here is prepared by numerous home cooks, all from different regions serving their unique secret recipes camouflaged in dishes. Expect to find an influx of vegetarian and vegan food here. Being a BYOB all week long, it certainly keeps one excited as who's going to cook what or if it will go well with what you've brought with you?! And yes, the food is pretty cheap too but you have to bring cash since plastic cards are not accepted here.

Where: 11 Vauxhall Grove, London SW8 1TD, UK
Meal for two: £25
Corkage: No charge in general ( 50p per glass hire)
10. Cah Chi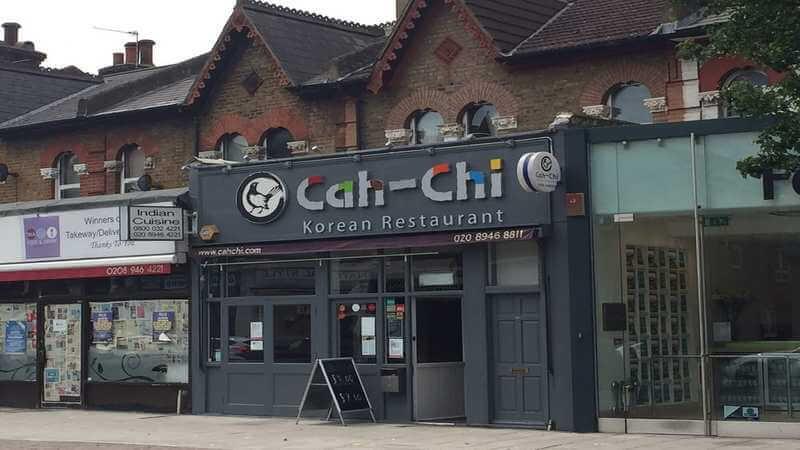 Image Source: yelp.co.uk
Down a street side in residential Raynes Park locality lies ones of the best Korean restaurants in London. Popular among both Eastern and Western diners, Cah Chi will remind you of your home and comforts you with its vibrant and flamboyant surrounding. To make it even more happening, there is an array of barbeques and stir-fries waiting for you to devour them with huge gulps of beer. Ensure to taste its speciality- sundae sweet that will just leave you spellbound!

Where: 394 Garratt Ln, London SW18 4HP, UK
Meal for two: £30
Corkage: £3, although there is alcohol on the menu, so the BYO part is up to you.
11. Masters Super Fish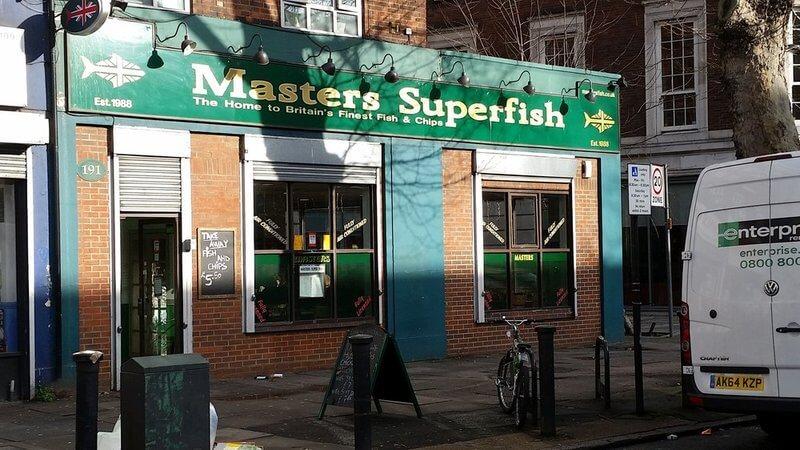 Image Source: yelp.co.uk
Staying true to its name, this place promises some lip-smacking food. A favourite of the cabbies and one of the most popular choices of the locals Masters Super Fish is one place that has got to be on your list of Bring Your Own in London! Get your favourite drink and sink your teeth into some of the juiciest fish variations you have ever had! We recommend ordering the whitebait and battered mussels for starters followed by their grilled specialities, that are too good to be true!

Where: 191 Waterloo Rd, London SE1 8UX, UK
Meal for two: £20
Corkage: No charge.
12. Amaranth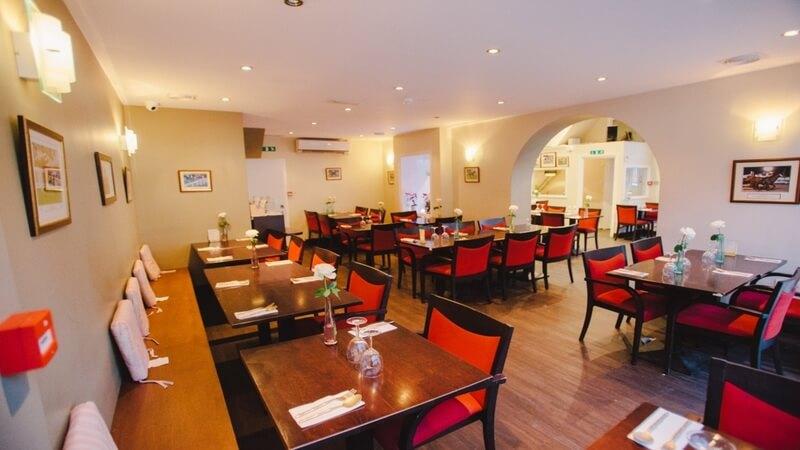 Image Source: cafeamaranth.co.uk
Craving for some Thai food in London but don't know where to look? Come to Amaranth and have your fill with delightful Thai and Indo-chinese cuisine that will give you just the right nudge to spend an incredible time. The bustling restaurant sits just across the Garrett Lane station and offers dishes such as duck springs rolls, Thai beef salads, Thai red curry, hot drunken noodles, tom yum. The list is huge! To help you with the drink, the menu also has a list of wine featuring its taste, texture and suitability. You can bring your own booze or select from the list, the choice is yours!

Where: 346-348 Garratt Ln, London SW18 4SR, UK
Meal for two: £25
Corkage: No charge.
13. Golden Hind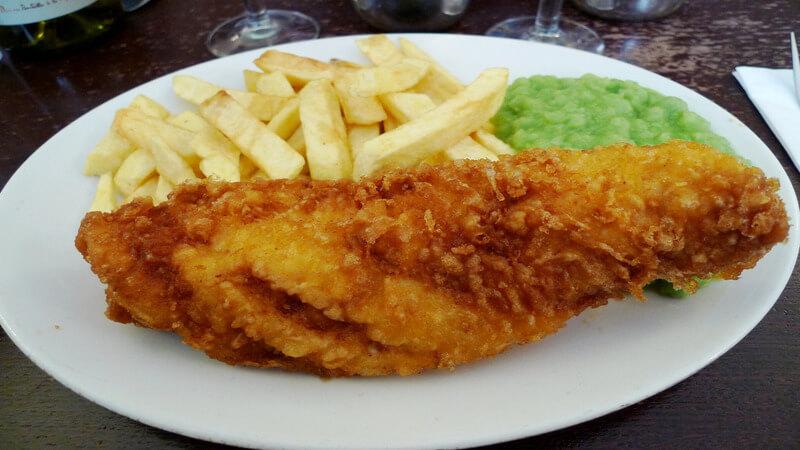 Image Source: Ewan Munro/flickr.com
Unlike the other aforementioned places in the list, Golden Hind does not serve the heavy continentals, rather it is more of a place for light-hearted meals and tasty chippies. Yes, you got it right! Chippies in London are hard to get but not in Golden Hind! The century-old expertise is certainly evident in their food craft and you will just love it, given the wholesome amount that you get! For locals, the place even becomes a sort of staple that is a must for outings and drinking stupors. The prices are very reasonable which makes it easier to splurge into its heavenly eats.
Where: 1, Pickfords Wharf, Clink St, London SE1 9DG, UK
Meal for two: £25
Corkage: No charge (but only available on a Sunday).
14. Bonnie Gull
Image Source: yelp.co.uk
Craving for some sea vibes, right in the middle of London? Bonnie Gull is the place you must head to. Donning the theme of a beach shack, this gem of a restaurant offers you a sinful array of seafood you can devour with your favourite drinks. With a very warm staff, you will be served just what you want and how you want. Not to miss their daily-changing menus. Whatever the menu of the day, do not skip ordering their fabulously fresh crab! Most dishes are served with a good mayo, that is certain to melt in your mouth. Our recommendations- the classic fish and chips served with haddock and chips that are fried in beef dripping! Slurping, are you?!

Where: 21A Foley St, Fitzrovia, London W1W 6DS, UK
Meal for two: £65
Corkage: No charge (but only available on a Sunday).
15. Nazrul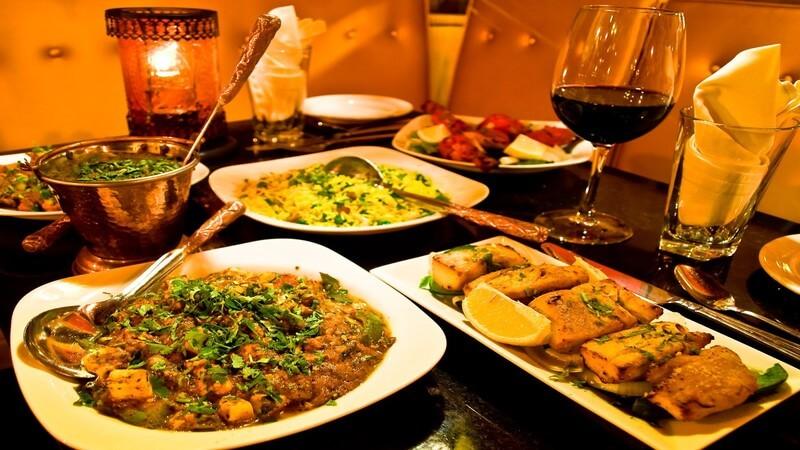 Image Source: nazrulbricklane.co.uk
A place to indulge in all sorts of Bangladeshi delights, Nazrul makes up for a godsend gift to foodies and explorers. While there are many restaurants lining the bustling area of Brick Lane, it is Nazrul which catches the eye with its range of gravy laden food and fish delicacies. Started in 1979, the place has been a flourishing center of Bengali flavours in London and graces you with its special malai curry that you can perfectly partner with one of your drinks
Where: 130 Brick Ln, London E1 6RU, UK
Drinks for two: £50
Corkage: No extra charges. You can buy charcuterie boards to enjoy with your drinks.
So now that you know all the best places in London spend your chilling BYOB time, you can go for the ones you like and enjoy!