7 Best Camping Sites In Leh Ladakh for Luxury Adventure
* Disclosure: This post may contain affiliate links, which means we may receive a commission if you click a link and book something (there is never any extra cost to you for using these links).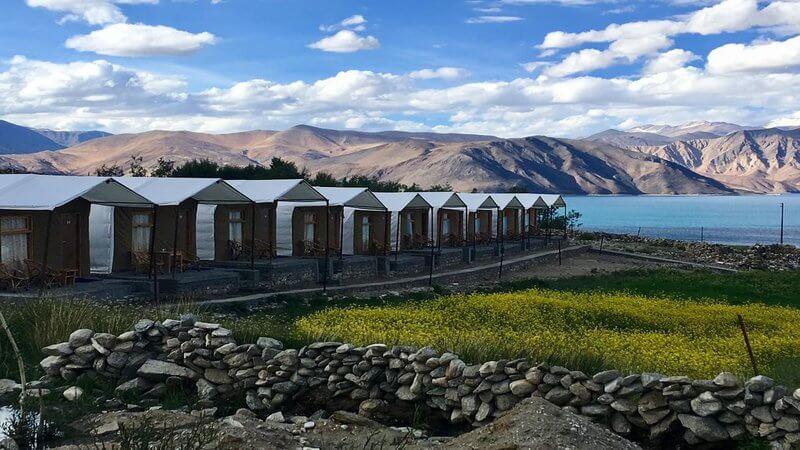 For all those who love a little bit of adventure and the experience that nature has to give, you absolutely need to make a trip to Leh Ladakh. Whether you plan to fly or drive down to the destination, there's one thing you absolutely need to do - camping.
Camping in Ladakh is considered equivalent to meditation or the much-needed self-introspection time. It is that adventure and experience you need to have at least once in life!
And here are a few campsites in Leh Ladakh that you could set yourself up at.
1. Desert Himalaya Resort
Most of us city people don't really like camping for the lack of comfort. But Desert Himalaya Resort makes camping luxurious. With 25 luxury tents and 25 deluxe tents, this camping site is located at Diksit in the Nubra Valley. Every tent here is well furnished and the site has a jogging track as well for the health enthusiasts. The dining hall at the campsite serves Indian, Chinese and Continental dishes. But the good part here is, every vegetable you eat is actually organically grown in the resort!
Prior booking: Needed
2. Pangong Retreat
Pangong Retreat is quite literally set amidst the nature's bounty, with the Pangong Lake right beside it - hence, the name! The lake and the mesmerising wilderness around the area make it a popular camping site for avid travellers. There are about 25 comfortable tents available here, with separate beds for each person and washrooms. The campsite also serves yummy continental, chinese and Ladakhi cuisines if you're a foodie.
Prior booking: Needed
3. Hundred Sky Camp Pangong
The Hundred Sky Camp Pangong camping site is about 150 km away from the Leh town. One of the luxury camping sites, here every traveller is appointed a Swiss tent that includes bathrooms and offer a stunning view of the Pangong Lake. The tents at this site are exclusively designed with wall-to-wall jute carpets and boutique sourced furnishing that add luxury to them. They offer authentic Indian, Continental and Ladakhi cuisines.
Prior booking: Needed
4. Chamba Camp Thiksey
Another luxury campsite perfect for the typical city travellers, the Chamba Camp Thiksey is set amidst the high Himalayas. The Thiksey Monastery here sees travellers from all over the world. Some of the most popular activities here include rafting, picnicking, cycling, bird watching and watching Polo. The site has a restaurant of its own, a barbeque and a fish pond deck for private dining.
Prior booking: Needed
5. Camp Redstart
If you're all about lazy living and taking nature's beauty in at your own pace, Camp Redstart is where you need to be. Named after the beautiful redstarts that are commonly found in this area, the campsite is right beside the Pangong Lake as well. There are 10 deluxe tents available here for you to enjoy a good sit down along with friends and family.
Prior booking: Needed
6. Tsermang Eco Camp
Just 10 minutes from Leh, the campsite is spread over more than 300 m along the Indus River. The campsite is like a fairytale setting on clear nights with sparkly stars and moonlight falling on the river water. With electricity powered by solar panels, the resort is eco-friendly in every possible way. The tents here are fully equipped for comfort and absolutely perfect for family camping.
Prior booking: Needed
7. Nubra Organic Retreat
The Nubra Organic Retreat is sprawled over eight acres of land and has 20 deluxe tents with attached bathroom for camping enthusiasts. The tents are surrounded by organic gardens where a variety of vegetables and fruits are grown. If you want to get the experience of organic farming and simple living, this is where you need to head to!
Prior booking: Needed
Get year around hotel deal with TripHobo Hotels.
Camping in Leh Ladakh is usually up on everyone's bucket list. If you're planning to drive down - like the rest of us here, the best time to visit is between May to September. But the trip definitely needs to be planned a little beforehand to make timely booking.
Most campsites here are booked during the season, so you might want to plan ahead!
Camping couldn't get any better. Don't miss out on the experience!
You May also Like to Live Here: