20 Cheap Summer Vacations In the USA
* Disclosure: This post may contain affiliate links, which means we may receive a commission if you click a link and book something (there is never any extra cost to you for using these links).
The Summer has finally come knocking our doors, and with that, came a bagful of opportunities to make the best of these summer holidays. With children being relieved from their hectic school schedules, a decent summer vacation in a faraway place is probably on everyone's wish list. Planning a summer vacation is challenging, given how expensive the whole thing can be.
Don't stop yourself from excitement of summer! You can definitely visit some of these 20 cheap summer destinations in the USA without spending a lot.
1. McCall, Idaho

PC: visitidaho.org
The charm of this small resort town lies in its surreality and apparent laid-backness, that draws visitors from all across the country. Quietly perched on the southern shore of Payette Lake, the town offers various adventurous perks such as swimming, paddle boarding and boating (all of which are perfect for summers!). It also happens to be one of the key spots for kayakers. Expect a decent crowd (not overbearing though) when you visit with your family. Take you children for exciting float trips across the lake or let them indulge in some energetic pursuits like huckleberry picking, hiking and such. The entertainment scene here is quite affluent too, leaving numerous art festivals in its wake. Although the place is more popular for its winter attractions, it is one of the loveliest (and cheap) places to visit in USA in Summer too!
Get year around hotel deal with TripHobo Hotels. Book Now, Pay Later!
2. Ithaca, New York

PC:businessinsider.in
Ithaca is a young and vibrant city with a large number of the populace that is college students. It won't be wrong to call it a college town considering that it is home to both Cornell University and Ithaca College. Owning to its youthful environment, it is hardly a surprise to see it being replete with numerous pubs, pizza joints and party places. While it is accessible year around, the town magically transforms into a new place in summers when most of the town folks enjoy their vacations. The bustle during this time is simply uncomparable. As for other things, the city, nestled in the New York farm country is also home to vivid scenarios along with many cute shops and restaurants. Set on a leisurely stroll across its streets and check out all its popular dishes. After that, head to the bustling pedestrian mall to satiate you shopping cravings there! You can plan for day trip from NYC or a long weekend will let you explore the town leisurely.
Get year around hotel deal with TripHobo Hotels. Book Now, Pay Later!
3. Nashville, Tennessee

PC:flickr/Derrick Brutel
Nashville possesses a distinguished modest charm that has been drawing visitors to it for ages. You can come to this quiet town expecting its down to earth vibe to accompany you, but that's not all it has to it. In fact, it will feel more like a countryside adventure with its green surrounding and folks with six strings in hands. Want to see more of it? Head to the Hillsboro Village to check out its eloquent boutiques and hipsters bar scene that will have your mind boggling. If you are a music fanatic like me, make sure to check out its Grand Ole Opry and the Country Music Hall of Fame as they are the most popular venues in Nashville!
Get year around hotel deal with TripHobo Hotels. Book Now, Pay Later!
4. Savannah, Georgia

Savannah is for those who like to visit quirky places. The eccentricity of the town, though, is very subtle as it does not easily meet the eye at first. The vast stretch of vineyards, the eclectic crowd mingling in the cool southern-fried restaurants that juxtaposes beautifully against its more trendy cafes around. Only a place like Savannah can have college students who like to be friend ghost hunters and seek out the paranormal activities around. You will find a lot of funky things to do here in summers which are edged by a calm and placid presence in the form of old theatres and street square. On weekends, a detour to its central market is a great opportunity to meet people and make friends!
Get year around hotel deal with TripHobo Hotels. Book Now, Pay Later!
5. Santa Barbara, California

Located alongside the south facing curve of California is this little lovely city of Santa Barbara.There is absolutely no dearth of things to do and see here, be it breathtaking views of the surrounding or plush cultural abundance that it beholds. The panorama of its sea coasts splashing across the rugged beauty of mountains is simply uncomparable. The streets are no different either. Each and every nook has an old Spanish touch to it including its buildings and cathedrals. The place is also known for its thriving culinary and art infused culture which can be easily seen in its variant vivid neighbourhoods. A great destination to visit in summer with family or even for solo travelling!
Get year around hotel deal with TripHobo Hotels. Book Now, Pay Later!
6. Orlando, Florida

PC:pixabay.com
What can be a better time to set off for a theme park adventure than in summers. In fact, if you are anywhere near Orlando, a trip to this town is a must. It is the time when you get plenty discounts on bookings and don't have to worry about accommodations since everything becomes so cheap (less than 75 dollars a night!). Though the entry price to the theme park can be a little expensive due to the crowd, the lesser expenses in other areas surely balance it out. If you are already done with a theme park, there are other places to check out too like Charleston City Market with its myriad shops and cafes and soft sandy beaches with numerous fun activities. An affordable indulgence? The city has got you covered there!
Get year around hotel deal with TripHobo Hotels. Book Now, Pay Later!
7. Charleston, South Carolina

Charleston has always been a fascinating place to me. Its rustic whitewashed buildings, centuries-old cemeteries and quaint serene vibes, all beautifully come together to give the place its awe-inspiring quality. A walk through its cobbled lanes and around the Spanish moss-draped trees at night is all you need to travel back in time when the carriages were a common thing in Europe. But wait, there is more to it! The city is pretty modern too, with its numerous restaurants, trendy shops and well-endowed art galleries that are known to charm visitors. As for literary enthusiasts like me, Charleston will always be a place where the suave "Gone with the Wind" character, Rhett Butler has lived. Come here in summers as the sunny atmosphere helps in accentuating its features.
Get year around hotel deal with TripHobo Hotels. Book Now, Pay Later!
8. Chicago, Illinois

PC: pixabay.com
Everybody knows about Chicago- one of the major cities in America, but what people don't know is how cheap and affordable it can be. Don't believe me? Come in summers and see for yourself! The city has plenty of attractions that you can indulge in. There is popular Second City- a comedy place which will leave you hauling in laughter the whole time. There is Art Institute museum which is home to gems like Edward Hopper's diner painting and Nighthawks. It can be a little hot in summers but the cheap accommodation and lush entertainment scene make up for it. A day spent in La Grande Jatte, House of Blues and Navy Pier alongside Lake Michigan is pure bliss, we tell you! Perfect for budget summer vacations.
Get year around hotel deal with TripHobo Hotels. Book Now, Pay Later!
9. Philadelphia, Pennsylvania

Looking for cheap places in summer, Philadelphia is surely a great option for it. The Northeast of the country are the cheapest at this time and offer good opportunities. If you are into history and such, the city will bestow you with numerous historical sites to explore and see. The place is no less of a paradise for foodies too. Check out the City of Brotherly Love and its other street food as they hold the quintessential taste of the city. Options like BYOB make eating in high restaurants quite cheap too. The first thing to do in Philadelphia upon arrival is to visit its visitor centre to get insights on the city and free tickets to Independence Hall. It will let you get acquainted with the city better!
Get year around hotel deal with TripHobo Hotels. Book Now, Pay Later!
10. San Diego, California

PC: wikimedia commons
Despite being a neighbour to cities like Los Angeles and San Francisco, San Diego holds its own well as a much-frequented tourist destination in California. One of the main reason for that is its weather which is nice throughout the year. Its balmy temperature only adds to it making it a great place to visit in summers! The range of attractions that San Diego has is huge including numerous malls, markets and shopping spots. Its highlights like the Pacific Beach or Mission Beach are a craze too. Just imagine yourself sunning on its sands, relishing the views of the coasts. Come for its accommodating rates as hotels and rentals become quite cheap in summers.
Get year around hotel deal with TripHobo Hotels. Book Now, Pay Later!
11. San Antonio, Texas

Though most of us know the city for its history, San Antonio is way more than that. It is a living influx of American and Mexican culture. Just thinking about its renowned Tex-Mex cuisine will bring water in your mouth! As if that's not enough, its myriad fiestas and marketplaces are also great entertainment for visitors, especially those who like shopping and such. There are many other popular attractions in the city like Alamo and the San Antonio Missions National Historical Park along with its latest addition- ;the River Walk. Perfect for backpack adventures, all you need here is to just roll up your sleeves and set out to walk through its old streets, River Walk and King William Historic Area to experience the city up and close.
Get year around hotel deal with TripHobo Hotels. Book Now, Pay Later!
Check Out: Small Towns in Texas
12. New Orleans, Louisiana

PC:pixabay.com
New Orleans might not be as cheap as other places, it is still worth visiting given how fun and richly accommodated (in terms of entertainment) it is. Expect street performances (lots of it!) on your visit here. The city might not be very small, yet it can easily be accessed on foot, making its perfect for solo backpackers. A walking detour in this exciting place will be filled with the sights of relics, old cemeteries and French Quarters. While the lazy ones can go on sightseeing via St. Charles Avenue streetcar, more active ones can hop on a bicycle and find happiness in it.
Get year around hotel deal with TripHobo Hotels. Book Now, Pay Later!
13. Denver, Colorado

Perched at the height of 5,280 feet, Denver is an enticing mismatch of cosmopolitan and old school style. The summers here are cool enough to let you breathe and enjoy. Anticipate a lot of sports opportunities while you are here. The city is filled with numerous hiking and biking trails giving it feel of a mountain getaway. Not only that, there is always something going on here as the city bustle with myriad festivals throughout the year. Of course, you can miss the breweries! A drive through its scenic passages to the city of Colorado will let you experience some of the best wines in the country. To save money, go for the museums in your tours in Denver that are free or cheap. You can also check out its various marketplaces while you are here!
Get year around hotel deal with TripHobo Hotels. Book Now, Pay Later!
14. Phoenix, Arizona

PC: wikimedia commons
Undoubtedly it is one of the hottest places in the country (Arizona here!) and before you ask why is it in this list which is all about best summer destination, listen to us first! The place has more than 300 sunny days, its true, but it is also one of the cheapest to visit in this season. Of course, you will have to stay indoors during afternoon given how hot it becomes, but the evenings will not be that bad, given the natural respite it provides. Home to natural trails like Echo Canyon or Cholla trails, you will get lots of outdoors opportunities where you can bike, hike, run or do whatever you like. Mountain bikers can go to South Mountain Park and Preserve to enjoy more than 50 miles of bike travels!
Get year around hotel deal with TripHobo Hotels. Book Now, Pay Later!
15. Santa Teresa, Costa Rica
Talk about the most diverse places in the country andCosta Rica is bound to be mentioned. Located a little away from its capital San Jose is the small town of Santa Teressa which is no less of a tourist heaven during summers. You can come here to enjoy its bio-diverse nature and tonne of national parks and natural escapes. And what's more?! All of them are pretty affordable and won't cost you much! The best would be taking a ride alone, relishing the lush greenery and getting close with wildlife (monkeys, sloths and more!) on its plane. The public transport is also very cheap w ith around 10 dollars for 8 hours ride. Wide accessibility and reliable staying places are the reason why it is a much-desired destination by tourists.
Get year around hotel deal with TripHobo Hotels. Book Now, Pay Later!
16. Cuenca, Ecuador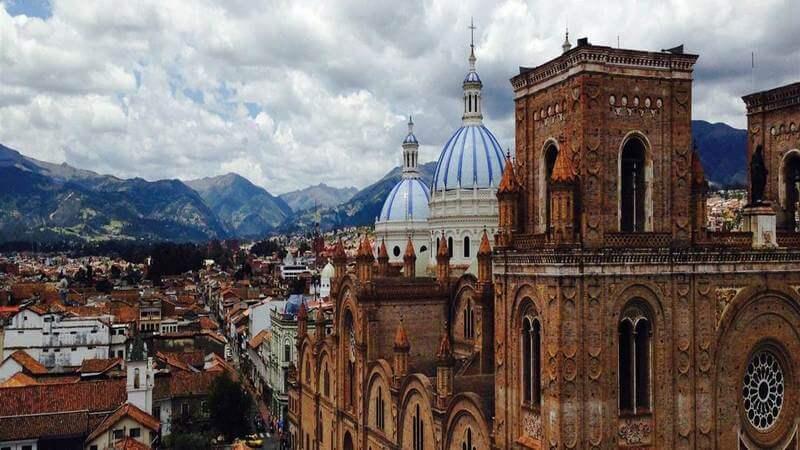 PC: nbcnews.com
It is the third largest city in Ecuador and a popular summer stop, thanks to its mild temperate. The place may be a little expensive, especially if you are to compare it with the likes of Peru, yet there is plenty to see and enjoy here. Among all, the place is popular for its architectural landmarks like The New Cathedral of Cuenca. There are marketplaces spread throughout the city in case you feel like going on a shopping spree there. The chilled environment only accentuates the need to check into one of its many restaurants and enjoy a cold beverage. A stroll through its streets in the evening will give you a great time to interact with locals and understand their culture. Visit in summers to get the best of it!
Get year around hotel deal with TripHobo Hotels. Book Now, Pay Later!
17. Mazatlan, Mexico

In these times when the dollar is at its strongest, it is certainly easy to target the best places around the country. For backpackers and budget travellers, Mazatlan in Mexico can be one great choice, given the cultural wealth that it possesses. The lively town is located alongside the Pacific shorelines in Sinaloa and is home to long lustre beaches of Mexico offering myriad fun activities to willing folks. Known as the shrimp capital of Mexico, you will also get plenty of country dishes to dig into and indulge in here. And the best things is, all of these are pretty affordable! Just go for a game of fishing or set on an exploration pursuits throughout the streets of old Mazatlan. The place is replete with numerous relics like Teatro Angela Peralta.
Get year around hotel deal with TripHobo Hotels. Book Now, Pay Later!
18. Quebec City, Canada

Since the Canadian dollar is weak compared to the American dollar, a trip to Canada might be the perfect cheap getaway for you! The north area like Quebec offers a great discount during summers. The city is particularly known for its European vibe. Come to get a glimpse of the old Europe and indulge in the range of french delicacies that will leave you asking for more. There are steak, frites and what not! The weather becomes pretty amiable this time to walk around and explore!
Get year around hotel deal with TripHobo Hotels. Book Now, Pay Later!
19. San Juan, Puerto Rico

The Caribbean has long been listed as one of the most popular tourist destinations by Americans. And so it is meant to be crowded. The best deal will be visiting in Summer or anytime during low season (April through mid-December) as the crowd is comparatively less and accommodations are cheap. The Puerto Rico's capital- San Juan is famous for its long and wide stretches of beaches along with a prosperous nightlife scene. If you are staying in the old city, get ready to be charmed by its myriad attractions that adorn its streets. Also, ensure to check out its popular beachfront strip too which is replete with numerous shops and restaurants where you can go for a nice indulgence. In the end, an architectural detour through its cobbled lanes while viewing the prominent attractions like El Morro and La Fortaleza add a cherry to the cake.
Get year around hotel deal with TripHobo Hotels. Book Now, Pay Later!
20. San Ignacio, Belize

PC:wikipedia.org
San Ignacio is what I would best describe as an eclectic mix of modern and historic. The town is pleasantly perched on the banks of Macal River in the Western Belize and boasts of an architectural depth with its old quintessential buildings. It is an immense draw for archaeologists too who come here to explore the centuries' old Mayan ruins that lay here. Quiet and remote, you will not find many major landmarks, but there are many small places that will hold your interest till the very end. Check out its small museum or walk through the busy lanes of its plazas. Its myriad local wine shops are some of Belize's famous and a must experience here making it a great summer vacation destination.
Get year around hotel deal with TripHobo Hotels. Book Now, Pay Later!
Make the best of this summer by visiting these amazing places! Just take an inspiration from this list, choose one and explore!