Cliff Hanging Skywalk in China is Now Open
* Disclosure: This post may contain affiliate links, which means we may receive a commission if you click a link and book something (there is never any extra cost to you for using these links).
Have you heard about the picturesque and sublime mountains of Hunan? For those who know, they would be exhilarated with the information that there is a newly opened skywalk that would render you the stunning views of this magnanimous mountainscape. For those, who are unaware, the pictures would be enough to send you into the dizzying heights, and to inspire you to take up that travel expedition.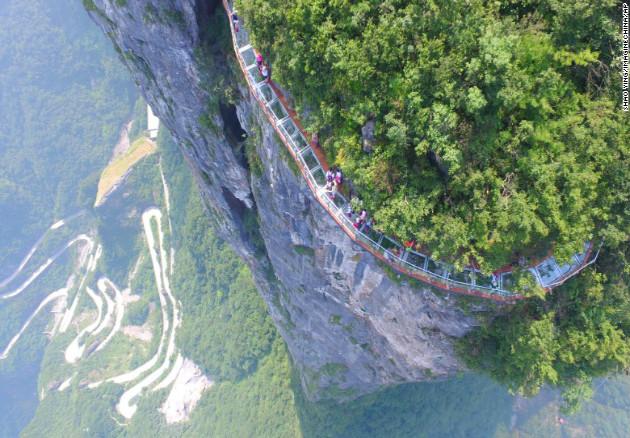 There is a terrific attraction that will invite you to walk over this skywalk. Your hands might sweat, your breaths might gasp for more air, your mouths might become parched to see that gorge below from the transparent glass underneath your feet, but one thing is for sure- you would definitely love to cross this skywalk for a once in a lifetime experience. After all, there is a certain magnetism in terror!
This 100-meter-long (110 yards) glass skywalk spans around a cliff on Tianmen Mountain in the southern Chinese province. Hanging on to a cliff, this skywalk is called as the "Coiling Dragon Cliff", and boasts of being the third of its kind in the Tianmen Mountain Scenic Area.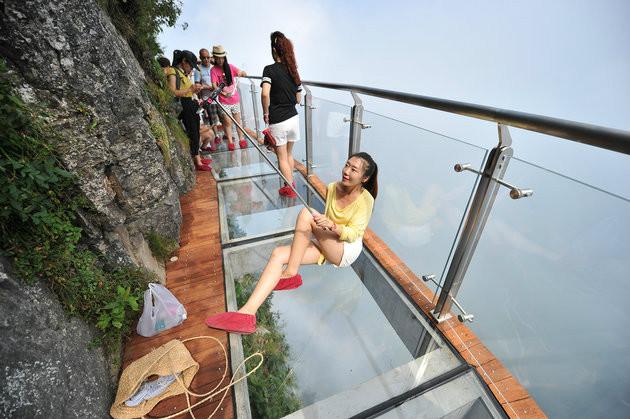 Some more information on this skywalk:
This 5-foot-wide skywalk overlooks Tianmen Tongtian Avenue which has 99 snaking turns that layer one after another.
The glass path is 6.3cm thick.
Tianmen mountain already claims to be popular as the French company Poma constructed cable cars already have a system here that picks passengers up from a nearby railway station and drops them to the top of Tianmen Mountain. It is also the world's longest cable car ride.
The cliffside loop takes about 1 hours to cover.
At the end of the walkway, there is a hanging bridge linking two peaks.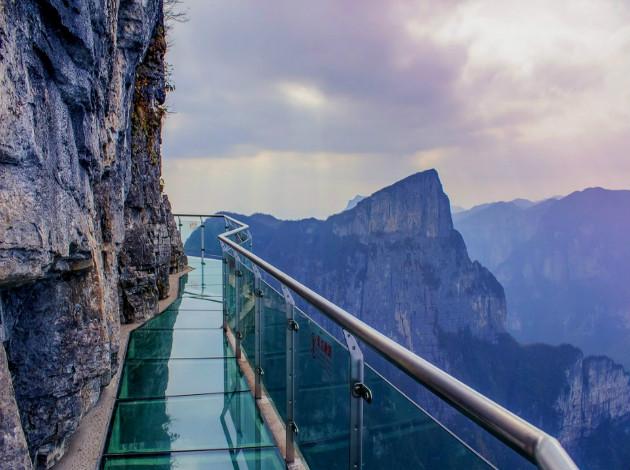 Image source: Youtube
Here's how you can plan your journey to reach the Tianmen cave:
Take a cable car to reach the nearest peak. It will take around 30 minutes to reach there.
Walk over the cliff hanging walkways in around 1.5 to 2 hours depending upon your strength.
As you cross the skywalk, take a chairlift to reach the summit (20 minutes). Here you can spend some time exploring the picturesque beauty around. From here, embark on the cable car ride to reach the mid cable car station.
From the station, take a bus to reach to the Tianmen cave.
Climb the cave (25 minutes)
Take the cable car back to the respective station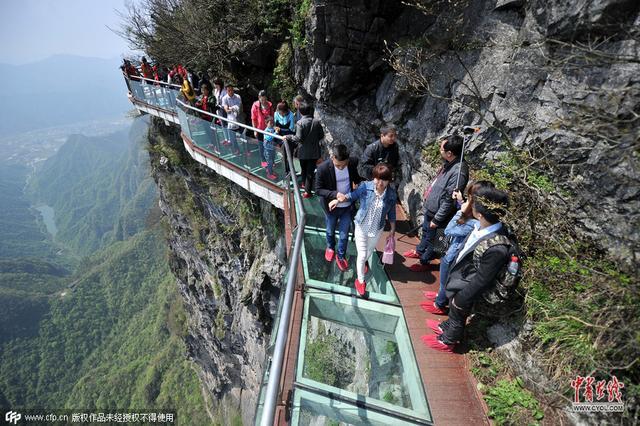 Image Source: cyol.com
Well, the toughest part for you might be to walk through the skywalk but rest assured, it is going to be the best experience in the whole journey. So, why wait, embrace your fear, buck up your spirits and cross the skywalk for a whacking experience!