13 Best Christmas Markets In Europe
* Disclosure: This post may contain affiliate links, which means we may receive a commission if you click a link and book something (there is never any extra cost to you for using these links).
Come winters and the whole of Europe dazzles with Christmas markets that offer you a perfect way to enjoy the festival in true colours. The red and golden lights against the snowy backdrop make for a beautiful landscape full of energy, awe, and merriment. The glitter of Christmas presents, the sweet-sounding bells, and that fragrance of cakes and pastries will transfer you to a magical world, stuff that dreams are made of. Let us look at 13 best Christmas Markets in Europe that shall enamour you.
1. Innsbruck - Traditional Christmas Market in Europe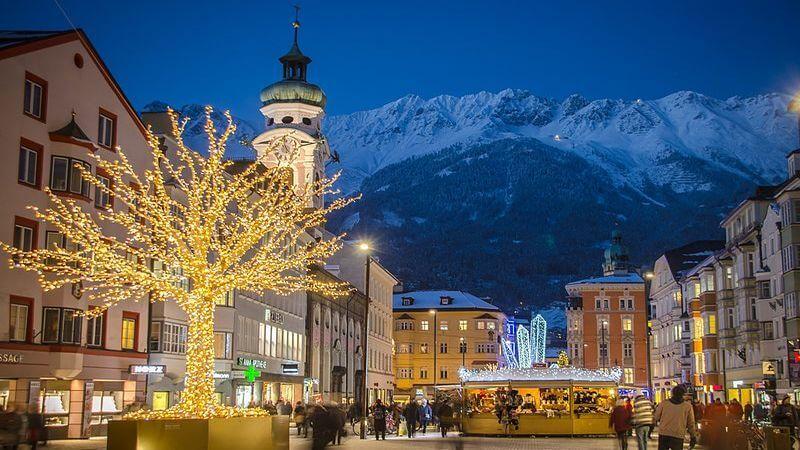 PC: Wikimedia Commons
The fascinating city of Innsbruck is even more special during Christmas time, thanks to four different Christmas markets spread all over the city. The city of Innsbruck, solemnly decorated in every nook and cranny, offers various possibilities regarding leisure time activities. Even more, possibilities are offered during Christmas when Innsbruck makes you taste Christmas bakery, mulled wine, local delicacies such as Kiachln and Spaetzle at one of the four Christmas Markets.
2. Vienna - Buy Gifts for Your Loved Ones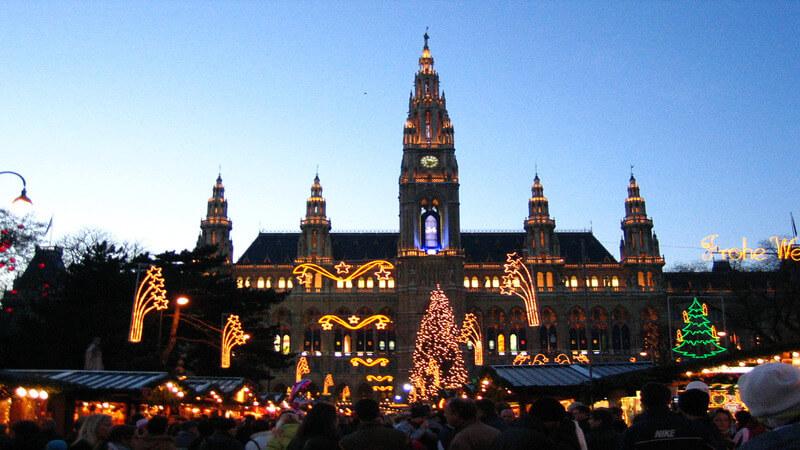 PC: charley1965/flickr.com

Vienna's Christmas-market tradition goes back to the 13th century. It now has around 10 markets. More than 150 stalls fill the Rathausplatz in front of the neo-Gothic City Hall. Buy miniature wooden houses, puppets, gingerbread hearts, leather clothing, and woollen hats. Or, try the atmospheric lanes of the Spittelberg market near the Museums Quarter for handblown glass, silverware, and ceramics. Don't miss a stroll in Rathauspark, with its carousel rides and light-bedecked trees and pavilions.
3. Prague, Czech Republic - Most Beautiful Christmas Shops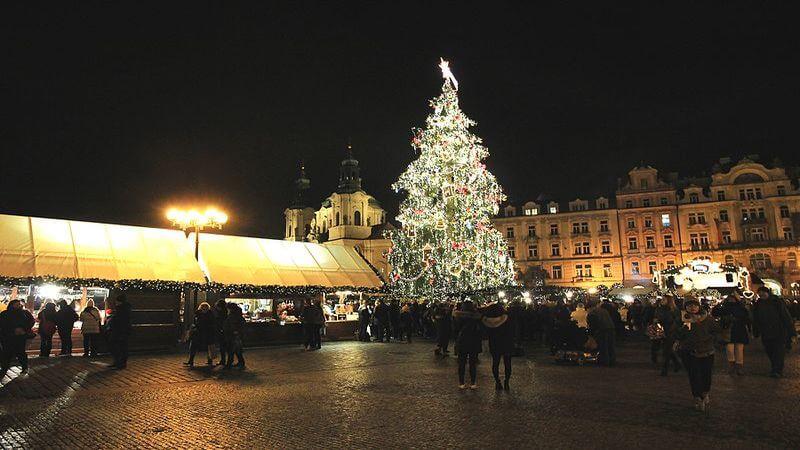 PC: Wikimedia Commons
Prague looks especially romantic and friendly during the time of Advent and Christmas. Open-air concerts by registered ensembles will be held in the Old Town Square, enhancing the seasonal magic of Prague Christmas. From decorated wooden huts selling a variety of handicrafts to several stalls offering mouth-watering food, you will find it all at the Christmas markets in Prague.
4. Strasbourg - Best City for Christmas Shopping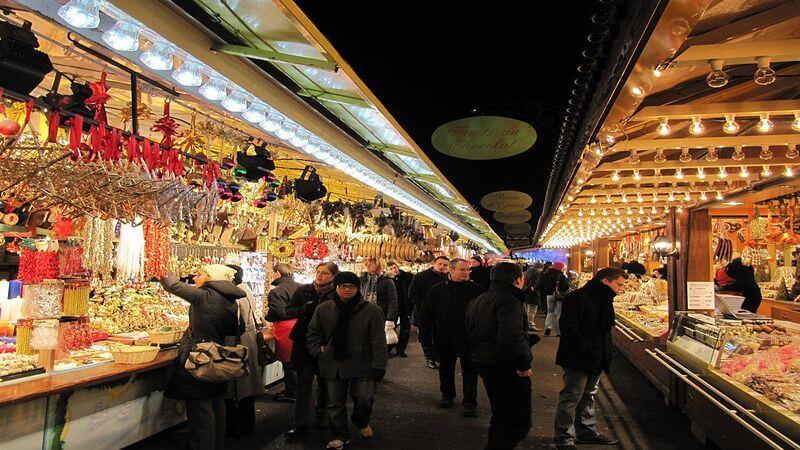 PC: Wikimedia Commons
Strasbourg scores for Old World charm, but during Advent, the capital of Alsace is even more magical. Half-timbered houses sport giant red-and-white hearts, stars, angels, and snowflakes garland the cobbled streets. No wonder Strasbourg has won the title of 'Best Christmas Market in Europe' two years running. But locals have plenty of practice in throwing a Yuletide party as the Christkindelsmärik dates back to 1570. Even the towering fir tree on the Place Kléber is 400-year old. Check out the 11 different 'villages' but do not miss the 'bredele'. These special biscuits come in all shapes and flavours, from hazelnut, orange and cinnamon to walnut, coconut, and praline. All this makes Strasbourg one of the best places for Christmas shopping in Europe.
5. Hamburg - Most Unique Christmas Market Across Europe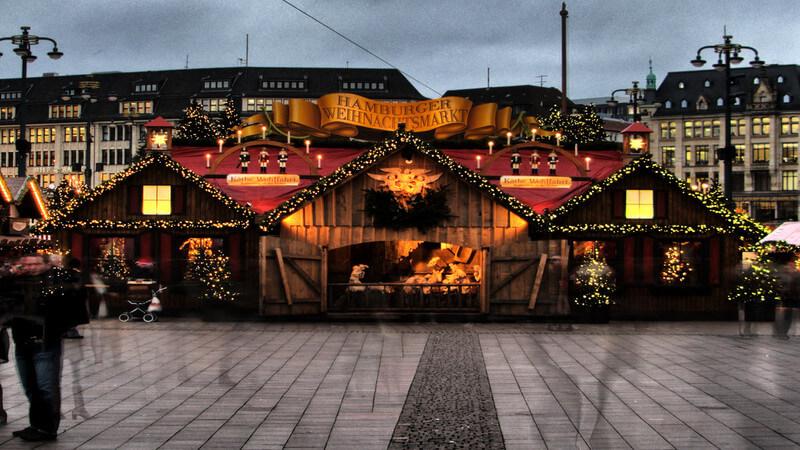 PC: Mark Michaelis/flickr.com
For sheer diversity, Hamburg is hard to beat among all other Christmas markets in Germany. In this historic port, 15 different markets cater to all tastes. Traditionalists head for the square in front of the grandiose city hall, where the rows of stalls are themed, from sweet treats (cakes, chocolates and more) to crafts (leather, silver, tree ornaments). Children are entranced by the Spielzeuggasse, the Toy Street, full of playthings from around the world. Romantics opt for the Jungfernstieg market, whose focus is on posh food and gifts; crowd-avoiders choose the smaller Fleetinsel market by the water, where fairy lights twinkle on two antique sailing vessels. Strictly for over-18s is the risqué Santa Pauli market on the X-rated Reeperbahn.
6. Nuremberg - The best German Christmas market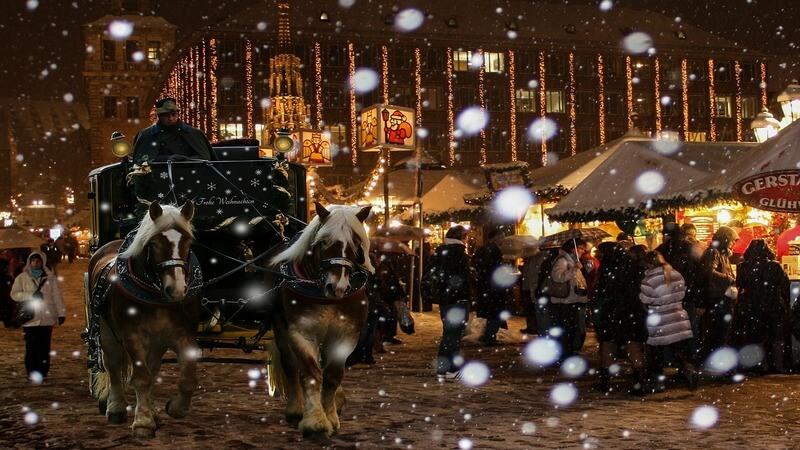 PC: Pixabay.com

The tempting aromas of mulled wine, sweet roasted almonds, Nuremberg sausages, and gingerbread create an unforgettable atmosphere in the Old Town decorated in its Christmas regalia. With more than 400 years of tradition, theChristkindlesmarkt Christmas Market in Nuremberg is said to be one of the oldest and most famous Christmas markets in the world. The Christkindlesmarkt is a child's fairytale dreamland with a magnificent two-tiered carrousel based on old originals with reindeer and Father Christmas sleighs, plus a mini Ferris wheel, a steam railway, and a small merry-go-round. Santa Claus listens to the children's wishes and poses for photos with the little ones.
7. Worms - Best place in Europe for Xmas Shopping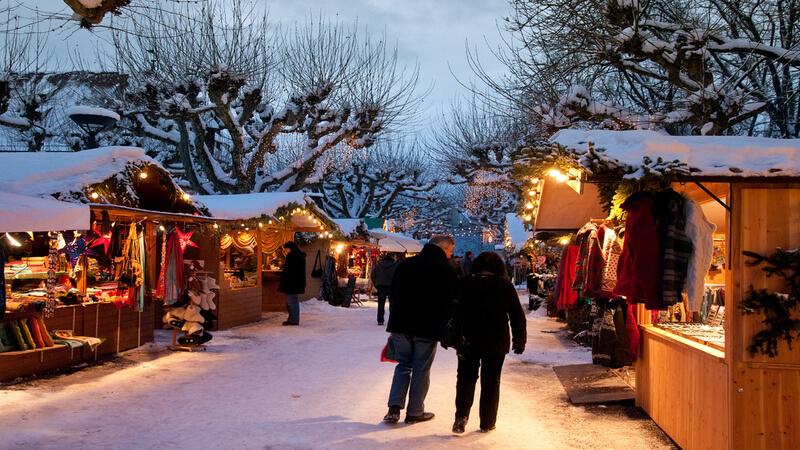 PC: LenDog64/flickr.com
An hour south of Frankfurt and claiming to be 'Germany's oldest city', Worms proves that small really is beautiful. The action is on and around the market square, where strings of lights fan out above the 50 stalls. Ice skaters show off their skills on the temporary rink, while children pet the real animals in the 'living manger' and clamour to see Santa. With its beautiful Christmas market, Worms boasts to be one of the best places for Christmas shopping in Europe.
8. Cologne - Fantastic Festive Shopping Experience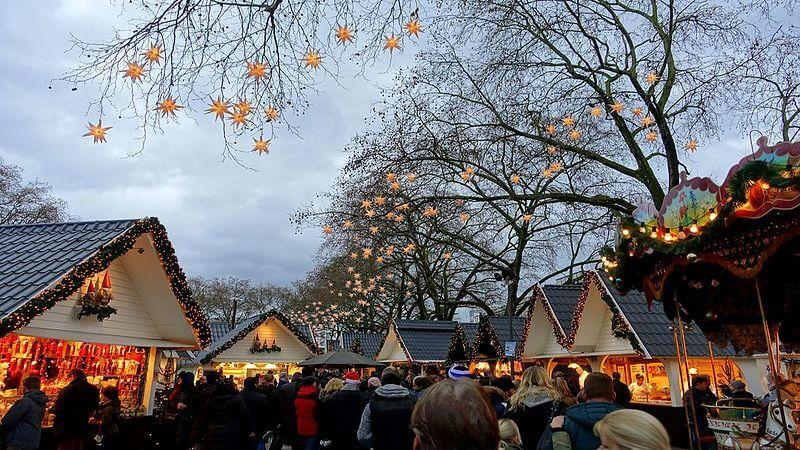 PC: Wikimedia Commons
You will find not one but seven Christmas markets in Cologne, Germany. Also, these might be amongst the biggest Christmas markets in Europe. Head to the Old Town's cobbled Alter Markt and Cathedral markets for candles, tree decorations, and handmade lacework. The fairy-tale St Nick's Village on Rudolfplatz is good for wooden toys, and the locals' favourite Neumarkt's Angel's Market is best for Dresden Stollen cake. Among the trees of the Stadtgarten is an 'alternative' market selling Mongolian slippers, jewellery, and dozens of different kinds of honey. It's a peaceful spot to sit with a mug of glühwein. Don't miss the panoramic city views from the 300 feet south tower of the Gothic cathedral.
9. Bologna - Best for Christmas Decorations and Souvenirs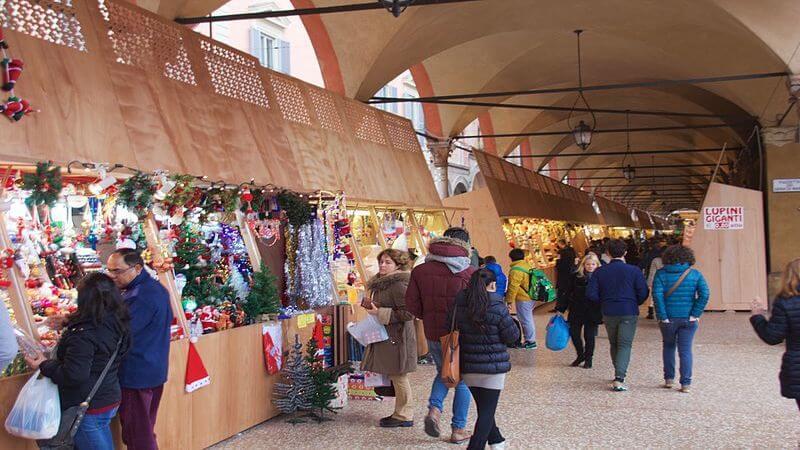 PC: Wikimedia Commons
Spread alongside the 12th-century San Pietro Cathedral is the Fiera di Natale. The smaller Antica Fiera di Santa Lucia centers on the cloister of the Santa Maria dei Servi church. Although fun things to buy include glass Christmas decorations and mechanised Nativity scenes, Bologna is synonymous with good food.
10. Stockholm - The Oldest Xmas market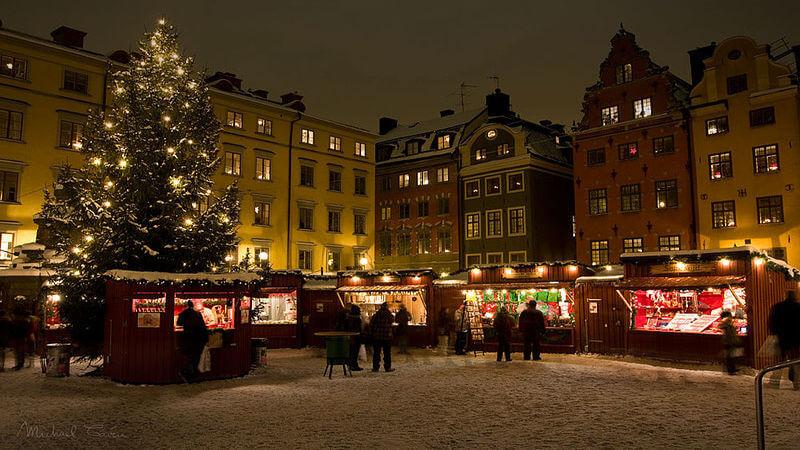 PC: Wikimedia Commons
Although the first Christmas market on Stortorget square in Old Stockholm was held 500 years ago, the modern event dates back 'only' a century. In front of the Nobel Museum, close to the Royal Palace, the cheerful stalls are filled with crafts made only in Sweden, such as glass, pottery, and jewellery. Grown-ups sip glögg (mulled wine); everyone munches pepparkakor, thin ginger biscuits. With a dusting of snow, it all looks like a Christmas card, Scandinavian-style. Be sure to bring home a taste of Sweden - saffransbullar (saffron buns) and vacuum-packed sausages made of (don't tell the children) reindeer meat.
11. Trondheim - Take a trip back through time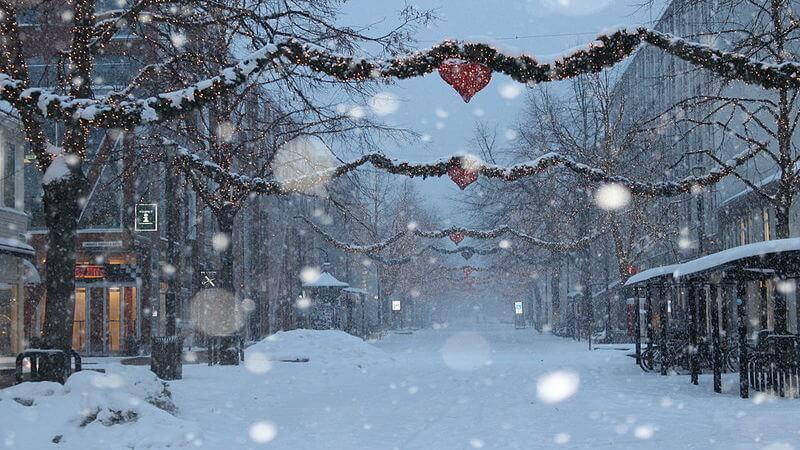 PC: Wikimedia Commons
You will find clusters of wooden chalets and traditional Sami lavvos (tepee-style tents) at Torvet - the main square of Trondheim, Norway. Burning braziers and horse-and-sleigh rides add to the charm. Buy woollen jumpers, hand-woven scarves, and ceramic wine goblets, or take home berry-flavoured cheeses and dried reindeer meat. Refuel with moose burgers, waffles with sour cream and blueberries, and mulled wine around an open fire in the café in one of the lavvos. Don't miss a walk across Gamle Bybro (Old Town Bridge) to the brightly painted timber houses of Bakklandet, the city's former working-class district.
12. Budapest - Shop, Eat and Drink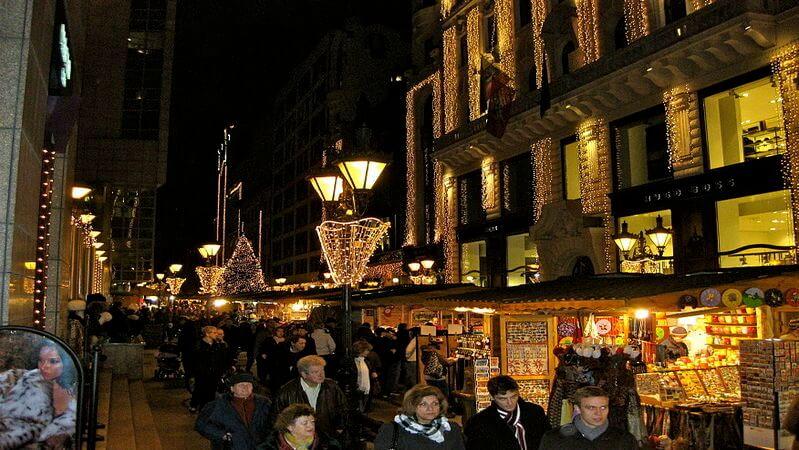 PC: Wikimedia Commons
Visitors to Budapest will find 100 wooden pavilions in Vorosmarty and St Stephen's Square. Among the piles of sweet Hungarian pastries are crocheted items, traditional fur hats and gloves, pressed-flower jewellery, 'good-luck' garden pixies and handmade chocolates and honey cakes. Eat and drink mulled wine, cinnamon-pastry chimney cakes (kurtoskalacs) and toki pompos, a Hungarian-style pizza topped with bacon, onion and cream. Don't miss a glass of Hungarian sparkling wine in Varosliget café, overlooking the ice rink.
13. Paris - A 'one-of-a-kind' Experience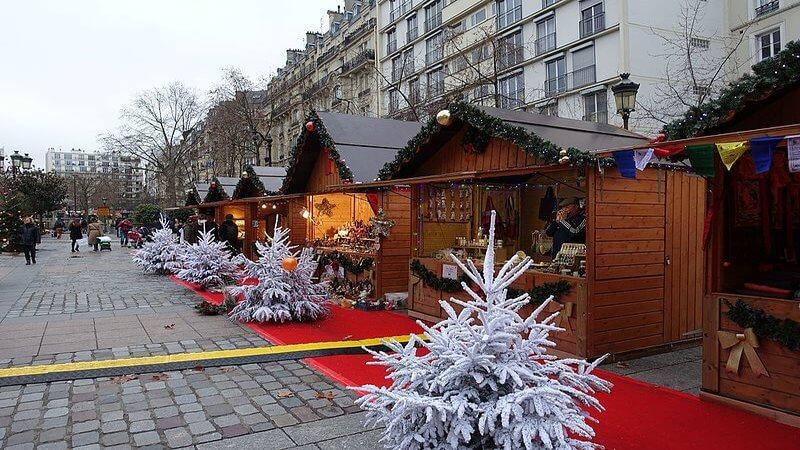 PC: Wikimedia Commons
The city of Paris in France welcomes plenty of visitors with the gleam of candles and music fest during Christmas. You will find every corner of the city decorated with garlands, decorative items, Christmas trees, and Christmas balls that will enchant your heart forever. Paris is home to some of the most beautiful Christmas markets on earth. They are the Christmas market at La Defense, Place Saint-Sulpice, and the market close to the Eiffel Tower. You will also find a lot of good things at the Parisian departmental stores to make your Christmas delightful.
So which of these Christmas markets would you like to visit this winter?
You may also like to read: