Top 8 Christmas Markets In Germany
UPDATED Nov 15, 2018
61.4K Views
The joyous festival of Christmas on the 25th of December is one of the widely celebrated festivals in the world that marks the birth of Jesus Christ. Every household during the Advent glows in its own peculiar way with decorated Christmas tree, crib, stars, colorful lights and what not! Buzzing with the enthusiasm and energy of the family and the peers, the festival also follows a special tradition of gifting your loved ones with what they love. Celebrate Christmas in a grand fashion and be the best Santa by picking up the best souvenir from these amazing Christmas markets in Germany that would make your Christmas more special.
Here is a list of top 8 Christmas markets in Germany you should visit right away (updated for 2018).
1. Dresden Striezelmerkt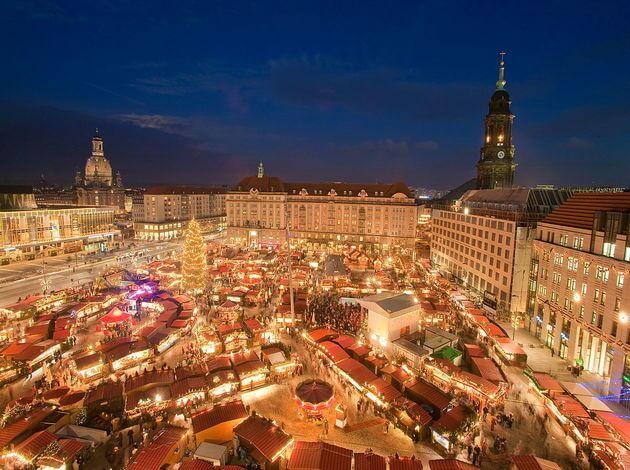 Image Source: Wikipedia.org
Address: Striezelmarkt, Altmarkt, Dresden, Germany
When is it open: November 24, 2018 to December 24, 2018
Timings: 10:00 am to 09:00 pm
Dating back to 1434, Dresden Striezelmarkt is one of the oldest documented Christmas markets in Germany which will celebrate its 584th Anniversary in 2018. The main market is situated on the Altmarkt square in the historical city center, surrounded by beautifully decorated Christmas markets that run up to the main railway station and the Albertplatz. The stalls are filled with wood crafted smoking men from Erzgebirge who emit real smoke, Christmas pyramids that rotate as the heat from the candle rises up, candleholders, and decorative nutcrackers that come in the shapes of various authoritative figures.
But the main highlight of the market is its delicious Stollen cake which is also the reason how the market got its name. On the Saturday just before the second Advent Sunday, a huge Stollen cake is baked and is served to the people in the market for a minimum fee and the collection is sent to a charity. The market itself looks like a festival and definitely elevates the Christmas mood.
Nearby attractions: Dresden Frauenkirche, Zwinger, Bruhl's Terrace, Dresden Castle.
2. Stuttgart Christmas Market
Address: Marktpl, 70174 Stuttgart, Germany
When is it open: 23 November 2018 – 23 December 2018
Timings: 10:00 am to 09:00 pm
Set against the backdrop of the Old Palace,
Stuttgart
Christmas Market glistens with more than 280 stalls making it
one of the largest markets in Germany
. Locally known in German as the 'Stuttgarter Weihnachtsmarkt', the market attracts nearly 3.6 million people every year which is a testimony to how popular the market is. Illuminated with festival lights, the market is highlighted with chalets adorned with angels and rich conifer trees, giving the market its nostalgic feel with a touch of traditionalism to it.
Housed under the wooden roofs, the sellers compete against each other by offering various attractive Christmas items like wooden toys, crib figurines, arts and crafts and culinary delicacies like fried sausages, gingerbread, and roasted chestnuts. As the aroma of the cinnamon sticks and vanilla fills the air, the music concert kicks in at the Renaissance courtyard of the Old Palace. Enjoy the lovely ambiance of this Christmas as it puts you in the right spirit.
Nearby attractions: Wilhelma, Mercedes-Benz Museum, Castle Solitude, Porsche Museum.
3. Nuremberg Christkindlesmarkt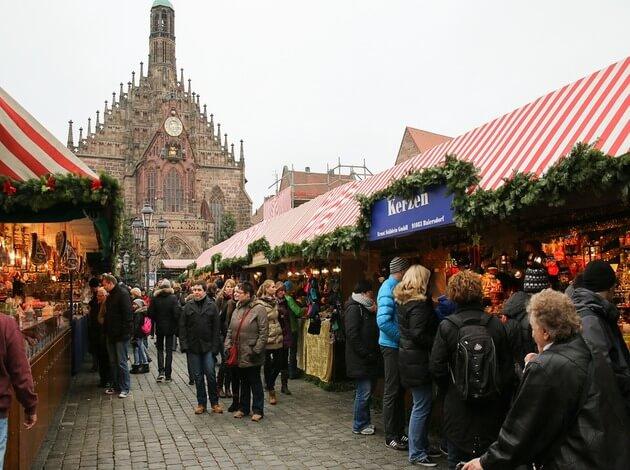 Image Source: Pixabay.com
Address: Hauptmarkt, 90403 Nurnberg, Germany.
When is it open: November 25, 2018 to December 24, 2018
Timings: 10am to 10.30pm
Following a custom that has been followed by the people of Nuremberg from back the 16th century, a Christkind Angel appears on the balcony of the Church of the Lady and opens up the doors to the Christkindlesmarkt in Nuremberg while reciting a solemn prologue. Soaked up in a medieval charm, the German Christmas market of Nuremberg has over 180 wooden stalls decorated with red and white clothing giving to its nickname 'Little Town from Wood and Cloth'.
And Nuremberg market is undoubtedly the best market in Germany that offers mouth-watering eateries. Go on a culinary tour in the Christkindlesmarkt to have a bite at the spicy gingerbread, flavorful Nuremberg Bratwurst and beat the cold with a glass of Gluhwein. When you are full go shopping till you drop picking up Christmas articles, toys, ornaments, and the famous prune men, made of prunes, raisins, nuts, and plums. If you have a kid to look after don't worry because the market has a carousel, a Ferris wheel, and a steam train to keep them entertained.
Nearby attractions: Nuremberg Castle, Nuremberg Toy Museum, Albrecht Durer's House, St. Lorenz, Nuremberg.
4. Rothenburg Ob Der Tauber Reiterlesmarkt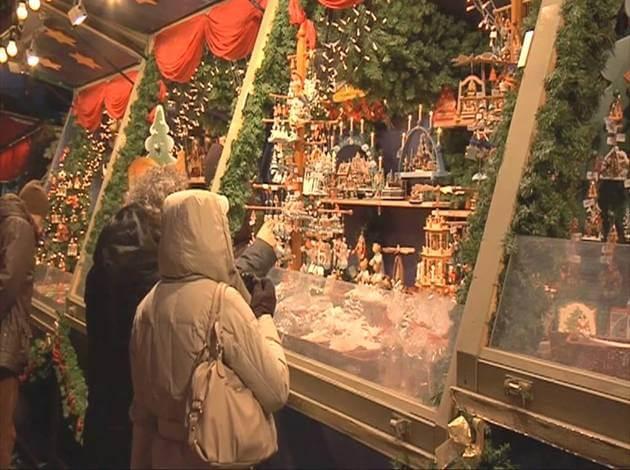 Image Source: Youtube.com
Address: Marktpl. 1, 91541 Rothenburg (Tauber), Germany
When is it open: November 25, 2018 to December 23, 2018
Timings: 11:00 am to 08:00 pm
Rothenburg is one of the few places in Germany where you can feel the Christmas vibe all year around. Unspoiled and impressive, the medieval city of Rothenburg ob der Tauber offers you a brief insight into the historic times of the ancient Germany. And during the Advent, the medieval place becomes extra special and transforms itself completely into a wonderful dreamland that fills the city's cobblestone streets with attractive Christmas stalls and visitors.
Rothenburg, with a 500-year old tradition, is frequented by visitors especially to catch a sight of the mysterious looking 'Reiterle' whose ideology has changed from being a scary figure to one of the gentle figures to look forward. Treat yourself with a glass of mulled wine while you munch on the city's famous Rothenburg Snowball that fills your appetite and your heart. And do not miss out on the souvenirs.
Nearby attractions: Burggarten, Evang-Lutherisches Pfarramt St. Jakob, Plonlein, Mittelalterliches Kriminalmuseum.
5. Cologne Cathedral Market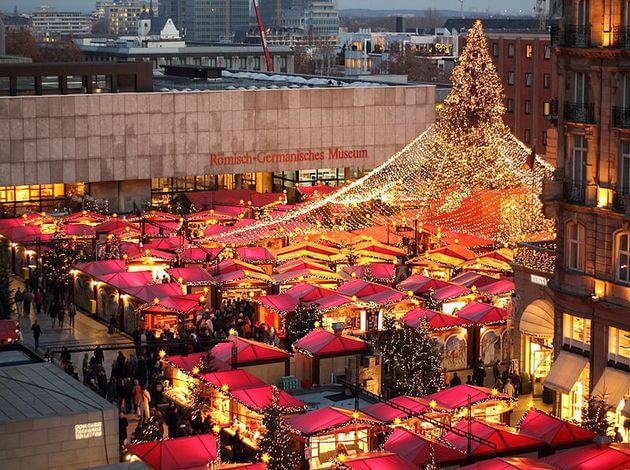 Image Source: Wikipedia.org
Address: Roncalliplatz 1, 50667 Koln, Germany
When is it open: November 21, 2018 to December 23, 2018
Timings: 09:00 am to 08:00 pm
Cologne welcomes the Christmas season with 7 distinctive Christmas markets amongst which the Cologne Cathedral market locally called as the 'Weihnachtsmarkt am Kölner Dom' is the best. Set in front of the Cathedral, beneath the largest Christmas tree in the Rhineland, the market comprises of over 160 half-timbered stands offering various Christmas gifts and articles. With a backdrop of the spectacular Cathedral, the Am Dom market looks impressive and eye-catchy.
At Cologne Cathedral market, you could get anything from custom jewelry to traditional woolens to woodcarvings to ceramics. And when you're tired shopping for Christmas, gulp a glass of the authentic mulled wine in one of those decorative Christmas glasses and end your shopping on a high.
Nearby attractions: Cologne Cathedral, Museum Ludwig, Cologne Cable Car, Cologne Zoological Garden.
6. Dusseldorf Christmas Market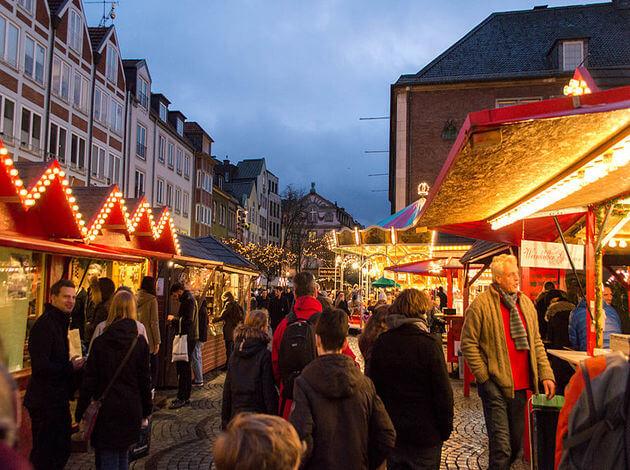 Image Source: Wikimedia Commons
Address: Düsseldorf's city centre, Germany
When is it open: November 17, 2018 to December 23, 2018
Timings: 11:00 am to 08:00 pm
As the Christmas season sets in, the city of Dusseldorf is cast with a magical spell that changes the city completely into an enchanting place packed with beautifully decorated huts. Explore the Christmas delights at over 200 wooden stalls spread across the numerous parts of the city, which also proves to be an excellent opportunity to understand the city better. Staged in 7 different locations, Dusseldorf has one of most beautiful Christmas markets in Germany.
Dusseldorf Christmas market has something to offer for everyone - Engelchen market for the art lovers, Marktplatz for those who wants to have a traditional experience, and Shadowplatz for families, which has a merry-go-round to keep the little ones happy. And mix up your Christmas shopping with going on a personal shopping in the designer stores concentrated around Konigsalle.
Nearby attractions: Rheinturm, Düsseldorf-Kaiserswerth, Museum Kunstpalast, Konigsalle
7. Munich Christkindlmarkt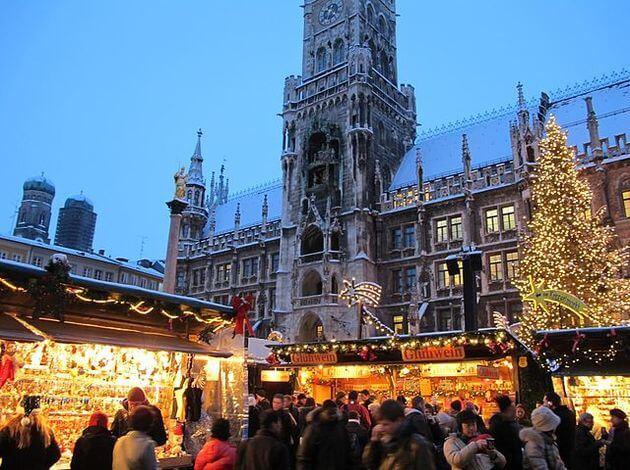 Image Source: Commons.wikimedia
Address: Marienplatz, 80331 Munchen, Germany
When is it open: November 27, 2018 to December 24, 2018
Timings: 10:00 am to 08.30 pm
With a history rooting back to the 14th century, Christkindlmarkt in
Munich
is one of the
oldest Christmas markets in Europe
. Set up in Marienplatz at the heart of the city center, Munich Christkindlmarkt offers traditional Bavarian produce and unique Christmas souvenirs. Highlighted by a huge Christmas tree that is 30 meters high and shining with over 2,500 candles, Munich Christkindlmarkt glows magnificently in the nights and is very easy to spot.
When you are in the Munich Christmas market, you should definitely look out for beeswax candles, wooden toys, crib figurines, delicious lebkuchen (gingerbread), and chimney sweeps made of plums and almonds. There is also an exclusive workshop for children at the Town's Hall called the 'Heavenly Workshop' that guides them in arts, crafts, and in baking.
Nearby attractions: Englischer Garten, Nymphenburg Palace, Neuschwanstein Castle, Deutsches Museum.
8. Berlin Christmas Market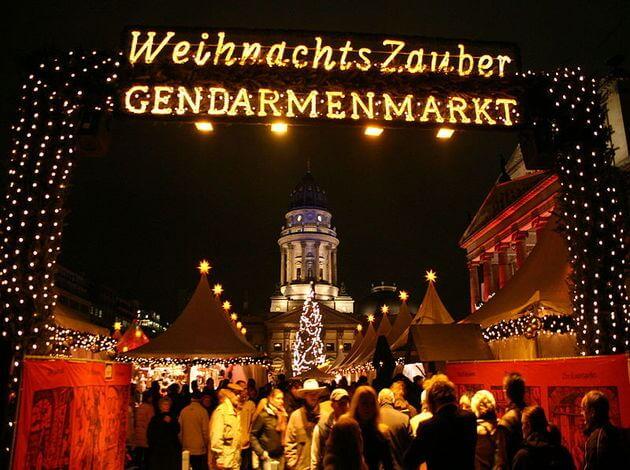 Image Source: Wikimedia Commons
Address: Berlin, Germany
When is it open: November 23, 2018 to December 24, 2018
Timings: 11:00 am to 10:00 pm
The capital city of Germany is also the capital of Christmas Markets with over 60 markets. Whether you are looking for a traditional style market or a trendy Christmas market, Berlin has got you covered. With a charming setting, Christmas markets in Berlin outshine the other markets in Germany. Immerse yourself in the amazing streets of Berlin packed with decorative market stands, and fill your shopping bag with presents.
Enjoy the classic entertainment provided by the jugglers, fire artists, acrobats, and the dance troupes in the Gendarmenmarkt. Shop at the trendy markets at the Potsdamer Platz and the Sony Centre. Satiate your gastronomic inclination in the markets at Charlottenburg Palace. And go on an intimate romantic walk across the Lucia Christmas market that has a Nordic-Scandinavian touch to it.
Nearby attractions: Brandenburg Gate, Reichstag building, Berlin Wall, Checkpoint Charlie.
Hooo! That is one hell lot of shopping. Wait, what have you got for me?!
More for your Christmas holidays in Europe: