Best Christmas Markets In London for Festive Shopping
* Disclosure: This post may contain affiliate links, which means we may receive a commission if you click a link and book something (there is never any extra cost to you for using these links).
With tons of events taking place, the Capital city of London gets flooded with the festivities and celebrations during the Christmas season. Be it ice skating, attending the Magical Lantern Festival, watching the Christmas lights on Oxford Street, following the adventures of Peter Pan, or meeting the "magical man" Santa, Christmas in London is super-special. So, this time, when Christmas is coming closer, make your Christmas celebrations better than ever by heading to these Christmas markets in London to buy the perfect gifts and everything else you need!
1. Hyde Park's Winter Wonderland: A Christmas Wonderland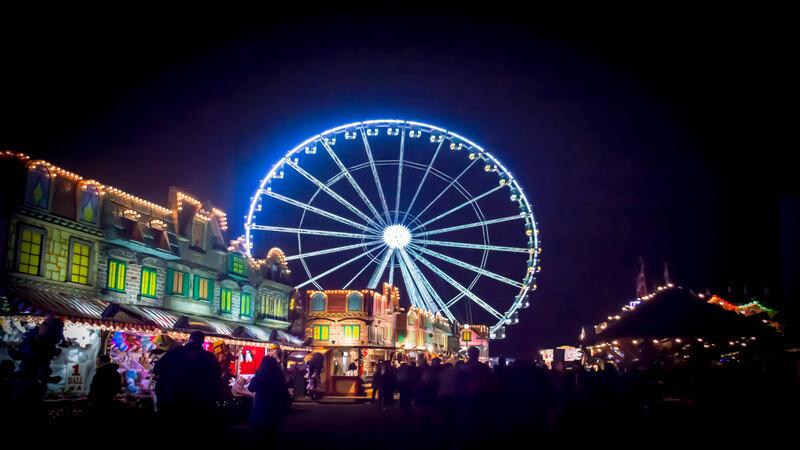 Image Source: MrT HK/flickr.com
Dates: 21 November 2019 to 5 January 2020
Time: 10 am to 10 pm
Location: Hyde Park, London
With an ice rink, plenty of festive rides, Munich Looping, Nutcracker, Magical Ice Kingdom, Giant Wheel, and a Circus, Winter Wonderland is the largest Christmas wonder in London. Winter Wonderland market is held in Hyde Park every year during winter. While admission to this park is completely free, you have to book some attractions and events in advance to enjoy the best of this market. It is a fun-paradise for children as they will find many things to do here. In addition to plenty of rides and swings, they can watch an interesting puppet show. The shops in the form of wooden huts inside the alpine-style village are laden with all the Christmas items that you will want to bring home.
What's cool: Meet Santa in his grotto with elves and get clicked with him in a souvenir photograph.
2. Southbank Centre: The Centre of Festivities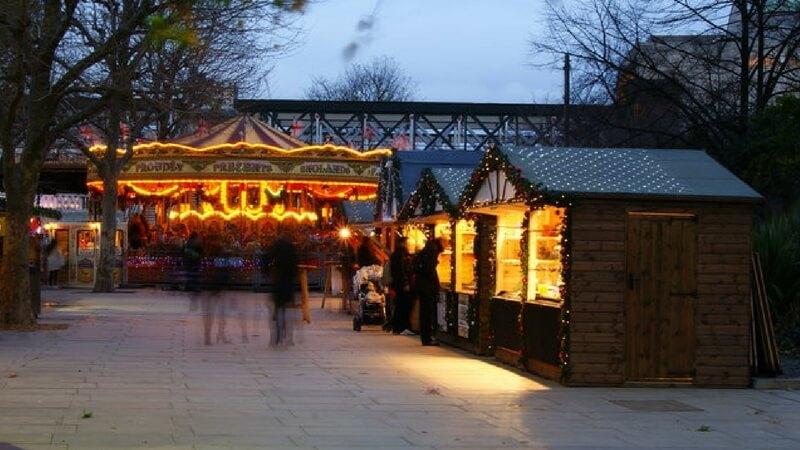 Image Source: Wikimedia Commons
Dates: 8 November 2019 to 5 January 2020
Time: Sunday-Thursday: 11am – 10pm, Friday-Saturday: 11am – 11pm
Location: South Bank, London SE1 8XX
The winter festival at Southbank Centre arrives with chalet-style stalls displaying hand-crafted trinkets, wooden toys, jewelry, candles, ceramics, clothes, glass ornamental Christmas trees, and everything to make your Christmas a pleasant memory. Taking a walk through this market is a visual treat as you will see all the shops decorated with glittering lights and lamps that will brighten up your heart. Besides, for all the food lovers, there are many options to eat and drink. With plenty of festive products, sweets, shows, and gifts, the winter market at Southbank Centre is, indeed, one of the best Christmas markets in London.
What's cool: Relax at the Finnish Rooftop Sauna during the Southbank Winter festival and listen to the 'ice music'.
TripHobo Recommends:
3. Greenwich Market: A Heritage Market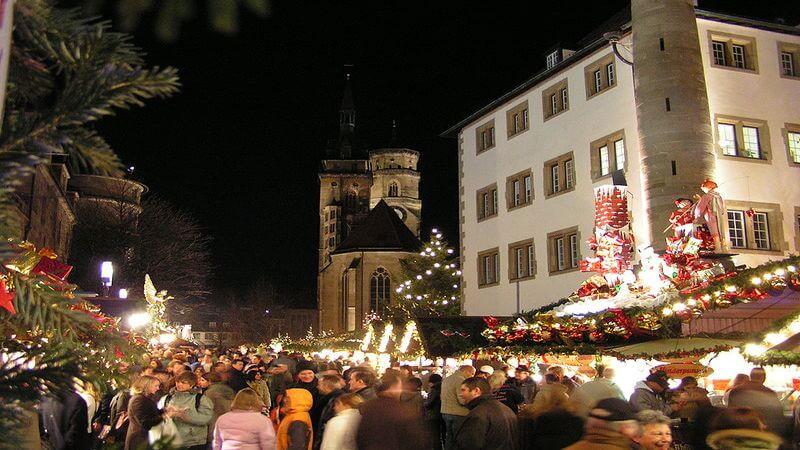 Image Source: Wikimedia Commons
Dates: 4, 11, and 18 December 2019
Time: 10 am to 8 pm
Location: Greenwich, London
Imagine a market set within a World Heritage Site! Greenwich Market is a historic market and boasts plenty of stalls, full of traditional and hand-crafted items, clothes, and antiques. The Late Night Christmas Markets at Greenwich Market are scheduled on every Wednesday of December. As you walk through the market, you will see many independent Greenwich market shops displaying designer clothes to wear on Christmas evening. The market is most famous for its exotic collection of arts and crafts. To make your shopping comfortable and relaxing, the Greenwich Market offers some amazing gastropubs, restaurants, and bars (with a lot of vegan options) inside the market area.
What's cool: Royal Observatory Greenwich, National Maritime Museum, Queen's House, and Greenwich Park are just a few minutes' walk.
4. Kingston Christmas Market: For the Best Christmas Souvenir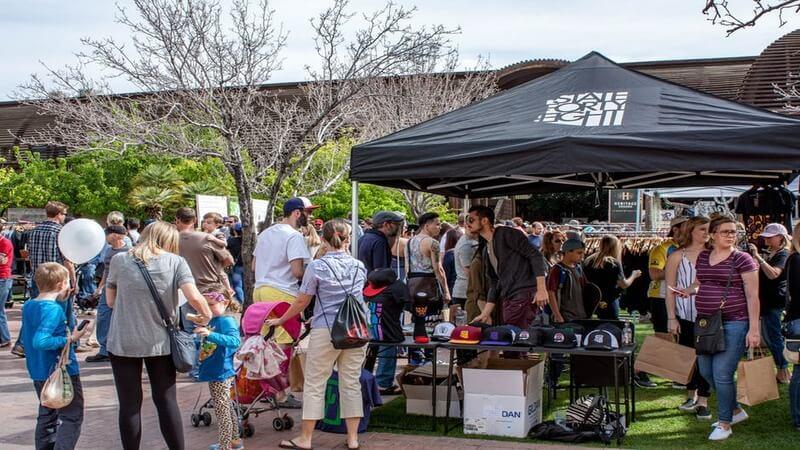 Image Source: Pexels.com
Dates: 14 November to 24 December 2019
Time: Sunday-Wednesday: 10 am - 6 pm, Thursday-Saturday: 10 am - 8 pm
Location: Kingston-Upon-Thames, Greater London
The Kingston Christmas Market welcomes all the visitors with a magical atmosphere with the wooden chalets full of decorations, food items, and all the festive goodies. The market is also known for the one-of-a-kind mulled wine and German-style street food that you will find in the restaurants and bars lining the market. In addition, this market will always keep you energized and entertained with the street performance by the London artists. If you are coming here with kids, take them to the Candy Cane Forest for great delight.
What's cool: Soak up the festive atmosphere during the Christmas lights switch-on event.
5. Leicester Square: Glittering Christmas Market of London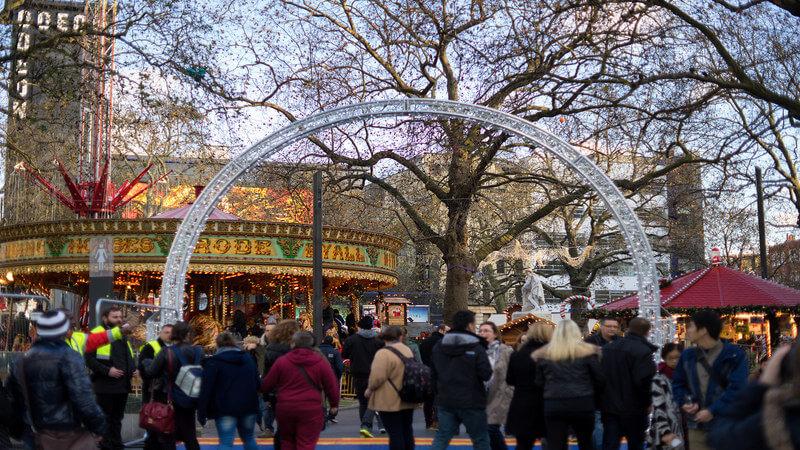 Image Source: Paul Hudson/flickr.com
Dates: 8 November 2019 to 5 January 2020
Time: Monday-Friday: 12pm - 10pm, Saturday-Sunday: 10am - 10pm
Location: Leicester Square, Central London
Christmas in Leicester Square brings joy, enthusiasm, and delight. This sparkling market is located in the heart of London. Home to a traditional Christmas market, featuring more than 25 food, drink, and Christmas gift stalls, Leicester square comes alive in December. The market is situated close to the famous Piccadilly Circus and is best known for its festive entertainment that includes Black Cat Cabaret, Fascinating Aida, and The Showstoppers Christmas. The entry to this market costs nothing, but if you want to attend the events, remember to book in advance so that your joy doesn't get spoiled.
What's cool: Watch your kids laugh and dance at Baby Disco Dance Hall and Roald Dahl's medicine show.
6. London Bridge City Christmas Market: Christmas by the River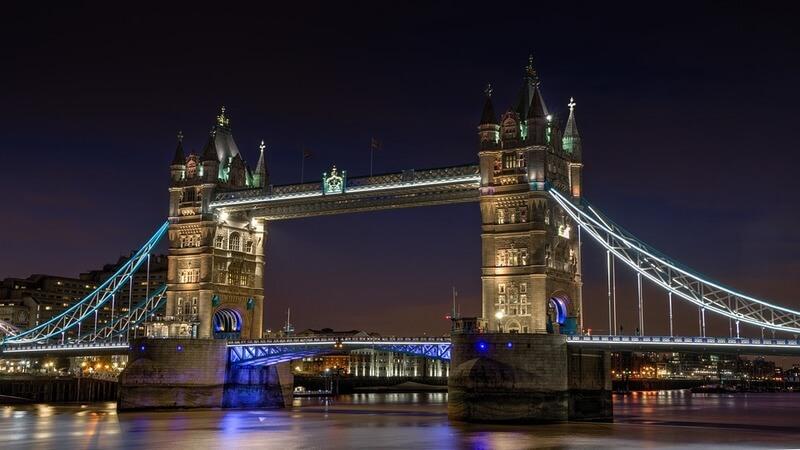 Image Source: pxhere.com
Dates: 26 November 2019 to 5 January 2020 (Christmas Day: CLOSED)
Time: Monday-Sunday: 10 am - 9 pm, Christmas Eve: 10 am - 5 pm, New Year's Eve: 10 am - 8 pm
Location: London Bridge City, London Bridge
There is no other place as wonderful as the London Bridge City to get the perfect Christmas gift. Imagine yourself shopping at London's most prestigious location! With plenty of wooden stalls, there is something for everyone in this market. If you only talk about food, this market is an amalgamation of various cuisines. Hog Roast, Great British Bangers, Bubble waffles, German sausages, French crepes, you will find everything at one place. While roaming on the bridge with your shopping bags, don't forget to taste the craft beer with the delicious London cuisines.
What's cool: Head to the pop-up bar TwoRuba By the Pier for ultimate enjoyment.
7. Danish Christmas Market: Get the Danish Hygge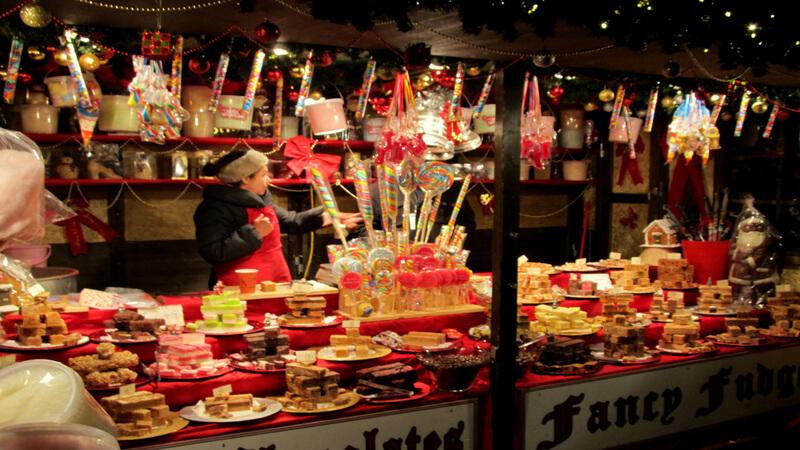 Image Source: Extempore/flickr.com
Dates: 23 November and 24 November 2019
Time: 23 November: 11 am - 5 pm, 24 November: 11 am - 4 pm
Location: Albion Street, Rotherhithe, London SE16 7HZ
Located in Rotherhithe near Albion Street, the Scandinavian Christmas market offers a unique experience to all the Londoners. Located inside the cozy rooms of a grand building, this Christmas Bazaar is the best place to experience Denmark's' 'hygge' (a Danish word for an extraordinary feeling). Apart from the shops laden with Christmas decorations, the most tempting things you will find here are the food trucks selling authentic Scandinavian food (ketchup, mustard, remoulade, diced raw onions, crispy fried onions, sliced pickles and what not!). The buttery biscuits of this market are something you will want to buy for a whole year.
What's cool: Listen to the Scandinavian Christmas carol and eat some delicious hot-dogs.
8. The Swedish Church Christmas Fair: The Swedish Musical Treat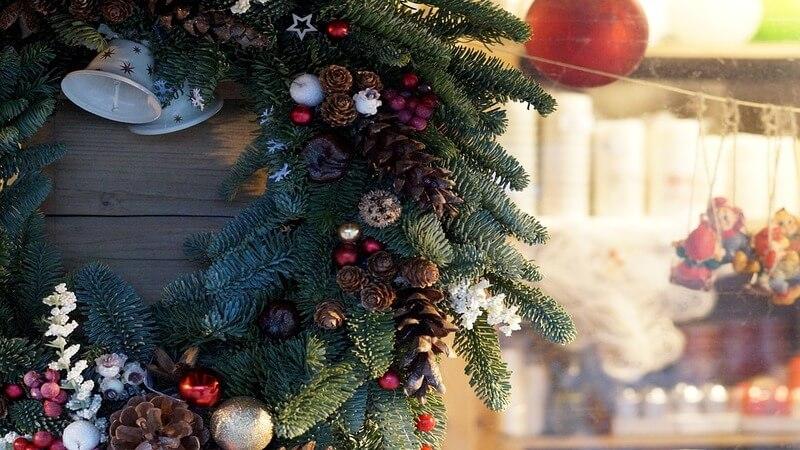 Image Source: pxhere.com
Dates: 21 November, 23 November, 24 November
Time: 21st November: 12 pm to 8 pm, 23rd November: 10 am to 6 pm, 24th November: 12 pm to 5 pm
Location: Swedish Church, Marylebone
A place to experience the best Swedish treat, the Christmas market at the Swedish Church (Ulrika Eleonora Church) welcomes all with big smiles and lights. The market takes place in the month of November every year. Nestled between Baker Street and Edgeware Street, this Christmas market is full of people during the Christmas season. It would be good if you avoid visiting the market on Saturday as you will find long queues. And, what will you find here? Everything! Christmas decorations, papers, candles, food, clothes, fruits, and nuts. Yes, you will also be able to taste the Varm korv (Swedish hotdog) here.
What's cool: Purchase a Swedish costume to try something different this Christmas.
9. Winterville Christmas market: The Wacky Winter Shopping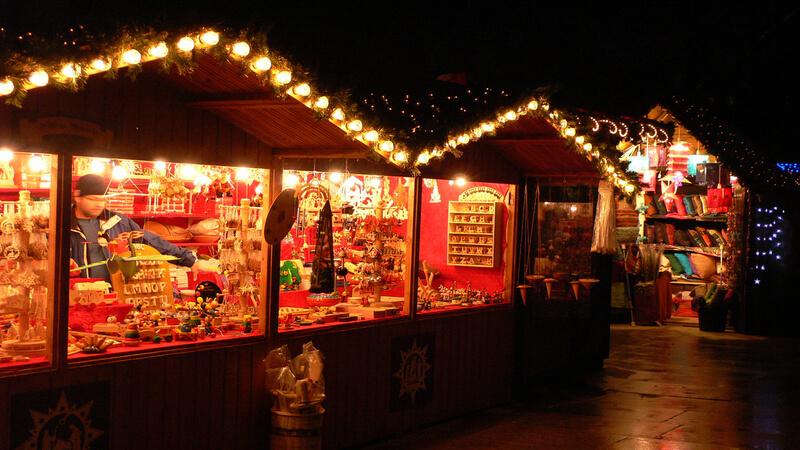 Image Source: Heather Cowper/flickr.com
Dates: The Winterville Christmas Market will not be returning for the year 2019.
Location: Clapham Common, Clapham
The frosty town of Winterville glitters with festivities as soon as the Christmas carol begins. Located in east London, this Christmas market is the place where the Christmas party starts before Christmas Eve. Be it ice skating, festive shows, Christmas shopping, or golfing, Winterville Christmas Market has something for people of all ages. Dance on the crazy music, eat the best London food, drink the old wine, or enjoy the exciting rides, you will not be able to forget your visit to Winterville during the Christmas season. Do you prefer a relaxed way of shopping? Then place your shopping bags in the Winter Night Garden and just gaze at the bustling city.
What's cool: Go for a ride on the Big Wheel to enjoy the panoramic views of Winterville and the city beyond.
All these Christmas markets with their charm, festive food, and lights are there to make your Christmas Eve bright and beautiful. Merry Christmas!
You May Like to Read:
Best Christmas markets in Prague