Cities With the Best Weather in the World!
* Disclosure: This post may contain affiliate links, which means we may receive a commission if you click a link and book something (there is never any extra cost to you for using these links).
Imagine a sky touched upon by barely moving picture-book clouds with a bit of a choreographed breeze. Now imagine this picture-perfect weather stays all year long. There is nothing more we could ask for. When it comes to cities with the best weather in the world, some cities just consistently top the charts. With the right amount of temperature, sun, rain, and wind, here is a list of cities with minimal temperature variations that make them a real paradise.
1. Singapore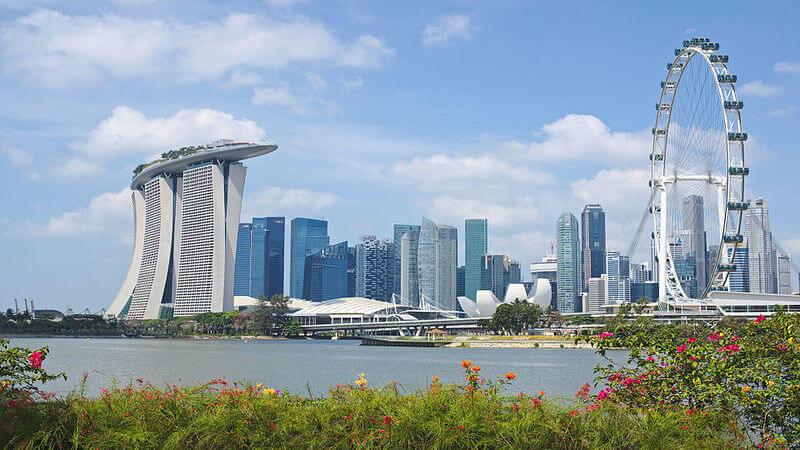 Image Source: Wikimedia Commons
A global metropolis, Singapore is an island city-state located to the south of Malaysia. A melting pot of many cultures, Singapore or the 'Lion City' is best known for its attractions, food, activities, shopping, and nightlife. The city's climate is characterized by uniform temperatures due to abundant maritime exposure and high humidity. Singapore enjoys a tropical to equatorial climate all through the year and there are no defined seasons like summer, spring, autumn and winter. Known to have one of the nicest climates in the world, the city witnesses a minimum of 22-25 degrees Celsius and a maximum of 31-34 degrees Celsius. The average relative humidity stands at 84%.
Average temperature ranges from: 25 degrees Celsius and 31 degrees Celsius
2. Goa, India
One of the most popular tourist destinations in India, Goa is a tiny Indian state with a massive touristy appeal. Apart from its plethora of palm-fringed beaches, the city has many Gothic churches, ancient forts, coconut groves, ferry rides, and groovy folk music. Due to its nearness to the Arabian Sea, the city enjoys a tropical monsoon climate that is characterised by warm temperatures and higher air moisture percentage. The annual average temperature ranges from a maximum of 29 degrees Celsius to a minimum of 21 degrees Celsius. Goa receives over 90% of the average annual rainfall during the southwest monsoon period (June – September)
Average temperature ranges from: 25 degrees Celsius and 29 degrees Celsius
3. Nice, France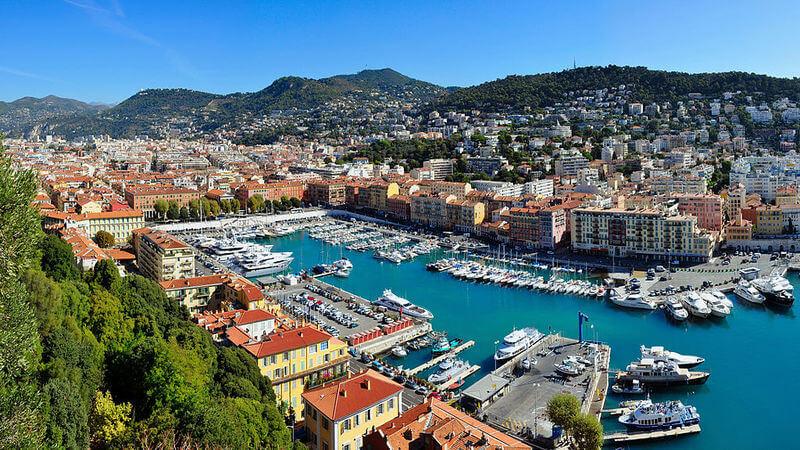 Image Source: Wikipedia.org
A retreat for 19th-century European elite, Nice in the French Riviera is wedged between the Mediterranean Sea and the mountains. Attractions like Vieille Ville, Promenade des Anglais, Parc de la Colline du Château, and Musée Matisse makes this city a must-visit. They say anytime is a good time to come to Nice. Blessed with the hot-summer Mediterranean climate, the city enjoys over 300 sunny days a year with an average temperature of 24 degrees Celsius. While January is the coldest with 9 degrees Celsius, August is the hottest with 28 degrees Celsius.
Average temperature ranges from: 10 degrees Celsius and 25 degrees Celsius
4. São Paulo, Brazil
Brazil's lively financial centre, São Paulo is one of the most populous cities in the world. A sophisticated & cosmopolitan city, visitors to São Paulo would be treated fine restaurants, boutique shops, and a dynamic nightlife. The mild and perfect temperature throughout the year varies from 22 to 28 degrees Celsius making São Paulo a city with one of the most perfect weather in the world. The Tropic of Capricorn passes just north of São Paulo that makes the city experience a climate which lies somewhere between tropical and temperate conditions. The city's humid subtropical climate is characterised by warm afternoons and cool evenings, thanks to its elevation.
Average temperature ranges from: 22 degrees Celsius and 28 degrees Celsius
5. Sydney, Australia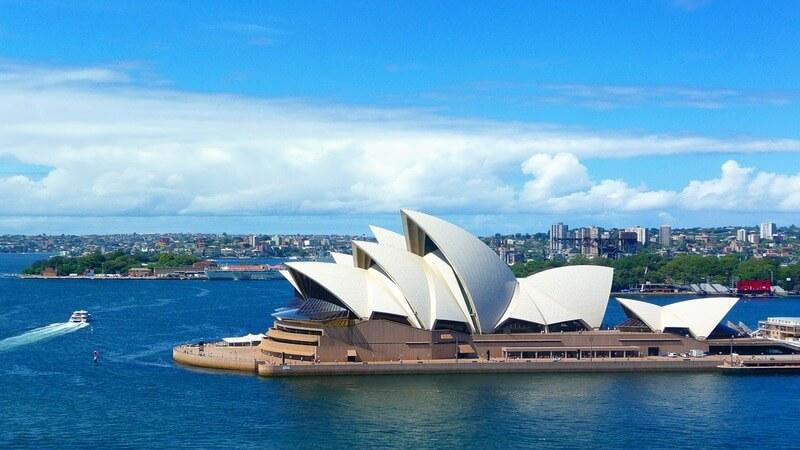 Image Source: Pixabay.com
The biggest and most beautiful of all Australian cities, Sydney is best known for its distinctive Sydney Opera House and the arched Harbour Bridge. The city is cultural, historical, spiritual, and surprisingly close to nature. One of the most loved cities of the world, Sydney is warm & sun-kissed and enjoys an all-year-round superb climate. The climate here is temperate and humid with plenty of sunshine. As a coastal city, Sydney enjoys warm summers and mild winters.
Average temperature ranges from: 8 degrees Celsius and 24 degrees Celsius
6. Las Palmas, Canary Islands
Tucked into the Atlantic Ocean off the coast of north-western Africa, Las Palmas is the capital of Gran Canaria. A Spanish archipelago, this island is warm (but not very hot) all year long. Whether you plan on delving deep into its history or enjoying a sun tan one of the its beaches, Las Palmas has something that will interest every kind of a traveller. Mirroring the same seasonal rhythm as the Mediterranean, many tourists come to Las Palmas to enjoy its invigorating climate. While August and September are warmest months with temperature ranging from 27 to 30 degrees Celsius, January is the coldest with an average of 19 degrees Celsius. The annual average relative humidity is 66%.
Average temperature ranges from: 18 degrees Celsius and 28 degrees Celsius
7. Barcelona, Spain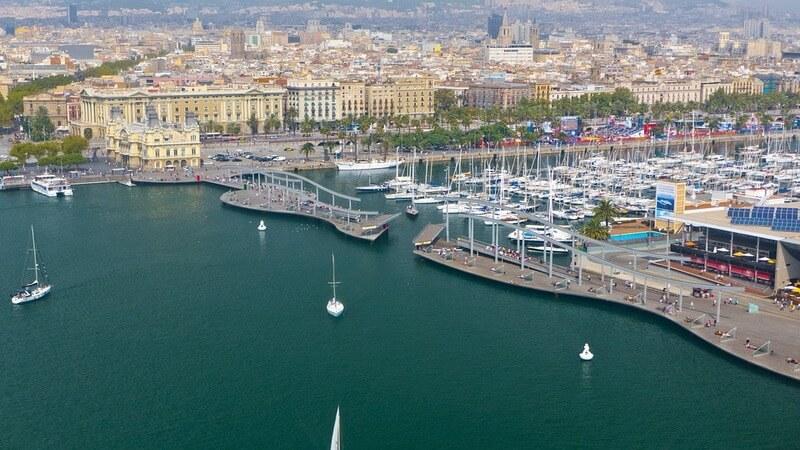 Image Source: Pixabay.com
One of the most vibrant, quirky, and cosmopolitan Spanish cities, Barcelona is one of the most loved cities in the world. There is sightseeing, shopping, nightlife, entertainment, and dining that all come together to make Barcelona one of the best cities to travel in Spain. As a Mediterranean coastal city, Barcelona is attractive all through the year. Summers are especially appealing with an average temperature of 28 degrees Celsius. This weather is extremely favourable for many outdoor activities. Summers last about 6 months with average temperatures around 28–29 degrees Celsius while the winters last for 3 months average temperatures around 16 degrees Celsius. With an average of 55 precipitation days a year, Barcelona is known to have one of the best weather places in the world.
Average temperature ranges from: 17 degrees Celsius and 28 degrees Celsius
8. Medellin, Colombia
The city has re-written its narrative after its tryst with drug cartels to transform into one of the most dynamic and safe cities in the country. Today, the tourists from across the world come to Medellin for its culture and nature. Also called as the 'City of Eternal Spring,' Medellin City is blessed with the temperate climate. The temperature variation in the city is minimum all through the year with an average daily temperate of 26 degrees Celsius. It rains for an average of 9 days every month and that has given rise to many colourful flowers blooming all over the city.
Average temperature ranges from: 18 degrees Celsius and 27 degrees Celsius
Whether travelling for leisure, work, or looking for a place to retire in, these cities surely deserve a visit. And the takeaway? You can visit them any time of the year!