Real Life Couple Travel Goals For Inspiration - T1
* Disclosure: This post may contain affiliate links, which means we may receive a commission if you click a link and book something (there is never any extra cost to you for using these links).
Stable Relations, Stable Money? Who said you need to confine yourself to a place! Read Stories of Couples who've achieved both while travelling!
These couples have redefined the idea of a settled life, broken social conventions and are living life the Hobo Way will inspire you to pack your bags and set off on a destination that awaits you, today!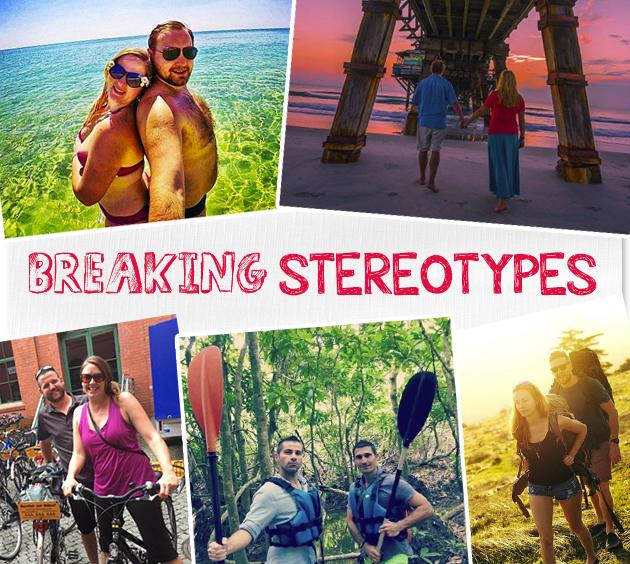 ---
Karolina and Patryk- Master Of Their Own Lives
On their very first meeting at a training session, they felt the electricity that not just drives their relationship as a couple but also is the striking base of their business venture that helps them to be boundless and travel across the world. Born into predictable Polish families, having a life on the go was not an obvious choice for Karolina and Patryk. But passion to have a life that doesn't lock them at one destination and the deep understanding between the two made them challenge the conventional means of living.
Living a life on the go and constantly travelling takes Karolina and Patryk to new horizons every day. This helps them to live to the fullest and be the master of their own lives hopping continents, just like they dreamt!
Where They Come From: Krakow, Poland
Where They've Been: 5 Continents, 30 countries and still counting
Website: karolinapatryk.com
We traced Karolina and Patryk's Trip to Thailand! Check out their Thailand Trip
---
Stefan and Sebastian- Love Has No Boundaries
What makes this couple special is not just their idea behind travelling as a Gay couple but also the lengths of efforts they take to promote it in countries that are known to be anti-gay. After leaving their secured jobs and comforts of the home in London in 2014, Stefan and Sebastian re-discovered themselves on their 18-month long trip to Southeast Asia and returned home only to leave again.
Embracing their own individuality as well experiencing a harmonious journey as a gay couple in traditional countries like India and Myanmar gave them a broader idea of acceptance and wholeness.
Exploring the romantic and culinary facades of places they visit, this outdoorsy and adventure loving couple will set for their journey across Latin America where they will be addressing the gay G360 Conference in Buenos Aires and will lead a luxury gay cruise to Galapagos.
Where They Come From: Sebastien- Lyon, France and Stefan- Greek-Cypriot, living out of London.
Where They've Been: 20 Countries and still counting.
Website: nomadicboys.com


---
Nick and Dariece- A Digital Nomad Couple/ Mixing Business and Pleasure
Thanks Prague, it's been a slice ???? off to #NYC! Thx for the good times @NOMADasaurus @JustaPack #ttot pic.twitter.com/LSnaRV7aBL

Nick & Dariece (@GoatsOnTheRoad) 7 June 2016
Getting ready to explore #Berlin with @berlinonbike :) #VisitBerlin pic.twitter.com/RmewB3R7QK

Nick & Dariece (@GoatsOnTheRoad) 2 June 2016
When Nick and Dariece returned home after their all-inclusive trip to Mexico, they realised they'd gotten too familiar with their steady jobs, lovely home and settled life. This is when the new and exciting got them calling and they set off on a 13 month long trip that changed their perspective towards life and travel. Since then, this young couple has never looked back. Hitting the road since 2011, these 'Goats' (As they fondly call each other and their website) don't mind sleeping in a hut, having a maggot for dinner or living minimally to save for their next trip. While they travel, they make money by House sitting, Travel blogging and Teaching English in non-English speaking countries. Even after 9 years of being together and travelling, they still aren't bored of travelling and believe that they are the best travel companions they could have ever had.
Where They Come From: Canada
Where They've Been: 50+ countries and still counting
Website: goatsontheroad.com
Go on a trip to Berlin just like the Goats- Nick and Dariece did!
---
Christine and Jules- Volunteering Across The World
Be it backpacking in the exoticness of Philippines and Cambodia or exploring the pristine Caribbean Islands, Christine and Jules believe that travel is one experience you should never miss. Advocating responsible Travel, Christine and Jules have spanned the world for the last 4 years and have worked for and with dozens of local communities that have touched their lives forever. They believe, there is a trip waiting for everyone round the corner.
The love for volunteering and a degree in International studies landed Christine and Jules in Peru in 2012, where they instantly hit it off, given their passion for travel and community development. Travelling for a cause since then, this couple volunteers in non-profit organisations and lives to their heart content throughout the globe.
Where They've Been: 40 countries across 6 continents and still counting
Website: dontforgettomove.com
---
Dave and Deb- Hitched For 20 years and Now Hiking!
He was a Rigging Gaffer and she, a make-up artist. After more than 10 years of marriage and a life that juggled between home and work, Dave and Deb realised that the energy and vibrancy that they had, had faded out in the rat race and they were not inspiring each other. Then a life changing trip to Thailand happened which not only rejuvenated their zest of life but also saved their marriage.
The couple returned home with experiences and plans. In just 8 years, Dave and Deb managed to travel thousands of miles, turned travel, photography and writing into a career. Accomplishing Tour d'Afrique (world's longest cycling race where Deb won women's championship and Dave won the title of Cycling Every "Fabulous" Inch of Africa are just few milestones of their many.
Where They Come From: Canada
Where They've Been: 100 countries in 7 continents and still counting.
Website: theplanetd.com
If this doesn't make you pack your bags, I don't know what will!
Watch out this space for travel inspiration and more stories on couples that will put your travel goals to shame!
The T 2 of this series...Coming Soon!