Real Life Couple Travel Goals For Inspiration - T2
* Disclosure: This post may contain affiliate links, which means we may receive a commission if you click a link and book something (there is never any extra cost to you for using these links).
Continuing our series, we are happy to give you the awaited dose of travel inspiration through the next set of couples that will not only inspire you to travel, but will also set some serious couple goals for you! Some are married, Some are dating, Some are childhood sweethearts and Some have done it all; the thing that drives them, binds them and makes them special is their zest to travel!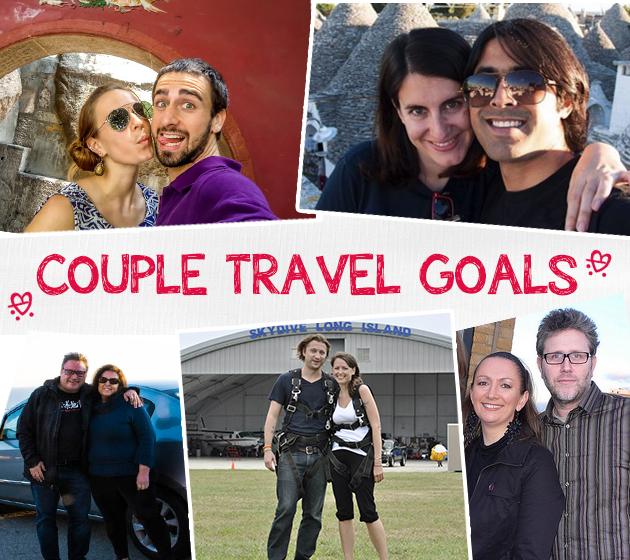 If you haven't already checked out the Part I, you can do so here!
1. Ashray and Zara- East Meets West
When Ashray, a software engineer and Zara, a freelancer production manager realised the superficial and zestless life they were living in Dubai, working non-stop to chase something they didn't really believe in, they decided to pack their bags and leave. This multiethnic couple defines the east meets west analogy. Together they not only travel the world living on bare minimum basics but also produce refreshing travel guides that offer a perspective of westerners travelling as well as Indians travelling to west.
They have found solace in each other's company and have had their relationship survived even when they stepped out of their comfort zones, travelling full time and often, challenging their own ideas of living. The best thing about their travel is that they don't have a home to return to, and plan to traverse the world forever!
Where They Come From: Ashray- India, Zara- Portugal.
Where They've Been: 40 countries and still counting
Website: bkpk.me
2. Terence and Lara- Globetrotting Since 1980's
If you thought travelling for living is a millennial thing, this couple story will toss your beliefs into a bin. Making films, contributing guide books, capturing the beauty of the world in their lens and experimenting with every single cuisine that comes their way, Lara and Terence are a travel inspiration beyond imagination.
Combining their love for travelling, film making, photography, writing and food; they have contributed to guidebooks and on a foodie expedition that takes them places together!
Where They Come From: Australia
Where They've Been: 65 countries and still counting
Website: grantourismotravels.com
3. Daryl and Mindi Hirsch- Tripping Over Food
When two foodies shred the apprehensions of having a mundane life, they set off for a journey that not only helps them to binge on the deliciousness of the international cuisines the world has to offer, but also strengthens their relationship as a married couple.
After meeting at a party in 2006, Daryl and Mindi hit it off over the love of food and travel. Today, they are mapping the earth together, trying out new food, learning new delights of the culinary skills tucked in the secluded corners of the world and living a life just the way they dreamt of. They have travelled alone and together and like to call their journeys as food adventures.
Here are some glimpses of their culinary experiences:
Where They Come From: Philadelphia, USA
Where They've Been: 30+ countries and still counting
Website: 2foodtrippers.com


4. Dan and Casey- Love Birds On A Vacation
Met at 15, dating since 17 and married at 22, Dan and Casey are childhood sweethearts. Love for travel, education and jobs took them places, often far away from each other, to different continents sometimes. And despite the distance, they kept o coming back to each other. This is when they realised, they need to be together and travel together, since this is what they loved doing.
For their honeymoon, they set-off on a 7-day long road trip across USA and this adventure made them realise, if their relationship can survive travel, it can survive anything! Their wedding registry also listed experiences like hot air ballooning and wine tasting! Moving to Taiwan soon, the couple travels and blogs about their experiences since then and now spans across the globe calling world their home.
Where They Come From: USA
Where They've been: 27 countries and still counting.
Website: acruisingcouple.com
5. Michael and Randi- Full Time Nomads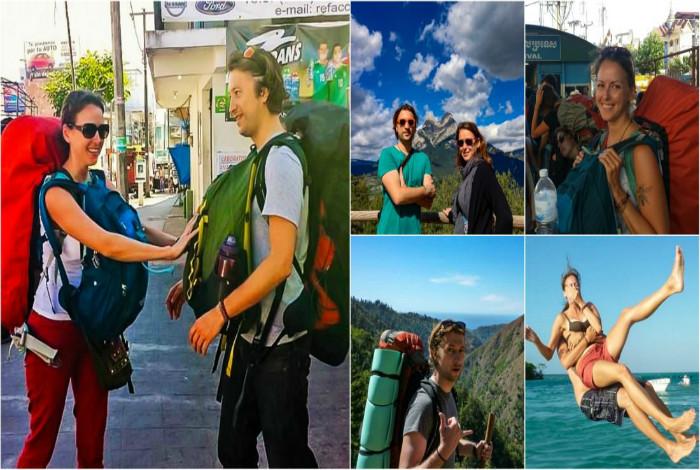 When Michael and Randi met on OkCupid, little did they know that this romantic venture would ultimately gift them a friend and a travel companion of a lifetime! After a few dates and the moment when they realised that a romantic relationship isn't on the cards, they stayed friends later. After realising they are not meant for 9 to 5 jobs, they quit and also hopped on a trip to Mexico.
Travelling together since then, Randi- a wanderer who has moved around 20 times in her life and Michael- a backpacker who has explored over 40 countries are, what sets them apart is that they still haven't got over the dating phase and are enjoying every bit of it!
Where They Come From: Michael- Poland, raised in USA, Randi- USA
Where They've Been: 24 countries and still counting
Website: justapack.com
Want to be Inspired? Watch out this space for more couple stories that will motivate to turn your travel dreams into reality!
Read More: