Real Life Couple Travel Goals For Inspiration - T3
* Disclosure: This post may contain affiliate links, which means we may receive a commission if you click a link and book something (there is never any extra cost to you for using these links).
If there is one single moment where you need to be inspired, that moment is today! It's never too late to be inspired. It's never late to restart our lives with a totally different perspective.
If you haven't checked out our Couple Travel Inspiration series already, don't worry. We've got a fresh dose of inspiration with our Part 3!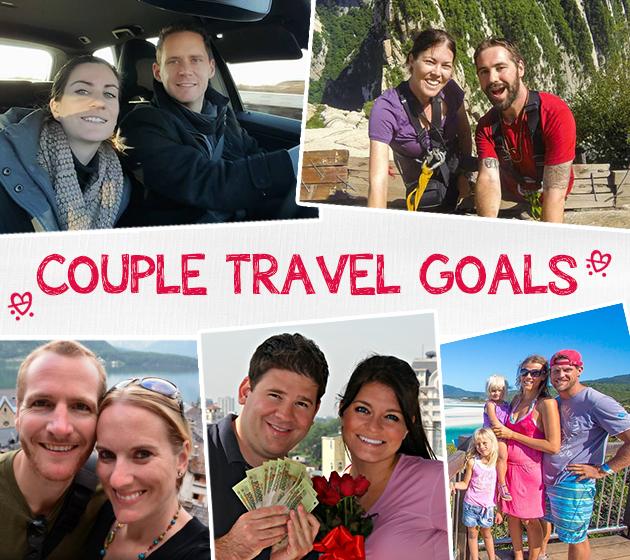 Read on for inspiring stories of couples that not only set an excellent example of travellers on the go but also set serious couple goals for all the couples out there!
1. Carolann & Macrae- The Modern Couple
Met at their workplace, Carolann and Macrae believe it was love at first sight for them. Juggling between the 9 to 5 routine made them realise that something in their lifestyle needs a change. Trying to budget their lifestyles and frequently going on road trips was just not enough and that's how gradually they started looking for opportunities of making a steady living without being confined to a place.
Creating websites, traversing the globe and standing by each other; this couple says they've learned invaluable lessons on their travel and want to continue their travel forever!
Where They Come From: USA
Where They've Been: 20 countries and still counting
Website: onemoderncouple.com
2. Alesha & Jarryd- Full Time Partiers
Alesha and Jarryd or shall I say Lesh and Jazza (As they like to be called) were nomads since a long time. Incidently, their paths crossed at a hostel in Vancouver. Hitting the roads of Canada in a van since then, Lesh and Jazza bought a one way ticket to Guatemala and thus began their exploration of Central America. Never looked back since then, they are mapping the world, backpacking, surfing and making the most of it!
This multi-talented couple has travelled solo and together, and wants to continue their search of themselves and each other.
Where They Come From: Australia
Where They've Been: 28 countries and still counting
Website: nomadasaurus.com
The couple has some great tips to share from their recent trip to Athens and also a realistic itinerary.
3. Caz and Craig Makepeace- Reclaiming Their Freedom
What sets apart this married couple is not just the fact that they've been on the road for last 16 years and more, but is their practical approach towards travel.
Although they set a fantastic example for couples to travel full-time and call world their home, they believe not everyone want to do it. And however enticing it might seem to leave the job, home and a routine life, there might be people who love their jobs and their home and still want to travel.
So while they are elaborating their travel experiences on their blog, they also cater and inspire people to travel at least on the weekends or take the yearly vacation that will pump up the rest of their year with zest and energy!
Travelling with their beautiful daughters Kalyra and Savannah, Caz and Craig are an inspiration for couples who want to travel for living!
Where They Come From: Australia
Where They've Been: 52 countries and still counting
Website: ytravelblog.com
4. Audrey & Harry- Sweethearts On Road
Cupid struck Audrey and Harry when they were just 18. Married by the time they were 25, Harry took Audrey to Grand Cayman as a gift on her post graduation. Realising how travelling was their ultimate solace, they've set foot on 7 continents since then and continue to do so.
Inspired by couples who quit their job, sold of their belongings and hit the road, Audrey and Harry live their life frugally and travel big! Sharing tips for budgeting a travel, they also vlog on their YouTube channel and inspire other people who want to dream, save and live travel!
Where They Come From: USA
Where They've Been: 49 countries and still counting
Website: thebudgetsavvytravelers.com
5. Toccara & Sam- Living In The Moment
They met at pre-school at the age of three, dated and got married in their late 20's so you can imagine how much in love this couple is! Toccara and Sam are road trippers and adventure lovers. You'll mostly spot them wandering on the cobbled streets of a small European village rather than a flashy cityscape. Hiking the mountains, smelling the fresh foods of a vibrant local market and slurping wine off a local winery is their idea of travel; and they are living it!
They are strong believers of living in the moment and want all of us to forget 'someday' concept and start realising our dreams today, just the way they are!
Where They Come From: Australia
Where They've Been: 25 countries and still counting
Website: forgetsomeday.com


For more travel inspiration, Check out Part 1 and Part 2 of these series!