The Most Exciting Day Trips From Las Vegas!
ROHIN RAJ
Feb 16, 2017
3.8K Views
The City of Las Vegas has always been one of the most sought after tourist destinations in the USA. Relaxed gambling laws, fabulous night clubs, wide variety of shopping opportunities, strip clubs, high end hotels and availability of almost all forms of entertainment options that one can think of have made Sin City a haven for people looking to have an enjoyable vacation! It is a popular destination for bachelor parties and gamblers owing to its exceptional nightlife and countless casinos. Apart from having several
things to do in Las Vegas
, there are also tons of places around Las Vegas that are at easily accessible distances and make a Las Vegas vacation all the more fun. Some of the most popular destinations that are only a short day trip from Las Vegas are:
1. Red Rock Canyon: A hiker's dream come true!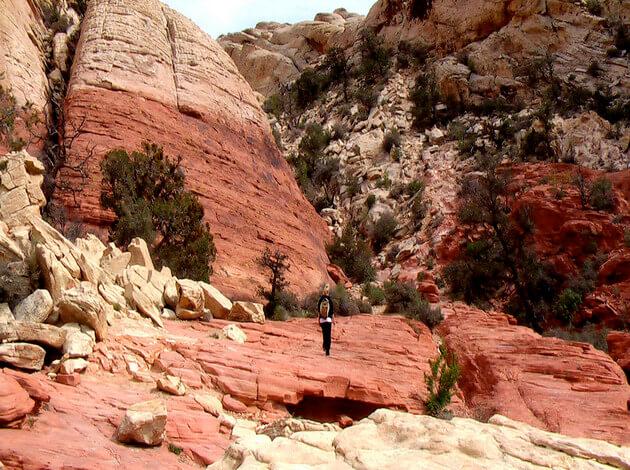 Image Source: Rick McCharles/flickr.com

The Red Rock Canyon is one of the closest hiking destinations from Las Vegas and is visited by millions of visitors each year thanks to its striking rock formations, hiking trails with varying levels of difficulties and rugged natural beauty. The sandstone peaks are perfect for rock climbing and enthusiastic bicyclists can make good use of the loop road! Red Rock Canyon is one of the closest day trips from Las Vegas and also one of the fanciest.
Distance: 20 miles approx.
Duration: 30 minutes approx.
2. Hoover Dam: The Engineering Marvel!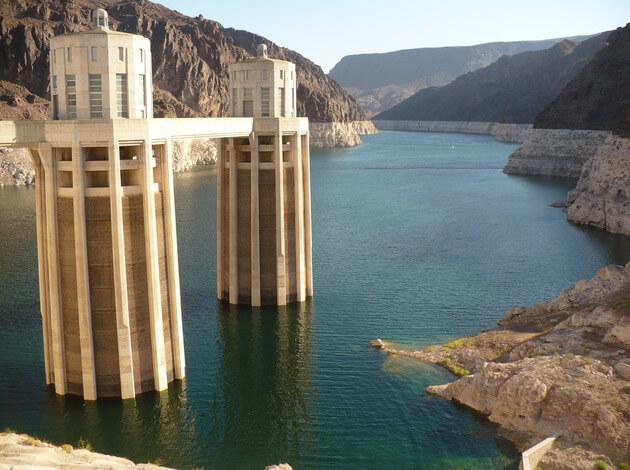 Image Source: Raquel Baranow/flickr.com

Take a short and pleasant drive to the Hoover Dam, which is a behemoth of a structure and will leave first time visitors completely bamboozled with its gigantic size! It was built to satisfy the electricity and water requirements of the growing population in the region. The dam is a massive 726 feet tall and the overlook provides surreal views of the Lake Mead, the dam itself and the surrounding canyons. You can also opt for guided tours of the dam and power plant which provides an insider's look into its construction and interesting trivia.

Distance: 35 miles approx.
Duration: 50 minutes approx.
[ Discover the highlights of the city with these unmissable
Las Vegas Tours
]
3. Lake Mead: The perfect place to chill!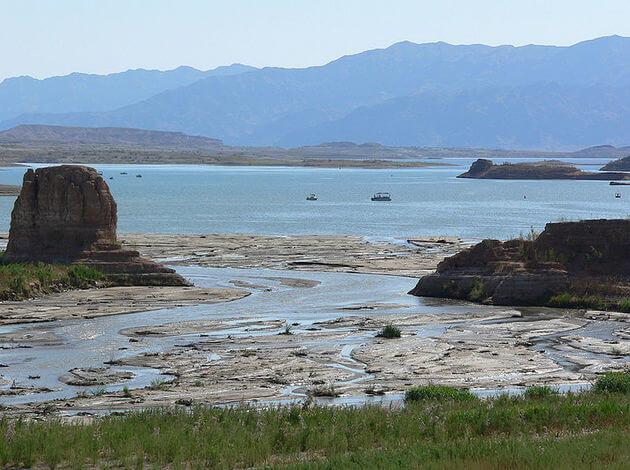 Image Source: Wikimedia Commons
Beat the heat of Las Vegas with a visit to Lake Mead. Not only is it very close to the Sin City, it also one of the largest man-made lakes across the globe. The water in the lake is very calm and perfectly ideal for recreational activities like swimming, fishing, jet skiing, boating and other fun water sports. The fact that the lake is surrounded by tons of beautiful natural attractions also makes a visit all the more enjoyable! If you get hungry then grab a bite at the several restaurants around the lake, or simply head back to Las Vegas to continue the party there.
Distance: 30 miles approx.
Duration: 45 minutes approx.
4. Bonnie Springs Ranch: Once upon a time in the West!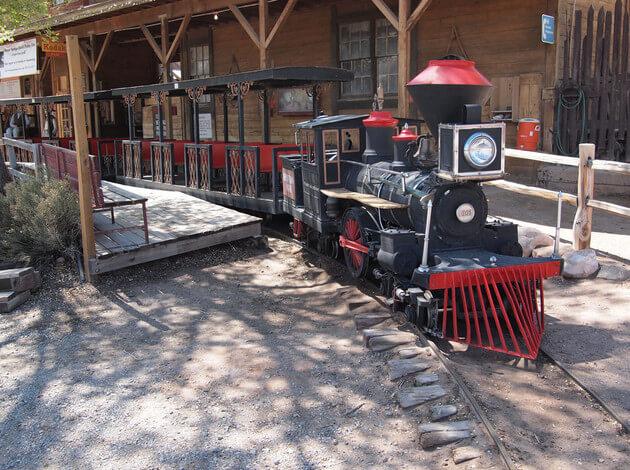 Image Source: rickpilot_2000/flickr.com

Until scientists are able to actually replicate a theme-park like Westworld, you will have to make do with a visit to the Bonnie Springs Ranch. Don't fret though, as the experience here is also as close to the Wild West as it can possibly get! Activities and attractions include horse-back riding, train rides, museums and a zoo, apart from the typical Western stylized town itself. The highlight of Bonnie Springs Ranch, though has to be epic gunfight duels that take place in the town centre! Kids and adults are sure to love the experience and take back lots of wonderful memories.
Distance: 30 miles approx.
Duration: 40 minutes approx.
5. Charleston Peak: Snow in the Desert!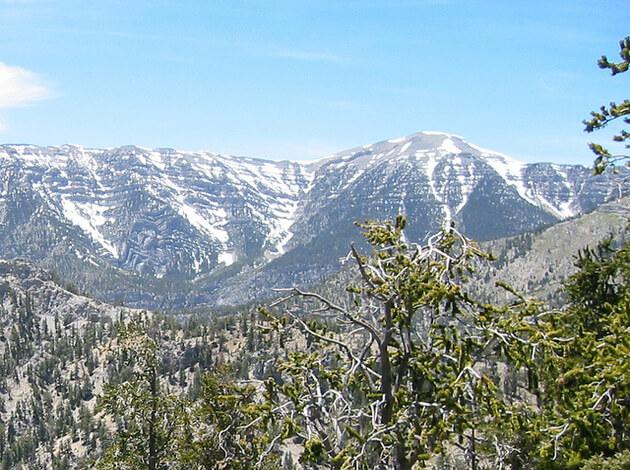 Image Source: Andrew/flickr.com

It is hard to believe that a hot, dry area like the one around Las Vegas could actually have cold weather, let alone a snow-capped mountain! But the Charleston Peak in Nevada, being one of the highest mountains in the state, experiences generous snowfall in the winters and great weather in the summers too. There are several hiking trails for interested visitors, picnic area where you can enjoy a hearty meal and even a small skiing facility, which is though functional only for a small duration of the year.
Distance: 40 miles approx.
Duration:
1 hour approx.
6. Nelson Ghost Town: Watch your back!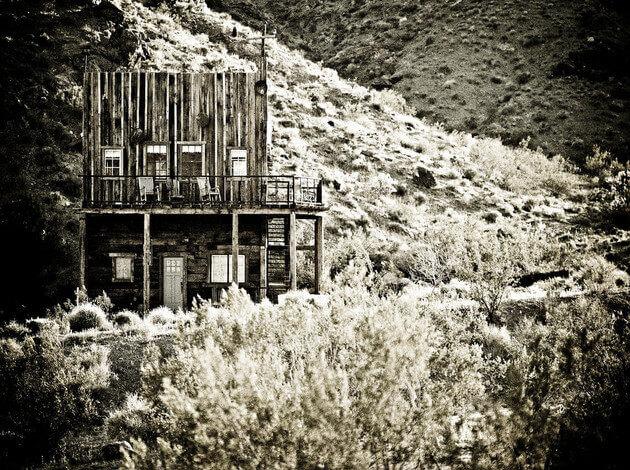 Image Source: Corey Balazowich/flickr.com

Just a short drive from Las Vegas lies the almost deserted town of Nelson or as it is popularly called Nelson Ghost Town. Though for it to be called a Ghost Town, the town should have no people living in it, only 37 residents can also be safely considered to be almost deserted. In the past Nelson used to be very busy, especially during the Gold Rush, when large deposits of the precious metal were discovered here. It also used to be a favourite haunt of outlaws, Civil War deserters and people who wanted to keep a low profile! A perfect backdrop for a classic American Wild West novel right?
Distance: 45 miles approx.
Duration: 1 hour approx.
7. Valley of Fire State Park: The Photographer's Paradise!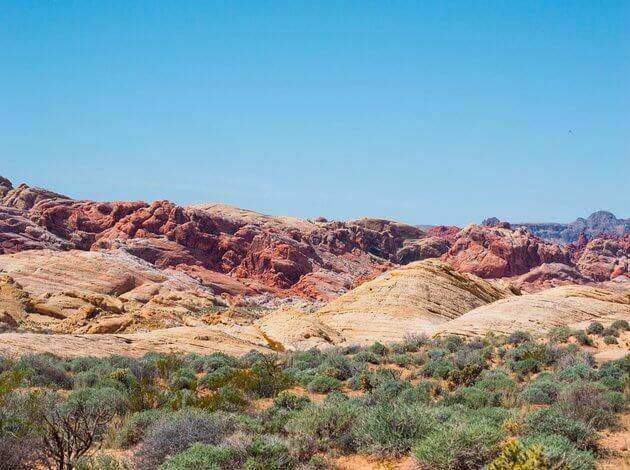 Image Source: Pixabay.com

Named after the red sandstone formations that appear to be on fire under the strong sunrays, the Valley of Fire State Park is one of the oldest state parks in the state of Nevada. It is especially popular amongst photographers and people fascinated by the unique stone formations, spread all over the length and breadth of the park! The park is an easy day trip from Las Vegas and the beautiful road also makes the drive all the more awesome.
Distance: 50 miles approx.
Duration: 1 hour 15 minutes approx.
8. Death Valley National Park: Hot as Hell!

Image Source: Wikimedia Commons
Aptly named for being one of the hottest and driest national parks in all of North America, the Death Valley National Park is located at a distance, ideal for a day trip from Las Vegas. Sightseeing and hiking are the most popular activities in the Park, with people also opting to explore the vast expanse on bikes, 4 wheelers and even feet! People can also check out various attractions and viewing points within the park, the palaeontology tour being especially entertaining and providing an insight into the history of Death Valley.
Distance: 140 miles approx.
Duration: 2 hour 30 minutes approx.
9. Lake Havasu: A cool vacation spot!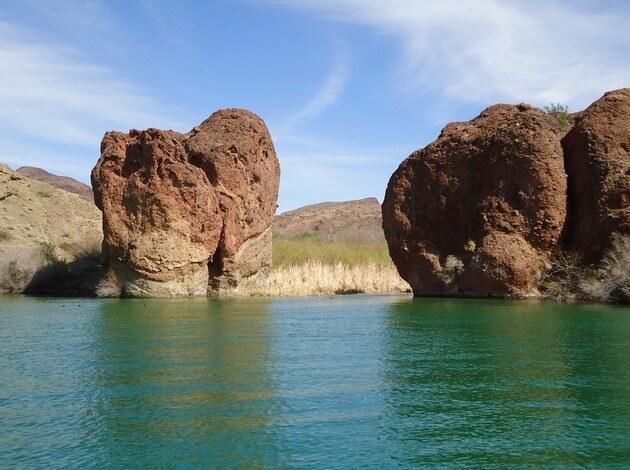 Image Source: Pixabay.com
A relatively longer drive from Las Vegas will bring you to Lake Havasu, one of the most popular vacation spots for college kids at summer break from the surrounding areas. The water is calm and gorgeous while the beach is perfect for working up a summer tan. It is also an excellent escape from the dreaded Las Vegas heatwave, and provides some respite from the concrete jungles of Sin City.
Distance: 150 miles approx.
Duration: 2 hours 30 minutes approx.
10. Zion National Park: Nature's Own!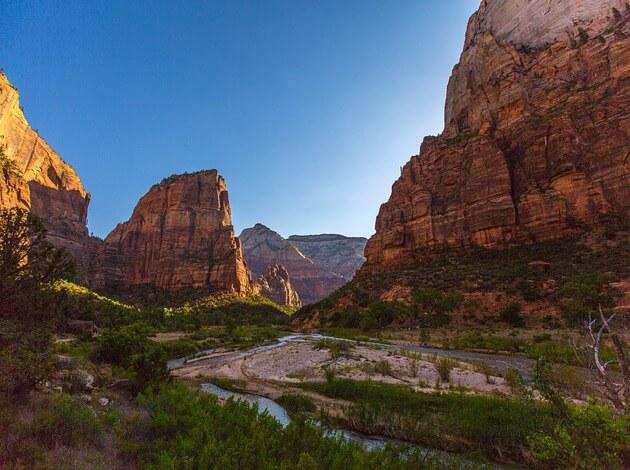 Image Source: Pixabay.com
Though the Zion National Park is located at a comfortable distance from Las Vegas, the park itself is so large and has such a multitude of attractions that people end up staying a day or two here. Though if you like you can easily visit the park, give some of the most popular trails a go and check out the awe-inspiring beauty of the park! There are breath-takingly beautiful sights waiting at each nook and cranny, visitors can choose to roam inside on horseback or simply let their feet wander away. Zion canyon and the Subway are especially a treat to behold along with the many other gems of this fairy-tale like National Park.
Distance: 160 miles approx.
Duration: 2 hour 30 minutes approx
11. Area 51: There's something fishy!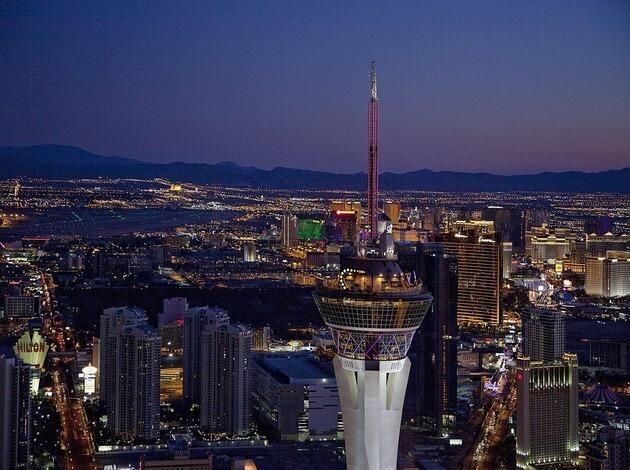 Image Source: Pixabay.com
Billed as one of the most secretive places on planet Earth, Area 51 has been under speculation for years and is said to be a cover for secret UFO and alien studies. The official word claims it to be a testing and development site for latest, secretive flight technology, but theories and rumours continue to float around. Though it is impossible to visit the compound, the area around Area 51 like the small town of Rachel can be visited. Who knows, you might just accidentally spot a flying saucer in the sky or a small grey extra-terrestrial sneaking around?
Distance: 130 miles approx.
Duration: 3 hours approx.
12. Grand Canyon National Park: Nature's Gift to Mankind!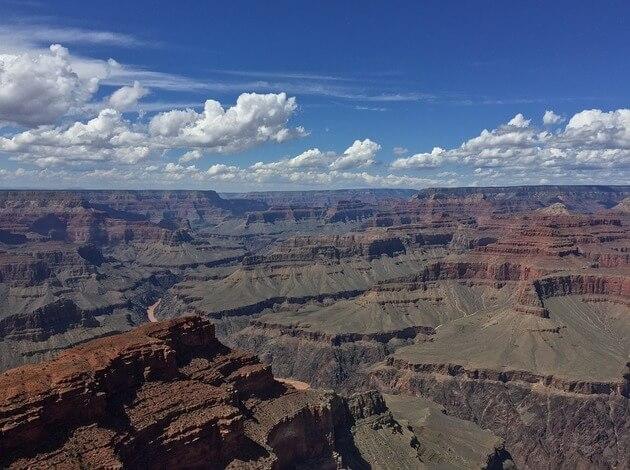 Image Source: Pixabay.com
Though not as close as some of the other places from Las Vegas, the very fact that it is one of the grandest natural wonders of the world makes the Grand Canyon National Park a must-visit place! A lot has been written and documented about the resplendent beauty of the National Park, but you can't comprehend the mesmerizing beauty of the Grand Canyon, unless you personally pay it a visit. This is one experience that you will never forget for the rest of your life, and if you want to save up on time, there's always the option of reaching by a helicopter or go for a weekend trip!

Distance: 270 miles approx.
Duration: 4 hours approx.
13. Los Angeles: La La Land!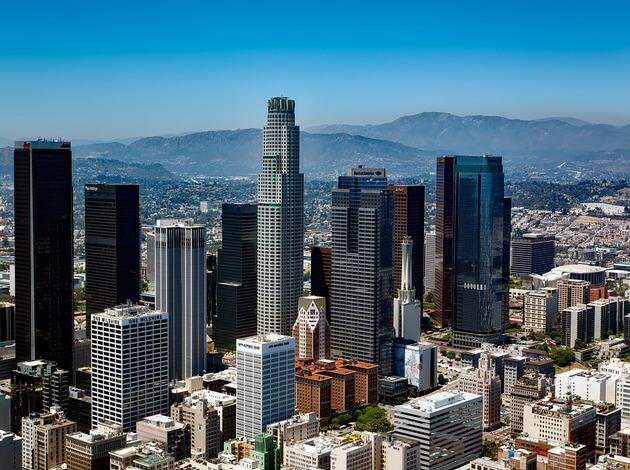 Image Soure: Pixabay.com
Driving all the way to Los Angeles and back on the same day will prove to be a tough task, but if you get a flight then you are sorted for just an hour-long commute! Imagine being in Sin City one instant and the City of Angels the very next! It is definitely one of the most fascinating day trips from Las Vegas that you take and enjoy the glamor of Hollywood while on a tour of Las Vegas at the same time.
Distance: 270 miles approx.
Duration: 4 hours 30 minute approx.
Heading to your next trip?
Trip planning has never been this easy! Create a trip plan from scratch or use trip plans created by millions of travellers worldwide, for free!
Do try out some of these day trips from Las Vegas the next time you are in Sin City! If you know of some more places that can be visited easily, do tell us by writing in the comments section below!