Top 15 Dog Friendly Beaches in California
* Disclosure: This post may contain affiliate links, which means we may receive a commission if you click a link and book something (there is never any extra cost to you for using these links).
Here we are with our list of top dog friendly beaches in California, to inspire you to take the well-deserved break that you and your dog need:
Rosie's Dog Beach
Huntington Dog Beach
Coronado Dog Beach
Carmel Beach
Ocean Beach- Dog Beach
Arroyo Beach
Fiesta Island
Poplar Beach
Monterey State Beach
Del Mar North Beach
Miramar Beach CA
Its Beach
Kiva Beach
Fort Funston Doggie Beach
Noyo Beach
We all have spent hours looking for a new beach, maybe a less crowded one, a clean one or even one where our pets can socialise.
Spent hours surfing the internet to find the beaches in the area, or maybe the ones that are a drive away, or a weekend getaway… What are the hours? The rules? The facilities?
1. Rosie's Dog Beach

With a special Dog Zone for your buddies, Rosie's Dog Beach makes it to the top when it comes to dog friendly beaches in Los Angeles.
It is the only off-leash dog beach in the county, and has all that is required to make your visit here eventful.
The area designated for dogs ensures that your pup can roam around freely and enjoy the cool water.
Very popular amongst the neighbourhood, be prepared to make some new friends here, especially during the weekend!
Amenities: Metered parking, restrooms, dog waste bags, trash cans.
Address: 5000 E Ocean Blvd, Long Beach, CA 90803, USA
Timings: 6am-8pm
Nearest city: Long Beach
2. Huntington Dog Beach

Huntington Dog Beach CA is one of the most aware, and happening dog beaches in the neighbourhood.
Playing a game of fetch and catch the frisbee will never be more fun!
Along with a large area for you to play with your canine, the beach also has a small park with picnic tables to make your day more comfortable.
Known as one of the most preferred beaches in California, it is a must visit for all beach-lovers.
Amenities: Parking, public restrooms, dog waste bags, a grassy area with picnic tables.
Address: 100 Goldenwest St f, Huntington Beach, CA 92648, USA
Timings: 5am-10pm (*dawn till dark)
Nearest city: Huntington Beach, Fountain Valley
3. Coronado Dog Beach

If you are looking for some quiet time with your four-legged friend, it can't get better than this.
Offering lovely views of the city as well as the waters, this beach on Coronado Island will be your personal favourite in no time!
You also have the option of keeping your dog on-leash, or off.
Clean, well-equipped and friendly, you and your dog will have a great time here exercising and playing.
Do try and catch the sunset here, as the ocean looks its prettiest then.
Amenities: Parking, dog waste bags, wheelchair access, water activities, foot shower.
Address: Ocean Blvd, Coronado, CA 92118, USA
Timings: 5 am- 11pm
Nearest city: Coronado, San Diego
Enjoy your weekend stay at any of these hotels!
4. Carmel Beach

This is for all those families who love the sand more than the waves. With the water being a little cold, and the waves strong, you must choose the right season to enjoy this beach to the fullest.
But on any other given day, the soft glittering sand will prove to be much more enjoyable than a dip.
As for your terrier, there are many dogs and their families here for you to meet and play with.
Before you know it, it'll be time to head back home, only to have the images of this serene place and the day's events flashing before your eyes.
Amenities: Parking, public restrooms, dog waste bags, public telephone, toys- tennis balls.
Address: Carmelo St, Carmel-By-The-Sea, CA 93923, USA
Timings: Call park
Nearest city: Carmel-By-The-Sea
Need a place to stay overnight? Click here!
5. Ocean Beach- Dog Beach

Welcome to the doggie paradise of San Diego. Ocean Beach- Dog Beach, also known as The Original Dog Beach, is the stretch of the long beach that is reserved only for our pooches to be let free to enjoy the sun, sand and sea.
For all those who have over-excited pups who simply love to run at full speed, this beach has the largest expanse saved for you.
The air is energetic, and the vibrancy grows on you.
Watch your pup enjoy the warm waves here, while you just sit back and enjoy the gorgeous view.
There is also a Beach Dog Wash nearby, for your furball to be squeaky clean again.
Amenities: Parking, public restrooms, surfing.
Address: Ocean Beach Bike Path, San Diego, CA 92107, USA
Timings: 24 hours
Nearest city: San Diego
Here are the accommodation options near Ocean Beach- Dog Beach.
6. Arroyo Beach

The Arroyo Burro Beach County Park is an oceanfront, ready to be your next weekend getaway.
Your pet is sure to give you a broad toothy smile at the end of the most exciting day that you would have spent here.
With a variety of activities for doggies, kids and adults, this should make it to the top of your list!
Even if you don't live in the city, this beach is definitely worth a road trip.
Amenities: Parking, dog baths.
Address: 2981 Cliff Dr, Santa Barbara, CA 9310, USA
Timings: 8 am- Sunset
Nearest city: Santa Barbara
7. Fiesta Island

The island may have got its name way back, but it stays true to its name today, especially for dog families.
With most of the island being an off-leash beach, you are free to let your dog explore the place.
The quiet bay makes for a great swim for people, as well as their furry friends.
The sand dunes too are exciting, especially if you like playing fetch.
Amenities: Parking, picnic area.
Address: 1590 East Mission Bay Drive, San Diego, CA 92109, USA
Timings: 6am- 10pm
Nearest city: San Diego
Worried about the peak season rush? Make your hotel bookings in advance!
8. Poplar Beach

One of the busiest, yet amongst the top dog friendly beaches in Half Moon Bay, is the Poplar Beach.
Known to welcome animals, you will see many dogs as well as horses here.
The hiking trails nearby are open to both, which make for a little green amongst the golden and blue.
You can easily spend a day here with your pooch, strolling, playing, hiking and more!
Amenities: Parking, public restrooms.
Address: 250 Poplar St, Half Moon Bay, CA 94019, USA
Timings: 24 hours
Nearest city: Half Moon Bay, Lobitos
Want to extend your stay here, book now!
9. Monterey State Beach

Monterey State Beach is a protected beach, where your pooch must be on-leash.
A perfect place for an early morning walk, or a quiet evening stroll with your pooch, this beach is spotlessly clean.
If your pup is over excited, a couple of hours here, and he'll peacefully sleep through the night.
The entire beach may not be dog friendly, but the area which is, is sure to excite you all.
Amenities: Parking, public restrooms, wheelchair accessible, drinking water.,
Address: Monterey Peninsula Recreational Trail, Sand City, CA 93955, USA
Timings: Call park
Nearest city: Sand City, Monterey, Seaside, Pacific grove
10. Del Mar North Beach

Kids and pups is a wonderful combination. Entertaining one another, their relationship is quite special.
Visit this beach to bond with your children, as well as your canine.
Watching them play, squeal with excitement and have their own silly moments will probably be enough of an activity for you.
You can soak in the sun and watch them splash around in the waters.
Make sure you carry your camera to capture those giggling faces!
Amenities: Parking, public restrooms.
Address: 3200 Camino Del Mar, Del Mar, CA 92014, USA
Timings: NA
Nearest city: Del Mar, Del Mar Heights, Solana Beach
Your trip can be completed here. Just choose your accommodation!
11. Miramar Beach CA

Miramar Beach CA is a quiet nature retreat, away from the crowd and the busy city.
One of the popular dog friendly beaches in Half Moon Bay, you will be surprised by its purity and solitude.
While weekends may have more people visiting this site with their doggies, it will still be an enjoyable experience, meeting new people and making some friends.
Amenities: Parking, public restrooms, showers, biking, surfing.
Address: Half Moon Bay, CA 94019, USA
Timings: NA
Nearest city: Half Moon Bay, Lobitos
Planning a weekend trip to the Miramar Beach CA, book a hotel here!
12. Its Beach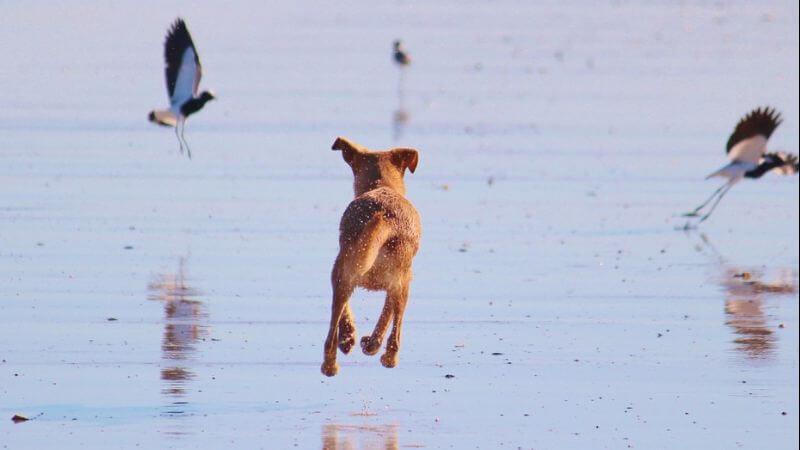 Its Beach, which is commonly known as, Mitchell's Cove Beach is an urban beach. With a distinct, energetic vibe to it, this beach is often visited by all those who are in the neighbourhood.
The off-leash hours are exciting, as it is then that your dog can jump around and play in the lovely soft sand.
It is a perfect place for both locals as well as tourists, with its glorious views and friendly crowd.
Amenities: Parking, public restrooms, showers, water fountains, surfing.
Address: W Cliff Dr, Santa Cruz, CA 95060, USA
Timings: 8am- 6pm
Nearest city: Santa Cruz
Click here to book your hotel near this beach!
13. Kiva Beach

Kiva Beach is set on the banks of Lake Tahoe.
If you are planning to spend a couple of days here with your family, you couldn't gift your pet anything more precious.
Offering the most exclusive activities, this entire area is pet-friendly.
The Kiva Beach is an on-leash beach, so it's perfect for walking and jogging, while the natural area around it has trails for you and your pooch to explore.
Amenities: NA
Address: California 96150, USA
Timings: NA
Nearest city: Carson City
14. Fort Funston Doggie Beach

Image Source: Pixabay.com
This is a "Doggie Beach" in the real sense. With hundreds of wagging tails loitering around, you and your pup are sure to have a ball.
The water is brilliant and fresh, the beach clean, and the area offers a number of trails… what more can you ask for! One of the most popular dog friendly beaches in bay area, many tourists as well as locals enjoy exploring this nature reserve.
Amenities: NA
Address: Fort Funston Rd, San Francisco, CA 94132, USA
Timings: 7am- 9pm
Nearest city: San Francisco, Daly City
Click here to book your weekend accommodation!
Check Out: Pet Friendly Restaurants In San Fransciso
15. Noyo Beach

Another addition to the list of off-leash dog friendly beaches in California is the Noyo Beach.
Unlike the other beaches, this one will excite you with its rocky terrain. Its ruggedness is fresh and natural, which includes the lovely sand and the quiet waves.
If your pooch loves to smell all kinds of stuff (something my pup can't resist!), he will have a great time with the driftwood, seaweed and of course, the rocks!
It is also a quiet, uncrowded place, if you're looking for some bonding time.
Amenities: NA
Address: Fort Bragg, CA 95437, USA
Timings: 6am- 9pm
Nearest city: Fort Bragg
Read below a few points to enjoy your day on the beach with your dog for maximum fun and safety.
TIPS
A holiday with the entire family is the best chance to create some memorable moments. I'm sure a trip to any of these beaches will prove to be very thrilling for all of you. But in this excitement, let's not forget that our doggies call for some extra responsibility. Following are some tips for you when you plan a visit to any of the top dog friendly beaches in California.
Rules
While all the beaches may have more or less the same rules, make sure you go through their rules before you plan your visit. They may be regarding cleaning up, vaccination, temperament, on/off-leash, timings, number of dogs per person, area assigned, and more. Following them will only make sure your holiday mood isn't disturbed. Choose one that fits your needs the best!
Newbies
Welcome to all the people who are new to the dog and beach combination. Remember, your pup is new to this too, and baby steps while introducing him or her to the sand and water is the best way to go!
Protect
Like always, a name tag, a microchip, or some form of identification is a must. Prepare for the worst, and protect your dog from it.
Control
Being in a public place, and letting your pooch off-leash is a responsibility. Understand your dog's mood and temperament, and make sure you have sight and/or voice control. If he looks a little moody, keep him on the leash!
Play safe
Remember, the ocean and the waves are unpredictable. Enjoy your game of frisbee and fetch, but make sure you keep the depth of the water in mind.
Cleaning up
This is probably the most important tip, but "common courtesy" made it come so farther down the list. Cleaning up after your dog is your responsibility. And while poop-scoopers and bags may be available at most beaches, carrying your own bags is always better.
You're all set now. Let nothing hold you back from treating yourself with this incredible experience. Pack your essentials and jump into your car with your canine, and this list of the best beaches in California. Set out on this beach expedition, and have the time of your life!
You May Also Like To Read:
Best Beaches in Northern California