20 Best Office Buildings In India That Will Amaze You!
UPDATED Oct 17, 2018
28.5K Views
1. Infosys, Mysore: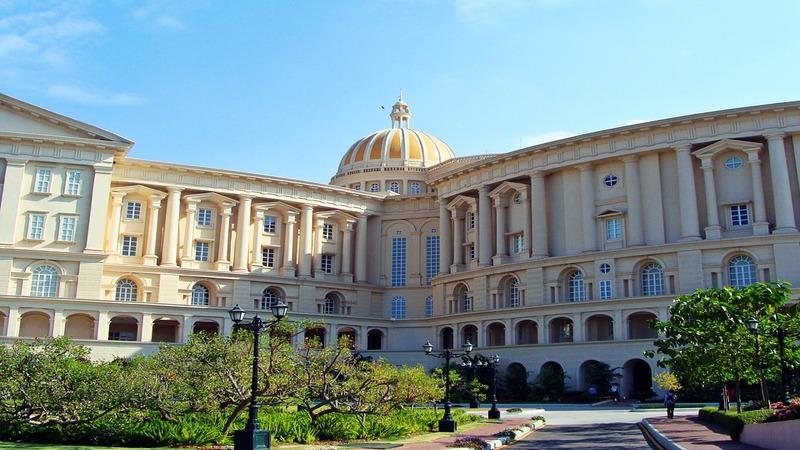 Image Source: Pixabay.com
Looks like a palace doesn't it? Spread across 350 acres, the Infosys campus in Mysore even houses a cinema hall and a massive sports complex! Is this the best office building in India or what? But wait, there is more!
2. Tata Consultancy Services, Siruseri: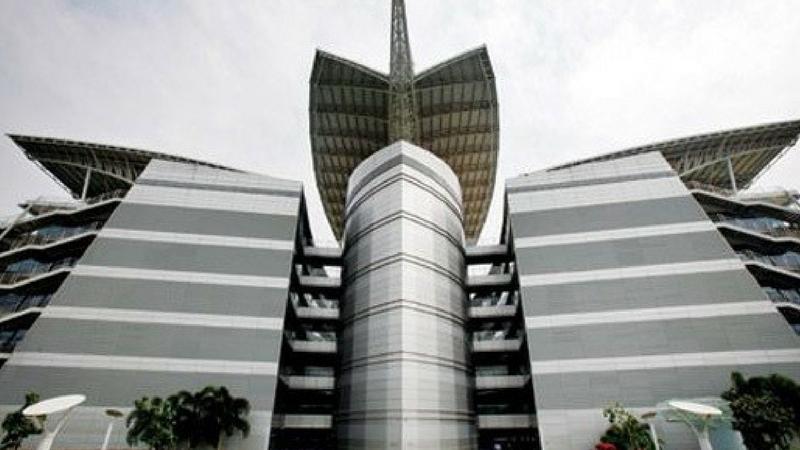 Image Source: news18.com
This beautiful butterfly-shaped campus of Tata Consultancy Services, Siruseri is spread across 70 acres. Within the campus you will find a gym, running circuits, swimming pools and even a mini golf course!
3. Cybertecture Egg, Mumbai: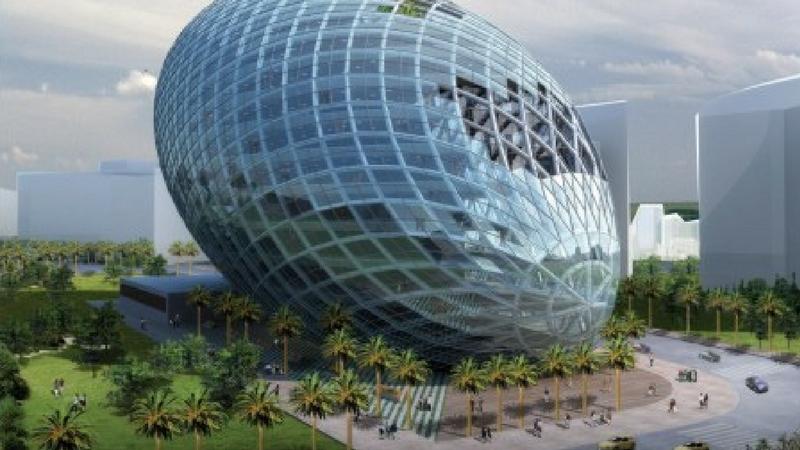 Image Source: nbmcw.com
A visually stunning architectural marvel, this building was designed by James Law Cybertecture. Presently under construction, the site of the project is at plot C70 of Bandra Kurla Complex. Once complete, you will find many offices within this 33,000 square meters wide egg.
4. Shree Cement, Jaipur: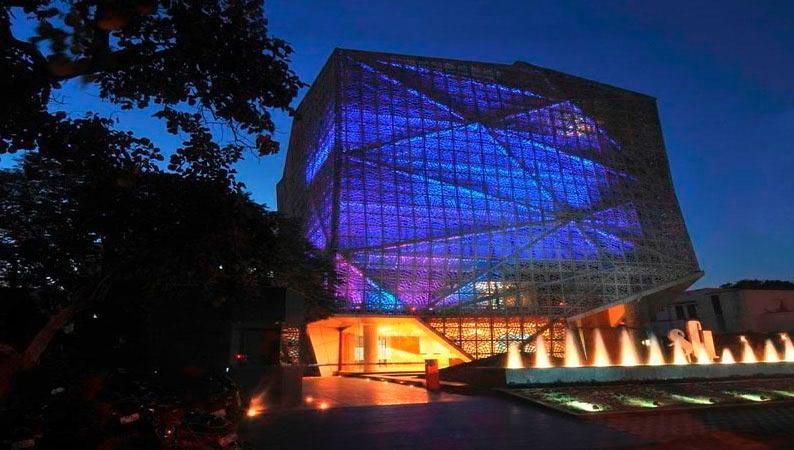 Image Source: worldarchitecture.org
Popularly known as the '72 Screen Building', Shree Cement's LED studded office building in Pink City Jaipur is a magical one! It is safe to say that the building is one of the most intelligently crafted workplaces in India.
5. Fisheries Department Building, Hyderabad:
How cool is this building belonging to the National Fisheries Development Board, Hyderabad?! The four storeyed building is also known as Matsya Bhavan and is spread over five acres.
6. Engineering Design and Research Centre, Chennai: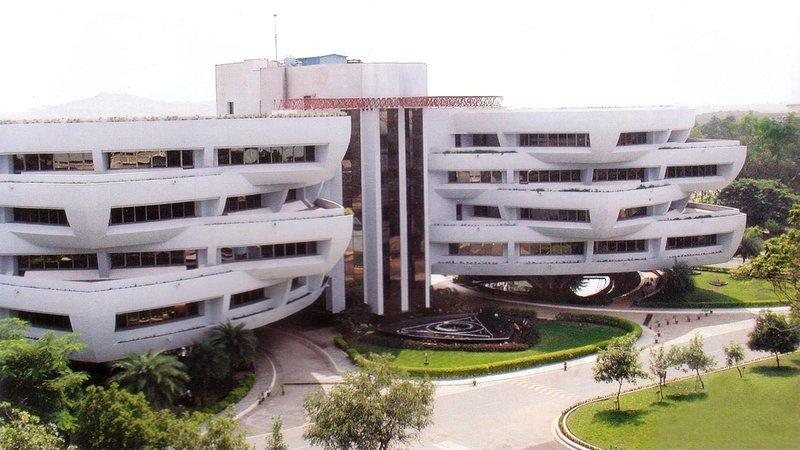 Boasting of uninterrupted air-flow, this building belonging to the Engineering Design and Research Centre sits in the lap of lush greenery and has consistently made it to the list of top green corporate offices in India.
7. The South Asian Human Rights Documentation Centre, New Delhi: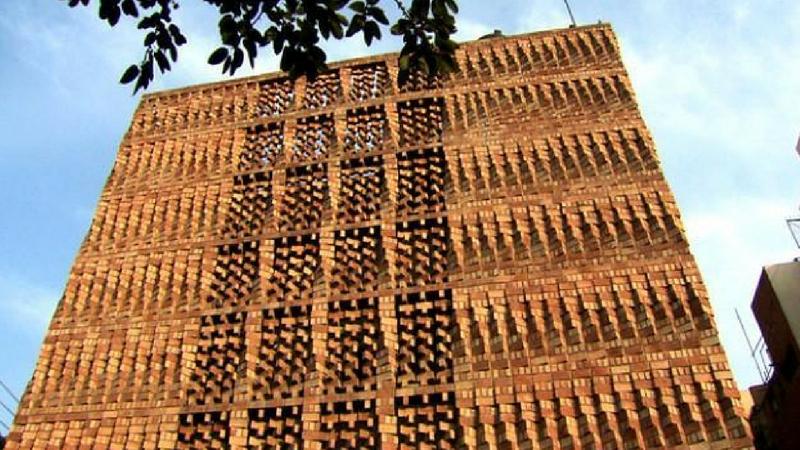 Image Source: juliewalters.org
As one can see, the South Asian Human Rights Documentation Centre's building has striking and meticulous brickwork. Using energy saving methods such as natural lighting, the building is exposed to direct sunlight all throughout the day.
8. I-Flex Solutions, Bangalore:
The I-Flex Solutions building located at C.V Raman Nagar, Bangalore has as a rather unusual design. Spread across a floor space of over 144,000 square feet, this architecturally stunning building has incorporated energy-saving methods such as special provisions for natural light and natural ventilation. It has also won multiple awards as one of the best architectural buildings in India and we can see why!
9. Infosys, Pune:
Infosys features again on the list! And you can see why! Not to mention what's beautiful on the outside is also in the inside and boasts as the best office interiors in India!
10. Adobe Headquarters, Noida:
Keeping in line with its logo's vibrant colours, the Adobe Headquarters building in Noida is beautifully colourful and also considered as one of the largest campuses in India for commerical use!
11. Twisted Bata Building, Gurgaon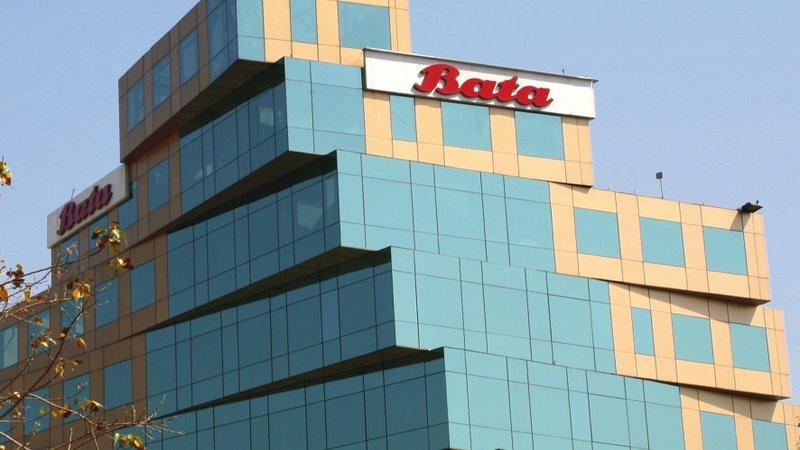 Image Source: world.bata.com
Imagine a pile of cubes stacked upon one another; that's the Twisted Bata building for you. To add to the visual appeal, there even is a glass cube structure close to this building that looks as if fell from the stack!
12. Patni Knowledge Park, Navi Mumbai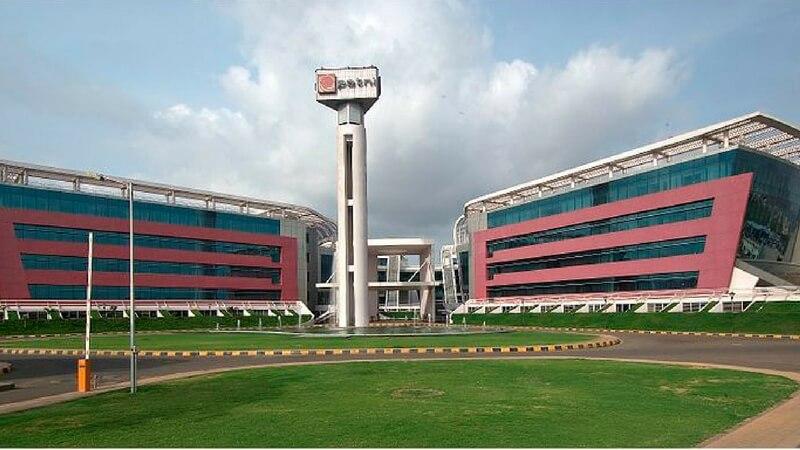 Image Source: Wikimedia Commons
This is easily one of the most eco-friendly commercial buildings in the country. It has been provided with several energy saving facilities and is a part of the green initiative campaign of the company.
13. L&T Infotech Campus, Chennai
The Chennai office of L&T is one of its biggest in the country. The sandy facade interspersed with green spaces makes it look like an oasis in the middle of the commercial hub.
14. Bharti Airtel Office, Delhi NCR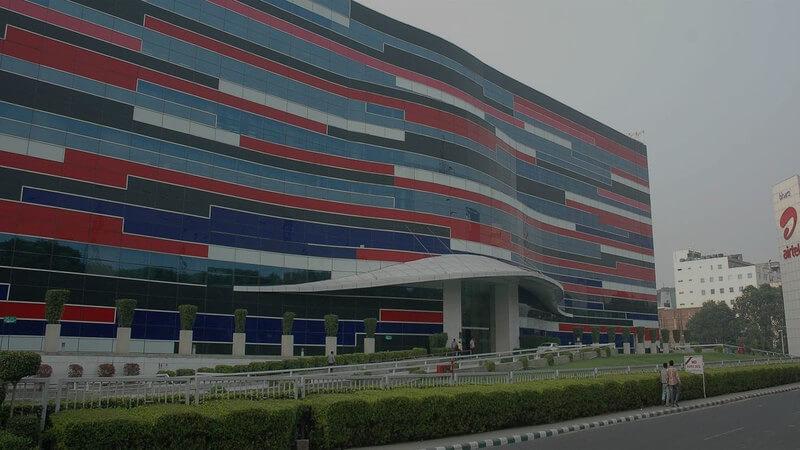 Image Source: airtel.in
At one glance, the Bharti Airtel office looks like a Lego project. The rectangular building would have passed as ordinary if not for the burst of red, blue and white on the facade. Look closely, you may also see the rippled effect on the building.
15. DLF Gateway Tower, Gurgaon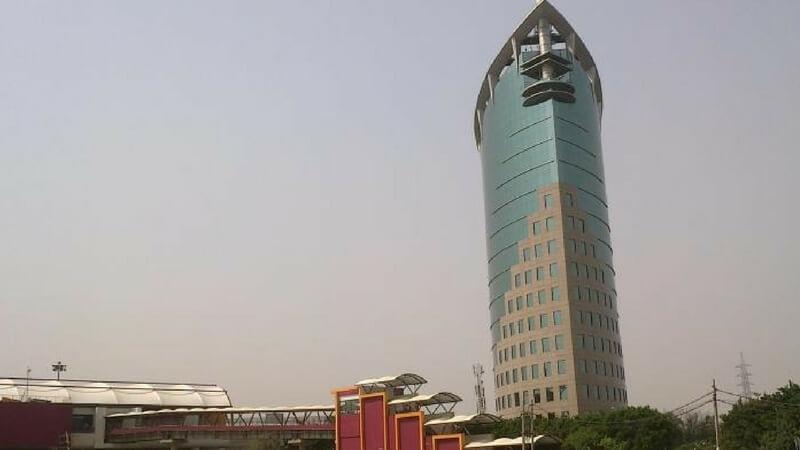 Image Source: Wikimapia.org
Gurgaon's skyline has a wonderful gem in the form of the DLF Gateway Tower. Shaped like a ship, this structure serves as a compact yet abundant office space.
16. Eon IT Park, Pune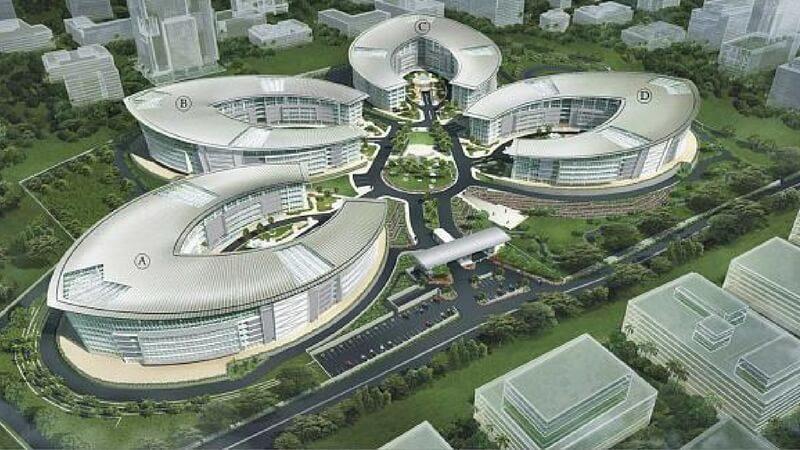 Image Source: Wikimapia.org
Shaped like four horseshoes placed facing one another, Eon IT Park is one of the most efficient office buildings in the country. Spread over 45 acres, it tries its best to reduce environmental damage with the help of rainwater harvesting and electric car parking spaces etc.
17. Statesman House, New Delhi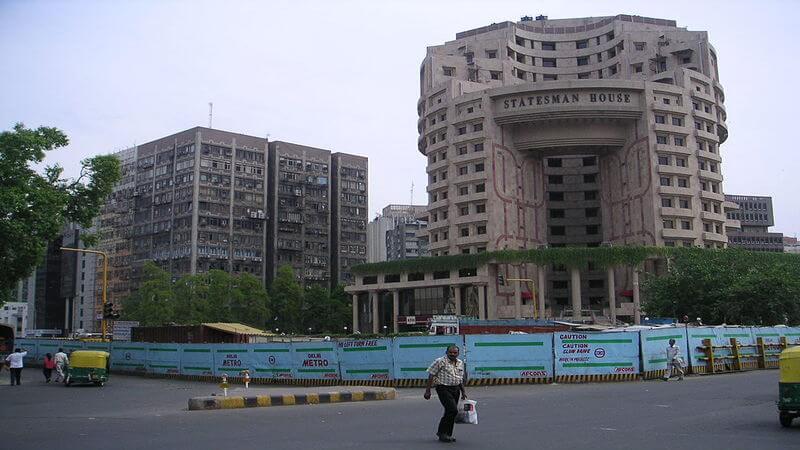 Image Source: Wikimedia Commons
The Statesman House in New Delhi has the appearance of a hollowed out cylinder. Its regular structure may confuse you as construction yet to be completed!
18. UB City, Bangalore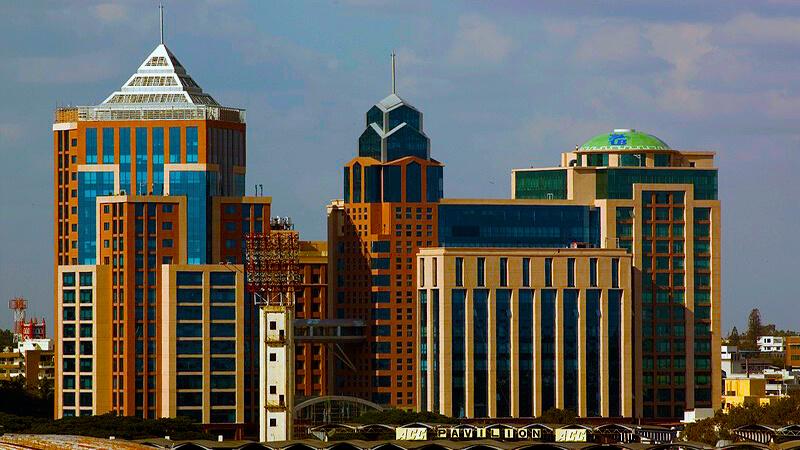 Image Source: Wikimedia Commons
Dripping with luxury, the UB City complex looks like a piece of paradise in the middle of Bangalore. The four towers part of this cluster are home to retail spaces, commercial spaces and service apartments as well.
19. IT Park, Chandigarh
The IT Park complex in Chandigarh is a complex of block structures interconnected to each other. This is perfectly contrasted by the burst of green spaces that reflect pristinely in the glass facade of the offices.
20. Cyber Towers, Hyderabad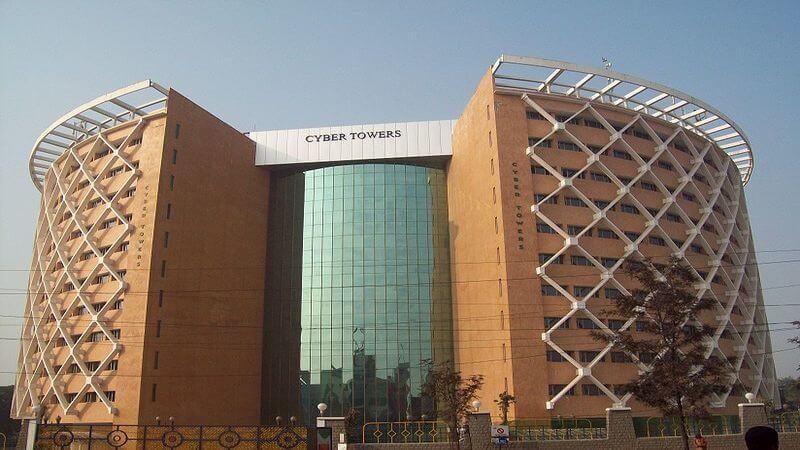 Image Source: Wikimedia Commons
Cyber Towers is one of the first offices built to aid the growth of the IT sector in India. The whole structure is divided into four quadrants circled around a fountain that serves as the main lobby.
Which is the best office building in India you've set your eyes on or do you work in any of the mentioned companies already? If you do, you must be making people so jealous of your workspace!
If architecture is your thing, you may also like:
11 Most Strange Buildings Across The World
Houses Built By Using Recycled Bottles
6 Amazing Houses Built Around Tree