15 Most Romantic European Honeymoon Destinations
* Disclosure: This post may contain affiliate links, which means we may receive a commission if you click a link and book something (there is never any extra cost to you for using these links).
It can be a daunting task trying to decide which place would be the ideal for your honeymoon in the vast geography of Europe. To make it easier for you, we have listed the best European honeymoon destinations.
1. Corfu, Greece

PC: Arthur Sproat/ Flickr.com
Its rare to find the intoxicating combination of unadulterated beauty and cultural wealth. A beauty with brains, Corfu is a unique concoction that is both highly likeable and exciting. From vertiginous villages to lush cypress forests, Corfu has all the makings of a good romantic film. Of course, the cobalt blue waters are as sparkly as a brilliant sapphire. Corfu can quite easily be counted as one of the best European honeymoon with a beach. Don't forget to see the Paleokastritsa Beach and the dreamy Old Town of the city. Great couple activities here are cycling and scuba diving. Corfu is also a great place to enjoy delectable seafood specialties.
2. Crete, Greece

PC: Pom Angers/ Flickr.com
Crete seems like it's been born out of an artist's imagination. Pink-hued sand and warm Mediterranean waters offer the perfect romantic setting. Crete seems to have it all;rugged canyons and jagged cliffs, mystical caves and glorious orchards. But what it offers honeymooners cannot be found in one thing in particular but rather an all-encompassing feeling - a tranquil sense of peace and reassurance that the beauty of pure love is really emanated back by the universe. Crete offers some exciting sightseeing too; couples can explore the enchanting Palace of Knossos, the Old Venetian Harbor which is great to walk around and the Aquaworld Aquarium too.
Best Time to Go: Mid May to June and September to October
3. Santorini, Greece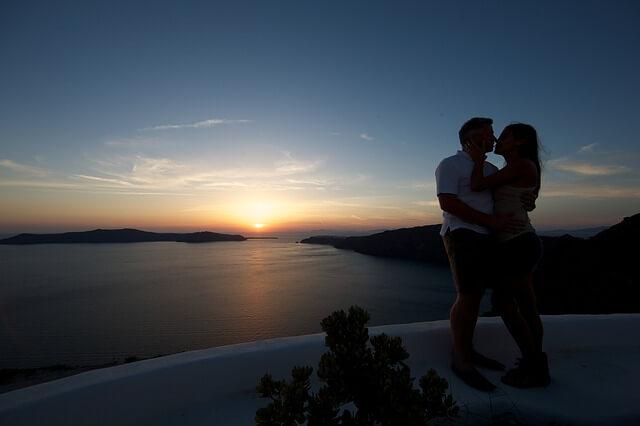 White and blue Cycladic houses and the endless indigo sea is what comes to mind when you think of Santorini. Unquestionably one of the most romantic places in Europe for a honeymoon, Santorini wins your heart even before you step foot on it. Set in a volcanic crater, this island is achingly pretty, so much so that you mistake it for a dream. Some of Greece's finest sensory experiences await the discerning traveller at Santorini. The ideal way to experience Santorini is to take a hike together and enjoy the panoramas. Couples can also explore the Wine Museum and take a romantic wine tasting tour in a vineyard.
4. Dubrovnik, Croatia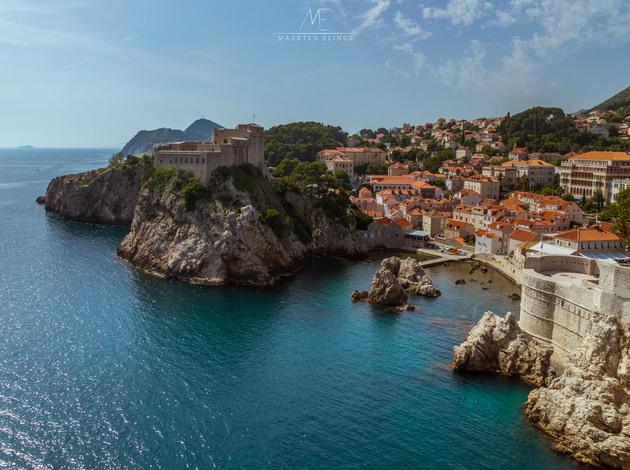 PC: Martin Elings/Flickr.com
At Dubrovnik, prepare to be inspired. The baroque charm will fill up even the most jaded soul with warmth and romance. The marbles streets glimmering in the sepia glow of the sun with the Adriatic glistening in its magical endlessness, Dubrovnik deserves many postcards and frames. The Old Town hides a wealth of stories for slow travellers and besotted couples and the azure waters of the sea tempt you to leave your worries behind and take a dip. Dubrovnik is one of the greatest places to visit in Europe for honeymoon. If both of you are 'Game of Thrones' fans, don't forget to take the Game of Thrones Walking Tour. You can also try kayaking in the sparkling blue waters of the Adriatic.
5. Prague, Czech Republic

PC: Roman Boed/ Flickr.com
Whether you love beer or are a fan of the whimsical, Prague will entice you with its unending glory. An aimless wanderer's dream come true, Prague is a mish mash of the beautiful and the quaint. Where the old fashioned rubs shoulders with the hip and trendy, Prague offers so much in so little. Bohemian in spirit yet non-conformingly orderly, honeymooners will love Prague for its charming nooks and artsy vibe. Watch how time slows down at the beautiful Petrin Park and take a vintage car ride across town, Prague has a number of romantic things to do. You can also lock in your love forever at the bridge over Mala Strana.
Best Time to Go: Late May, June and September
6. Paris, France

PC: Moyan Brenn/ Flickr.com
Paris is a love affair by itself. It leaves an imprint on your soul for eternity and a fuzzy feeling that lingers on long after you leave. Paris is by far one of the most romantic places in Europe for a honeymoon. Much has been said in its praise to make this city instantly recognizable even for first timers. But its priceless artistic treasures, chic vibe and mystical revelations surprise even a repeat visitor. Not to mention, Paris is quite possibly one of the most eclectic gourmet destinations in the world. Walk hand in hand by the river or proclaim your love by the Eiffel, Paris will bring out the best in every romantic. Couples can also head to the Temple Romantique at Bois de Vincennes to experience the mushiest Parisian sunset. Take a French cooking class together to take back more than just some boring souvenirs.
Best Time to Go: June to August
7. Amalfi Coast, Italy

PC: Boss Tweed/ Flickr.com
The Amalfi Coast is where you'd want to get lost and never be found. Its where seductive beauty lulls you into a dream-like state that's too incredible to be real. Watch how mighty mountains melt into the turquoise sea and how lush forests reveal stunning little towns that are wistfully sleepy and postcard pretty. A number of small towns dot the coast, of which Positano and Amalfi are most popular. But rest your head where you may, the Amalfi Coast leaves an indelible mark on you and turns you into a believer.
8. Tuscany, Italy

Tuscany seems like it's a renaissance masterpiece. Tuscany has enchanted every visitor that passed by its gorgeous landscape, whether it's the Romans or the Caucasians or the ordinary bedazzled tourist. Tuscany is for you if you are a lover of the finer things in life ; rustic food, classic art and slow living. Amidst olive groves and golden wheat fields, you will finally feel like you've arrived in the heart of Italy. It is one of the most brilliant European honeymoon destinations for sure. A very romantic thing to do in Tuscany is to indulge in the bounty of food and wine that this region produces. Take a vineyard tour and sample some incredible tasting wines and also take in the stunning views from the Dome of Santa Maria Cathedral in Florence.
9. Istanbul, Turkey

PC: Moyan Brenn/ Flickr.com
Istanbul is vibrant, alive and beating. It has a personality like no other European city ; warm, boisterous and humorous. History is embedded in almost every step you take. It's a sheer delight to see layers of the past unfold as you walk down its mystical lanes. Istanbul makes you want to break out in a dance like that of the dervishes in abandoned joy and reverence. Istanbul is an intoxicating blend of culture and cosmopolitan living and this is what makes it a must do in your European honeymoon itinerary. Don't miss the relaxing massages at the Turkish Baths and for some movie-like romance, take a horse drawn carriage ride across the town.
Best Time to Go: September to November
10. French Riviera, France

PC: Paul Rysz/ Flickr.com
Are you craving for a glamorous honeymoon? Like the one that movie stars and millionaires have? The French Riviera which is one of the finest luxury honeymoon spots is your perfect starting point. Whether you choose the handsome city of Marseille or settle for the charm of Cannes, the impossibly blue Mediterranean waters and shimmery white beaches will steal your heart. Yes, you'll find oodles of panache hidden even in nature's design at this azure coast. Head to Provence or St Tropez or Nice even, you will be immeasurably impressed by France's glorious coast. A lovely souvenir to take back home is a perfume that's made just for you according to your personality.
11. Seville, Spain

PC: Eleazar/Flickr.com
Seville is your very own time machine. It's an illustrious peak into the past and panacea for the weary soul. It's true, Seville is a lover's dream come true. A city where you feel as much as you see, Seville is a sun drenched kiss on the cheeks of incurable romantics. Flirtatious and magical, Seville reveals itself to you slowly but with much historic grandeur. From Moorish charisma to Roman ruins, we promise you that leaving this place will be the hardest thing you do on your honeymoon. Seville is famous for its tapas and there's no better place to learn how to make them together than here! Take a rejuvenating massage and dip at the Arabian Baths and later on head for a traditional flamenco performance to round off a perfect day.
12. Montreux, Switzerland

PC: Kosala Bandara/ Flickr.com
If peace and quiet and romantic strolls sounds your kind of holiday, then Montreux is one of the best European honeymoon destinations for you. Simple yet not boring, gorgeous yet not overbearing, Montreux will please you with its delightful atmosphere. The Old Town is a flaneur's dream come true with cobbled streets and ancient stories strewn all over. The visuals of the thirteenth century fortress markets will win your heart and as you get comfortable in this town, you will feel time slow down. While you're here, do check out the Chateau de Chillon and take a walk on the Lakeside Promenade Fleuri.
13. Budapest, Hungary

PC: Moyan Brenn/ Flickr.com
With views that will melt any cynic's heart, Budapest is a honeymooner's paradise. Poignant in parts but smilingly resilient, Budapest is the amalgamation of dramatic historic events and unnerving resolve of its people. But on the bright side, it is also the place where you will find plenty of bathhouses and natural hot springs. A great way for some relaxation and rejuvenation, bathing in one of these springs is sure to refresh you thouroughly. Architecturally brilliant and a gourmand's heaven, there's not much else you can ask for on your European vacation. A dinner cruise on the Danube river is a lovely way to enjoy a meal. The magnificent views from Castle Hill will be one of the most romantic thing you do in Budapest.
Best Time to Go: March to May and September to October
14. Ljubljana, Slovenia

PC: Lorenzo Magnis/ Flickr.com
Petit by surprisingly pretty, this Slovenian capital is quietly winning hearts of honeymooners around the world. One of Europe's greenest cities, Ljubljana is a revelation for sure. With the emerald green Ljubljanica River flowing through its green heart, you'll find a countryside town stuck in the body of a big city. Cute cafes and a good dose of historical heritage, Ljubljana offers a brilliant combination and relaxed and lively. A walk around the Old Town can prove to be incredibly heartwarming and also a day trip to the gorgeous Lake Bled.
Best Time to Go: June, July and August
15. Istria, Croatia

PC: Zsolt Breky/ Flickr.com
Istria, befittingly is a heart shaped peninsula that has all the makings of a perfect European honeymoon destination. A great offbeat vacation, travelling to Istria gives you the opportunity to experience rural charm and rustic elegance. With plenty of secluded spots, Istria is perfect for those impromptu snuggles and pecks. With the pretty Adriatic sea for company and some mouthwatering food on offer, Istria is one of the great places to visit in Europe for a honeymoon.
Over a glass of fine wine and with nature's choicest bounty surrounding you, Europe will make you fall in love with each other again. When the backdrop is this magical, there's little doubt that your European honeymoon will be one of your best memories ever.