14 Most Delicious Ice Cream Dishes of India
* Disclosure: This post may contain affiliate links, which means we may receive a commission if you click a link and book something (there is never any extra cost to you for using these links).
It is a truth universally acknowledged that ice-creams are the most sinful desserts prepared on this earth. Since traditions are meant to be broken and the same holds true for the art of preparing ice creams as well! With the dash of unexpected these desserts can leave some of the most delectable experiences in your mouth. Let us see some of the ice cream dishes that have taken this world by a storm:
1. Strawberries With Ice Cream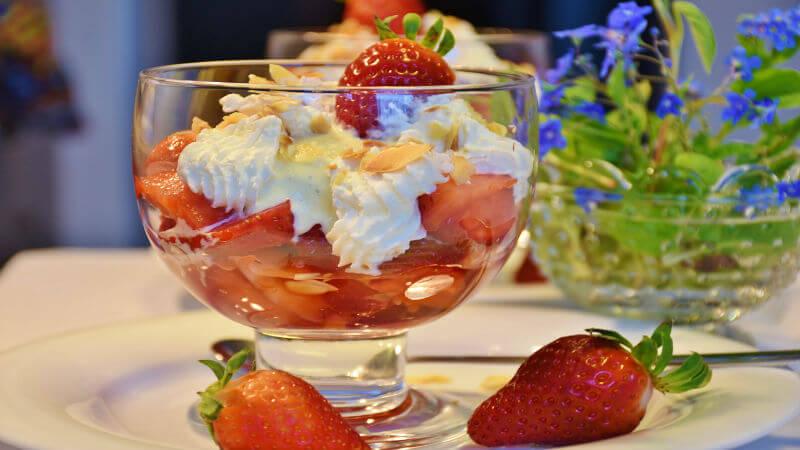 Image Source: Pixabay.com
Where : Mapro Garden, Mahabaleshwar
Velvety ice cream meets the sweet, juiciness of strawberries in this frozen summer treat. Head to the strawberry capital of India, Mahabaleshwar. The best part of their menu is the ice-creams. Since Mahabaleshwar is pretty famous for its strawberries, all their ice-creams have generous portions of fresh strawberries, large enough to fill you up.
2. Falooda
Image Source: Wikimedia Commons
Where : 12/13, Fruit Lane, Aminabad, Lucknow Prakash Ki Kulfi.
Falooda, this Indian dessert has kept the generations cool since ages. Rich creamy kulfi topped with falooda and rose syrup is a dessert which finds a place at every Indian heart. Nothing can beat this Indian variant of ice cream.
3. Gulab Jamuns and Ice Cream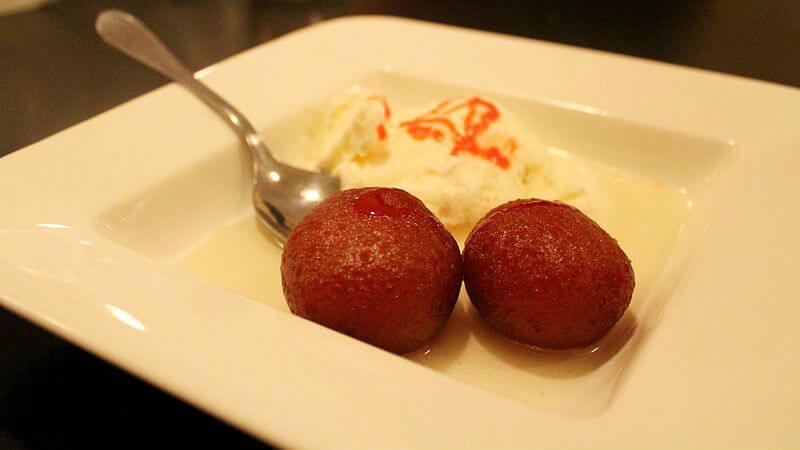 Image Source: Wikimedia Commons
Where : Chandni Chowk, Delhi
This is our own desi style that pairs up hot with cold. Pair those hot and delicious dumplings with miss sophisticated ice cream and you get the best of both the worlds.
4. Chilli Ice-Cream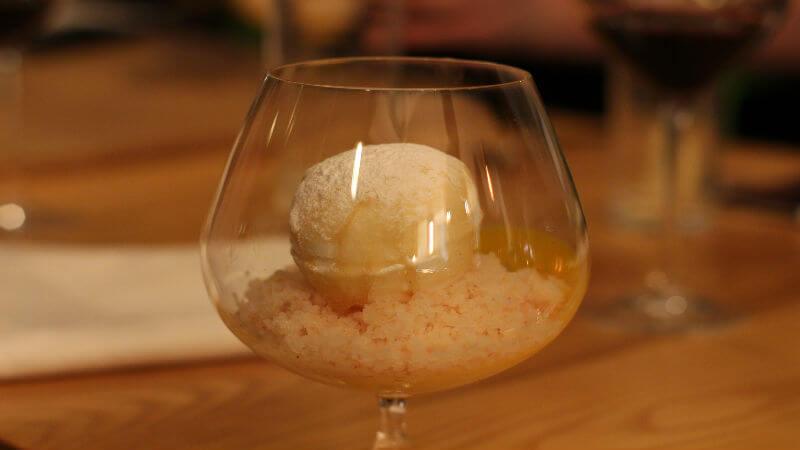 Image Source: Chris Pople/flickr.com
Where : Bachelors, Marine Drive, Mumbai
Have you ever expected those sugary ice creams to be sprinkled with(ahem! not choco chips) but chilli. Taking a flight even away from fantasy, the vanilla ice cream today comes with chilli powder shining mysteriously from above. With the juxtapository flavours of vanilla and green chillis, this preparation offers you a riot of gastronomic delight. Even your taste buds will be left confused as to what you take inside.
5. Waffles and Ice Cream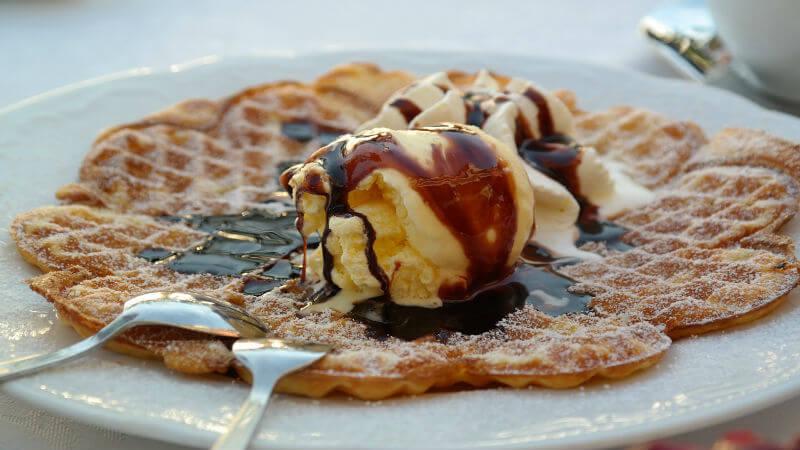 Image Source: Pixabay.com
Where : Abhi Ruchi, Narhe, Pune, Maharashtra
Topped with fresh fruits, a scoop of ice cream, and a dollop of whipped cream, a good waffle is something that you can eat every day. For those of you who prefer something simpler, waffle with maple syrup and butter is equally gratifying.
6. Kolkata Meetha Ice Cream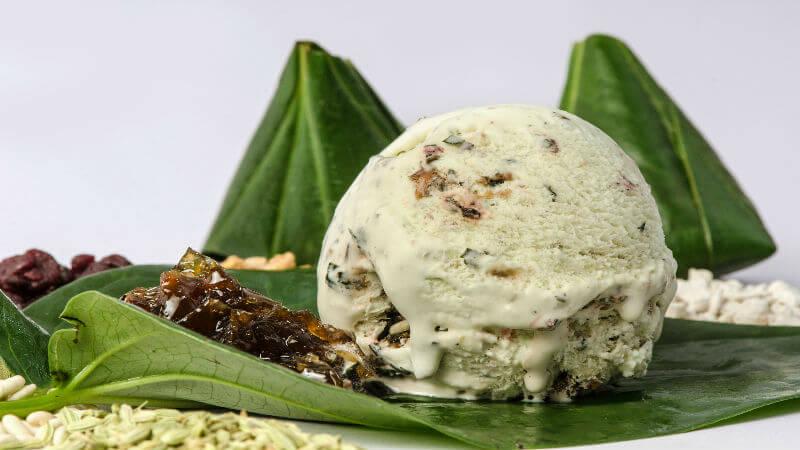 Image Source: Zomato.com
Where : Amaya Indian Grill and Kitchen, Phoenix market city, Mumbai
If you are left with an after dinner dilemma: dessert or paan? Then this ice cream dish is the answer. It's got gulkand, little sultanas and shredded betel nut and coconut.
7. Chewy Fudge Brownies with Ice Cream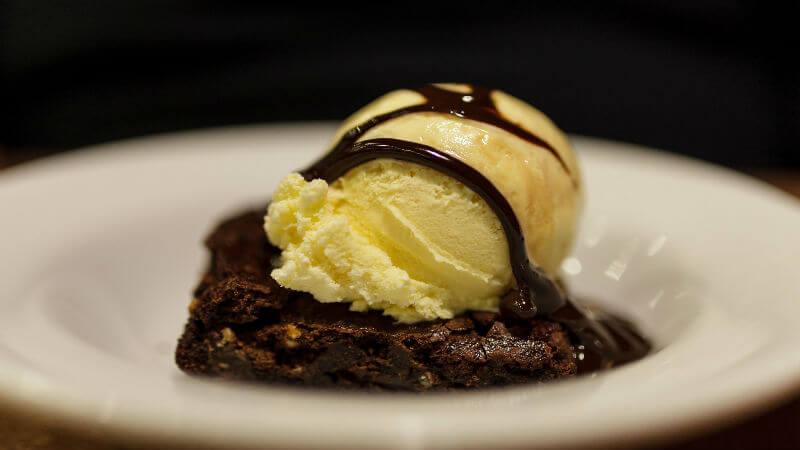 Image Source: rpavich/flickr.com
Where : 1225, 26th Main, 9th Block, Jayanagar, Bangalore
Chocolate, chocolate everywhere! The warm and hard texture of the brownie goes perfectly with the creaminess of the cold ice cream. Tweak the brownie with a scoop of ice cream.
8. Jack Daniels Ice Cream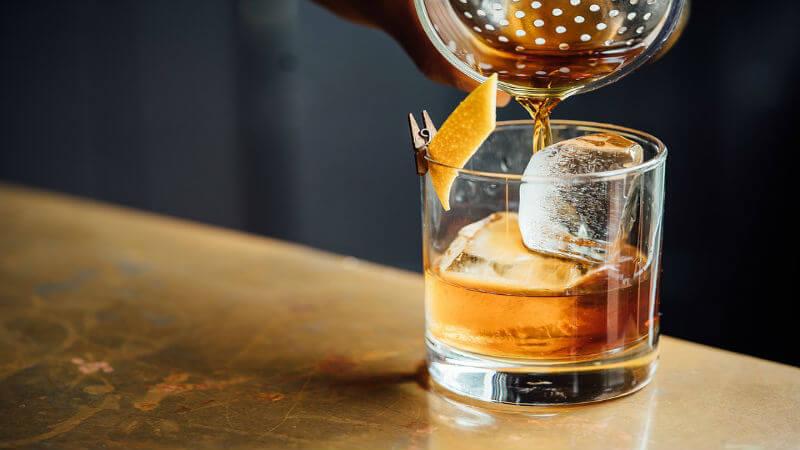 Image Source: maxpixel.freegreatpicture.com
Where : Bungalow 9, Bandra West, Mumbai
Combine your ice cream with coke or Alcohol, this preparation will leave you on a high note! We mean it literally!
9. Smoked Avocado Ice Cream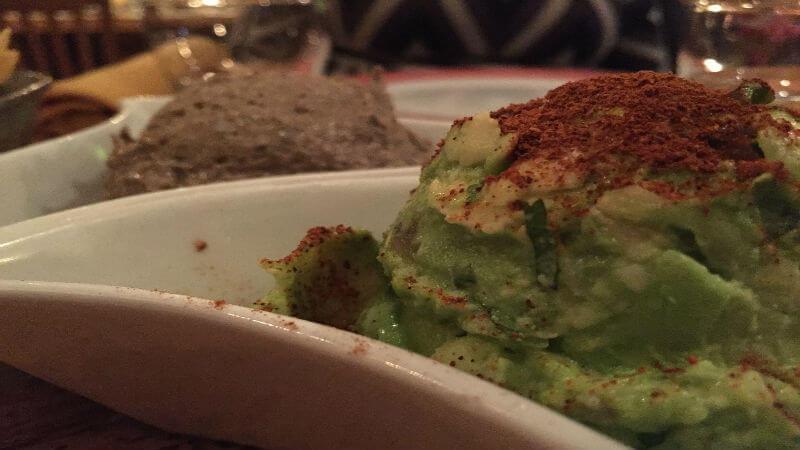 Image Source: Pixabay.com
Where : Burma, Fort, Mumbai
Avocado that adds a velvety edge to ice-cream, and pairs incredibly well with chocolate!
10. Spicy Guava Ice Cream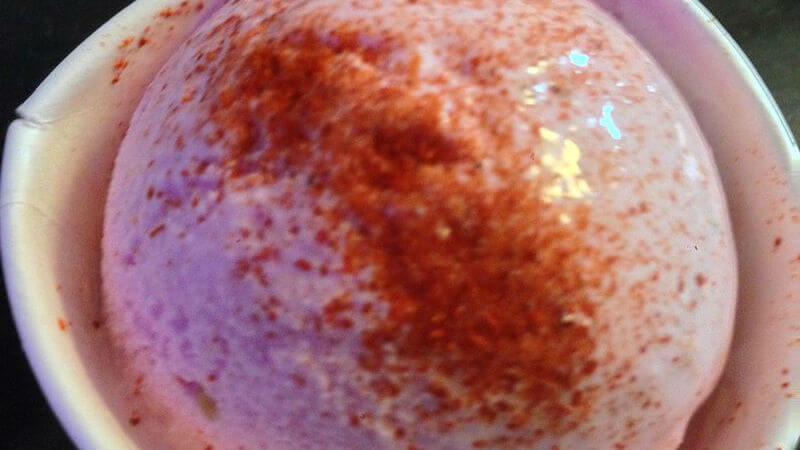 Image Source: Wikimedia Commons
Where: Bina's Homemade Ice cream, Chowpatty, Mumbai
If you're interested in creating a recipe from scratch and you happen to love guavas, then we've got the perfect flavour for you: cinnamon and anise-spiked guava ice cream. This recipe has received rave reviews for having an incredibly light, refreshing and fruity taste.
11. Blue Cheese and Honey Ice Cream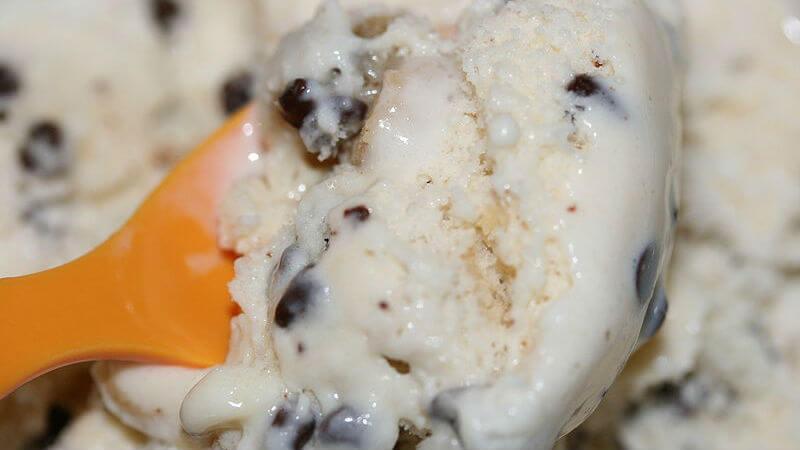 Image Source: Wikimedia Commons
Where : The Caramel Carousel, Bandstand, Mumbai
The combination of fire and ice! If you've never experienced what happens to your palate when you mix the strong taste of blue cheese with the soothing mellow notes of honey, this ice cream could change your life.
12. Beer Popsicles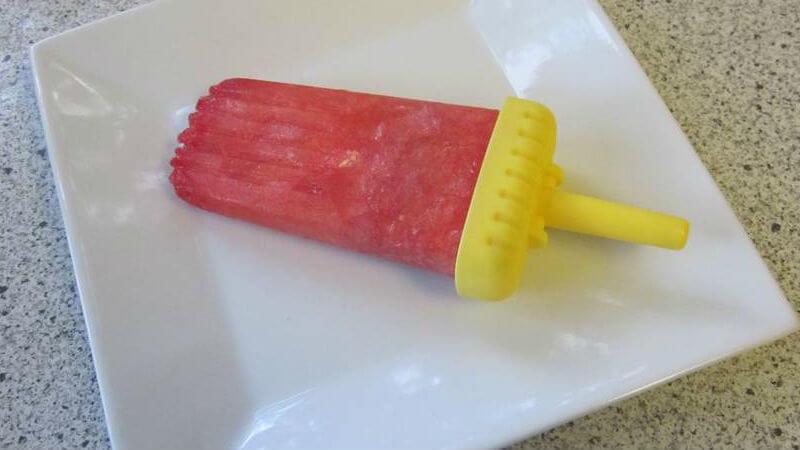 Image Source: Jennifer Chait/flickr.com
Where : White Owl, Lower Parel, Mumbai
Want to relive your childhood? But many of us would want to do it with a dash of adulthood. Have those dizzying beers in chilled form! A beer popsicle is the perfect answer to a refreshing beverage on a hot day; plus, no can or bottle required!
13. Dry Fruit Delight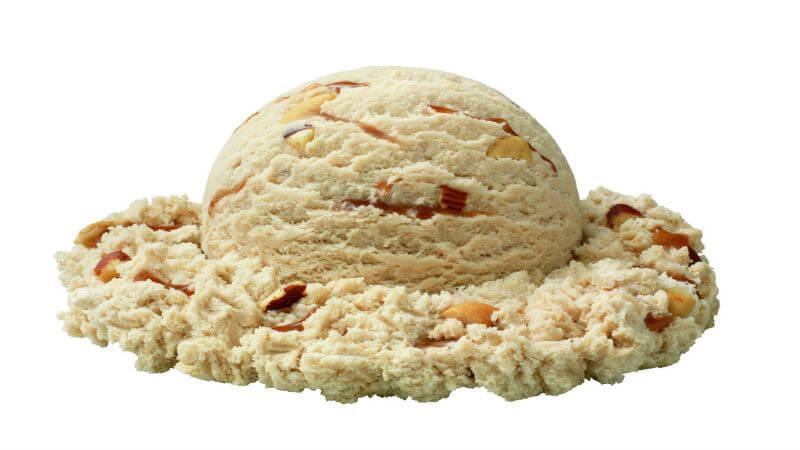 Image Source: Blue Bunny/flickr.com
Where : Creamstone, Baner, Pune
The goodness of dry fruits gets seductive with dry fruit delight preparation by Cream Stone! To add to that Cream Stone also offers diet-free and sugar-free ice-creams, besides frozen sundaes (hot chocolate fudge and death by chocolate), mini concepts (chocoreo and devil's brownie), kids concepts (candy land, magic pop and bubble gum), nutty concepts (dry fruit delights), fresh fruit, chocolate and seasonal concepts.
14. Watermelon Frozen Ice Cream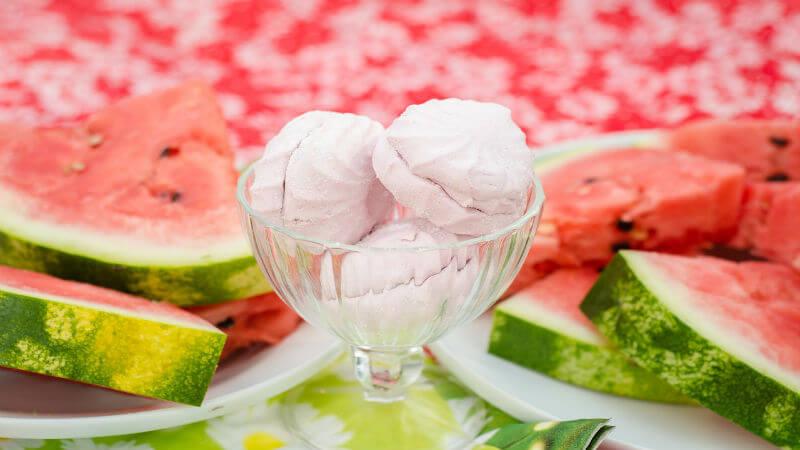 Image Source: Pixabay.com
Where: Frugerpop, Sec-29, Gurgoan, NCR, Delhi
Chilled becomes chiller with this ice cream recipe that soothes your mind and body on those hot day. Just imagine that you are sucking those waterfilled fruits without the annoyance of seeds in between!
So which of this ice cream dish would you like to try? Let us know.
You may also like to read:
14 Exotic Ice Creams That You Must Try in Mumbai
Scoop It, Lick It, Indulge! - Incredible Ice-Creams Across the Globe
9 Places Where You Can Indulge in the Best Chocolate Desserts in India