Cultural Festivals that Adorn the Land of Madhya Pradesh
* Disclosure: This post may contain affiliate links, which means we may receive a commission if you click a link and book something (there is never any extra cost to you for using these links).
Madhya Pradesh-the land where cultures conflate and create a seamless yarn, is home to some of the biggest and most alluring cultural festivals of India. Situated in the center of our country, Madhya Pradesh exudes a certain cultural and aesthetic charm owing to its geographical location which permeates through many other dominant states of India. Its food, people, historic landmarks tell the stories of the state's majestic past weaving a narrative with the modern world. Needless to say, the festivals that adorn this land come laden with mythological and legendary beliefs, literary values and cultural nuances. A collage of these festivals will let you have a tete-a- tete with India's traditional beauty that has stood through the ravages of time and has still managed to create a niche in the present-day cosmopolitan world. Moreover, their presence is inextricably linked to Madhya Pradesh tourism as a whole. Let us have a look at cultural festivals that adorn the vast and varied land of Madhya Pradesh and make it even more prominent in the tourism map of India.
1. Pachmarhi Festival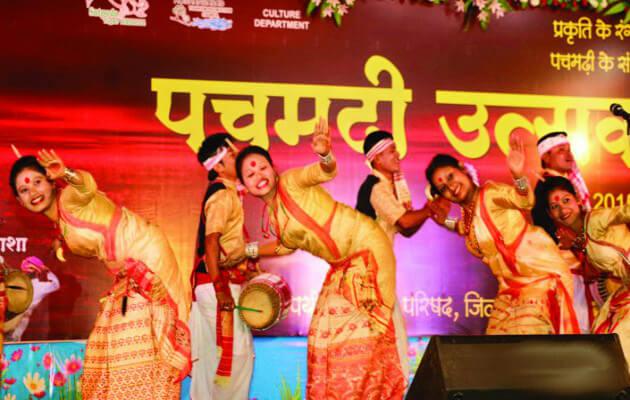 Image Source: Patrika.com
When: December
Where: Pachmarhi
When you hear that there is a festival in Pachmarhi, a paradisiacal landscape in Madhya Pradesh, you would definitely like to visit it. After all, where else would you find this alluring combination of nature and culture! This festival is a six days event recurring every year to offer you a voyage into a cultural journey across Madhya Pradesh. Beginning with art exhibitions and crafts fair, this festival culminates in performances to send you into rapturous heights. The festival turns into a big shopping venue as various stalls are put up selling local artifacts and tribal crafts. Mythologically speaking, this festival celebrates the wedding of Lord Shiva and Parvati but is celebrated in a way to showcase the tribal and folk art that belongs to the mesmerizing land of Madhya Pradesh. By promoting local bamboo products, this festival generates a kind of interest in eco-sensitivity as well as the need to use environment-friendly objects. They also hold flower shows so as to draw people towards natural beauty and an understanding to preserve the environment. Through the flower show, this festival also rivets people into flower farming and its advantage to the nation as well as ecology as a whole.
2. Khajuraho Dance Festival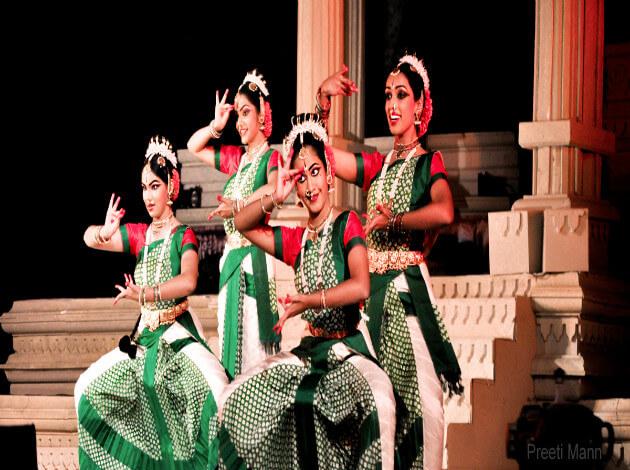 Image Source: Preeti Mann/Khajuraho Dance Festival
When: February-March
Where: Khajuraho
Set against the dramatic backdrop of Kahajuraho temples, this dance festival has won many accolades ever since its inception. It is a one-week long festival that delineates an array of Indian classical dances that includes Kathak, Bharathanatyam, the temple dance of Odissi, the musical dramas of Kuchipudi, Manipuri and Kathakali. Weaving magic through coalescing visual arts and music, this festival almost sends you into dizzying epiphany. The open-air auditorium offers a stage in front of Chitragupta Temple or Vishwanath temple where elegant dancers dance and bring the culture of Madhya Pradesh alive. This festival is a celebration of the immortal art of Khajuraho and its timeless suggestive erotic beauty.
3. Lokrang Samaroh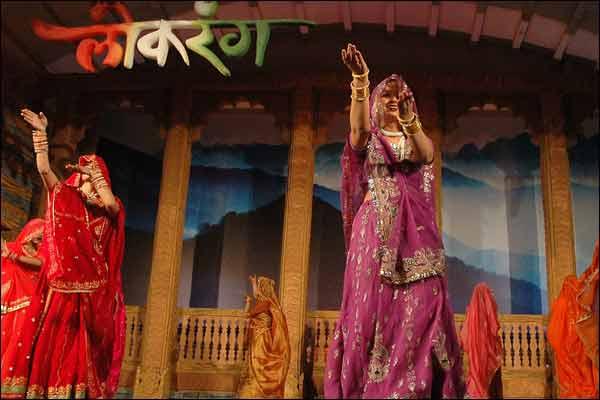 Image Source: BBC. com
When: January
Where: Bhopal
Held in the effervescent city of Bhopal, the Lokrang Samaroh pays a tribute to ancient Indian culture within a span of 5 days. The attempt is to glorify that culture which might come to an end if not resurrected in time. It concentrates on portrayal of cultures and states that span across India. So what you see here is the spectacular ensemble of Lavani, north Indian dances, Himachal performances and many other displays of exuberant cultures thriving in India.
4. Malwa Utsav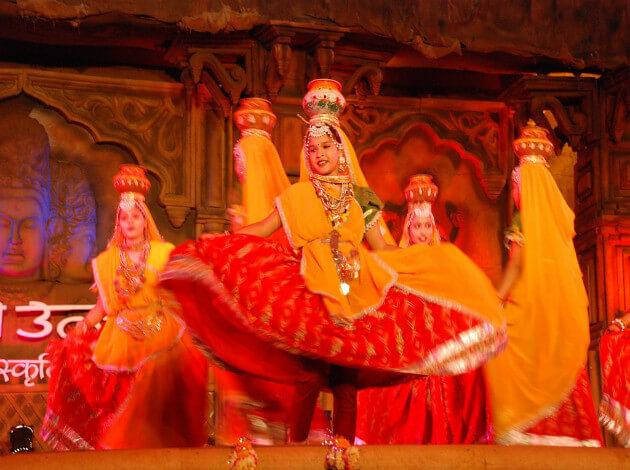 Image Source: Sheetal Saini/Flickr
When: May
Where: Indore and Ujjain
A cacophony of Indian Classical Dances, this Festival seeks to enthrall us into the spectacular Indian culture. The elegant dance steps, colourful and royal clothes and varied themes create an everlasting impression on the mind of onlookers who get bewitched by them. There is a complete immersion in the culture, spirit and the essence of India and Madhya Pradesh as various artists and connoisseurs of art come here to delve into ecstatic moments. Art and craft workshops, cuisine stalls add a nuanced understanding of the respective cultures that they exhibit.
5. Tansen Music Festival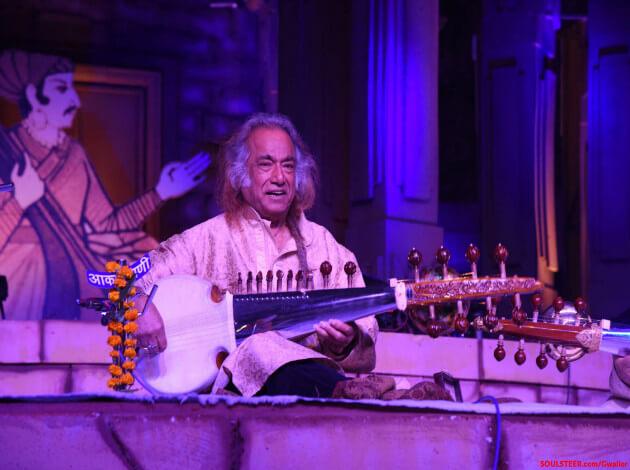 Image Source: Gwalior Event
When: December
Where: Gwalior
Needless to say, this festival celebrates one of the most prominent music performers of India, Tansen whose contribution surpasses any mention in our history. Held near the tomb of Tansen at Behat, this festival is observed as various singers come and perform before the enraptured audience. The Mughal architectural design of the tomb adds to the beauty and allure of this festival, offering a mélange of art, ecstasy, and music.
6. Allauddin Khan Sangeet Samaroh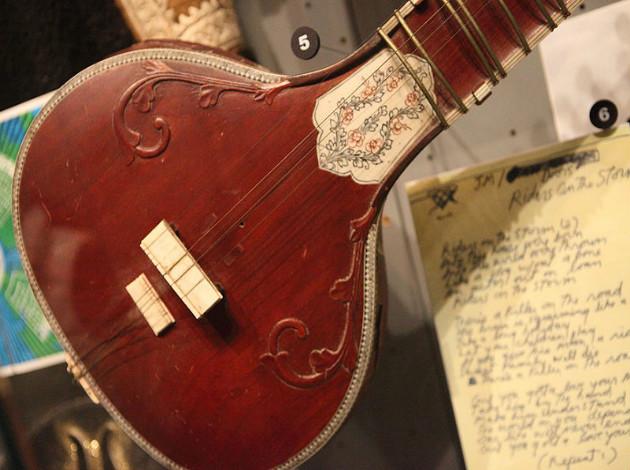 Image Source:
Wikimedia Commons
When: April
Where: Maihar, Satna
An ode to Ustad Allauddin Khan, this is a three days' festival which celebrates Indian classical music. His contribution to the Indian classical music and specifically Maihar gharana is simply too majestic to be overlooked. Thus, this festival receives the big names of contemporary Indian classical music only to leave us with rhapsodic ecstasy.
7. Akhil Bhartiya Kalidasa Samaroh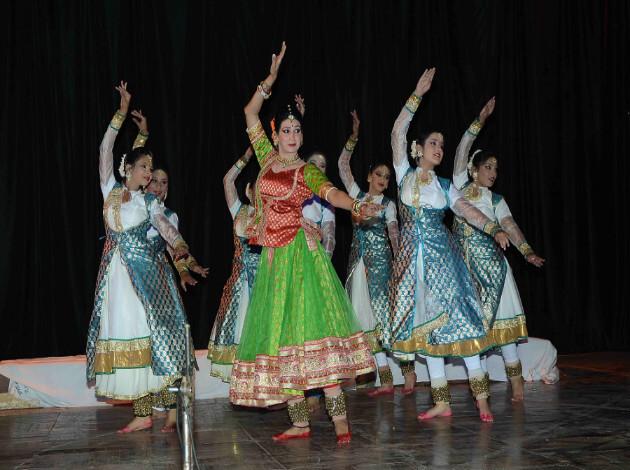 Image Source: Patrika.com
When: November
Where: Ujjain
Unarguably, you expect to see some of the greatest dramatic performances when it is a celebration in the name of, none other than, the legendary Kalidasa. Kalidasa's role in Indian Classical Literature is uncontested. Born in Ujjain, he was one of the most prominent dramatists of ancient India, who has defined the contours of our dramatic lineage. Thus, this festival commemorates this immortal legend by portraying dramas for refined tastes. As you visit this festival, expect to see some of the pioneers of contemporary Indian drama here.
With an array of Literary and cultural festivals, Madhya Pradesh becomes a land of immense value to India. We hope these festivals inspire you enough to plan a trip to the "heart of India"-Madhya Pradesh.