Archaeological Sites in India that will Inspire that Wanderlust in You
* Disclosure: This post may contain affiliate links, which means we may receive a commission if you click a link and book something (there is never any extra cost to you for using these links).
Home to one of the most ancient civilizations in the human history, India is one place that blends ancient past and modern present into a seamless whole. This country boasts of some of the most ancient monuments, forts, and structures that inspire awe as well reverence owing to their superb architecture and imposing presence. Modernity might have given way to a number of steel structures that promise India's future in the world map, however, the country is also home to some historic archaeological sites that wait for attention as well as exploration. Here is a list of some of the best and most archaeological sites in India that will bewitch you and will offer you a nostalgic time travel into the past.
1. Taj Mahal - Historic Wonder of the World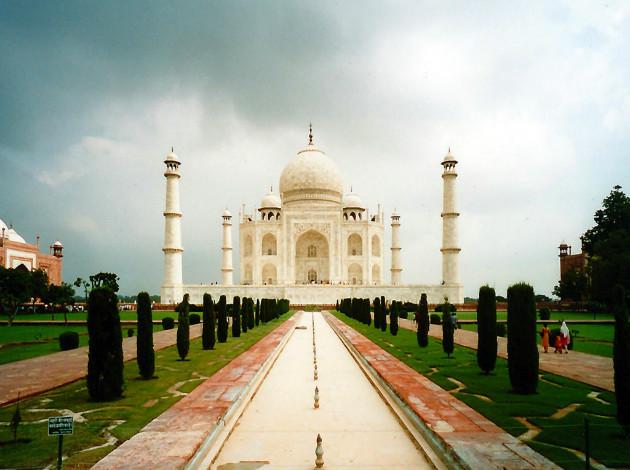 PC: Tiberio Frascari/flickr
Enough would have been said about the ivory and marbled beauty of Taj Mahal. And no matter how much more we write would fall short of the glory that Taj Mahal resonates. Set on the banks of Yamuna River, Taj Mahal displays a blend of Hindu, Mughal and Persian architecture in its famed structure. Built between 1631 and 1648, Taj Mahal defines the heritage of India today. Its recognized architectonic beauty displays a combination of solids and voids, concave and convex and light shadow. The relief work in marble and inlay with precious and semi-precious stones render an ethereal sight to this monument. No wonder this monument of love comes at the first number whenever it comes to the architectural heritage of India.
Discover every best thing you need to see in a city. Plan a trip with TripHobo and customize your dream vacation!
2. Sun Temple, Konark - Symbol of Hindu architecture and Mythology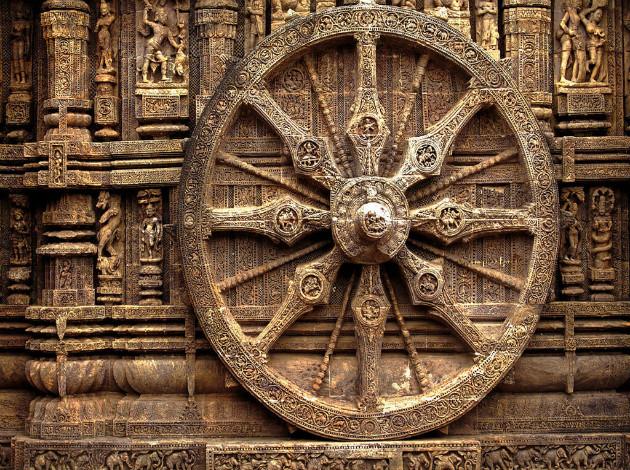 PC: Dinudey Baidya/flickr
Konark, the home to the gigantic Sun temple, is one of the most celebrated sights of India that preserves history in its original grand self. Built in 1278 CE by the Ganga King Narasimha Deva, the Sun Temple is one of the grandest temples of India and its ruins were excavated only in the late 19th century. This temple is a beautiful concoction of architecture and imagination as the whole of it was conceived as a chariot of the Sun God with 24 wheels, each about 10 feet in diameter, with a set of spokes and elaborate carvings. Seven horses are shown to be dragging the temple.
3. Ajanta and Ellora Caves - Journey into the Ancient India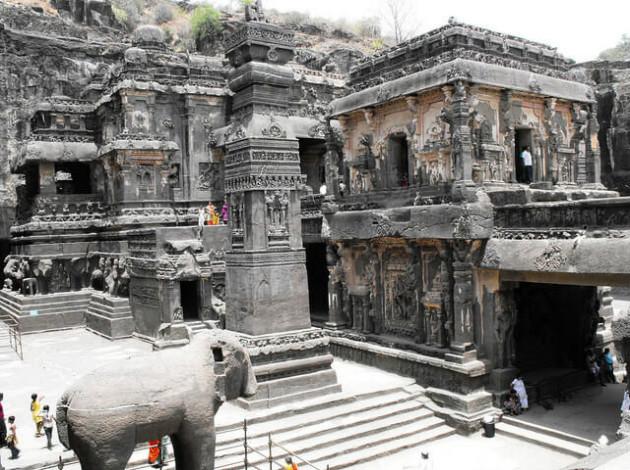 PC: Leon Yaakov/flickr
Known for their famed and alluring monumental caves, Ajanta and Ellora is one of the ancient sites in India that every history buff must have heard and read about. Located in the Marathwada region of Maharashtra, the Ajanta and Ellora caves exhibit stupendous rock cut outs and murals whose very glimpse will offer you a journey into the annals of ancient India's history. They have been beautifully preserved and were rediscovered by the group of British officers in 1845 when they were haunting in the Deccan Plateau. According to the historical resources and evidences, these caves were made by the priests and the Buddhist, Jain and Hindu monks who frequently visited the place as they were strategically located near the ancient trade route between Ujjain in Madhya Pradesh and the west coast.
You may like to visit these historical caves in India
4. Sanchi Stupa - Buddhist Monuments of Madhya Pradesh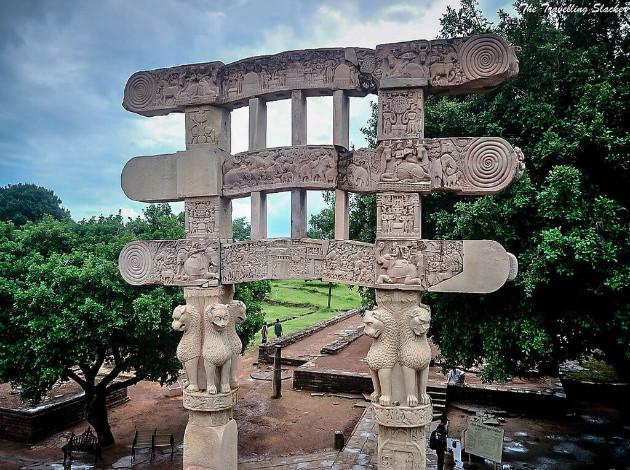 PC:Travelling Slacker/flickr
One of the extensively preserved archaeological sites in India, Sanchi Stupa inspires a strong understanding of Indian history and religious faith. This site is of so much historic interest that it was included by the UNESCO as one of the heritage sites of the world. The Sanchi Stupa with its magnificent structure is a manifestation of the development of the Buddhist architecture and sculpture that came to its bloom between the 3rd century B.C. to the 12th century A.D. Its discovery in the year 1818 by General Taylor was considered as one of the major archaeological discoveries in India. As you enter this historic site through the gateways, you will be bewitched by the ornamented depiction of incidents from the life of the Buddha and his previous incarnations as Bodhisattvas described in the Jataka tales. The Buddha on the other hand has not been shown in human form but has been symbolically represented in the form of a tree or through other inanimate figures.
5. Khajuraho Temples - Powerful Depiction of Erotic Art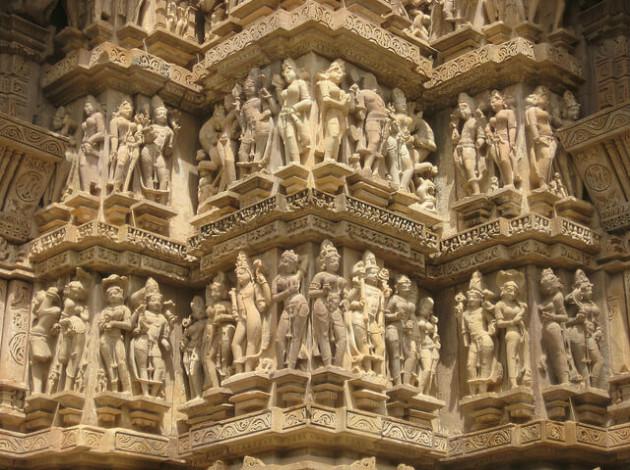 PC: tjollans/flickr
Khajuraho temples in India are one of the manifestations of the prevalence of sexual liberty that delineated Indian subcontinent before the onslaught of Victorian morality. India is the land of temples and some of these ancient architectures beautifully blend sexuality and divine love in the form of their erotic sculptures. And, every time the mention of the erotic art comes into the picture, the sculptures of Khajuraho strike one's imagination. The set of temples in Khajuraho were built by the Chandela Kings who were greatly influenced by Tantric traditions. In his history of the Kamasutra, Mc Connachie describes the erotic sculptures as "the apogee of erotic art", where the twisting, broad hipped and high breasted nymphs, fleshy apsaras and extravagantly interlocked maithunas run riot along the surface of stone. The sculptures here portray various scenes of passionate love making that come across as the most aesthetic representations of love making.
6. Lothal, Ahmadabad - Recent Archaeological Rediscovery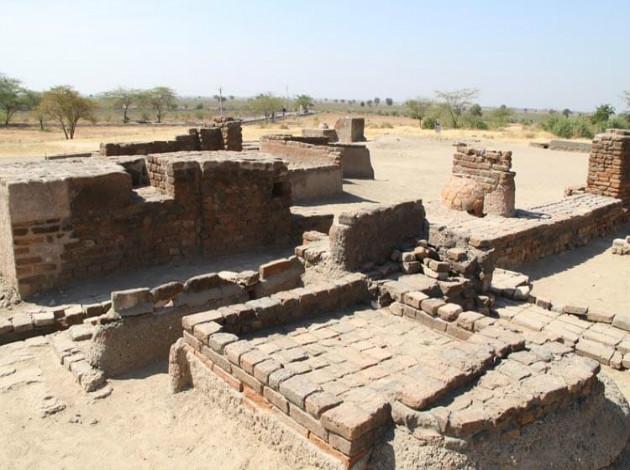 PC: gujarattourism
One of the coolest archaeological finds in India, Lothal city was actually a part of Indus Valley civilization whose origin and history can be dated back to 2400 BC. This site came to limelight after its excavation in 1960, which was carried out by the Archaeological Survey of India (ASI). It comes to an understanding that Lothal was actually an important place of trade and commerce in India and infact exported beads, gems and expensive ornaments to West Asia and Africa. Its archaeological excavations bring out a township, dock, mound and a marketplace that make it an interesting place to visit while you are in Gujarat.
7. Qutub Minar - the Pride of Mughal Architecture in Delhi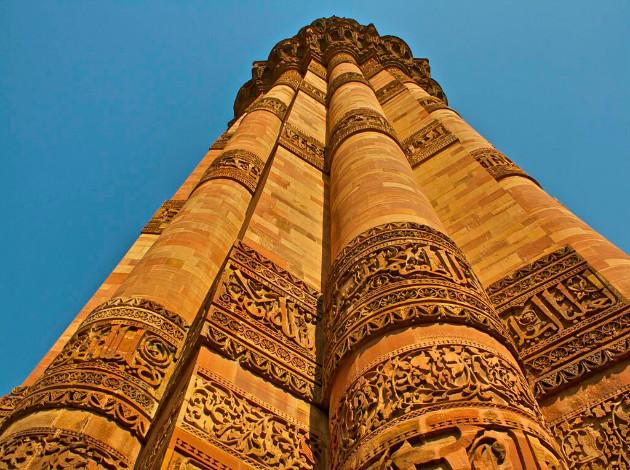 PC: Sakeeb Sabakka/flickr
As soon as the idea of the capital city, Delhi comes to your mind, it is Qutub Minar that comes across as the most imposing structures defining the landscape of the city. This 73 m-high tower of victory's construction was initiated in 1193 by Qutab-ud-din Aibak immediately after the defeat of Delhi's last Hindu kingdom but its final shape came about successively during the later reign of Mughal emperors such as Iltutmush and Firoz Shah Tughlak. Known throughout the world for its history, architecture and design, this is one archaeological site in India whose presence looms large over the modern cityscape of Delhi.
8. Kumbhalgarh Fort, Rajasthan - Mewar Architecture at its Best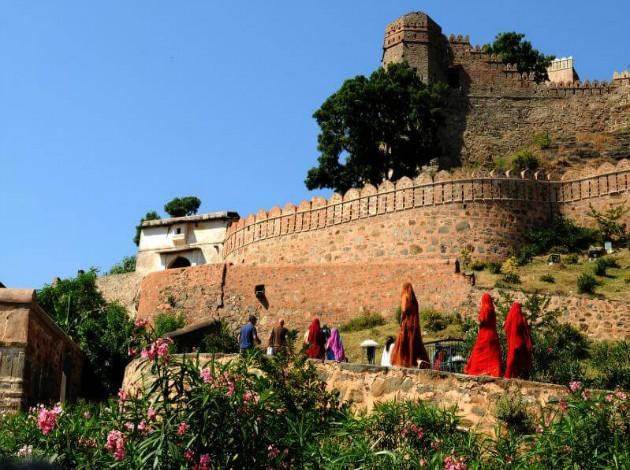 PC: Koen/flickr
Considered to be the birthplace of the legendary King of Rajasthan, Maharana Pratap Singh, the Kumbalgarh Fort is symbolic of the invincible Mewar Kingdom of India. It is the second most important citadel after Chittorgarh in the Mewar region and this fort constitutes a magnificent array of temples built by the Mauryas of which the most picturesque place is the Badal Mahal or the palace of the clouds. A visit to this archaeological site will leave you smitten with Rajasthani pride and valour.
Do explore these other forts of Rajasthan
9. Meenakshi Temple, Tamil Nadu - Pinnacle of South Indian Architecture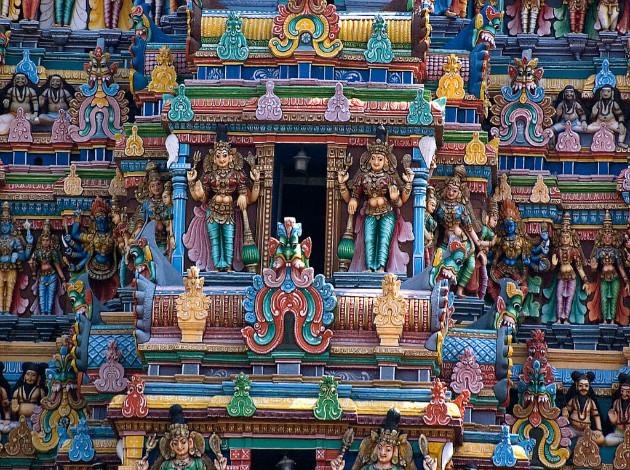 PC: colin houston/flickr
Located in the seat of South Indian Temple architecture, Tamil Nadu, Meenakshi Temple's glory and magnificence is more than a symbol of ancient architecture and temple design. The temple is probably as old as the history of the city and consists of a series of concentric streets with names from Tamil months surrounding the structure. The temple is believed to have been built around 6th century B.C as Tamil Nadu was a pivotal commercial center for the Pandya dynasty that ruled the place.
10. Nalanda University, Bihar - the Oldest Archaeological Sites in India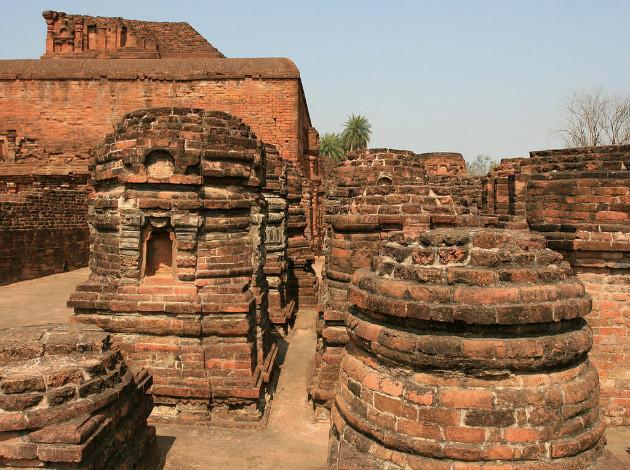 PC: carol mitchell/flickr
The seat of higher education in ancient India, Nalanda University in Bihar was established in the 5th century AD and was devoted to Buddhist studies, along with training students in fine arts, medicine, mathematics, astronomy, politics and the art of war. The excavation of this site revealed eight separate compounds, 10 temples, meditation halls, classrooms, lakes and parks. The university is believed to have dormitories for atleast 1000 students and accommodations for 2,000 professors. The university was so famous in its heyday that it attracted pupils and scholars from Korea, Japan, China, Tibet, Indonesia, Persia and Turkey. A jewel of India, this university is believed to be the site of the world's first University. It was here only that Hsuan Tsang, the famous pilgrim from China came, studied and taught for 5 years in the 7th Century A.D.
With some of these best and ancient archaeological sites, India comes across as a place dense with history, literature and architecture. Hope this list gives you enough reasons to carry out wanderlust into the historic lanes of ancient India!
*fb cover pic: flickr/KunalMukherjee
More to read about India: