Father's Day Travelogue
* Disclosure: This post may contain affiliate links, which means we may receive a commission if you click a link and book something (there is never any extra cost to you for using these links).
I like to believe that my Father and I share one of the coolest relationships that a daughter-father can. I mean we discuss movies, books, exchange each other's choices, explore the realms of spirituality together and also make fun of each other's difficult-to-comprehend sense of humor which incidentally I get from him. So, this Father's day with the help of TripHobo and the amazing team here that comes up with the coolest of ideas, I decided to go a little beyond the usual I miss you or I love you to simply thank him for everything he instilled in me and my sister- values and characteristics.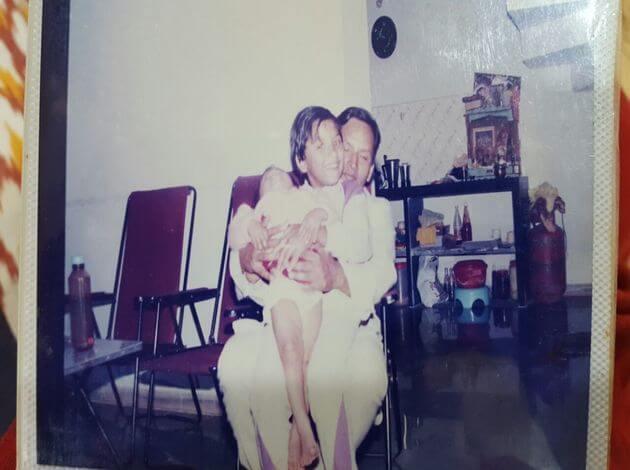 Let me start by explaining the sailor part. My Father is in the Merchant Navy and has been well acquainted with worldly ways from the late 70s. Coming from a humble village in Uttar Pradesh- located on the outskirts of Agra, his journey would put most grooming institutes to shame. After he joined his first international company in the early 80s, he has literally seen the World more than most of us- and not just in the parental way of "Hamne Duniya tumse zyada dekhi hai beta".


He has had the craziest of stories to narrate to his kids and I am sure his grandkids will be in as much awe of him as we are! Right from the 6 months spent in Japan in the early 90s eating only soy sauce with rice(life for vegetarians is not always easy) or simply picking up culinary techniques and being extremely particular about them, him exchanging Indian culture for knowledge of many others have been my earliest memories of travelogues and my only scope of travel knowledge. Although we used to dread it, but our minimal knowledge of Geography has been attained only through his repeated efforts of making us read humongous Atlases and drilling in our brains (at least trying to) the concept of nautical miles as well as compass navigation.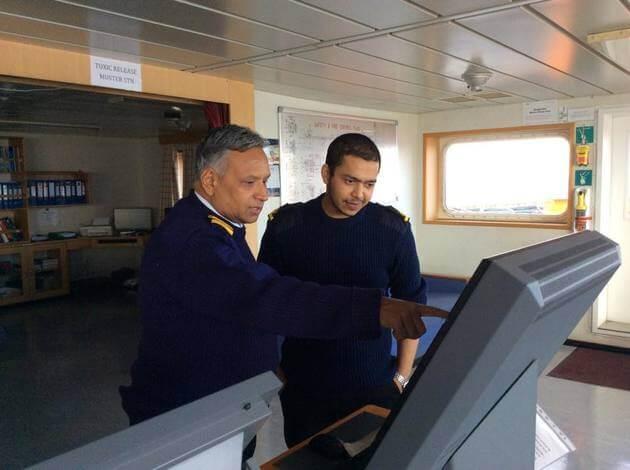 While most kids would tease me about how their fathers came back home every night and got them chocolates on a daily basis, I always had a rebuttal ready because when he did spend time with us, he was completely with us. There was no scope of him dividing our attention with his work and well chocolates were of course brought in plenty. The coolest thing about Dad being on the Ship was that our school vacations weren't to the usual travel spots, our school vacations were with Dad staying in his work place. Infact two years of my school, were simply vacation for I studied on the ship in the midst of most knowledgeable of people coming back only to give exams. Surprisingly, I also topped- because with that kind of guidance, conventional school education cannot even come close.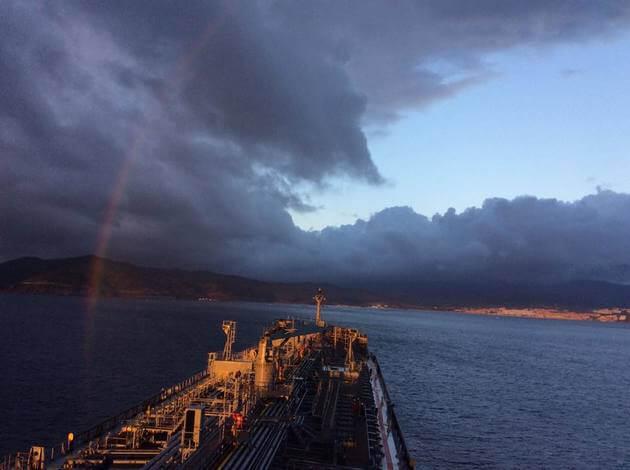 This is where my first journey of life actually began. The first time I went on the ship with my entire family, it was literally like the first ten minutes of Life of Pi. One thing that was extremely troublesome for us at that point in time was our mom and dad telling us to do the Airport formalities, to hand out the important documents. Back in 1999, at an age of about 5 years with my sister, who was an extremely well rounded 11 year old(She had already traveled with Dad a lot before I was born), together we managed to make our parents proud by going through the entire check in process very smoothly. He has always had this logic, that my kids are going to try everything and learn everything the right way, so that nobody takes them for a ride. The first ship we went on to with him is not very prominent in my memory, as I was really young. But I remember, having crazy parties on the ship and taking walks around the bridge just in the Leonardo Dicaprio way, I was in my own right "The King of the World".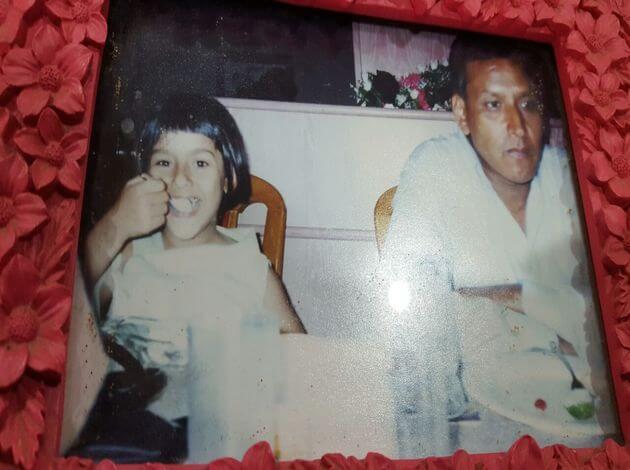 Our Dad has always taught us to not be judgemental(something we have clearly not picked up but we are working on), through his stories he also taught us that talking to different people is simply going to broaden your minds and give you experiences that will become memories forever. One of the coolest stories he told us is the one that he experienced in 1978. He describes it as one of his most prominent memories for various reasons.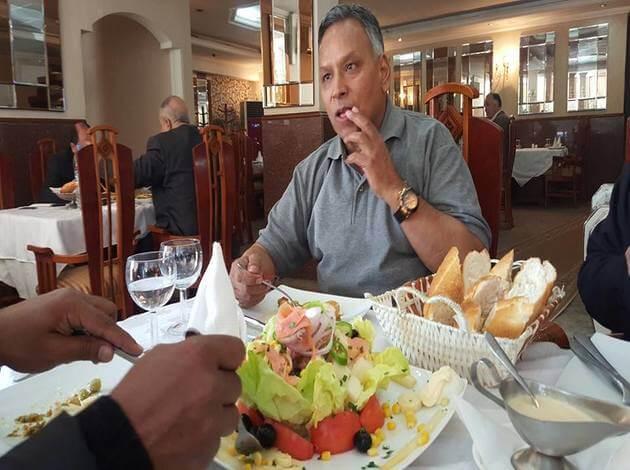 In his words, "In the year 1978..while walking on Berth in Melbourne, Australia- A Family in Cardiff approached me and wanted to know about the working of the ship. I told them whatever knowledge I had gathered in my earlier career and asked them if they wanted to experience how a ship really works.
They accepted my offer. After visiting the ship, they took me to their own house. It was an extremely beautiful Bungalow(his first inspiration towards making our house in Nashik), the man showed me the place where they partied. With an extremely beautifully decorated bar under the Drawing Room. After having dinner with them, they drove me down to the ship. Again, the next day they took me to the Village side where I touched Kangaroos and lived the non-urban Australian experience. 3 days post this, they sent a cake for us every day which was different flavored and prepared at home.

Their hospitality and that underground bar space has stayed in my memory until now. Always made efforts to be that hospitable, in which I mildly succeeded I believe, but a house like that could not be replicated".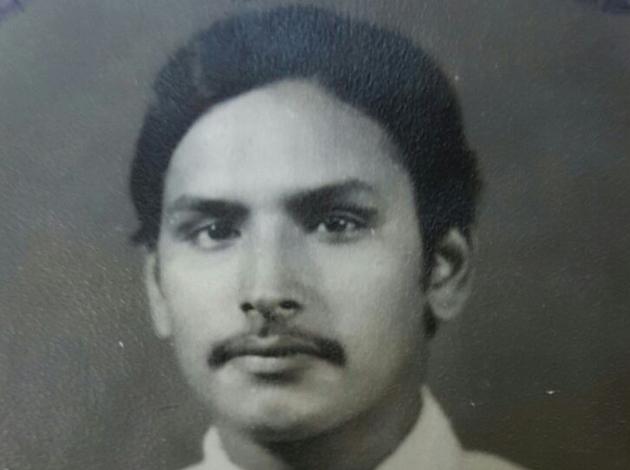 I am told that when I was a baby, while the Chief Officer was passing me to someone standing on the wobbly stairs of the ship, I was almost about to fall in the sea- I always attributed that baby time trauma to Hydrophobic nature and that trait did not go down well with my Dad at all. Imagine a sailor's daughter, running away from water- so our first family vacation in Goa was him trying to chase his 4-year-old while I just constantly took baby steps saying, "Papa pakadna mat"(meaning Please don't catch me Papa). My sister was somewhat like a Shark when it came to water and the two of them would always compete for the number of laps that they took. This fear of mine never allowed me to take a test of the lifeboat, although I was full ready with a life-jacket and all, it never really materialized but again we had better experiences together so there is nothing to regret.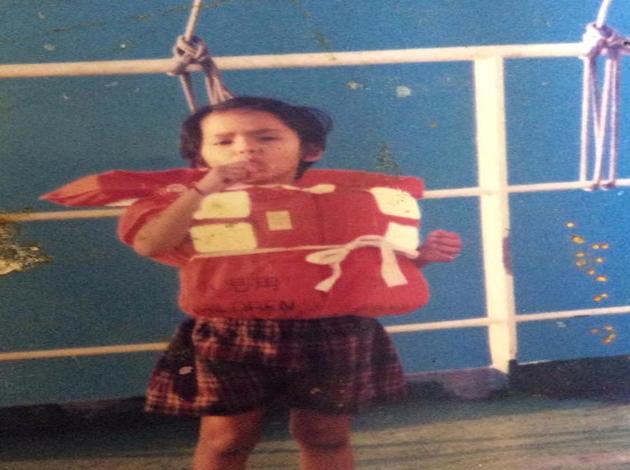 My second voyage with Mom and Dad started with Mom and I joining him in Sri Lanka. We had to take a flight from Chennai and trust me as a kid I was shocked at how dirty the Chennai airport was. Of Course eventually, we went on to stay in Chennai for about 4-5 months and I gradually fell in love with the city. We passed from Iran, Iraq, Kuwait , Bahrain and due to the heat the AC in my Dad's cabin and the entire ship just shut down. I remember sleeping with mom and dad on one of the decks on the ship for some breeze and also waking up to dolphins jumping right in front of me. Another super cool experience was when a couple of people tried to get onto the ship(I do not remember knowing the term Pirate then) and my dad waking up in the middle of the night, calmly handling the situation with the Chief Officer. On a ship, to keep pirates away they have water gushing down from every side. The force of the water is such, that it is nearly impossible to climb onto the ship. But this was the time, when the Pirate problem was not as prominent and there was no way we would have had to go through the ordeal. Although, later my Dad did pass through a lot of Pirated areas. As a kid who loved Willy Wonka and Jack Sparrow equally, I once asked my dad- if you find a pirate whose like Jack Sparrow, please get him home. Even in the tense situation, he laughed it off and eventually explained to me the severity of pirated areas. I remember Rima(my sister) and I crying constantly during Captain Phillips, because that is something we knew our Dad could face at any time. But, he always puts the security of his crew foremost and hence never traveled without a convoy.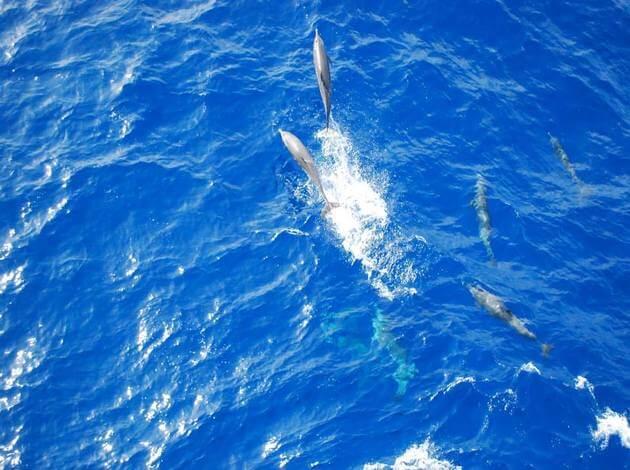 Oh, did I forget to mention that my dad is a big foodie? His favorite for the longest time was Mediterranean cuisine and he loved Japanese soups as well. Most recently on his visit to Turkey, his love for coffee and Baklava increased manifold and thanks to his activity on Facebook, we can always connect to what he is doing. On his ship, with him around there is always a treat. His crew claims to not miss home food as much because my father is adamant about one thing in life - everybody should get their authentic food. Also ,everybody should get a taste of each other's cultures to make a family away from home.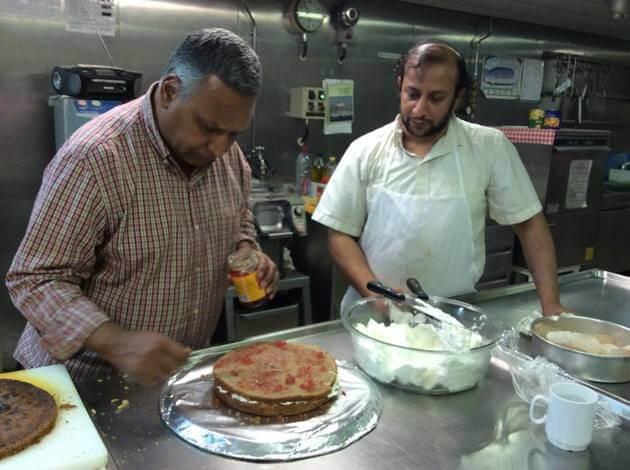 I asked him to tell me one day, which is his favorite memory of the ship. He remembers,"In 1981/82 while I was on a vessel in Canada, I was doing my routine work on Deck. A doctor boarded the vessel with his friend and neighbors. The Captain on duty at that time did not entertain them properly. While they were leaving, I met them on Gangway. After my insistence on introduction, I told them to visit the Bridge and accommodation. They were very happy, I brought them in my cabin and offered them beers. Before leaving, they said that they will come tomorrow and take me to the most famous Pizza place of the city. They came the next day and took me to their Bungalow after lunch. They happened to see my pass and realized that it was my birthday. They arranged a cake for me, celebrated it like they would back home and also drove me back although it was snowing and the distance was quite a bit. The family kept in touch with me for a long time.

They also offered to complete all my visa formalities and wanted me to do a job there itself. He says that my Grandmother did not want him to get married and settle abroad and hence things didn't work out. Nevertheless, it was one of the best birthdays ever spent". We generally say like mother, like daughter, in Dad's case it was like mother in law, like daughter in law. Later in life, when Dad has a chance to settle down in New Orleans in the year 1991, my mother put her foot down and said that no way will she leave her family behind and settle down in a country other than India. This was a decision, my dad is still extensively grateful for.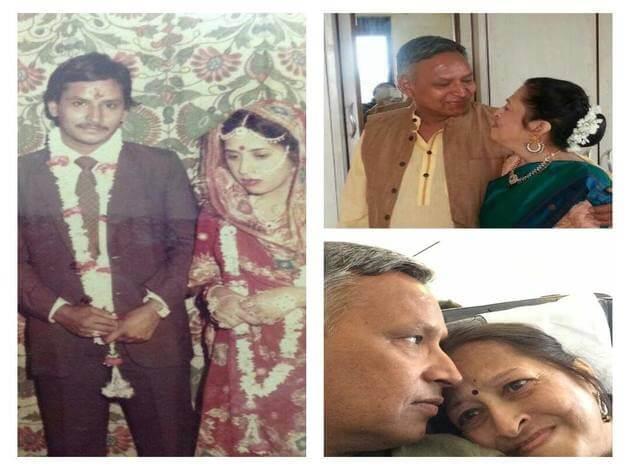 My last favorite memory of travel with Dad would always be the time we went to Singapore and went multiple times to Sentosa Island and Mustafa. It is one of my earliest travel stories that has stayed with me and it was also the first trip I took as the only kid as my sister had grown too old by this time. My father also got all his cousins and brothers to settle them down in Nasik and we were not the only 4 members he took care of. While he was away, Mom was the support system of the family and fulfilled his role very well too. For the sake of bringing up the entire family, he stayed away for months together. One of the most heart-breaking memories for me and my father was back in the 2nd grade, he had stayed away for about 9-10 months and when he came back, I just did not recognize him. I still see his charming smile turn into a disappointed look whenever that story is repeated. But, through satellites to video calling- through letters to constant facebook posts, our relationship has evolved as much as technology has.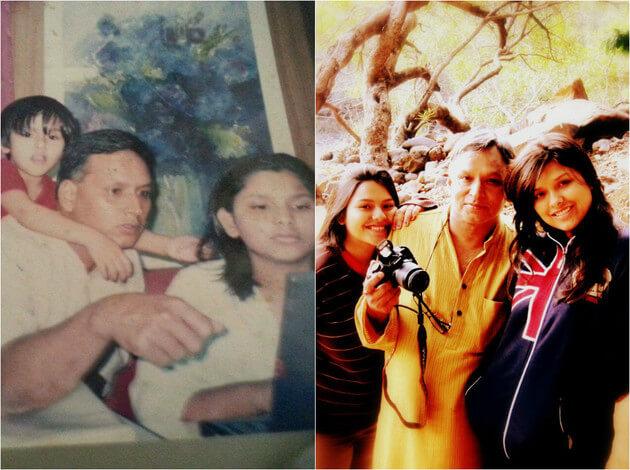 A few years ago, when a Shipping Magazine decided to put him on cover and note down his journey, we were the proudest ever. Till date, whoever meets my Dad instantly falls in love with his warm persona and an extremely friendly demeanor. While you will see him sometimes reading my favorite books or watching Leonardo Dicaprio movies, you will always make out that his thirst of getting to know different people from different cultures is somewhat satiated after roughly 40 years in service. In his words his journey has been: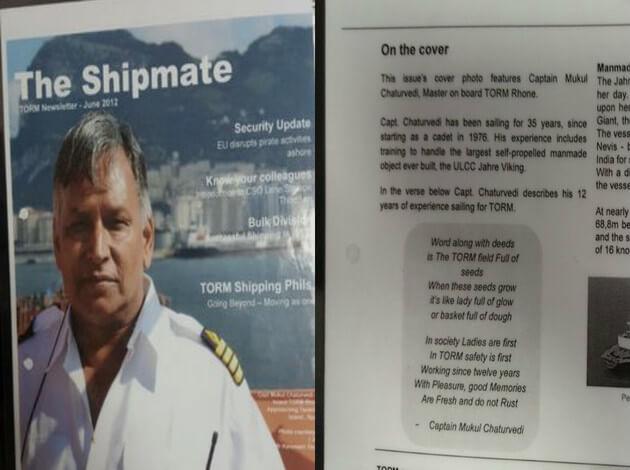 Words are not enough to describe all that you have taught us. Every single day when I pick up the phone, I wish we do not have to say, " He is on board, please call 4 months later". Your journey has been extremely amazing and amusing, but it's time you come back and start a new journey of your life- with kids all grown up and family responsible, with Mom being your constant companion!

PS- My Dad has always had a habit of talking to everyone in a formal tone. I am going to sign off just the way he does.

Thanks and Warm Regards,
Daughter of Capt. Chaturvedi

All images are taken from the permission of Capt. Mukul Chaturvedi