Learning beyond textbooks
* Disclosure: This post may contain affiliate links, which means we may receive a commission if you click a link and book something (there is never any extra cost to you for using these links).
"A father carries pictures where his money used to be." ~ Anonymous
As I start drafting this blog about how my father inspired me to travel or what role he played in my inclination towards travel, vague flashes of most of our family holidays and some without family whoosh through my memory. We were a conventional nuclear family, with both our (I have an elder brother - Anand) parents working. Not sure what instilled in them the liking or need for travelling so extensively, perhaps their certain decision about us having very good education and thus a very good exposure too. I can proudly say today that I have travelled extensively, throughout India and some few other parts of the world.
Summer vacations, Diwali holidays, Christmas holidays and weekends were when we travelled. My father has some epic anecdotes of his sojourns and travel, whether it is cycling from Satara to Pune, his many trips to Ratnagiri where my grandfather was posted, his Paris shenanigans or quick getaways to Baneshwar and Mahabaleshwar with the four of us on his motorcycle!
Then, when there was not much fad about doing the 'non-touristy' things, trips and places WERE a package and certain places and their attractions had to be done in an explicit order. Whether it was doing the Bangalore-Ooty-Mysore more than once or the Kanyakumari-Kodaikanal-Trivendrum in the same order.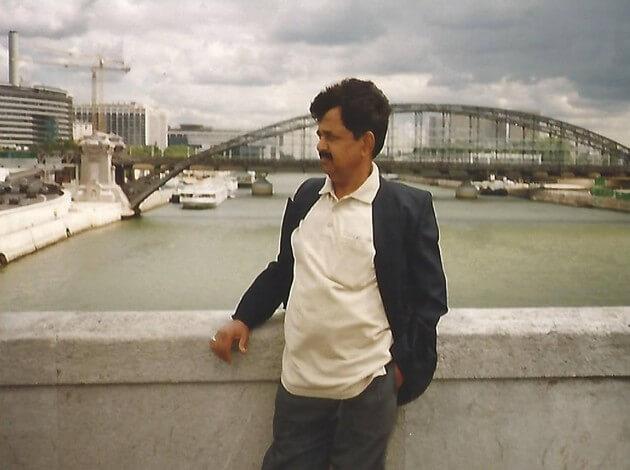 My dad pushed boundaries, he along with my mom and brother ventured the then-daunting Kashmir in the 1980's! My mom sat on horses in a saree along with my brother with much grace than was possible. Thus instilling, when you are travelling, you got to do what you got to do! Getting in touch with locals for crucial info about local food, modes of transport, best facilities is something I learned from him, time and again. His stories of Ratnagiri, where he went fishing in the sea in a small boat and got the fish cooked from his utterly local boat sailor or his favourite oysters at a particular restaurant in Dadar take you back in time! He has always suggested of getting as local as you can when you are in another place, for that is the true essence of that place. Having a very good observation about general human nature, he could differentiate between the commercial and the authentic. For example, he still insists on buying strawberries straight from the farmers in Mahabaleshwar that thrive the market early morning, much before the market actually starts.
We had a holiday in the South almost every year till we saw almost all the destinations there. Then we progressed towards the North. To begin with we chose the heavenly Kashmir, which also marked my first on a plane journey! Walking over the river Lidder, Papa had some fond memories to tell about their previous visit there, their then guide Khurshit who treated my brother like his (again the local factor) was warmly remembered.
On one of our holidays to Kanyakumari, I vividly remember putting up at a hall in the Swami Vivekanand ashram, when they ran out of rooms due to some mismanagement. In spite of which, we enjoyed a different experience of calling the day in not a room but a huge assembly-hall like place! Thus learning that you might not always have the comfort you seek, but you got to be ready for whatever it is, accept and make the most of it. Life lessons like a boss!
There were Lala tours (yes la-la) that were organised by our school optionally. Having distinctively travelled till then, I assumed travelling as a part of life, as though get-an-opportunity-must-travel! So being over confident about that, I obviously was home-sick, making weepy calls from Darjeeling, to which Papa consoled ''Just a few more days, rani!''! That's how I counted my days to get back home and was perhaps the only girl on the tour waiting to get back home!! Over my next tours without family, I was pretty much accustomed to it and in fact liked putting in practice what I learnt from Papa about travelling.
He created the right excitement for us before every holiday. Whether it was songs composed on the particular place or larger-than-life imaginations that he depicted to us! Every holiday was looked-forward to. Train journeys especially were our favourite, with us walking throughout the train while we got bored, standing at the door as he guarded us, getting down at stations watching Mummy panic from the window, were the joyful thrills we loved!! Holiday in the mountains was incomplete without us rolling on them in total glee. Beaches and impromptu pit stops at a river were to swim in under wear (until we were kids of course!), scrub ourselves with sand and indulge in coconut water after a dip in the sea! Kodaikanal holidays were to cycle around the lake, Munnar to enjoy elephant rides and Alleppey to sit back and let serenity take over you as we watched the sunsets from our houseboat. These are just a few of my dynamic memories amongst a tonne many holidays.
Not just travelling out of the town, but even within, Papa always urged Anand and me to observe roads and directions, read boards and signs, remember people's faces, thus giving us both the best sense of direction today! My friends are amazed at how I know and remember almost every road, turn, alley in Pune, be it the peths or the newer city parts! Enjoy the small joys, like a pit stop and lunch at the river while on our way to Kolhapur, complete with batatyachi bhaaji and lasnachi chutney! If in a place for the first time, don't go by what one person might say, confirm from one or two more people. Get good rest, don't exhaust yourself while travelling (he loves his afternoon naps!).
To sum it all up, I couldn't have asked for a better way of growing up to the person I am today, had it not been for some vital things I learnt from Papa on our various holidays. Having diversely travelled from Mussoorie to Amsterdam, along with growing up in Satara (Sajjangadh tales!), Pune, Ratnagiri, worked in Bombay, Papa has a well-rounded understanding of all the aspects of travel and most of life, which we learnt especially on our holidays together!
Happy father's day Papa!
Your's loving,
rani :)