There is something magical about festivals celebrated in India. They bring us all together, regardless of our differences and social statuses. A new year has begun and it brings with it a whole lot of joyous festivities. Here's a look at all the various festivals that are celebrated in the month of January:
Makar Sankranti: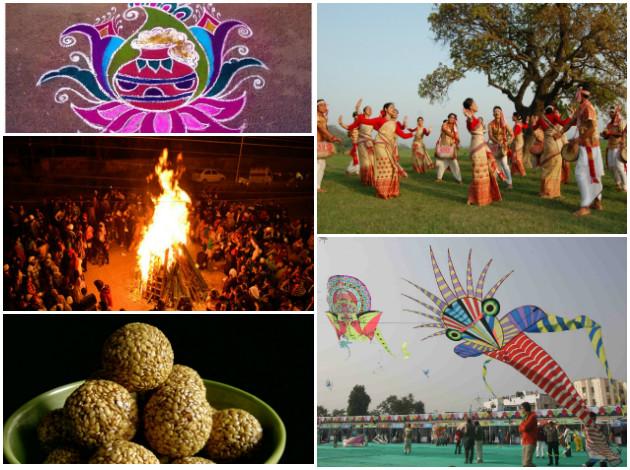 A harvest festival, Makar Sankranti marks the transition of the Sun into the Makar rashi. Marking the end of the winter solstice, this festival is celebrated to welcome the arrival of spring. Makar Sankranti is known by various names across India. While it is known as Pongal in Tamil Nadu, it is known as Uttarayan in Gujarat, Makara Sankramana in Karnataka and Magh Bihu or Bhogli Bihu in Assam.
The state of Gujarat celebrates Uttarayan with a kite flying festival while Tamil Nadu celebrates Pongal over a period of 4 days where families come together and thank the gods for the rich harvests of the season.
In the state of Punjab, a festival called Lohri is celebrated. It is believed that Lohri marks the passing of winter solstice and is celebrated on the shortest day of the year.
When: January 13th/14th/15th
Float Festival:

One of the main festivals celebrated in Madurai, the float festival takes place on a full moon day. On that day, the idols of Goddess Meenakshi and Lord Sundareshwarar are taken on a grand procession across the Teppakolam lake.
When: Full moon day of Tamil month of Thai. Tentative date is 24th January.
Chennai Music Festival:

Image Source: chennaidecemberseason.com
A popular cultural festival, the Chennai Music Festival features the best of Carnatic music. Over 1,000 performances take place every year during the festival. Also, music related seminars, demonstrations and discussions are conducted at the venue.
When: Mid December to mid January
Mamallapuram Dance Festival:

Image Source: Wikimedia/Arian Zwegers
The glorious Pallava Rock Sculpture proves to be the perfect backdrop for the Mamallapuram Dance Festival. Dance forms such as Kathak, Bharat Natyam, Kuchipudi and Kathakali are gracefully performed by dancers.
When: December end to January 2nd week.
Bikaner Festival:

Image Source: rajasthan-holidays.net
Organized by the Rajasthan Tourism Department, the Bikaner Festival is basically a huge Camel fair. Starting off with a stunning procession of decked up camels, the festival features camel races, best camel breed competition, camel acrobatics along with folk dances and songs and dazzling fireworks displays.
When: January 22nd to 24th
Planning a trip to Bikaner? Create your travel itinerary using our smart trip planner.
India Yoga Festival:

Photo Credit: Wari Om Yoga Photography
Conducted in the mesmerising state of Goa, the India Yoga Festival celebrates yoga and spiritual living. 5 days of serenity, spirituality, meditation and yoga await you at this festival.
When: January 4th to 8th
Mukteswar Dance Festival:

Image Source: thehindu.com/PTI
A tribute to the Odissi dance form, the Mukteswar Dance Festival celebrated in Bhubaneswar features Odissi dance and music performances by celebrated solo artists and renowned dance troupes. While in the state, do check out the marvellous Sun Temple of Konark.
When: January 14th to 16th
Goa Lokotsav 2016:

Image Source: artandculture.goa.gov.in
A folk festival, this ten day event provides a platform to the various craftsmen and folk artists from different parts of the country.
When: January 8th to 17th
Kenduli Mela:

Photo Credit: AmanPreet Kaur/ emahomagazine.com
Celebrated on the last day of the Bengali calendar month of Paush, the Kenduli Mela provides music lovers a unique chance to catch a glimpse of the talents of the wandering Bauls (group of mystic minstrels from Bengal). A friend of mine visited the mela last year and he said he could feel a divine presence during the musical performances.
When: January 14th to 16th
You might also like reading: