Solo Bike Trips are Never Passé
* Disclosure: This post may contain affiliate links, which means we may receive a commission if you click a link and book something (there is never any extra cost to you for using these links).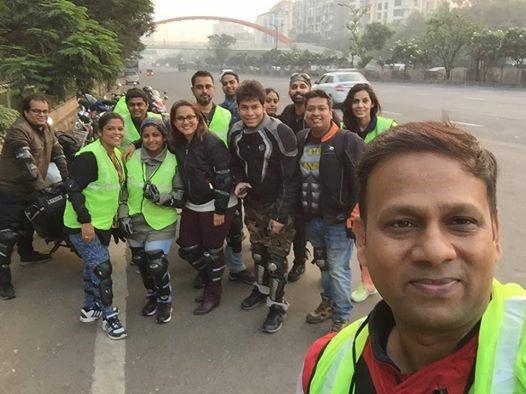 It is my one of the first bike ride where I asked myself to go solo and break the odds in me. The thought of going for a bike ride is always accelerating and takes me on an edge for the same. Lately have been to Leh-Ladakh as a pillion and the feeling of being amongst the hill and scenic beauty enthralled me. It is been almost three months that I been there but the urge of getting in the distance land is always on my mind and after getting my new Bullet it has only multiplied.
Last month, I along with my friend planned to go for a bike ride to Kaas Plateau but couldn't make it because of various reasons. This time around after seeing a post on Instagram of Mumbai Travellers handle, I couldn't stop myself and simply registered myself for the ride. It is Saputara, a place in Gujarat and yes it is a bike ride.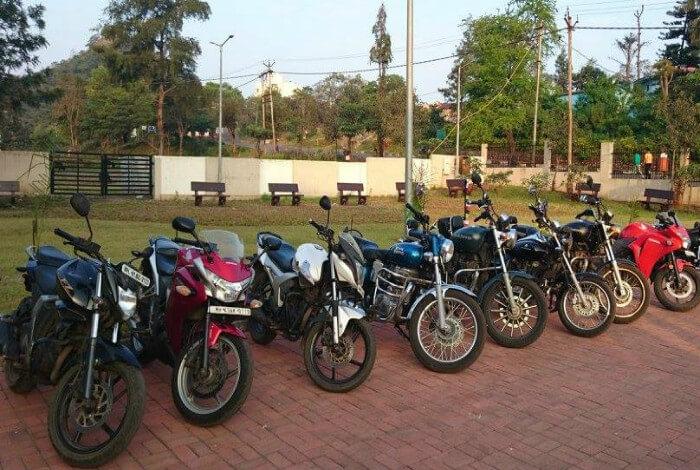 The ride began early morning on Saturday 22nd October and I was on my beast to be unleashed. There were almost 7-8 bikes ranging from Royal Enfield to CBR and FZ. I met everybody and had a quick chat about the tour and rules to be followed for the same. The group leader in Rohan and Ronen were already up and running at 6 am with their zeal and enthusiasm for the ride. The trail began and we reached a distant place for a morning breakfast. The soft idlis and Mendu Wadas literally filled our tummy and then we circled for an intro round with each one speaking about themselves and their riding experiences. I was so happy to be with a varied experienced clan.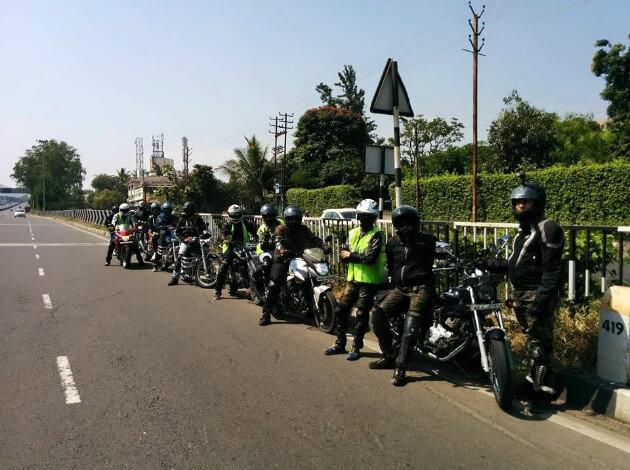 The next stop was our Nashik city where we lined for a mini pit-stop and straightened our back. I was being taunted for my speed as I was being too slow and lacked the skill of matching the other fabulous riders.
Amidst the trail, we lost our way and were away from the gang. The group leaders came to our rescue and we were united only to ride once again.
Since then the roads were inviting and there was some magic to unfold. A soothing weather and breeze on your face are all you need to experience as you ride on the road to freedom. The journey kept unfolding numerous beautiful aspects. The mountains were picturesque and so were the flower farms of Marigold in a color sequence of Orange and Yellow. A sudden shade of trees adjoining the roads were creating a perfect balance for the ride too.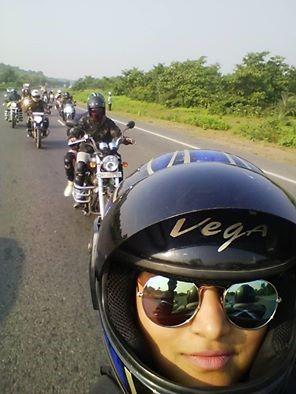 After riding half way, we halted for a Tea break and then left for our final stop at Saputara. The entire stretch was more of a bike ride at ease and I felt the pump with every corner I turned and each check post I crossed.
Finally, the signage welcomed us and we all posed for a group photo. The joy of reaching the destination was simply amazing. I was in Gujarat on my bike for the first time as a solo rider, I still couldn't believe it. I mean, yes I was there.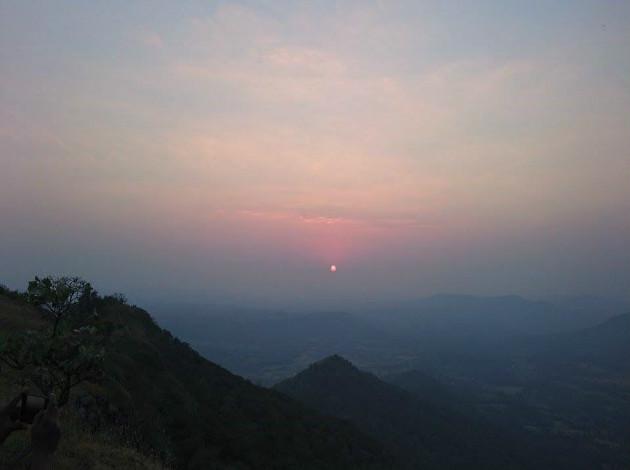 We all checked into a dormitory with bunk beds and all. A room with 12 individuals breathing the same air. It gave me a feeling of Roadies and the song of Agni. Ghar Sey Hum Chale Ek Backpack Aur Guitar was the perfect description I could think.
We all freshened up and headed out to the hill station to discover the place. We first headed to a local Dhaba and fueled ourselves with some Dal roti and sabji. Then we started walking around in the cool breeze of Saputara with a hearty conversation with each of the gang members. Each one was full of life and that was a good sign to learn and grow as a human. We saw sunset point, lakeside and cashed on local ice-cream. Yes, Havmore is a local ice cream.
The gang was led by Rohan who works for an Insurance company and has a pure passion for riding. Ronen was the second lead in-charge who happens to be a tech manager in MNC and is a real go-getter with his pure love for outdoors. Sarfaraz is one of the most carefree soul I have ever met. With his age, the simplicity is charming and adorable. Of course, I love his CBR 250 as I rode a sports bike for the first time. Prashant and Chang were too serious as a rider but did showed their funny bones as and when needed. Good control in their biking skills and I wish to ride like them, someday. Priya, Apurva, Pranali and Mega were the Powerpuff girls as they could do all one can't imagine. They are wild and have a love for traveling. An interesting fact is that they all scream out for adventure and ends up fueling their imagination by following their instinct.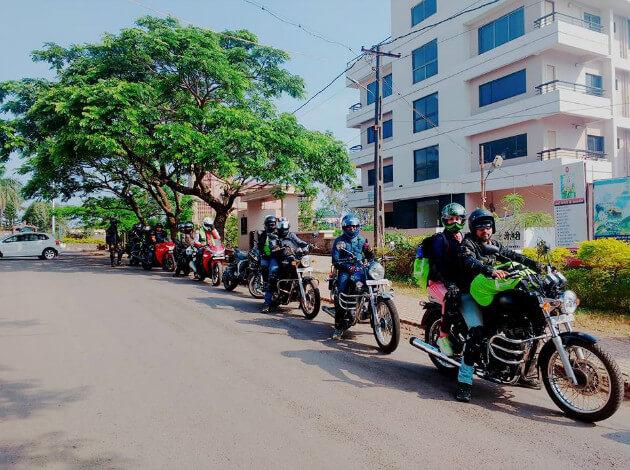 Mini aka Large is a statement where you see a girl who is wearing a pink monkey cap and sports specs which is actually powerful and will take your eyesight if you wear it. I got blind after wearing it. She loves technology and has a weird keeda of travel and finding peace in whereabouts. Her approach to see things and capture them in her ipad is a thing to watch out for. Hopefully, it should start working as it turned blank and shows a black screen. I say that because I did a lot of hardship to get clicked and rode at a speed of 100-120 Km per hour.
The night at Toran resort was a great affair, we tasted Gujarati Thali with a blend of Chicken and the taste bud in me was on cloud 9. The ride of 300 Km and this kind of food is all you live for a weekend away from the hassle and city life. The climate was soothing and night was long. We all spoke heart to heart and had some good company around in there. There were talks on a bike ride, treks and some not so scary ghost stories.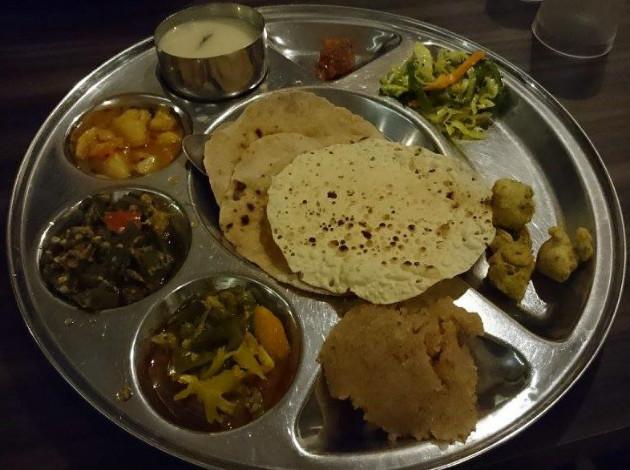 The night turned into a quick morning as the sunrise was as early as 5.30 am in that distant land. Like a hostel rule, our leaders banged our bunk beds and we were up for a customary bath and gearing up.
I took my bike and headed solo to see the beauty of this tiny paradise. I discovered Table top point and could actually see the entire hill station from there. I saw old temples, old bridges, and simple faces. The ride of 45 minutes with my iPod on is all you need sometimes to find a rhythm back in your life.
We packed our bags and had our breakfast to head back home. The destination was 360 kilometers. The route was a daredevil one as we were coming through offroad and almost had a weird road of 40-50 Kilometers as a stretch. The ride down from the hill station at Saputara was simply amazing. There were challenges while we rode through that patch. The roads were narrow, there was traffic and domestic animals were up and running all around the road. We sailed through.
The ride was going on smooth but the hunger was asking questions that of a good meal. After almost riding for 100 kilometers with a mini halt at a nearby body side. Here Mini means tiny not the specs female Mini as mentioned above. The pictures are worth and one can see it below. We had a nice Punjabi thali after leaving Gujarat behind us. Chass was the icing of that lunch. Since then, it was one of the fastest and crazy rides I ever could have. For like next 2 hours we all were riding at the speed of 100 Km per hour and the pursuit of being in one line behind our leader Ronen certainly kept me hooked. And the pictures are the real display of this long ride.
The time had come where we all had to bid a goodbye and we did it gracefully. This time only to tell each other that yes we will meet again on the next trip.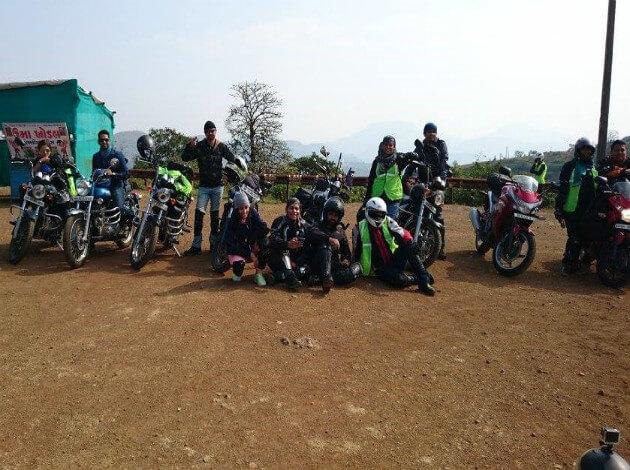 This trip helped me take some time off my work and have actually helped me to be decisive and see life full size.
Thank you, Mumbai Travellers!
As told to Priya Saha by Ravi Karkhur
*All image credit: Ravi Karkhur