10 Amazing Flea Markets In Europe
* Disclosure: This post may contain affiliate links, which means we may receive a commission if you click a link and book something (there is never any extra cost to you for using these links).
Is there anyone in the world who doesn't like shopping? Of course, everyone does but if you are the one in a million who doesn't, you better stay out of this post because this blog is for the shopaholics. Yeah, shopaholics, it is time to unite. As the world is getting busy with online shopping, there is a traditional way of shopping that will help you save money and still get you the best of products - it is shopping in the street's famous flea markets!
Here is a list of 10 best flea markets in Europe that are cheaper, better, and can get you hooked.
1. Braderie de Lille Market, France

Image Source: Wikimedia Commons
With over 10,000 sellers and more than 2 million visitors every year, Braderie de Lille market in Lille, France looks like a celebration, on a grand scale. Dating back to the 12th century, the flea market is set up in the first weekend of September, every year and is one of the most famous and largest flea markets in Europe. Walk an approximate 100 kilometers to cover all the stalls that are loaded with everything that you need and please don't blame us if you go bankrupt.
Timing: September 2, 2017 - 2pm to September 3, 2017 - 11pm.
Address: Lille, France.
2. Jeu de Balle Flea Market, Belgium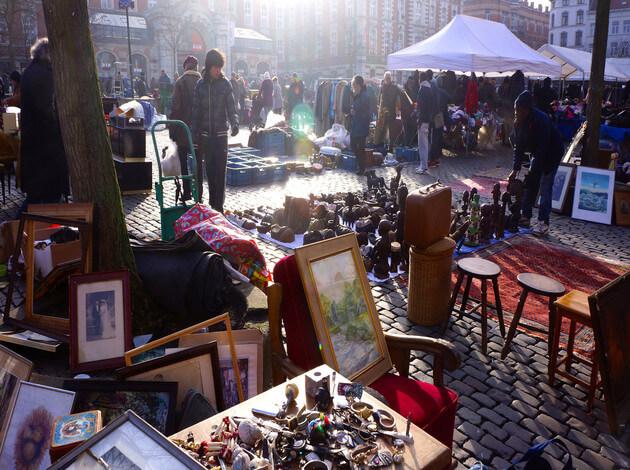 Image Source: Sam.romilly/flickr.com
Located in the heart of the Marolles district in Brussels, Jeu de Balle is one of the few flea markets that operates 365 days in a year. Popularly recognized as the 'Old Market', you could find a little of everything here. Every day around 450 merchants operate at the flea market and the trick to finding the best from the market is to be patient and search through the antiquities and rags. Also, when you are done choosing, check out the neighborhood of Rue Haute, Rue Blaes, and Place du Grand Sablon.
Timing: Open every day. Weekdays (6am-2pm) and weekends (6am-3pm).
Address: Place du Jeu de Balle, 1000 Brussels, Belgium.
3. Waterloo Flea Market, Belgium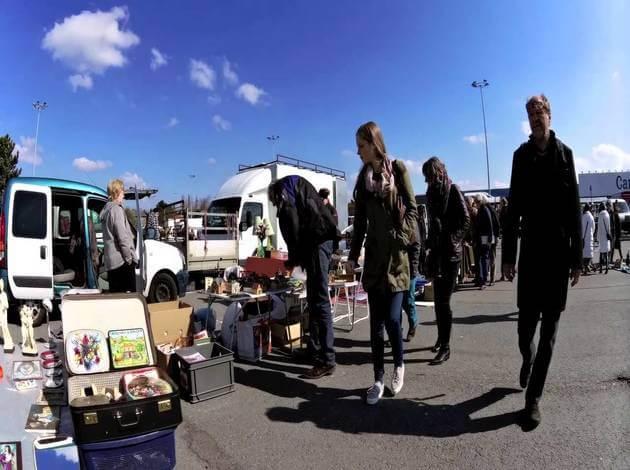 Image Source: Youtube.com
Set in the car park of the Carrefour supermarket in Waterloo, the Waterloo flea market has over 300 flea stalls that offer genuine antiques to contemporary objects. Known to the locals by varied names like 'Brocante du Carrefour', 'Brocante de Waterloo','La Brocante du Biggs', 'Brocante du Lion', and 'Brocante Chateau Cheval', the flea market is spacious, offering plenty of parking space and is run by the professionals. That being said take a local friend with you to get the best out of the flea market.
Timing: Every Sunday, from 6am-1pm.
Address: Parking du Carrefour, 1410 Waterloo, Belgium.
4. Vrijmarkt, Amsterdam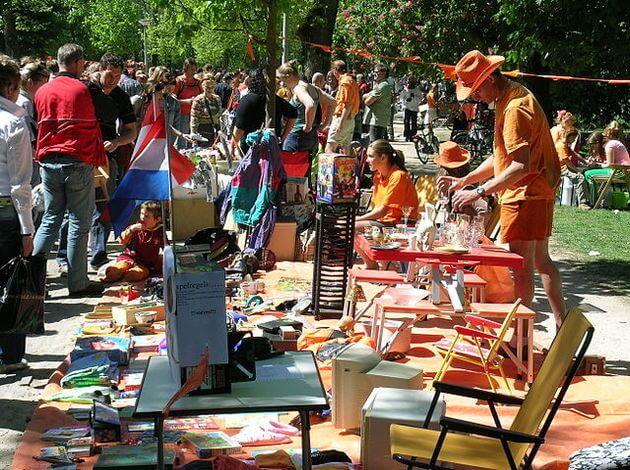 Image Source: Commons.wikimedia
Popularly known for its hippie lifestyle and the other obvious reasons, Amsterdam attracts 3,000 visitors in the citywide Virjmarkt (free market) and lets them indulge in some hardcore bargaining. Particularly unique from any other flea market, Virjmarkt is not setup at a single place but rather along the stretch of the whole of Amsterdam on the King's day, every year. Being an essential part of the King's day, you could strike an array of deals in the street market which is duly exempted from the burden of paying tax.
Timing: April 27, 2017 - from 6am-8pm.
Address: Amsterdam.
5. Tongeren Flea Market, Belgium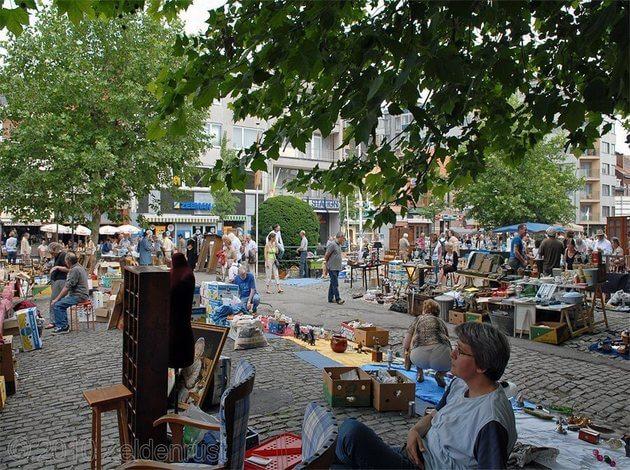 Image Source: fleamapket.com
If you are wondering what to do on a Sunday morning in Belgium then Tongeren Flea Market is for you. Not only does it keep you occupied, it is also home to some of the unique antique pieces. A tradition that has been followed over 30 years, Tongeren flea market starts in the early mornings of every Sunday with over 350 exhibitors showcasing their gems in around 40 antique shops spread over 7 streets.
Visited by a growing number of French, German, Dutch, British and American visitors, the place is quite expensive. Nevertheless, step in earlier to strike a good deal and swoop away the good stuff.
Timing: Every Sunday, 6am-1pm.
Address: Streets of Eburonenhal, Leopoldwal, Veemarkt, de Schiervelstraat, Clarissenstraat, Julianus and Maastrichterstraat.
6. Munich Flea Market, Germany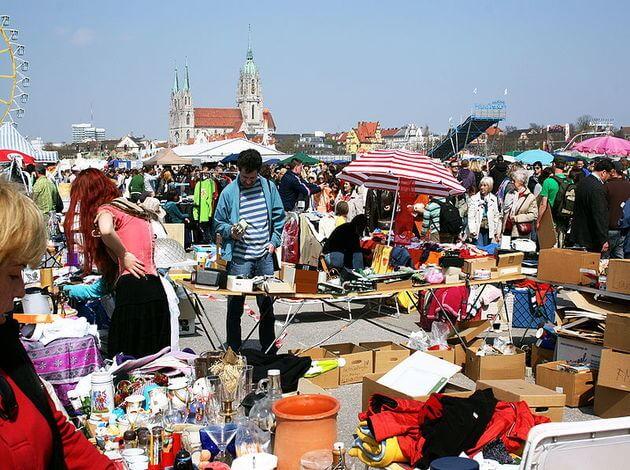 Every year just before the Oktoberfest, during the Springfest of Frühlingsfest, a huge flea market involving over 2,000 exhibitors and 80,000 international visitors gets set up in the capital city of Bavaria, Munich. A totally gigantic spring extravaganza, the place bustles with flea market enthusiasts and provides an amazing opportunity to shop second-hand items like vintage clothes, fashion accessories, paintings, design furniture, and antiques at a cheaper price. Express your bargaining skills and be rewarded.
Timing: First Saturday of the Springfest of Frühlingsfest, from 6am-4pm.
Address: Theresienwiese 80339 Munich, Germany.
7. Bermondsey, London

Image Source: geograph.org.uk
If you're a collector of antiques then Bermondsey is the place to go. Popular for its antique markets, Bermondsey flea market brims with interesting artifacts, oil paintings, and mystical engravings. Operated by some of the professionals in the industry, the quality of the antiques are surprisingly good and is totally worth the money. Arrive early to extract the best out of the market.
Timing: Every Friday, 6am-2pm.
Address: Bermondsey Square, Southwark, London SE1 3UN, UK.
8. El Rastro Market, Spain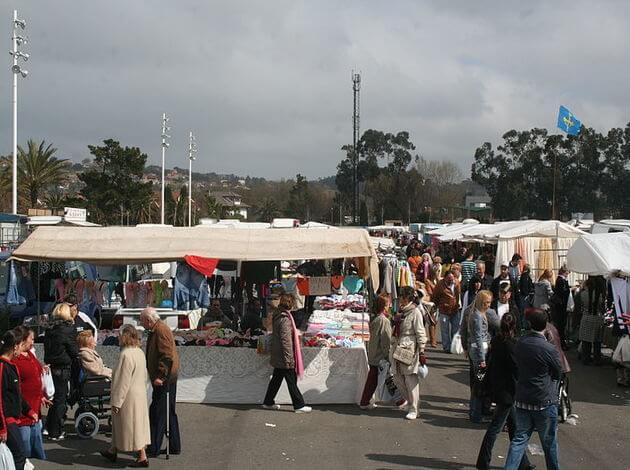 Image Source: Commons.wikimedia
Situated just south of La Latina metro station, El Rastro Market is one of the iconic flea markets in Europe. Rooting back to the medieval times, the market is a mix of modernity and traditionalism offering both the newly produced stuff as well the antiques. Packed with tourists all the time, El Rastro is amongst the popular open air flea markets in Spain. Soak yourself in the atmosphere and improvise your bargaining skills. Also, be weary of pickpocketers, there are plenty!
Timing: Every Sunday, 9am-3pm.
Address: Calle de la Ribera de Curtidores, Madrid.
9. Antiques Market, Italy

Image Source: Wikimedia Commons
The architecturally beautiful country of Italy is also famous for its wonderfully looking Antiques Market in Arezzo. Established in the mid 20th century, the market has grown in size and reputation with over 500 vendors and 30,000 visitors. Pay a visit to the ancient Tuscan city of Arezzo, go shopping for old-fashioned telephones, Roman coins, old furniture, tarnished candlesticks, and crockeries in the most famous Antiques Market of Europe and be a quintessential Italian.
Timing: First weekend of every month.
Address: Town of Arezzo: Piazza San Francesco, Piazza grande, Corso Italia, and surrounding neighborhoods.
10. Portobello Road Market, England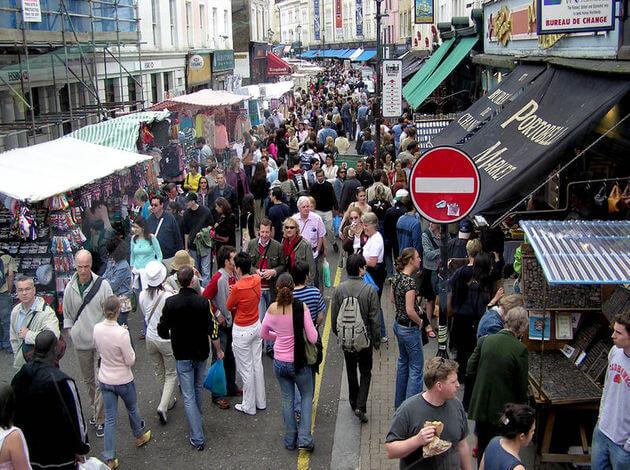 Image Source: Wikipedia.org
Portobello Road Market in London is one of the famous flea markets in Europe that provides more than just antiques and used clothes. Set in Portobello road that runs through the heart of Notting hill, made famous by the movie of the same name, Portobello road is one of the largest antique markets with over 1,000 sellers. While you are deciding what to buy and what not, grab a plate at one of the delicious food shops in the market and shop energetically.
Timing: Monday to Wednesday - 9am-6pm, Thursday - 9am-1pm, Friday & Saturday - 9am-7pm.
Address: Portobello Road, 72 Tavistock Road, London.
I will stop right here because I am sure you would have left the blog midway to go shopping in any of these. Anyways, happy shopping.
You may also like to explore: