Spring Break Beaches in Florida for an Exciting Vacation in 2018
DHRUVALAKSHMI PAITHANKAR
Jan 05, 2018
48 Views

Image Source: Pexels.com
"If you can't find something to do in Florida, you're just boring", said the celebrity chef Guy Fieri and how true his words are! Florida is already popular as the Disney town amongst kids. But, when it comes to spending a spring break in Florida, you will get to know the whole new state with charming beaches, thrilling water sports, and exhilarating beach parties. First or second week of March transforms generally silent coasts into bustling shores. You can choose a swimsuit, a surfing board, or a tube of tanning cream, beaches in Florida welcome everyone with equal enthusiasm. This list combines the popular as well as hidden spring break beaches in Florida to make your vacation perfect. Head to these family-friendly destinations with a spring in your steps because tans will eventually fade, but memories will stay forever!
1. Treasure Island Beach - Best City for Spring Break in Florida

Image Source: Michel Curl/Flickr
Treasure Island is a small city in Florida that has a couple of lovely beaches. It is a perfect spring break destination for budget-travellers. With numerous resorts and hotels right next to the wide shores, you will never have to worry about finding an accommodation here. Head to Sunset beach if you want to spend quality time with your loved ones. As the name rightly suggests, the beach offers a spectacular view of the evening sky painted in the shades of red and golden. You can build sandcastles, go swimming, take a walk looking for shells or simply take in the captivating vistas. This is also one of the very few beaches in this region that welcomes LGBT community.
2. Naples - Family-Friendly Spring Break Destination in Florida

Image Source: Catherine/Flickr
Known as the best beach in America, the city also likes to fondly call herself the Golf Capital of the World. The beach is perfect for every type of traveller. The warm spring weather is for sunbathing with your partner or going for fishing. If you want to avoid the crowded coast, you can rent a boat or kayak to explore the water and secluded corners around. Enjoy a day on a beach and experience the bustling nightlife with your loved ones. If you are travelling with kids, then visit Naples Zoo or Florida Panther National Wildlife Refuge to take a break from different beach activities. The city is also a place to go on a shopping spree and find anything from antiques to clothing. Check out these spring break ideas for family.
3. Miami - Don't Miss the Beach Parties

Image Source: Pixabay.com
It is not possible that people are talking about Florida and Miami doesn't come up in the conversation. If you have seen Hollywood movies, you probably already know how extravagant Miami is. It is the mecca for budget-travellers, college students and lavish vacationers at the same time. Miami has a great warm weather throughout the year, but it transforms into such a lively place during a spring break. As the city is a melting pot of different cultures, the beaches reflect the same. You will find tourists coming from around the corners of the world to experience the leisurely beaches, high-end shopping, and legendary nightlife. And then there are some areas that allow topless sunbathing to make your spring break even more exciting. Want to do more? Read about the best things to do in Miami before you plan your trip with TripHobo.
4. Key West - Most Famous Among College Students in Florida

Image Source: Pixabay.com
Key West is the exquisitely beautiful island located at Florida's southernmost point. The island is known as America's only living coral reef. So, do not go expecting sandy beaches lined with lounge chairs for sunbathing. But, you will get to do snorkeling, boating, kayaking, and fishing when you are vacationing in Key West. If you are not fond of these leisure activities, then head to Smathers Beach. It is flooded with youngsters playing beach volleyball. This man-made beach is for college students on a spring break. Smathers Beach is also the famous point to get your adrenaline rushing with numerous water sports. Vast sandy coast makes it a popular wedding spot around here. Soak yourself in local flavour and chilly water here. Check out the best sunset spots in Key west.
5. Cocoa Beach - Unique Beach for Spring Break in Florida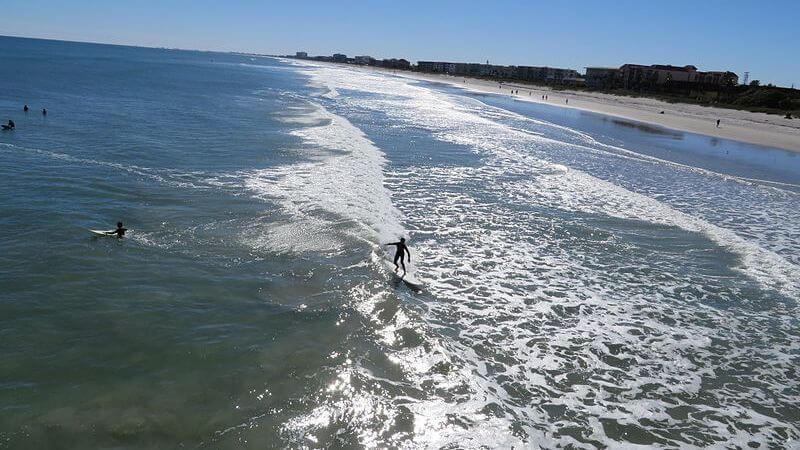 Image Source: Wikimedia Commons
Cocoa Beach a unique spring vacation destination in Florida. It has the Kennedy Space Center nearby the beach area which allow you to tour NASA's launch pads here. If you are lucky, you will also get an opportunity to view the launching while you are sunbathing on the sandy beach. The coast is filled with golden-hued sand and sky-blue water make for a picturesque view. You may also come across nesting sea turtles in the secluded corners. The calm waters and ideal beach have made it famous as the mecca for surfers. The beach is home to the world's largest surf shop and the fishing pier. Visiting these places to kick-start your adventurous vacation is a must.
Check Out: High-Spirited Beaches in Florida That Allow Alcohol
6. Clearwater Beach - Most Popular Spring Break Destination in Florida

Image Source: Maxpixel
Clearwater Beach is made for family-friendly spring vacation as well as college spring breaks. It is known for having an immaculate white-sand and, as the name suggests, crystal-clear water. Considered to be one of the best beaches in the United States, you will get to do parasailing, jet skiing, boating, and famous pirate ship cruising. Pier 60 is the popular spot amongst locals as well as tourists. It hosts a daily festival - Sunsets at Pier 60. You will enjoy live music, street performers and musical acts by local artists. With a lovely playground for kids and small kiosks to buy souvenirs from, your relaxing spring break will turn into an exciting vacation.
7. Sanibel Island - Go Hunting For Shells With Your Kids

Image Source: Bernard Spragg.NZ/Flickr
Sanibel Island has the combination of crowded beaches for college students and secluded beaches for families and newly-weds. The island has been awarded numerous times for having best shelling beaches in the USA. With many different beaches, it is hard to choose where to go in spring. If you are looking for a romantic getaway, head to Turners Beach. If you are interested in windsurfing, Lighthouse Park beach is for you. If you love walking along the sandy shores, well-manicured trails at Bowman's Beach and Captiva Beach will welcome you. And, almost every beach has elaborate picnic facilities. It doesn't matter if you are a budget-traveller or looking for a lavish vacation, Sanibel Island will never disappoint you. Sanibel Island has got the best spring break beaches in Florida and if you plan to take your furry friend along check out these dog friendly beaches in Florida.
8. Palm Beach - A Luxurious Spring Break Vacation

Image Source: Pixabay.com
The Town of Palm Beach will dazzle you with its enchanting natural beauty. This popular winter home to the Vanderbilts, the Kennedys, and the Rockefellers transforms into an extravagant spring vacation destination in Florida as the March knocks on its doors. 47 miles of beaches have become the identity of Palm Beach. Coral Cove is a tiny beach that is loved by snorkelers whereas Carlin Beach Park will let you spend hours lying on the soft sand. Each beach is unique and offers different activities for different age groups. This diver's paradise will let you embrace the lavish spring break. Palm beach is one of the best places to visit in USA in March.
9. New Smyrna Beach - Go Surfing this Spring Break

Image Source: Pixabay.com
This place is a paradise for amateur as well as experienced surfers. The tides are perfect for sailing and motorboating as well. Beautiful white coastline stretching up to 13 miles is known for being a pet-friendly place. You wouldn't have to worry about searching for a destination to explore with your four-pawed friends. If you are looking for fun activities to do with kids, head to New Smyrna Beach in spring. You will get to build sandcastles, go swimming, surfing, boogie boarding, fishing, and dune buggying. With so many outdoor activities, you are bound to have a good time here.
10. Anna Maria Island

Image Source: Wikimedia Commons
This pristine island will surprise you with its action-packed beach areas. Though it is not yet a popular tourist attraction, it has everything you will need to make your spring vacation in Florida memorable. This offbeat city will let you explore all the attractions at your own pace. Take a relaxing walk on the charming beach, or rent a paddle boat or kayak to explore the sea to see colorful birds adorning the sky. If you want a break from the beach, then the city awaits you with many art-galleries, museums, elegant restaurants, vibrant cafes, and soothing parks. It is also a great place to pamper your taste buds with delicious seafood.
Find your own paradise on these serene beaches that are perfect for welcoming a spring.