8 Best Food Trucks In Pune Serving Delicious Food
* Disclosure: This post may contain affiliate links, which means we may receive a commission if you click a link and book something (there is never any extra cost to you for using these links).
Behold the coolest concept of fast food! Food trucks have become quite the hit on the streets of Pune with so many ravenous college kids and foodies in the city, it is churning the most outstanding and drool-worthy food for your midnight cravings. Parked in popular areas of the city, you'll get your fresh food through a van minus the enduring wait, because ain't nobody got time to sit in a restaurant for hours waiting for delectable food that does NOT arrive to your table on time. We want food, and we want it now!
Let's begin the final countdown for best food trucks in Pune!

Image source: facebook/hennygourmettruck
1. Boston Food Truck
Mamma mia! This italian inspired food truck serves the best pasta in town along with its super thin crusted pizzas! This authentic yet wholesome meal on wheels has an array of italian goodness but not limited to the good ol' boston hotdogs and cheesy fries which is its speciality.
Where: Near Alpha Hospital, Datta Mandir Chowk, Wakad
Price: Rs 60-150
2. The Cheese Truck

Image source: facebook/thecheesetruck
The ultimate stoners delight! No really, the ultimate stoners delight is a triple decker sandwich with a mystifying secret ingredient pulling the crowds of Pune to this heavenly place. You've got cheesy pastas, grilled cheese sandwiches, pizzas by the slice, momos and for the sweet tooth- nutella cakes that are just divine.
Where: In and Around Vimanagar, look out for the big yellow and red van
Price: Rs 80-150
3. Henny's Gourmet
"Sinful" "orgasmic" and "oh my god" are the words you'll hear while people dig into their pure belgian waffles topped with nutella, caramel, banana and what not! Choose your own toppings with whipped cream and devour this happiness on a plate. There will be a crowd and their timings are a bit erratic but it's definitely worth the wait!
Where: Right after Salunke Vihar Society in Wanowrie
Price: Rs 100 for a full plate of waffles
Must Read: Top Food Trucks in India  
4. Burgertron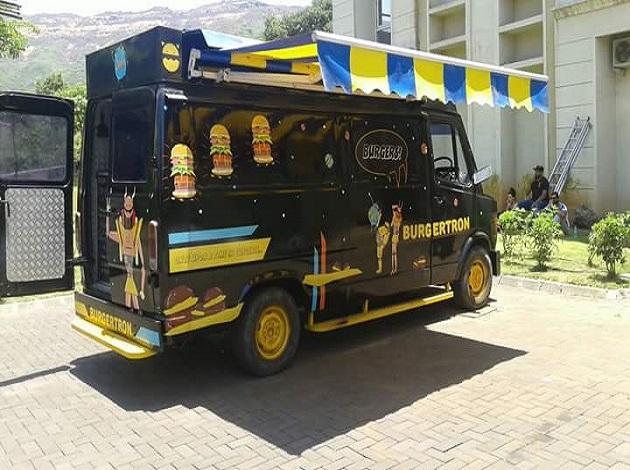 This humble food truck is parked near the SRPF ground of Wanowrie, very convenient to the college crowd of VIT and multi-cultural residents of NIBM. You've obviously got burgers here but my oh my you'll be spoilt for choice! You have mexican to seafood delights like prawns, squid and crab burgers. Accompanied with spicy peri peri fries, you will definitely let out a very satisfied burrp!
Where: Opp SRPF ground wanowrie
Price: Rs 100-180
5. Breaking Bread
With raging reviews, breaking bread is the ultimate carbs lover delight. A super concise menu with mouthwatering baked bread with stuffed fillings of charcoal chicken to delicious veg bean patties or cottage steak making all the veg and non-veg folks happy! Delicious and super filling, people throng to this place for their mean burgers and gold fries.
Where: ITI road, opp crossword, Aundh
Price: Rs 100-160
Must Read: Best food festivals in the world  
6. Chef's Karnation-Wah Bhi Wah

Image source: zomato
A Mini punjab in a van and a perfect anecdote for those homesick from the north. Chef's Karnation has a set of jovial staff that makes you feel at home and the food will definitely make you swoon or question slightly your mother's cooking. The butter chaps and lachcha parathas will fill your delhi belly while you smack your lips in absolute delight! The food keeps coming and won't keep you waiting and it can get a bit crowded but that won't faze them. Truly, Wah Bhi Wah!
Where: Shop 4, Kunal Icon Road, Near Shivar Chowk, Pimple Saudagar, Pune
Price: 120-240
7. JW Mariott Food Truck
If you're feeling exceptionally fancy and don't want to pull away from your roots of street side food, have a gluttony affair at the JW Marriott food truck! A global fusion of classic american food with wholesome mix of ghar ka khanna. You've got chicken donuts to lasooni techaa which is everyone's top picks and don't get me started on their sundaes and shakes, because you cannot possibly pass that up.
Where: Right outside JW Marriott
Price: Rs 200 standard
8. Mexican Rodeo

Image source: zomato
The lust of biting into a spicy chicken filled burrito can bring a foodie to tears, in a good way! The mexican rodeo has everything from chilli nachos, to 7 layer burritos and the usually forgotten quesadillas! The shakes are exceptionally good, especially the oreo shake. So give in to this fiesta and keep a water bottle in handy!
Where: Behind Bishops School, next to polka dots, kalyani nagar
Price: Rs 200-250
There you have it, you've got your street food with a delicious twist! If you've encountered more of these hidden gems do let us know in the comments below!
You may also like to Read: