At every turn, Vegas makes you want the splurge. Whether at the casinos or at some of the spectacular shows, things are never easy on your pocket. But if you're on a budget or looking for some entertainment without having to open your wallet, here's a list of fun, free
things to do in Las Vegas
.
1. Enjoy the Fremont Street Experience

Image Source: Matthew Straubmuller/flickr
Fremont Street in downtown Las Vegas is a huge open-air pedestrian mall. There are daily shows, music concerts, and live entertainment. The highlight is the Viva Vision, a sound and light show on a 1,500-foot-long video screen, which starts at dusk.
2. Get Free Gaming Lessons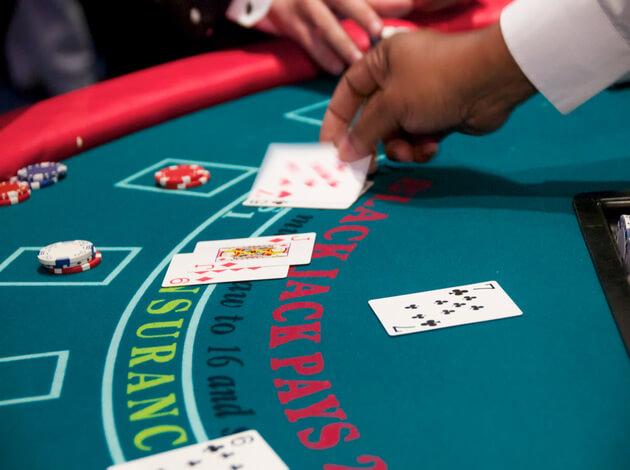 Image Source: Bob Owen/flickr
The casinos, Circus Circus, Excalibur and Luxor, all offer free gaming lessons for rookie gamblers. Head early to be able to learn first-hand tips and tricks or even observe as the pros show you how it's done! This is a great idea for a
bachelorette weekend in Las Vegas
.
3. Visit the Bellagio's Conservatory and Botanical Gardens

Image Source: wikimedia
Open 24 hours a day, the conservatory at the Bellagio is a beautiful display of flowers, plants, and trees, which changes every season. You can also meet Mr. & Mrs. Green Thumb, the in-house gardening experts who will answer your gardening related questions. There is also a music show every evening from 5 p.m. to 6 p.m.
4. Gaze upon Fountains of Bellagio

Image Source: wikimedia
Obviously, we all remember the famous scene from the movie Ocean's Eleven, the beautiful Fountains of Bellagio are a definite must see. Shows occur every half hour from 3 p.m. to 7 p.m. and every 15 minutes from 7 p.m. until midnight.
5. See the Flamingo Wildlife Habitat

Image Source: Justin Otto/flickr
The Flamingo casino stays true to its moniker and has a massive number of Chilean flamingos in its Wildlife Habitat. Bird lovers and children would thoroughly enjoy the opportunity to see them and other birds like swans, hummingbirds, pelicans, and parrots.
6. Check out the Golden Nugget - Hand of Faith

Image Source: Ken Lund/flickr
The Hand of Faith is a huge 61-pound gold nugget located in the lobby of the aptly named Golden Nugget casino. It is the largest gold nugget on public display in the world. There are also several unique gold nuggets from Alaska that one can browse through here.
7. Visit The Auto Collections

Image Source: wikimedia
The world's largest collection of antique, unique and American muscle cars is in this museum, which is located at the LINQ Hotel & Casino. Definitely worth a visit for car enthusiasts and entry is free. The timings are from 10 a.m. 6 p.m. everyday except Sunday.
You can also avail great deals and discounts on bargain with TripHobo Hotels!
8. See the Silverton's Saltwater Aquarium

Image Source: silvertoncasino.com
The Silverton casino is home to a massive saltwater aquarium. It has 117,000-gallons of water with over 4000 different species of fish residing there. They also have feeding shows twice a day and a uo;mermaid swim" on the weekend.
9. Enjoy the Streetmosphere

Image Source: Tim Wright/flickr
The Grand Canal Shoppes at the Venetian casino and hotel is a lively area that is free and open to all. The entertainment here includes the Carnevale di Venezia that plays all day, as well as other acts like Living Statues, Gondolier March and a host of Italian folk music and opera performances.
10. Watch the Fall of Atlantis Fountain Show

Image Source: pixabay
The famous Caesar's Palace hosts a beautiful and entertaining show that depicts the Fall of Atlantis the mythical city. The show is a light, water and sound show performed by animatronic statues. It is truly a unique experience that takes place every hour and is free to all.
11. See Performances at Circus Circus

Image Source: wikimedia
See the acrobats perform for free at the Circus Circus Casino. There are jugglers, unicyclists and all sorts of other acts that entertain guests from 11 am to midnight every hour for 10 minutes. It is the world's largest permanent circus so don't give it a miss!
12. Visit Paris in Vegas

Image Source: wikimedia
The Paris casino has replicas of every major attraction from the city. There is the Eiffel Tower, the Arc de Triomphe, the Louvre, the Paris Opera House, and the Htel de Ville. If you've never been to Paris, it's as close as it can get.
13. Tour Anderson Dairy with the Kids

Image Source: andersondairy.com
The Anderson Dairy had guided tours daily for kids. Suitable for kids from the age of 2-11years, the tour includes showing them the processing plant and educating them about the different processes with the help of animatronic farm animals, farm scenery, and laser light shows.
14. Tour the Ethel M Chocolate Factory

Image Source: ethelm.com
The chocolate factory offers free self-guided tours everyday. The tour also includes a visit to the cactus gardens on the property. You can see the entire chocolate making process and even taste free samples! Do enquire about other experiences that are fun but come at a fee of course.
15. Visit Clark County Wetlands Park

Image Source: clarkcountynv
The park's main aim is to spread awareness about the biodiversity and ecology of the Nevada region. It is home to hundreds of species of birds, animals, and trees. Visitors can go for nature walks, ride on bike trails and explore the natural habitat. Entry to the park is free, however, some activities may incur a fee.
Next time you're in Vegas, head over to one of these places and just have a good time without going on a spending spree!
Also Read: