Free Weekend Activities In Mumbai That add to the Fun!!
* Disclosure: This post may contain affiliate links, which means we may receive a commission if you click a link and book something (there is never any extra cost to you for using these links).
Mumbai, having umpteen synonyms to it the city that never sleeps, the city of dreams, Bollywood and many others, is an abstract feeling actually! This economical capital of India never takes a break, constantly abuzz with something, the pace of life here doesn't seem to cease or slow down. The spirit of people living here is another thing altogether. There are a zillion
things to do in Mumbai
, the most populated city in India, listed below are those fun and free weekend activities in Mumbai, because sometimes money can't buy happiness!
1. Enjoying the cool breeze at Marine drive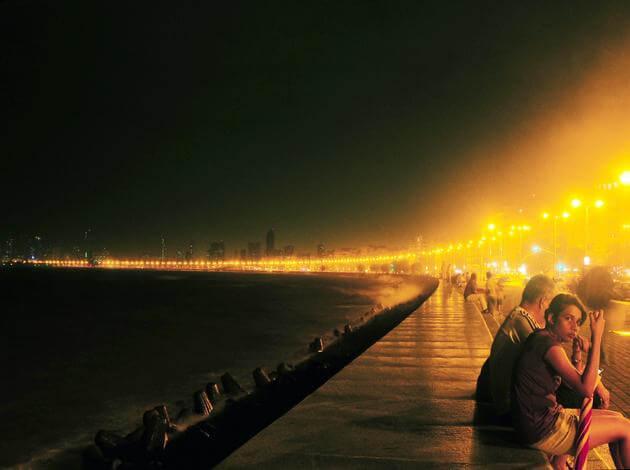 Image source: Flickr.com/ Gopal Vijayaraghavan
The queen's necklace is a real gem and my number one on this list! This place doesn't stop amazing me every time I go here morning, afternoon, evening, night or even dawn! Sitting at one end of the
Marine drive
, in front of the NCPA, you get to gaze at the entire curve of this jewel. Just sitting on the parapet with a cutting from one of the hawkers, enjoy the various sites of - struggling yet laidback hawkers with the quirkiest things to sell,
maalish walas
, horse cart rides lit fancily, people from all social classes, and the police security, as if pasted against the backdrop of the magnificent Oberoi Trident, juxtaposing yet in total harmony. On the other side, you have the entire Arabian sea to just glare into with the panorama of Cuffe parade to Girgaon Chowpatty. Certainly one of the best things to do in Mumbai for free and one of the many fun things to do in Mumbai at night!
2. Be a part of the Churchgate frenzy
Southwards, Churchgate is the last local station and with many old established offices in this side of the town, there are millions of people commuting here daily for work. No kidding, but go there in the morning peak hours and chances are you might experience Inception! Imagine millions of working people, dressed formally getting on and off locals in a fraction of seconds, some even grabbing a quick bite at the many eateries underground, amidst this beautiful enclosed station that still feels like a wonderland, given its splendid architecture!
Must Read: Weekend getaways near Mumbai
3. Window shop at Causeway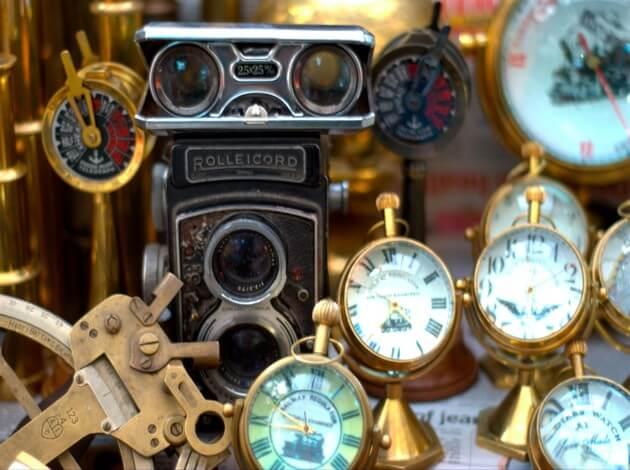 Image source: wikimedia.org
Colaba Causeway
is my favorite part of this huge mad city, many things about this place take you back in time. Not sure if it is the rampant British architecture, the humble commute that still persists in this part of the town - taxis, the lush greenery, which by the way is very rare to find now in an ever-expanding city or the sea (I know the sea is there everywhere else too but something about the sea particularly at the Gateway of India, Cuffe Parade or the Nariman Point, just looking at it from Churchgate to Bombay Central from the train was my favorite thing to do!).
This area is thronged by a lot of tourists too, setting a lively vibe against the backdrop of an old world charm! The Gateway of India, The Taj Mahal Hotel, the Causeway Colaba and many other attractions in the Fort and Colaba area are a reason why you will spot a number of foreigners here. Who doesn't like rustic, street-smart, authentic, traditional street shopping?! These footpath outlets sell everything from artifacts to shawls, carpets and minor antiques to slippers of all kind, which make tourists, backpackers, and locals from South Mumbai, throng the area throughout the year. This is one of the fun activities in Mumbai with friends you perhaps must do on a weekend!
4. The Walk of Stars at Bandstand
A jogging track, a lovers point, and a very popular hangout, sitting on the rocks almost in the sea, admiring the Bandra-Worli sea link as the waves splash across the rocks is a unique experience of its own! The Bandstand Promenade essentially is a kilometer-long walkway along the sea on the west side of Bandra, with an amphitheater towards the Land's End side. It serves as a venue for the Mumbai Festival, Celebrate Bandra and other events including concerts, classical dance and other performances, and the 'Artist's Court' is another performance venue built into the promenade that witnesses public Jam sessions on Sundays.
The Walk of the Stars, inspired by Hollywood Walk of Fame is a 2 kilometers' section honoring Bollywood film stars, featuring about six statues of famous Bollywood actors as well as about 100 brass plates embossed with the handprints and signatures of other stars, is a must see here.
5. Khotachi Wadi heritage walk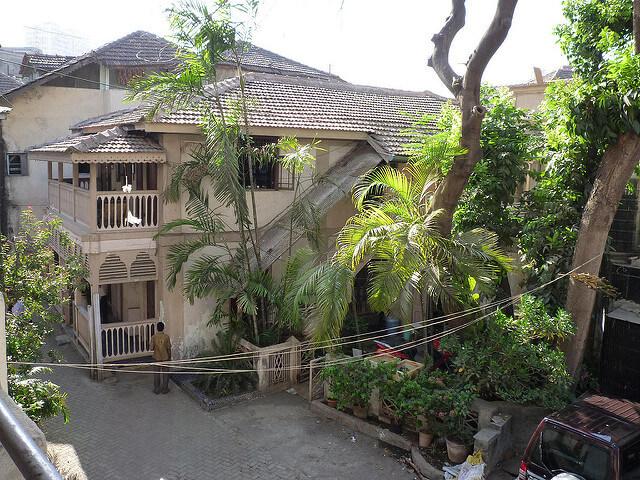 Image source: flickr.com/Urbz
A heritage village in Girgaon, the Khotachi Wadi houses generally conform to the Old-Portuguese style architecture. Founded in the late 18th century by Khot, a Pathare prabhu, who sold plots of land to local East Indian families. Beautiful houses made of wood, with a large open front verandahs, back courtyards are a delight to watch. What to expect here? Konkan-Portuguese style architecture, a Catholic chapel with stone benches and street art for decor, chawls, candy-colored walls and an eclectic mix of various Indian ethnicities and religions coexisting in harmony! Not essentially a getaway, but not any less than one of the best weekend getaways on a budget in Mumbai.
6. Hang out at the Prithvi Café
An open air cafe hugged by gorgeous trees, bamboo, and plants, the Prithvi Café is a little oasis of tranquility in the middle of Mumbai. Founded in 1942 by Prithviraj Kapoor, the theater today is THE place to spot the acting nerve of Bollywood! In the premise of the complex also lies a cozy but vibrant Prithvi Café, where you must savor the Irish coffee, cutting chai and brownies. At night, this open-air cafe is decorated with huge lanterns and bamboo decorations creating a warm cozy ambiance. Perfect to spend your Sunday evening and one of the best things to do in Mumbai for youngsters!
7. Venturing the historic Fort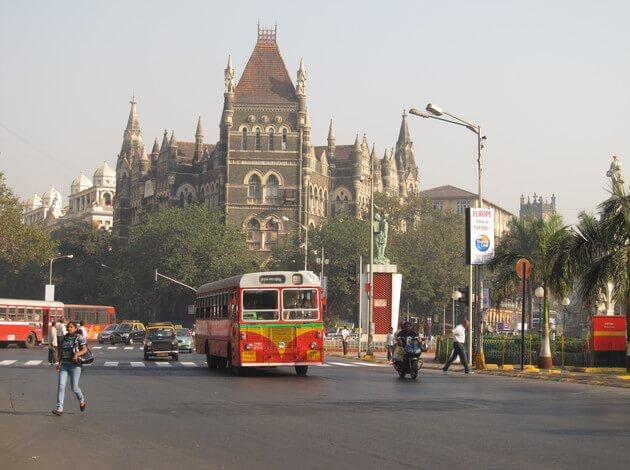 Image source: wikimedia.org
Bombay certainly does take you back in time, with a prevailing British vibe that it still has to it! Especially, the old heritage buildings of Mumbai are some of the most charming structures built on Indian soil that have pages of history attached to them. Buildings such as the Bombay House, that has been the head office of the Tata Group since 1924 and The Bombay Stock Exchange (BSE) which was once India's tallest tower. These quaint lanes are also dotted with famous Irani restaurants and cafes add further to the charms of an area that has historically had the highest density of millionaires in the country! Other historical buildings such as the Chhatrapati Shivaji Terminus (CST) that was formerly called the Victoria Terminus (VT), the Gateway of Bombay and the Asiatic Society Library draw a considerable number of tourists towards their fold. This is personally my favorite fun weekend activities in Mumbai for free!
8. Cycling through Colaba
Okay yes, South Bombay is clearly my favorite part of the city and thus another free thing to do here is in Colaba! A Sunday morning spent pedaling through the charms of a bygone era followed by a hearty breakfast at one of the Irani cafes, is my idea of a perfect start to a Sunday!
Must Read: Best Trekking Places Near Mumbai  
9. Some Bollywood glitz and glam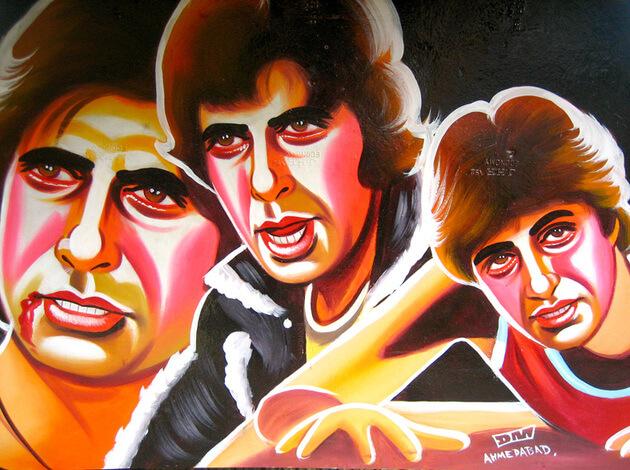 Image source: flickr.com/Meena Kadri
You can't be in Bombay and not get a taste of Bollywood! People from all the over world come to Bombay only to try their luck in this enormous film industry. Head to Andheri, to just find yourself surrounded by aspiring actors, producers, comedians and even models! Or any of the studios sprawling throughout the city, to get a glimpse of an action sequence, a dance number or the infamous melodrama! Spot a huge RV? Chances are your favorite Bollywood star is in it!
10. Sunset at the Juhu beach
Deriving its character from the great sea shores that offer instant relief from the daily grinds of city life, Mumbai has a plethora of great beaches and even better chowpattys! Apart from being fun places to visit in the evenings, the Juhu chowpatty's environment is akin to that of a carnival, especially on weekends! Watch the golden sunsets here as you binge on famous 'chowpatty must-haves' bhelpuris, pav bhaji, and faloodas. If you are a morning person, a jog as the sun rises followed by a visit to the ISKON temple will set you in the right frame for the day!
11. Spiritual retreat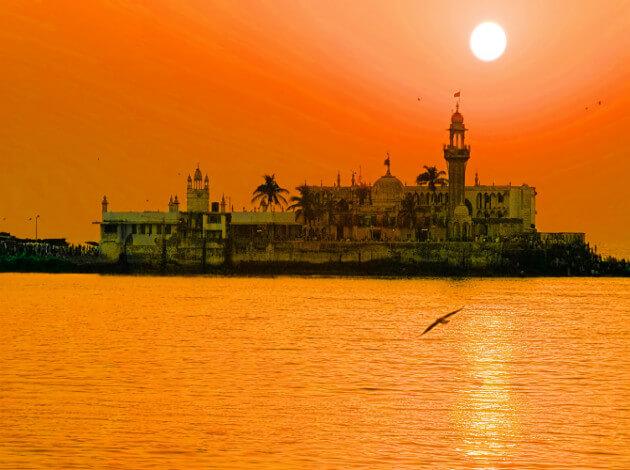 Image source: wikipedia.org
Talking about spirituality, a visit to the Mount Mary church, the Siddhivinayak temple, and the Haji Ali dargah are all one-of-a-kind experiences. Mumbai having such a grand population, indeed has people of all faiths, and this, in fact, is the beauty of this city amongst many other factors. The Haji Ali in the sea, the Mount Mary upon a hill, the Siddhivinayak in the bustling Prabhadevi are all exceptional in their own way. Every place has its story to tell, talk to someone here for an enlightenment of the story.
12. Art festivals galore
With the object of maintaining and preserving the heritage and art district of South Mumbai, the Kala Ghoda Arts Festival is the country's largest multicultural festival. The Festival draws visitors in large numbers, not just from the city but from all over the country, and, indeed, the world. In recent times, the area is a hub of cultural activity and a throbbing urban node with institutions like the Jehangir Art Gallery, Max Mueller Bhavan, Bombay University, Prince of Wales Museum, National Gallery of Modern Art, Institute of Science, Bombay Natural History Society, Elphinstone College, and David Sassoon Library around it, all within comfortable walking distance of each other.
Apart from the entertaining pursuits of art and education, Kala Goda also offers a host of famous city restaurants and cafes, along with art galleries, designer boutiques, and many culture-related activities and venues - the most popular one being the annual Kala Ghoda Arts Festival, where many artists, performers, and craftspersons gather every February, and you certainly must not miss this, if you happen to be in Bombay then.
13. Get your bargain game on at the Chor bazaar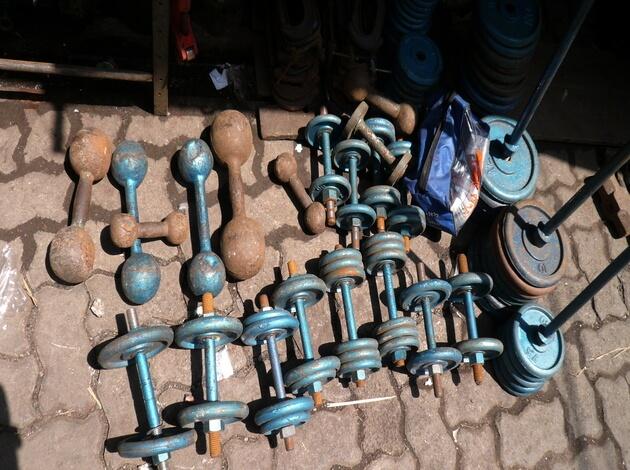 Image source: wikipedia.org
The chaotic Chor Bazaar, which literally means the Thieves Market, is a Mumbai institution! Not for the faint hearted, intrepid shoppers can find everything from Bollywood posters to raj-era memorabilia, and lots of knockoffs in between, in this maze of stalls and shops in the Muslim Quarter. If you are not from the city, be prepared to haggle or find a local to help you bargain.
A 150-year-old market, which is so dense and rich that even most regulars can't fully fathom it, for be it age-old artifacts at dirt cheap prices or Polaroid cameras for 500 bucks! Some more FYI Friday is the best day to visit!
Now with this list of fun weekend activities in Mumbai for free, you got to start planning now!