Famous Ganesh Mandals in Pune
* Disclosure: This post may contain affiliate links, which means we may receive a commission if you click a link and book something (there is never any extra cost to you for using these links).
Pune - the city of Maharashtra where Ganeshotsav was first initiated. The most-loved festival is fast approaching and the usually laid-back city has started hustling to welcome its favorite Lord Ganesh. Ganpati puja pandal is being erected at every corner and locals are heading to the stalls selling beautiful Ganesh murti. Step into the markets to find each shop selling decorative materials and pass by any road to distantly hear the dhol tasha rhythm. And then when the Ganesh Chaturthi begins, make your way towards these 10 famous Ganesh mandals in Pune to ring in the festival the right way!
1. Shri Kasba Ganpati Sarvajanik Ganeshotsav Mandal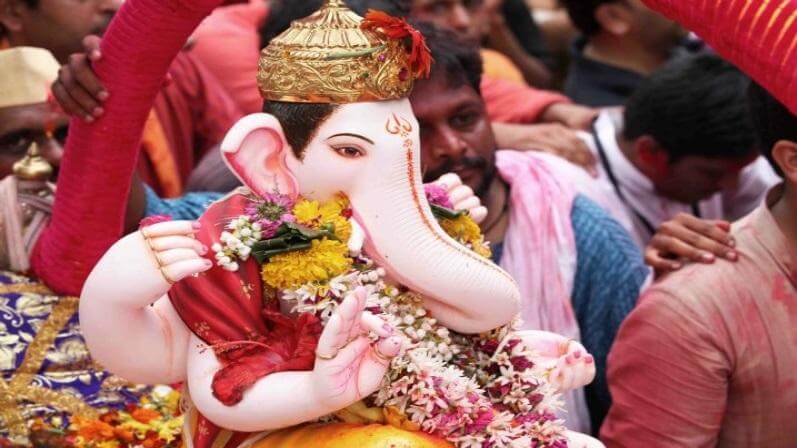 PC: Facebook.com
Shri Kasba Ganpati is the presiding deity of Punawadi, that is Pune. The Ganesh mandal was established in 1893. Regarded as 'Manacha Pahila Ganpati' or the first honored Ganpati, it is no surprise that there are long queues to seek his blessings. The mandal, through all these years, is known for conducting cultural and social programs. Last year, the mandal had recreated a wada setup and had shown a small documentary on the history of the mandal.
Address: 159, Kasba Peth Rd, Durvankur Society, Phadke Haud, Kasba Peth, Pune
2. Tambdi Jogeshwari Ganpati Mandal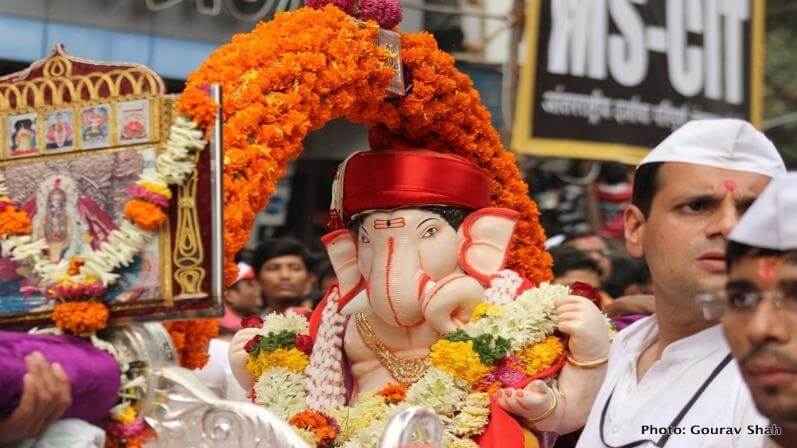 PC: Flickr.com
Tambdi Jogeshwari Ganpati was esteemed as 'Dusra Manacha Ganpati' or the second honored Ganpati of Pune by Lokmanya Gangadhar Tilak. This mandal was also established way back in 1893. The Ganesh puja pandal is erected right beside the Tambdi Jogeshwari temple which was built in the 15th century. This mandal also conducts many cultural and social programs for the betterment of the society. Last year, large crowd was drawn to Tambdi Jogeshwari Ganpati pandal to see the artistic tortoise, placed in Ganesha's silver shrine.
Address: 33 (A), Budhwar Peth Rd, Budhwar Peth, Pune
3. Guruji Talim Ganpati Mandal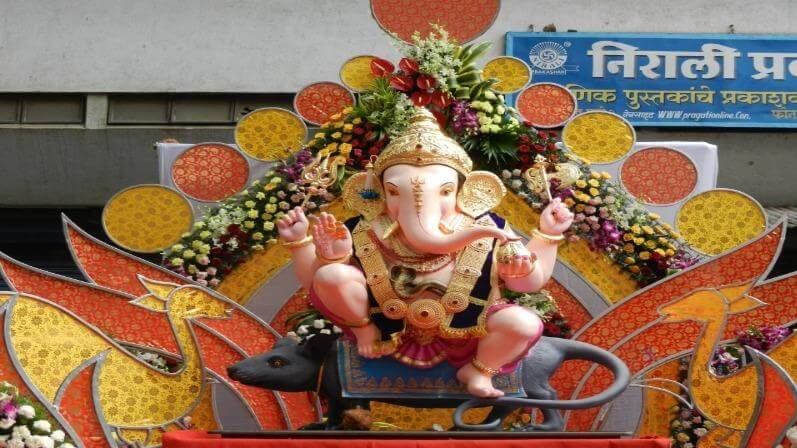 PC: Facebook.com
Guruji Talim Ganpati is revered as the 'Teesra Manacha Ganpati', or the third honored Ganpati of Pune. It is considered to be the oldest Ganpati mandal, as it was founded in 1887. The mandal was together established by Hindu and Muslim families, sending a strong message of unity. Last year a magnificent mythological temple was erected to house the beautiful Ganesh murti in a silver chariot. The mandal had also organized a midnight women's bike rally for promoting women empowerment.
Address: Kedar Dilip Mane 43, Laxmi Road, Budhwar Peth, Pune
4. Tulshibaug Ganpati Mandal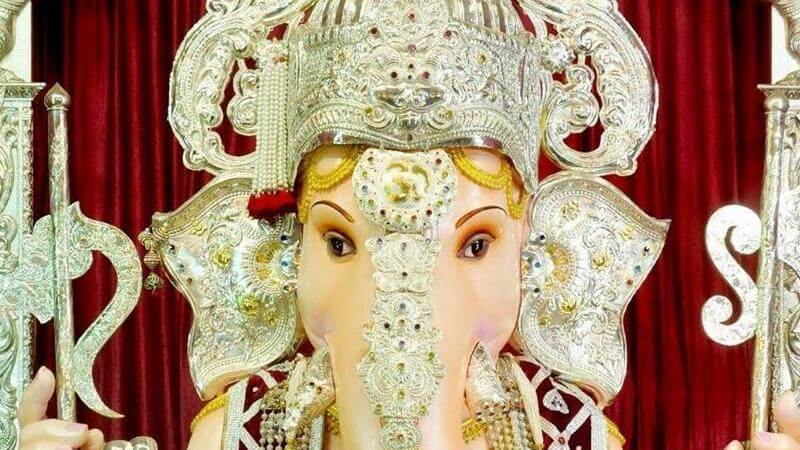 PC: Wikipedia.org
Standing tall at 15 feet, the Tulshibaug Ganpati idol, coated with 125 kilograms of silver, is the largest in Pune. The Tulshi Baug Ram Mandir was founded in 1901. It is 'Manacha Chautha Ganpati' or the fourth honored Ganpati amongst all in Pune. The mandal holds a prestigious record of making the first glass fibre statue in 1975. Looking at the captivating idol, you cannot keep yourself from bowing to the artist D. S. Khatawkar who has been decorating it for years together. Last year, the mandal captured everybody's attention with the large garud (eagle) chariot used to carry the murti during immersion procession.
Address: Tulsibaug, Budhwar Peth, Pune
5. Kesariwada Ganpati Mandal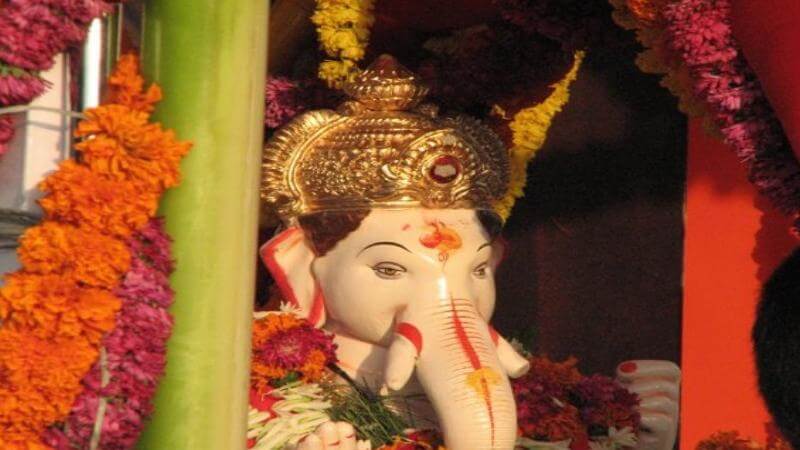 PC: Facebook.com
Kesariwada Ganpati is 'Manacha Pachva Ganpati' or the 5th honored Ganpati. Visiting this pandal, you will see a beautiful Ganesh murti, decorated in the simplest form. Ever since its establishment in 1894, the Kesari Trust has believed in spending less on decorations and focusing more on bringing people together. Sticking to their belief, the mandal every year organizes special events, including lectures, that benefit the society. Step into Kesariwada this year, and you will be able to bask in the true essence of Ganesh festival.
Address: 577, N. C. Kelkar Marg, Narayan Peth, Pune
6. Shrimant Bhausaheb Rangari Ganpati Mandal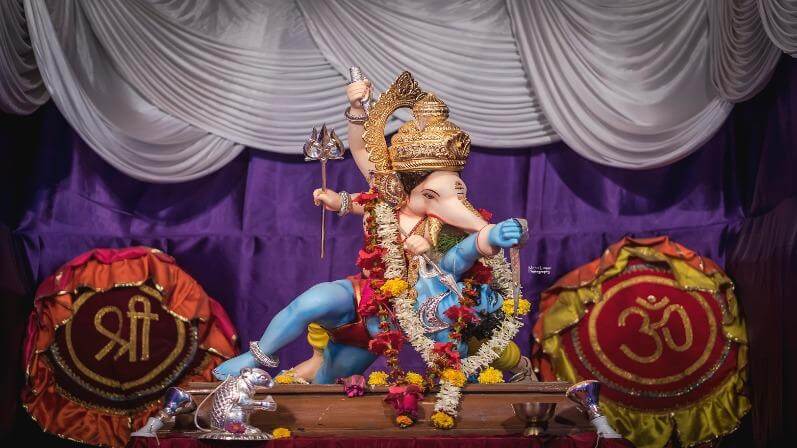 PC: Instagram.com
Founded in 1892 by Bhausaheb Laxman Javale, popularly known as Bhau Rangari, this is the oldest sarvajanik (public) mandal all over India. The mandal was founded to facilitate a common meeting place for revolutionaries during the British Raj. The mandal's statue shows a ferocious ganesha killing a demon, where the demon was used to indicate the British during olden times. Last year, the mandal presented an eco-friendly idol, made from paper pulp, standing 3-feet tall.
Address: 662, 657, Bhau Rangari Road, Budhwar Peth, Pune
7. Hutatma Babu Genu Ganesh Mandal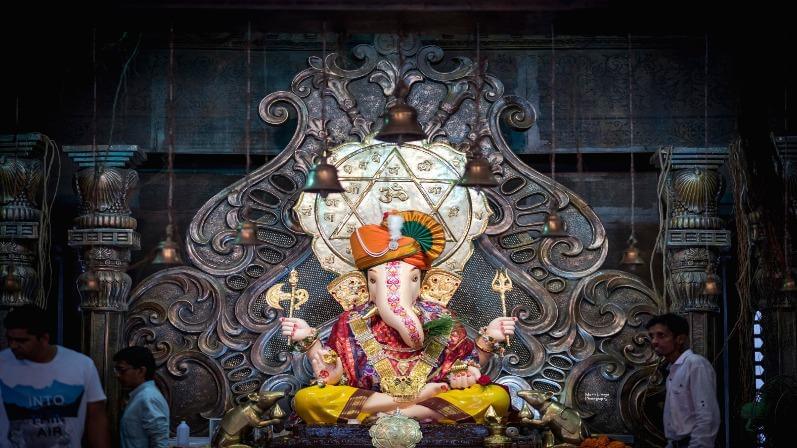 PC: Instagram.com
Hutatma Babu Genu Ganesh Mandal was established in 1970 and is named after the respected freedom fighter Babu Genu Said. The mandal is famous amongst devotees for its 'wish pond' where you may throw a coin and make a wish. Sporting a 'pheta' or at times a 'Puneri pagadi', the Navsacha Ganpati (fulfiller of wishes), decorated with jewels, leaves you awestruck. Last year, a replica of the 11th century Baphuon Shiva temple, situated in Cambodia's Angkor Thom complex was erected to house Lord Ganesh.
Address: Hutatma Babu Genu Chowk, Pune
8. Akhil Mandai Mandal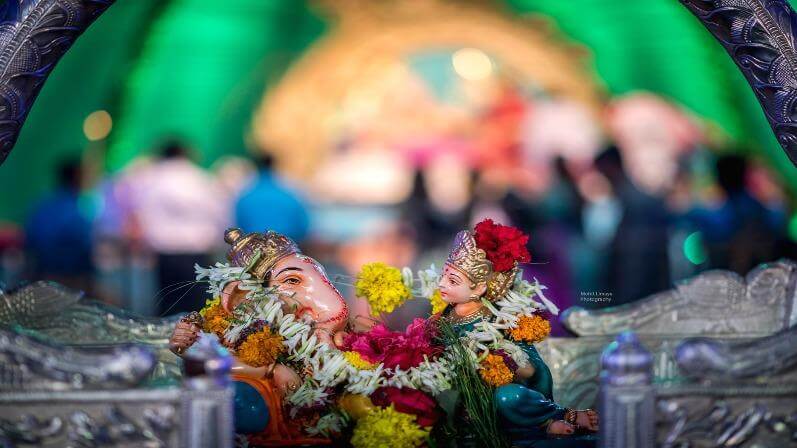 PC: Instagram.com
The Sharda-Ganesh idol of Akhil Mandai Mandal make for one of the most beautiful murtis. Besides, the Ganpati pandal decoration of this mandal is at par every year. The mandal also organizes social events for the reformation of the society. The mandal received a lot of appreciation when it helped the drought stricken areas in Maharashtra one year. Last year, the mandal gloriously celebrated its 124th year and had created a ganesh mahal, built by architect Harishchandra Chirmadkar.
Address: Budhwar Peth, Mandai, Shukrawar Peth, Pune
9. Shreemant Dagdusheth Halwai Ganapati Trust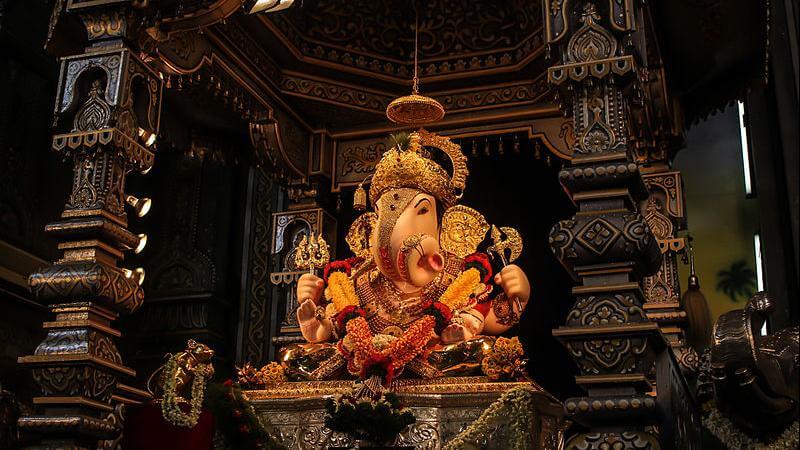 PC: Wikimedia Commons
Living true to his name, Shreemant Dagdusheth Halwai Ganpati is the richest of all in Pune. Boasting to be the pride and honor of Pune city, the trust leaves no stone unturned to awe everyone with its Ganpati pandal decoration every year. While the beautiful Ganesh murti is adorned with heavy gold jewellery, the pandal housing the idol is equally extravagant in appearance. Last year, the trust had erected a replica of Brahmanaspati Temple, a shrine of an abstract deity of Brahma, found to be mentioned in the Rigveda. Also, for completing 125 years, the Ganesh idol was decorated in new jewellery, which also included a 9.5 kilograms gold crown.
Address: Ganpati Bhavan, 250, Budhwar Peth, Pune
10. Akhil Navi Peth Hatti Ganpati Mandal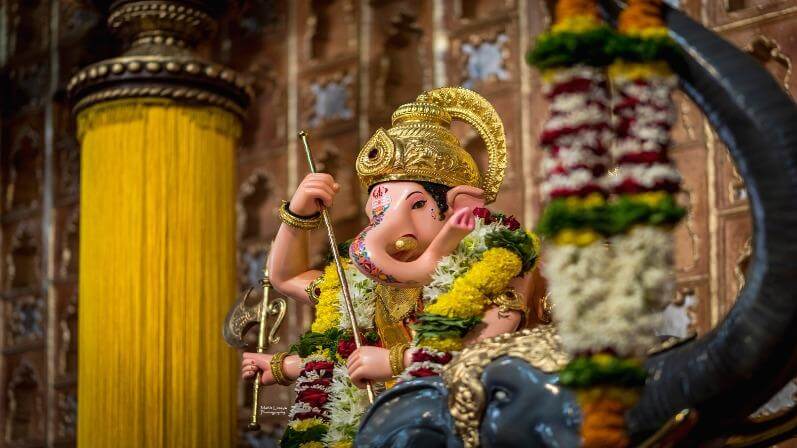 PC: Instagram.com
Akhil Navi Peth Hatti Ganpati Mandal was founded in the year 1923 by Digambar Balgude and Tukaram Chavan. Ever since, the mandal has been working for the betterment of the society. It has been sending social reformation messages primarily through their famous Ganpati 'dekhava' (scene). The idol shows Lord ganesha sitting on an elephant while fearlessly killing a tiger. Upon completing 125 years, the Ganpati pandal decoration replicated a Ganesh mahal. The 1st and last day procession of Akhil Navi Peth Hatti Ganpati Mandal is a treat to watch with the dhol tasha pathak (troupe) in the lead.
Address: 1159, Hatti Ganpati Road, Pantancha Gate, Sadashiv Peth, Pune
While you must visit all above famous Ganpati mandals in Pune, you may also make your way towards Jilbya Maruti Ganesh Mandal, Natubaug Mandal, Shree Chimnya Ganpati Mandal, Nimbalkar Talim Mandal, Shanipar Mandal, and Vishrambaug Wada Mandal. Get ready to ring in the Ganesh festival of Maharashtra with all the fervor.
FAQs about Pune City
Q. How far is Pune airport from the main city of Pune?

The driving distance between Pune Railway Station to Pune Airport is 7 KM and 855 meters.

Q. What are the must visit places in Pune?

Shaniwar Wada, Shreemant Dagdusheth Halwai Ganpati Mandir, Aga Khan Palace, Sinhagad Killa and Raja Dinkar Kelkar Museum are some ot the must visit places in Pune.

Q. Which are the best parks and Gardens to visit with family and kids in Pune?

Sarasbaug, Pune-Okayama Friendship Garden, Late Sanjay Mahadeo Nimhan Gram Sanskruti Udyan are some of the best parks and gardens to visit in Pune.

Q. Which are some of the best dishes to try in Pune?

You must try dishes like Puneri Misal, Vada Paav, Pithla Bhakri, Bhakarwadi, Mastani or Poha which are speciality of Pune.

Q. What are some best places for street shopping in Pune?

Laxmi Road, Tulasi baug, Fashion Street Pune, Juna Bazaar or Fergusson College Road are some of the famous places for street shopping in Pune.
Famous ganesh mandals in pune
Hi team, How to offer dakshina's online to Babu Genu Ganesh Manadal? Kindly suggest asap.

Answer

Report Abuse

I don't think there is a facility to offer dakshina's online to Babu Genu Ganesh Mandal.

Report Abuse