Harishchandragad Trek To Take This Monsoon
* Disclosure: This post may contain affiliate links, which means we may receive a commission if you click a link and book something (there is never any extra cost to you for using these links).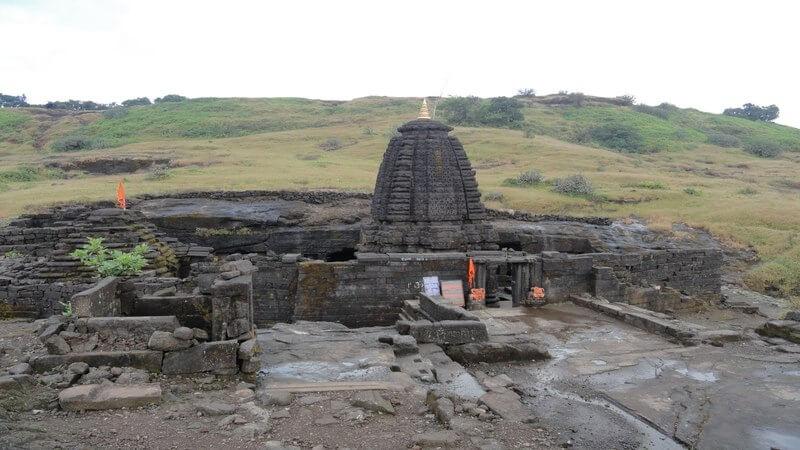 Image Source: Youtube.com
Situated in the Malshej region of the Sahyadri ranges, Harishchandragad in Junnar is known for its challenging trekking trails, breath-taking views of the Konkan region, white waterfalls, and seasonal flowers. This fort can be visited all year long but its beauty increases manifold during the monsoon. Considered one of the most difficult treks in Maharashtra, Harishchandragad is a popular spot for camping and star-gazing. Get your gang and head out to Harishchandragad this weekend!
How to reach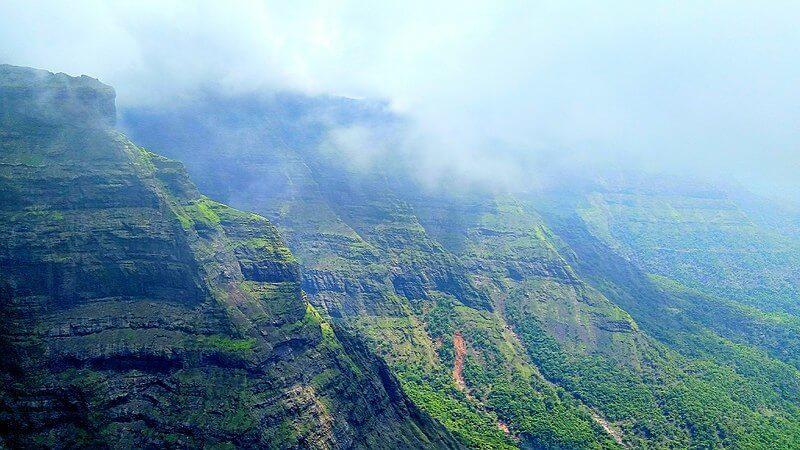 Image Source: Wikimedia Commons
Harishchandragad is located on the borders of Thane, Pune and Ahmednagar districts and can be reached from both Pune and Mumbai. Harishchandragad is situated at a distance of 171 kilometres from Pune and 200 kilometres from Mumbai.
Via Khubi Phata: If you are driving from Pune, head towards Alephata and then proceed to Malshej Ghat. Moving further, you will reach Khubi Phata where you can start your trek. If you are coming from Mumbai, take the Eastern Expressway to cross Thane and Kalyan. Continue on National Highway 61 to reach Alephata.
Via Savarne: Savarne comes just before Malshej Ghat. A one hour walk from Savarne will take you to Belpada village (also called Walivare)
Trek Routes For Harishchandragad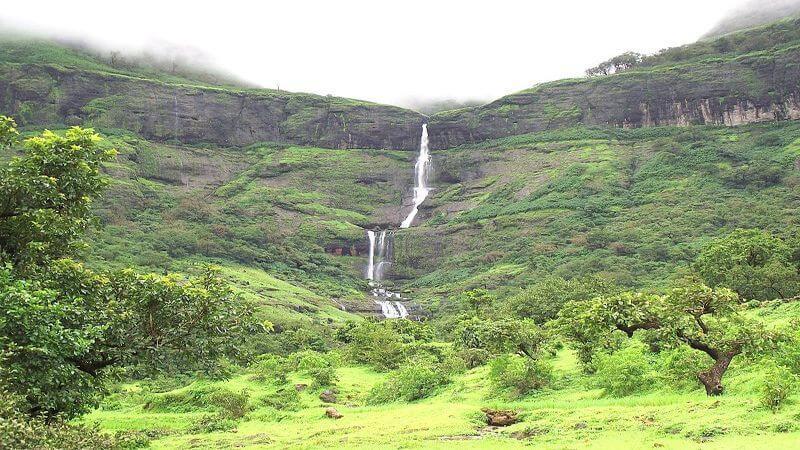 Image Source: Wikimedia Commons
There are various routes one can take to approach Harishchandragad. Most people choose Belpada Village as the base for this trek. We have made a list of a few routes that you can choose from depending on your physical endurance levels.
Khireshwar/ Tolar Khind:
This is one of the easiest route to reach Harishchandragad. The trek starts from Khubi village. A walk along the walls of Khireshwar dam will take you to Khireshwar village. Continue walking for another two to three hours and you will reach Tolar Khind. Crossing the Tolar Khind is a little tricky as the area is very rocky. There is a safety railing installed here for support. After climbing this rocky patch, you will reach the Harishchandreshwar temple.
Rajmarga:
Rajmarga route follows the same path as the Khireshwar route. After reaching the Khireshwar village, keep going straight towards Kalshya dongar. This route is a little tricky as you will need to climb extremely rocky patches. Climb the Kalshya dongar and proceed on the Tolar Khind route. Rajmarga route is not recommended for beginners.
Nalichi Vaat:
This route is considered the most difficult one. The ascent is extremely steep. At some places, you will need to climb more than 75 degrees of ascent. The trek starts from Belpada Village. Start climbing parallel to Kokan Kada. After reaching the top, you will find three to four trails routes. Take the route that is on the extreme right. You will need to carry trekking gear as you would be required to climb rocks using ropes and this routes only recommended for highly seasoned trekkers.
Sadhleghat:
Sadhleghat is the most popular route to descend Harishchandragad. This route will bring you to Belpada village via Kelewadi village.
Must Try: Rajmachi Fort Trek in Monsoon & Trekking Spots Near Mumbai
How difficult is the trek?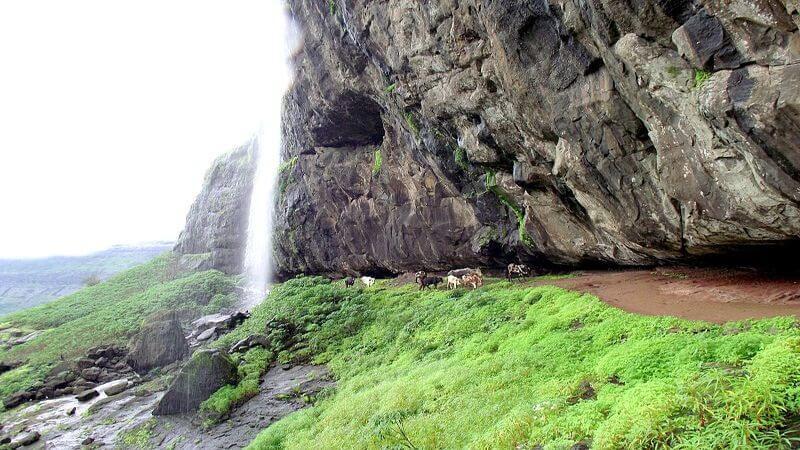 Image Source: Wikimedia Commons
Depending on which route you choose to take, this trek can be classified as moderate to difficult. It is recommended that you carry good quality trekking gear with you as you would be required to climb extremely rocky patches.
Places to see at Harishchandragad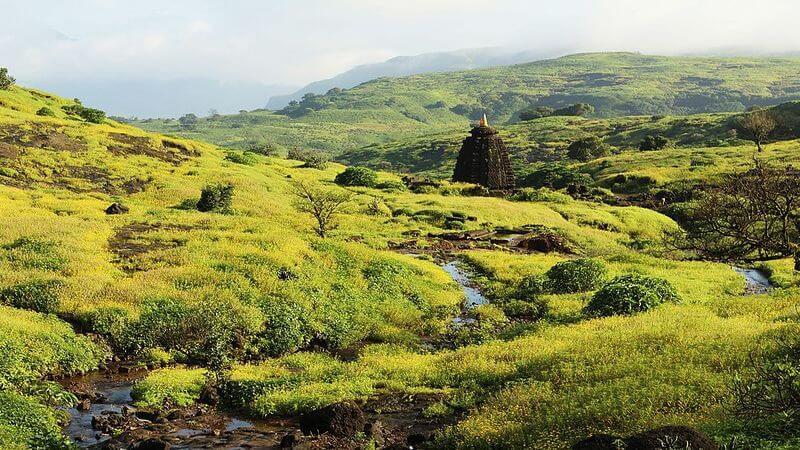 Image Source: Wikimedia Commons
There are many places of interest as you make your way up the Harishchandragad. One of the most famous attractions here is Konkan Kada. This viewpoint offers panoramic views of the Konkan region. During monsoons, the green valley surrounding the hills look misty and enchanting.
Harishchandreshwar temple is a stone-carved Ganpati temple located here. This temple was constructed in the 11th century and resembles temple architecture styles of the northern India. Towards the right side of the temple, you will find Kedareshwar Caves. There is a Shivlinga situated inside the cave and the water surrounding the Shivlinga is waist-deep. The water shows many shades of blue and is extremely cold even during summers making it difficult for you to visit this cave.
Located towards the left of the Harishchandreshwar temple is Saptatirtha lake. Along the shores of this lake, you will find idols of Lord Vishnu. The topmost point of the fort is the Taramati peak that stands tall at 1429 meters. This point offers stunning views of the entire Naneghat range.
Make it easy, breezy and flawless! Use TripHobo itinerary planner to create an epic plan for your next vacation!
Camping at Harishchandragad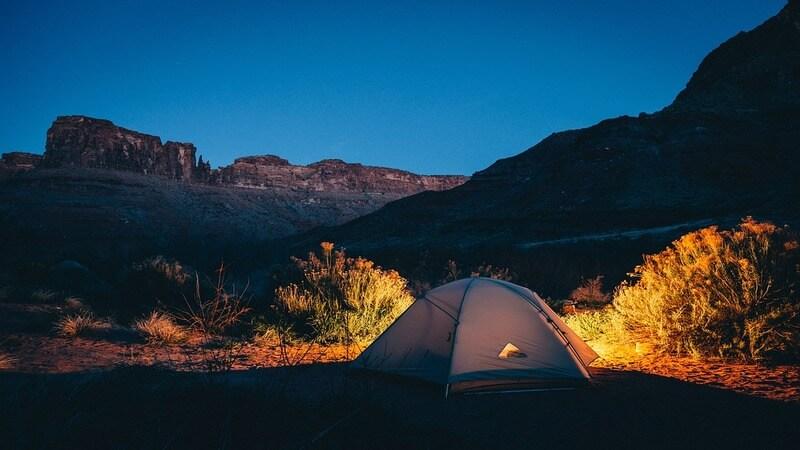 Image Source: Pixabay.com
There are many caves spread across Harishchandragad. Most of these caves are located at the base of Taramati peak. Camping is a favourite activity among the trekkers here. The caves located near the temple are suitable for camping and 4-5 of these caves offer accommodation. The biggest cave here is the Ganesh Guha that can accommodate close to 30 people. There are no eateries here but food can be made available from the nearby Pachnai village. The food is simple and home-cooked consisting of bhakri, bhaaji, kanda bhaji, pohe, and tea.
Things to carry for trekking and camping
If you are planning to camp at Harishchandrgad, there are a few essential things that you would need to carry. We have made a list of few things that you would require to carry on your trip:
Tents
Sleeping Bag
Water
Dry snacks
2 full-sleeved shirts
1 pair of trekking pants
1 warm jacket
First aid
Torch
Toilet kit
Extra ziplocks
Medicine box
Visiting Harishchandragad will be an experience of a lifetime. The place is simple yet massively challenging. The view this place offers is something we have always imagined as a child; huge tall mountains with sun-setting in between them!
Also check out:
Things to do in monsoon in Goa